The importance of picking the best bad credit loans online can't be overstated. In times where even flipping a light switch has an impact on our finance, borrowing money is doubly important. The last thing you want to get into a debt cycle when taking out online loans for bad credit.
Bad credit itself is not as bad as it sounds. Yet, it can make bad things even worse if you made the wrong decision. Bad credit means you are limited in choices, yet you still are able to apply for a loan. So, if you are a part of the 12 percent of the US population who has a FICO score less than 550, it's strongly recommended to explore your options. And here are the best bad credit loans to consider.
Best Loans for Bad Credit
What does bad credit mean? In general, it's important to understand that bad credit is a result. Think of your bad credit as your record of past failures to make timely payments. Whatever the reason for your missteps that led to this permanent condition, there's always a way out.
Often, when one lender excludes your application, you think that's the end. Yet, it's far from the truth. There are many others who would accept. That's the trick of exploring your options.
Here's the list of the best bad credit loans reviews to explore when borrowing money. It always pays to shop around for the best option, even if you've made credit management mistakes in the past. All in all, you're not alone. And you still can find a loan for bad credit that meets your unique requirements best.

Finding an alternative to payday loans takes time. Being in business since 2009, OppLoans is best for borrowers who need a loan with bad credit. Moreover, the company offers no-credit-check small loans for those with poor credit. So, if you're on the lookout for a loan company for people with bad credit, OppLoans could be right up your alley.
Loan Amount Range
APR
Term
Origination Fee
Prepayment Fee
Minimum Credit Score
Minimum monthly income
Funding
$500 -$4,000
59% – 199%
9 to 24 months
0% -3% (varies by state)
none
none
$1,500 (varies by state)
typically 1 day
If you're looking for a loan between $1,000 and $35,000, PersonalLoans has a lot to offer. Being on the market since 2017, this online loan marketplace has an advantage. It has a large network of online direct lenders that can borrow to those in need. That means your single application opens up the door to several financial institutions. No matter the reason for borrowing, odds are you'll find loans with bad credit to get the funds you need.
PersonalLoans in details:
Loan Amount Range
APR
Term
Origination Fee
Prepayment Fee
Minimum Credit Score
Minimum monthly income
Funding
$500 -$35,000
5.99% – 35.99%
3 to 72 months
1% -5%
10% – 15%
580
$2,000 per month
as soon as one business day
Established in 2012, Avant has given over $6.5 billion in loans. This is an online lender that offers quick funding to people with a wide range of credit scores, including poor credit loans. It could be a great option for those looking for flexible personal terms with bad or poor credit. Although Avant might not be the best choice for everyone, it is still worth exploring.
Loan Amount Range
APR
Term
Origination Fee
Minimum Credit Score
Minimum monthly income
Funding
$2,000 -$35,000
9.95% – 35.99%
24 to 60 months
up to $35 (varies by state)
600
at least $20,000 annually
as soon as one business day
With over 22 years of experience, BadCreditLoans could be the one-stop solution for you. Perfect for borrowers who need money quickly, but don't have great credit scores. Thus, if they have a lender that matches your needs, expect the funds to be sent the next day. So, if you're looking for a bad credit loan, this platform has a lot to offer. Promising to get access to funds quickly, BadCreditLoans is a great option for both people and business owners.
BadCreditLoans in details:
Loan Amount Range
APR
Term
Origination Fee
Prepayment Fee
Minimum monthly income
Funding
$500 -$10,000
5.99% – 35.99%
3 to 36 months
not stated (depends on a lender)
none
at least $20,000 annually
within one business day
BadCredit is the other great option to explore. It's a good place to start when looking for loans for people with bad credit. This is an online network for borrowers where multiple competing lenders offer the best deals at the best rates. Thus, you can opt for traditional personal loans, installment loans, and loans for poor credit. To find your best rate, you can even use the BadCredit app on your mobile phone.
Loan Amount Range
APR
Term
Origination Fee
Prepayment Fee
Minimum monthly income
Funding
$500 -$5,000
6% – 35.99%+ APR Estimation
6 to 60 months
varies by the lender
600+
$2,000 per month, must be verifiable
varies by the lender
Finding a lender that can offer you a bad credit loan with a score as low as 550 is a real challenge. Yet, PersonalMoneyService can ease your pain. This online lender provider offers quick funding for borrowers who are excluded by traditional banks. But first, compare the top-end range of interest rates to get the best loan for bad credit.
PersonalMoneyService in details:
Loan Amount Range
APR
Term
Fees
Minimum Credit Score
Minimum monthly income
Funding
$1,000 -$5,000
4.99% – 1386%
6 to 60 months
vary by the lender
580
varies by the lender
varies by the lender
How to Get a Loan with Bad Credit
No matter what lender you'll end up with, the first thing is to know where your credit score is. The process of applying for small loans for bad credit online is the same – it starts with your score. The best thing is that different lenders have different credit score ranges, so there will be at least one lender who meets your needs for sure. So, take advantage of getting your free credit report. 
The next step is to make sure your report is error-free. If you're looking for quick loans for bad credit, then consider a co-borrower. Sometimes when chances of getting approved are next to nothing, applying somebody who could help would be smart. 
Where possible, pre-qualify. Just because not all loan providers do soft inquiries, there's a chance to drop your score. Do it, especially if you're looking for very bad credit loans. 
The good thing is that you can use the funding for a broad range of purposes. Whether you want to get a loan with bad credit to cover the housing situation, wedding, or funeral expenses, the choice is big. Yet, there are still lenders who have some restrictions when it comes to the purpose of unsecured loans for bad credit. 
And of course, keep an eye out for extra fees. This is especially true for lending platforms that connect borrowers with direct lenders. Often, there's hard to find the end sum of fees until the agreement is signed. So, whatever your situation, getting immediate financial assistance is possible. Do the research and compare your options.
Where Can I Get a Loan with Bad Credit
It's hard not to take advantage of the online world we live in today. Everything — from voting to checking your balance can be done online. Shopping for cash loans for bad credit is also a great option that could save you the day. Banks, credit unions, and loan lenders, all offer their financial assistance online. 
The process of applying for fast loans for bad credit online follows the same rules. It starts with a credit score. Most loan companies for bad credit have a loan calculator on their website to help you do the math. 
Often, you can find lenders promise a guaranteed approval. Better yet, some lenders offer loans for people with poor credit and no credit check. Be careful. Don't confuse guaranteed loans for bad credit with loans that promise guaranteed approval. 
The truth is no lender guarantees a loan approval. And the bad score is not always the reason for that. Often, incorrect information on your report could be much more important than your score. While, a guaranteed loan is a loan that would be repaid, whatever the outcome. Thing is, it's secured by a third party (typically by a government agency) that guarantees to pay it off if a borrower defaults. 
The same story with lenders that promise an instant decision for a borrower. No lender (we're talking about legit lenders) will take the risk of dealing with unreliable borrowers without doing a check. Sometimes it's hard to go five minutes without checking Insta, and here's money at stake. 
No matter how quickly you need funds, get ready to wait. Indeed, emergencies happen on sight. Yet, fast loans for bad credit take time. Generally, you can get the funding as quickly as the next business day, while other lenders need up to seven days for decision-making.
Which Loan Company is Best for Bad Credit?
Before answering this question, picture this. Since the lending marketplace gains in popularity, consumers go online first to find the best bad credit loans offer. Lenders first overtook bank and credit unions with more than 50 percent market share back in 2017. 
Getting a loan with bad credit is possible, yet the options are limited. The good news is that many consumers who apply for a loan with bad credit are getting approved. Better yet, the legitimate lenders are also willing to provide that help. 
It's important to focus not only on who the lender is but also on how the loan is priced and structured. When shopping around for online loans with bad credit, consider the following things. First, look at the price and how long the lender is giving you to pay back the loan.
Second, no matter who you borrow from, take the time to review the loan terms carefully. Finally, if you don't want to be exploited by predatory lenders, make sure you deal with legit ones. 
Anyway, there is always the risk of getting declined when opting for easy loans for bad credit and that's nothing wrong with it. According to Bankrate's survey, about 21 percent of all U.S adults were denied a financial product this year. No surprise that those with lower incomes were more likely to face rejection.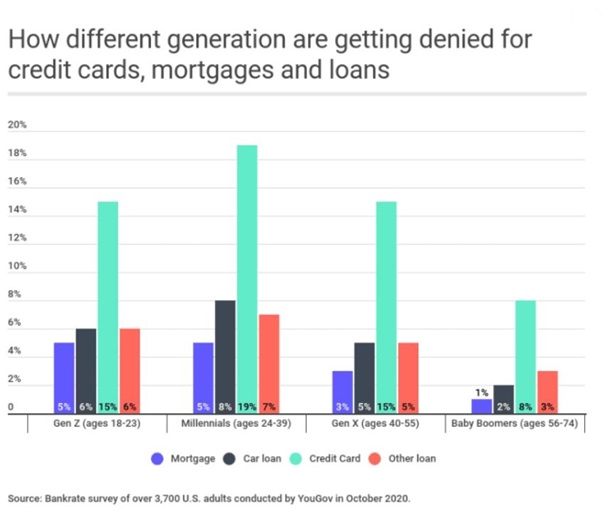 And finally, customer support. Think that doesn't seem like a big deal? Then think again. Instead, it can make a huge difference if you encounter issues with payments. Review the lender's customer service before signing an agreement. It will save time & effort at the end of the day.
How Much Can You Borrow If You Have Bad Credit?
When you are on the hunt for the best loan online for bad credit, you have a specific purpose in mind. It could be car financing, medical expenses, or home improvement reasons. Some lenders have strict restrictions on how to use online loans for poor credit, while others don't.
In some cases, the sum can be as low as $500, or as high as $100,000. It all depends. And your credit score is one of those factors that affect the sum you can take.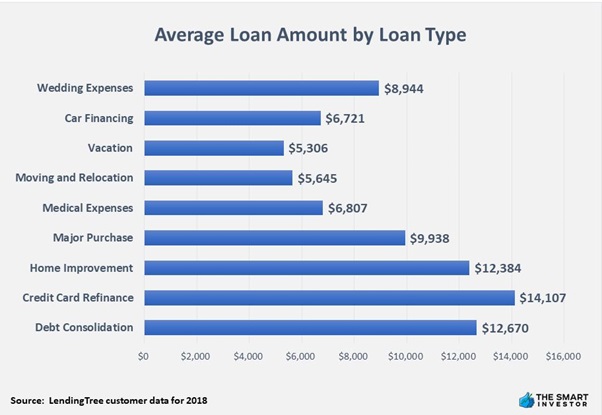 Before you get a loan with bad credit, it makes sense to use an online calculator and get an idea of how much you can expect to get. Most lenders that provide the best online loans for bad credit have this option on their websites. 
There are a number of factors to consider. Your financial situation, FICO score, state of residence, and the lender that you are connected with. Everything impacts the amount you can take. Lenders have definitely gotten stricter when approving loans for very bad credit.
It means that it is more likely to get harder to qualify for loans for bad credit with no guarantor. Thus, if you're looking to apply for a bad loan, it's more important than ever to do your homework before you act. 
So, know where you stand to be ready when your shoe drops. 
How to Improve Your Chances of Loan Approval?
The bad news is having poor credit is expensive. The good news is that you have an opportunity to increase your score. And the first step to make is to check your credit report. Review it on errors or any credit missteps in your credit history. Thus, improving your score by just 35 points can save money. Picture this: you have a subprime score of 660. Now by adding 35 points, you have a good score of 695. As a result, you save $301 a year. 
The best way to improve your chances of online approval is to pay your debt off each month. Having poor credit results in a number of financial consequences you are more likely to avoid. 
So, make a habit to access and track your credit score for free. Also, learn how spending habits can affect your score. Besides, some lenders that offer loans with poor credit can provide you with educational resources. 
If you need a loan with bad credit, make more money. Sure, it's not the easiest way, yet it can increase your chance of approval. The lower your score, the harder it will be to find a good option with a decent APR. it's not a novice that loans for those with bad credit have a much higher interest rate. As such, when looking for the best online bad credit loans, do your best to raise your score.