While fuel prices are increasing rapidly, everyone is looking for ways to save up, including finding the best credit card for balance transfer no fee. Most people spend over $1500 on gas annually. Sometimes, it is an inevitable cost as you have to get to work or school.
However, many people enjoy road-tripping as well. They use their vehicles for pleasure, and the money they spend on gas can sometimes be concerning. For that reason, we suggest looking for the best credit card for gas and reap the benefits! As their main goal, this gas credit card offers lower prices, cash back, and various other rewards!
There are general and credit cards for specific brands. You can use general ones to purchase any kind of gas, whereas branded ones are limited to a particular kind.
Credit Cards for Gas: Best Offers
There are many options for the best gas card, but make sure to explore your options first. Check out the rewards and the possibility of cash back, and see what works best for you.
Weigh the pros and cons to figure out if it will be beneficial. To help you out, you can find a list of some of the best cards below. Whether you are looking for the best bonus or the lowest fees, everything is here. Compare and contrast the offers until you make your final decision!
Blue Cash Preferred® Card from American Express
Are you looking for the best card for gas for yourself or the whole family? With the Blue Cash Preferred® Card, you can earn 6% cash back on a variety of spending types. Additionally, you can earn 3% on transit as well as on making purchases at all U.S. gas stations!
Within the first year, much like with Visa, there is no APR on purchases and balance transfers. After that time has passed, the APR fluctuates depending on your credit score, from 16.99% to 27.99%. It might fall between 690 and 850. For the first year, there is no yearly fee, but there is a $95 fee after that.
Work with your family to spend $3,000 in the first six months of the year to receive $300 bonus in statement credit. They also provide various travel advantages, like the loss of a car rental. Get money back on purchases made at petrol stations, supermarkets, and many other places!
Pros:
A 6% cash back
There is no APR for the first 12 months
There are various categories
Cons:
Citi Custom Cash℠ Card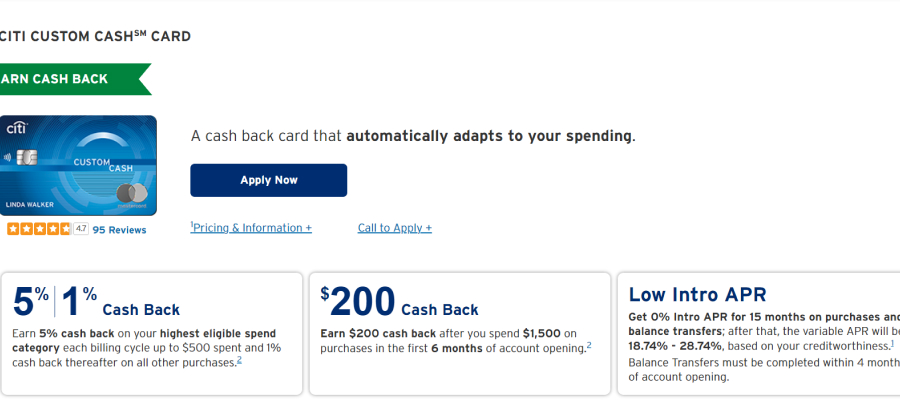 You might prefer a hassle-free card when searching for the best gas credit cards with incentives. This card can be for you if you don't want to do a lot of work but still want to benefit. You may receive up to 5% cash back with the Citi Custom CashSM Card on everyday expenses!
There is also an opportunity to get 3% back on gas! You will receive a 0% APR on all purchases or balance transfers for the first 15 months as part of their introductory offer. After that, charges might range from 16.99% to 26.99%, depending on your credit score. There are no yearly fees either.
You can also receive an additional 20,000 ThankYou® Points as part of their introductory offer. The equivalent in cash is $200! If you spend $1,500 during the first six months of starting your account, you are qualified for this prize.
Pros:
5% back on your largest category
No annual charge
Great starter offers
Cons:
Wells Fargo Autograph℠ Card – Offer Ending Soon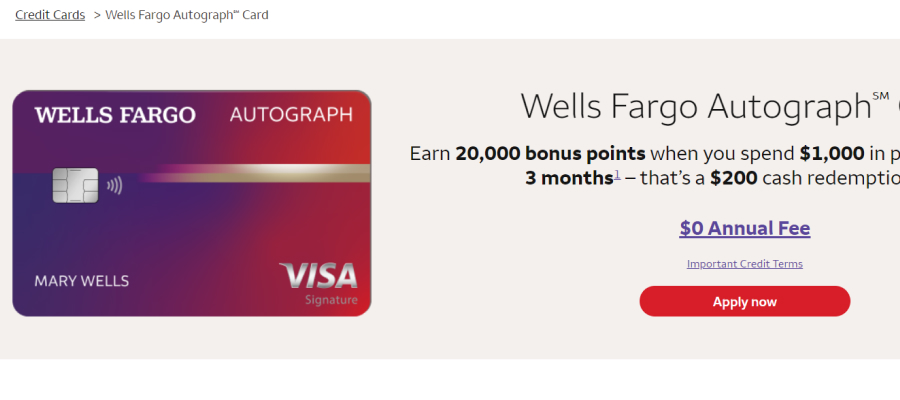 One of the top credit cards with gas benefits might be the Wells Fargo AutographSM Card. Spend $1,500 on purchases within your first three months to earn up to 30,000 bonus points. In other words, you can earn $300 to redeem as a part of the signup offer. It's important to note that there is no annual charge if you decide to get this best no fee travel credit card.
The APR might range from 18.74% to 23.74% or 28.74%, depending on a number of variables. There are many bonus categories that are very helpful for daily spending. Three points are awarded for every dollar spent on various purchases.
At restaurants and gas stations, you can spend money and still receive benefits. Additionally, they will triple your travel-related points. If you want this card for gas, you better hurry up because the offer expires on 1/10/2023!
Pros:
No annual fees
Best rewards
Bonus spending categories
Cons:
No luxury benefits
You are required to have good credit
Blue Cash Everyday® Card from American Express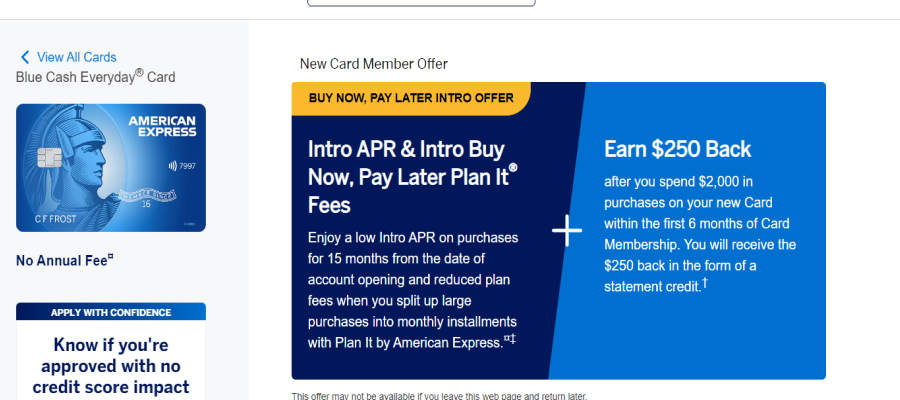 The Blue Cash Everyday® Card from American Express might be the best gas credit card if you enjoy taking long road trips. The card's primary goal is to provide rewards for gas and travel costs. They do, however, award points for daily spending as well. The range of the annual percentage rate is 17.74% to 28.74%.
For the first 15 months, the intro APR is zero percent. There is no annual charge for cardholders, just like with some of the Visa cards. To qualify, your credit score must be excellent and fall between 690 and 850. You can receive $100 as a statement credit if you spend $2,000 in the first six months.
If you use PayPal while shopping, you can additionally get $100. For the entire first year, you can earn 3% cash back on all gasoline purchases. After that, you receive 1% back.
Pros:
$0 annual fee
Intro APR offers
Best rewards rate
Good welcome bonus
Cons:
High credit score
Lower cash back percentage after a year
Discover it® Cash Back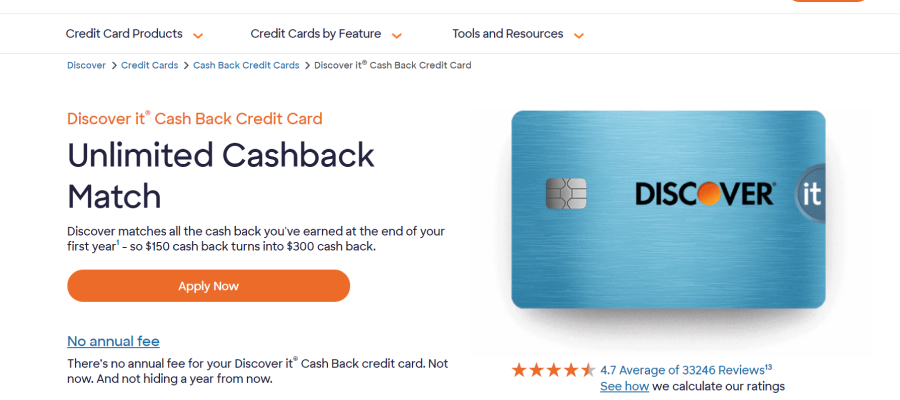 Look at the Discover it® Cash Back if you're looking for an easy-to-use card for gas. The best feature of this card is that the bonus categories are updated periodically. With this card, every dollar you earn is a dollar you can spend. With Discover it®, there are no annual costs.
In the first 15 months, the APR is 0%. After that, it fluctuates between 14.99% and 25.99%. Your credit score must range from 690 to 850 to be eligible for the Discover it® Cash Back. It offers to match your cashback at the end of your first year. This offer has no limitations whatsoever! In addition to 1% on all other transactions, you can get 5% on everyday costs, such as gas and dining.
Pros:
No annual fee
Good intro bonus
Matching cash back
Cons:
Not that commonly accepted
Demands high credit
Bank of America® Customized Cash Rewards Credit Card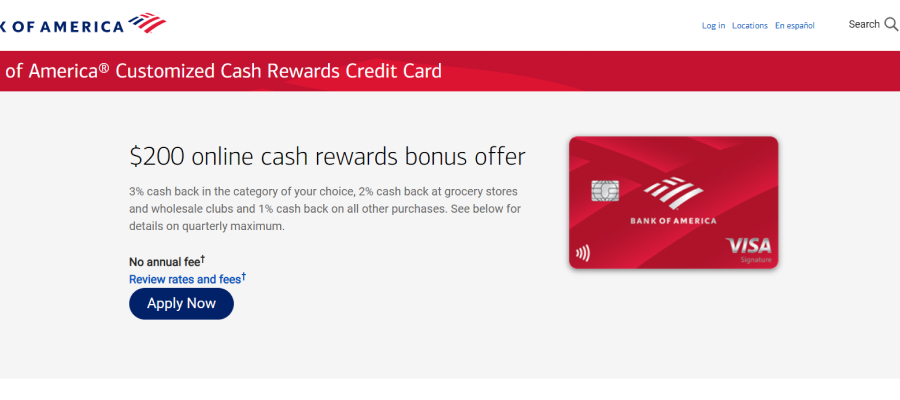 The Bank of America® Customized Cash Rewards Credit Card not only lets you select your own bonus category, but it also makes balance transfers simple. Various purchases may qualify for additional awards. There is a 3% cash back offer on expenses like gas, dining, and shopping.
The APR on all balance transfers will be 0% for the first 18 billing cycles aside from that. The variable regular APR ranges from 16.99% to 26.99%. Just like with many visa cards, there is no annual fee for using this credit card. To be eligible, you must have a solid or outstanding credit score (690-850). In the first 90 days, you can earn incentives worth up to $200.
Pros:
Generous welcome offers
No APR for a set amount of time
No annual fee
Cons:
Requires good or excellent credit
Chase Freedom Flex℠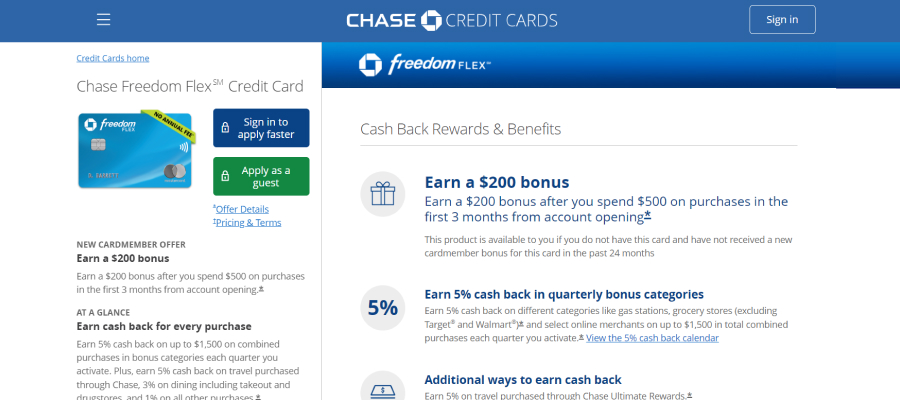 One of the best credit cards for consumers looking for various perks is Chase Freedom FlexSM. This card is ideal if you don't mind putting in some effort to increase your earnings. They also offer fixed bonuses in addition to rotating categories where you can receive 5%.
From grocery stores to gas stations, the categories are endless! The APR ranges from 17.99% to 26.74%, but it is 0% for the first 15 months. The annual charge for this card is zero. You must have a credit score that is either good or exceptional and falls between 690 and 850. To receive a $200 incentive after opening your account, you must spend $500 during the first three months. Numerous bonus categories exist that can help you earn a ton of rewards.
Pros:
Different bonus categories
A 15-month 0% APR period
No annual fee
Cons:
Demands effort
Your credit score must be high
PenFed Platinum Rewards Visa Signature® Card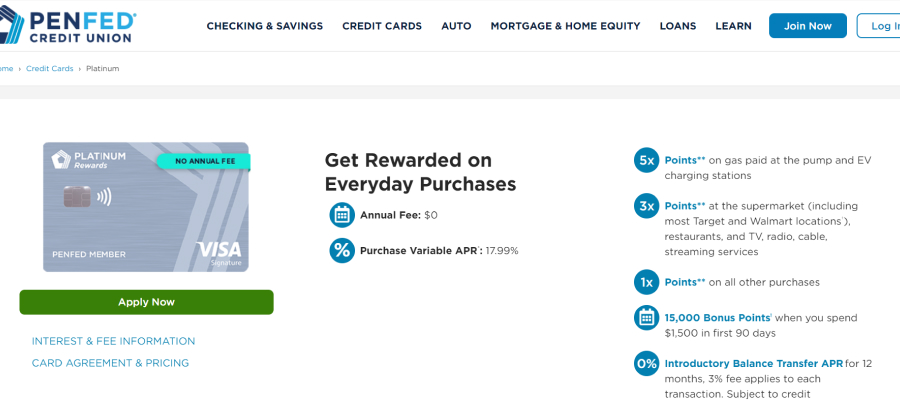 With the PenFed Platinum Rewards Visa Signature® credit card, you can earn rewards if your credit score is 690 or higher! You have the opportunity to earn up to 15,000 bonus points through the welcome offers. Spend $1.500 within the first three months to qualify for this deal.
This visa credit card does not have an annual fee, unlike many others. As part of the introductory bonus, balance transfers have a 0% APR for the first 12 months. The APR then varies around 17.99%. On petrol station purchases and grocery expenses, there is a chance to earn 5x and 3x points, respectively. On all other expense categories, you receive 1x points.
The following are some advantages and disadvantages of this visa rewards card:
Pros:
5x points on gas at gas stations
Best offers for new customers
There is no annual fee
Cons:
Few redemption possibilities
No cash reimbursement
What Is a Gas Credit Card?
Gas credit cards are a great way to earn rewards or get discounts by simply paying for petrol using your dedicated card for that. Once you pick the right card, make sure to use it every time you encounter this expense. That way, you can get points that you can later redeem for various options, depending on your credit card plan.
Some of the cards even offer cash back for certain gas expenses. Gas prices are currently fluctuating, and the prices keep increasing. That is why gas cards are highly beneficial if you use your vehicle frequently. You can see below the explanations of the different types of these cards.
Types of Gas Credit Cards
Gas credit cards are in high demand lately, and this is a very popular category of rewards cards. For that reason, you should be aware that there are different kinds of these cards. The main two are the following:
General-Purpose Gas Credit Cards
Loyalty Gas Cards
In order to decide which card to choose, make sure to stay informed. Check out the features of each type, and pick what is best for you! Below are the two types explained, along with their features.
General-Purpose Gas Credit Cards
Simply put, general-purpose gas cards are credit cards with additional gas station benefits. These might include rewards programs with cash back or points earned for every dollar spent. The finest general-purpose credit cards typically offer a variety of rewards categories and the freedom to let you continue your spending patterns without worrying about how to maximize your rewards strategy.
A fantastic all-purpose gas credit card may also earn well at American supermarkets and other stores. However, if gas isn't their major category, some of them might not provide generous benefits. You could even be able to select your most frequent purchasing category to get the highest rewards, depending on the card.
Loyalty Gas Cards
Gas loyalty cards, or cards provided by particular petrol stations to encourage consumption (such BP, Speedway, or Chevron). They want to enable cardholders to accrue gas credits and receive benefits on fuel expenses. While these credit cards can provide advantages such as the fuel bonus, usually, they normally don't offer rewards for purchases made elsewhere.
However, some of these choices and the loyalty rewards programs that they are a part of can result in significant cost savings. Be aware that petrol reward cards linked to a specific brand may not be practical if that gas station isn't accessible wherever you go. Depending on your needs, this card might or might not be a good option.
Who Should Get a Gas Credit Card
It might not surprise you to learn that gas credit cards are best suited for folks who spend a lot of money at petrol stations, since you probably already have an understanding of what kind of buyer you are.
Not everyone will find these cards beneficial. Many individuals who work from home or rarely drive may not see the point in getting cash back on petrol purchases. You should carefully consider if fuel is your large expense. Figure out whether you commonly go to a particular pump or if you go to any of them frequently.
The following people are most likely to get the greatest value from a gas card:
Commuters
The cost of petrol you use getting to and from work each day can add up quickly. You might quickly accumulate a large number of credits by using a gas card. Save up your points, and they might even be enough to pay for your next fill-up. Gas cards are undoubtedly beneficial if you drive a lot. Depending on the specific card, that can entail particular discounts or cash back. Consider looking into this possibility if you fall into this category.
Road Trippers
Do you enjoy road-tripping alone or with your friends quite frequently? A gas card could be useful for covering travel expenses if driving is your primary mode of transportation for your trips! You will get the most bonus points for the purchases where you spend the most.
If you are going to use a rewards card for road trips, it might be best to go for the general-purpose one. That way, you will now have to look for your particular gas station in every city. However, if your favorite pump operates in many locations, a branded card can be a good idea as well!
Traveling Families
Family time is very important, and some families choose to embark on car trips. While you cannot put a price on quality time, fuel and groceries for the trip can be expensive. Using a rewards card can help you minimize those expenses.
There are several gas cards available that also give bonus points for other common spending groups like restaurants and grocery shopping. That way, you can use one card for various purchases. It might even be a good idea to look into travel rewards cards for discounts on hotels as well!
Pros and Cons of Gas Credit Cards
Much like every other credit cards 500 limit, this rewards card also has advantages and disadvantages. To properly evaluate if you should get one, make sure to consider everything. Here is a list of some pros and cons to help you make a decision:
Pros:
Cons:
Variety – There are many rewards cards to choose from. A lot of them offer great deals on gas expenses. Some provide discounts, and others give cash back.
Credit score – Some suppliers require good or excellent credit score in order to qualify.
Rewards for other categories – You can earn for multiple spending categories, all on one card.
Redemption options – You will usually have to choose between points/discounts and cash back.
Many options with no annual fee – Quite a few high-quality credit cards do not charge an annual fee.
Can be either general or branded – You have the option to choose between general cards or specific ones for your favorite petrol station.
Conclusion
Getting a rewards card for gas can be a beneficial decision, almost as well as consolidating debt. You have to make sure you got the right card for yourself. Since there are many options, the choice is not simple. However, that also means that you can pick what suits you the most! This option is not for everyone, but some people can certainly benefit from it. If you are a frequent traveler or you go to work by car, definitely look into this. You can get excellent discounts and bonuses.