Almost everybody has a credit card. We know a lot of information about the banking system, such as how does debt consolidation loans work. If you changed a name, you probably have a question of what legal documents you need to submit to a card issuer to change the name on the card.
The process can seem complicated, but it's not really so. You just need to know the sequence of actions and the papers you have to submit to achieve the result quickly and easily.
In this article, we'll tell you what to do if you need to change the name stated on your credit card and if you have to change it in the first place.
Reasons to Change Your Name on a Credit Card
Obviously, the reason for changing a name that is stated on your card is the name change. Why do people change their names?
Usually, people get a new name after a marriage or divorce. Besides, you have a legal right to change your name for other reasons accepted by the law. For example, you can take your mother or father's last name.
The second reason to ask for changes is when your name is written wrong on the card you received in the bank. Sometimes it's your mistake; in other cases, the bank employees can type the name wrong in the documents. If the mistake is minor, it can be really easy, but the process can take a significant amount of time if you need a complete change.
If you are terrified by all paperwork and don't want to undergo this process, try to find positive aspects in the situation. For example, it's a great chance to find out about new interesting offers in your bank and get a new credit card with more beneficial conditions.
You can check the best travel credit card no annual fee to save more money while using your card. We tend to keep using things we are accustomed to and ignore new offers. So use this opportunity to get the more advantageous offer.
Should You Leave Your Cards in Your Old Name?
There is no law requiring the necessary matching of your name with the name stated on the card. Sometimes, this match isn't required for transactions confirmation, but all the same, we recommend changing it.
After you initiate a payment, your card data undergoes a so-called verification. Any mismatch detected during this process can be a reason for payment cancellation.
Many companies accept payments only if they can verify that the card is yours. When the names differ, it's hard to check, and it's a sign of fraud for a verification system. So, if you want to prevent all possible problems in the future, make sure that your real name is typed on your card.
Another problem associated with the wrong name on your card can be difficulties receiving a cash advance if you need it. If you don't understand what we are talking about, read what's a cash advance on a credit card and how it functions.
In short, it's cash you can withdraw from your card in any ATM. Actually, it's a good security cushion for the emergency case, so don't steal this opportunity from yourself just by keeping an old name on the credit card.
How to Change Name on Credit Card After Marriage?
If you have just married and had no time to change a name on the credit card, don't worry. Just take a divorce decree, birth certificate and follow next advice.
If a merchant or a card issuer suspects identity theft and your card got blocked, it's enough to show your new ID, and a marriage certificate in the issuer's office, and the situation will be cleared.
But don't delay the change for too long.
First, it's too annoying to take your certificate everywhere with you.
Second, you don't want your card to be blocked in the first place.
Start by changing the name on the driver's license and social security card. Without these documents, the card issuer won't be able to accept your application.
When this stage is completed, call your bank or banks and ask about the papers you should provide. The process can slightly differ in different financial organizations, so check in advance.
We'll give a couple of recommendations regarding different organizations you may have a credit card in. If you are interested in a certain bank, you can find it at the end of an article.
Interesting fact: Credit cards become the second most popular way to conduct payments online in the past 12 months.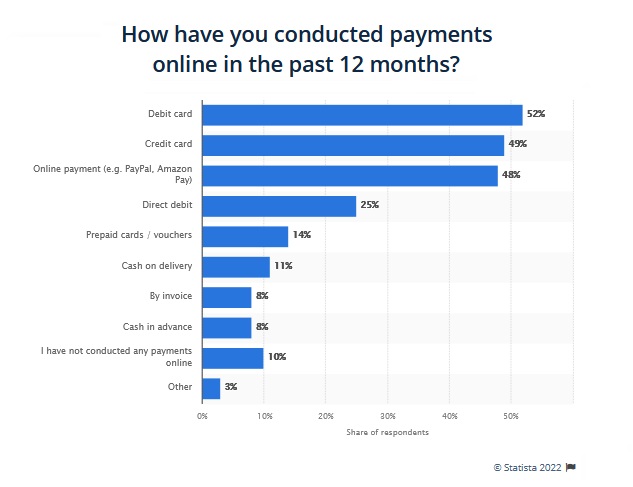 Confirming Your Name Change
First of all, check the data on your application several times before submitting it to your financial organization.
Mistakes in spelling your name can be costly in terms of time. Imagine that you have to change the name once again right after you have finished the process. You don't want such a hustle, so double-check the personal information.
How Changing Your Last Name Affects Your Credit
A new name automatically means a new score. From the law point of view, you are a different person now. When a financial organization runs a check according to the name stated on your driver's license, they can't find much. For you, it means that the lenders do not account for a high credit score you worked so hard to build.
Are your results lost forever?
No, the situation is not hopeless. But restoring your previous financial reputation will take some work. You'll have to link your new name to your former records. In order to do it, contact all credit agencies and provide a confirmation of the name change.
They will bond your new identity to the previous records, and you'll have the same credit score as before as soon as the process is finished.
As you can see, changing a name on your card can be challenging and time-consuming, but it's a necessary procedure. Valid information will prevent any kind of difficulties you can face and allow you to use the benefits of your credit score.
You'll be able to prove that it's your card if the name on it matches your ID, and there will be no need to take your marriage certificate everywhere with you. It's not wise to keep your old name on the card, even if it saves a little time in the beginning.
Besides, it's great to start a new life without unnecessary troubles with your bank or merchants you want to pay with the card.