Are you trying to find the best home loan for bad credit? It can seem impossible, but it doesn't have to be. With the right knowledge and resources, you can find the best mortgage for your needs and budget.
Knowing what to look for and what to avoid is essential when it comes to finding the right one for your situation. So, in this article, we'll take a look at what you need to know about finding a mortgage, including the options available and the factors to consider. With the correct information, you can make an informed decision and get the best home loans for bad credit.
Bad Credit Home Loans: Best Offers 2023
If you've decided to look for the best loan offer of 2023, we've got you covered! We selected the best mortgages for bad credit and have compiled them here for you. These options offer quick approval, low-interest rates, flexible repayment terms, and more.
Regardless of whether you want to refinance your current mortgage, or purchase your first or second home, you can get the funding you need. Plus, with the added security of an FHA-backed loan, you can rest easy knowing your mortgage is backed by the federal government.
So don't wait – start your search for the best bad credit home loans today!
New American Funding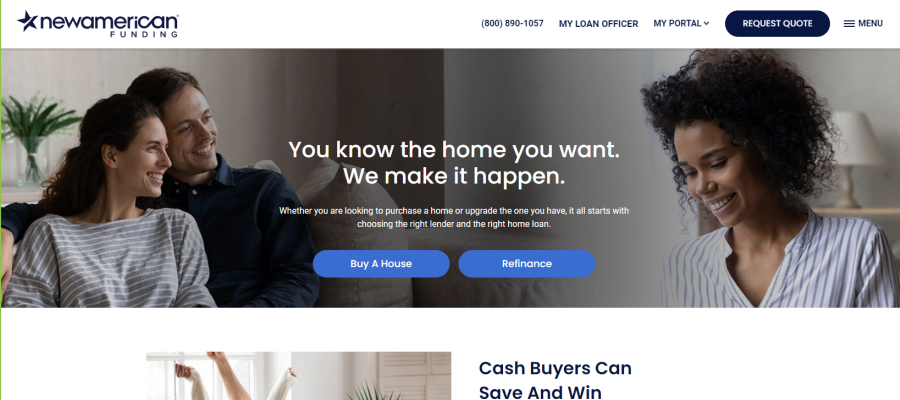 New American Funding is a national mortgage lender that provides a wide array of products, including conventional loans, FHA loans, VA loans, USDA loans, and jumbo loans. Their commitment to excellent customer service, competitive rates (3% minimum down payment), and fast closing times have made them one of the most trusted mortgage lenders in Indiana.
Founded in 2003, New American Funding has grown to be one of the largest mortgage lenders in the nation. In addition to providing mortgages, they also offer an array of services, including home refinancing, home modifications, and reverse mortgages.
They have an A+ rating from the Better Business Bureau and a commitment to providing their customers with the best possible service.
Pros:30 days closing, first-time buyer friendly, varied options
Cons:High origination fees, minimum 620 credit score
Northpointe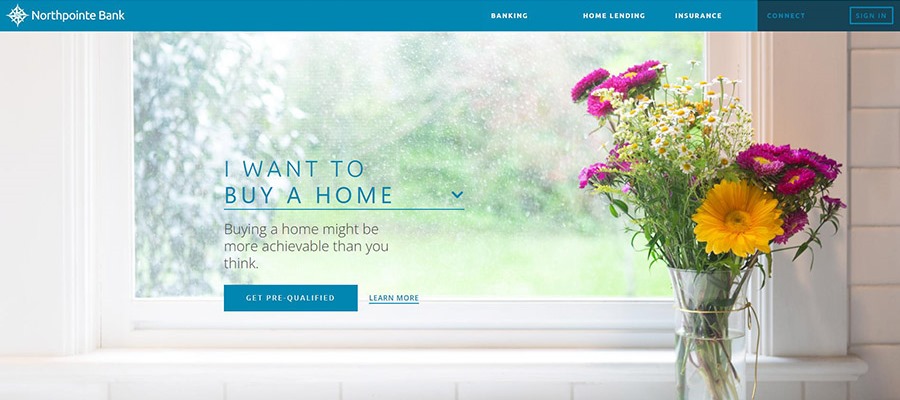 Northpointe Bank is a leading financial institution providing banking, lending, and investment services to customers across the United States and Indiana. Founded in 1999, Northpointe Bank has been committed to providing quality customer service and 100% financing.
Northpointe Bank offers fixed, jumbo, refinance, USDA, FHA, conventional, and adjustable fixed-rate mortgage loans with a minimum 4% down payment. Those with not-so-perfect credit scores will benefit the most from this lender. Their agents work with you to find a customized mortgage, which will be helpful to you if you're not sure which one to choose.
Northpointe Bank also offers digital banking, with online, mobile, and telephone banking options, making it easy to stay connected to your finances wherever you are.
Pros: Varied options, mobile app, negotiable short-term repayments
Cons: No online applications, high origination fees
Alterra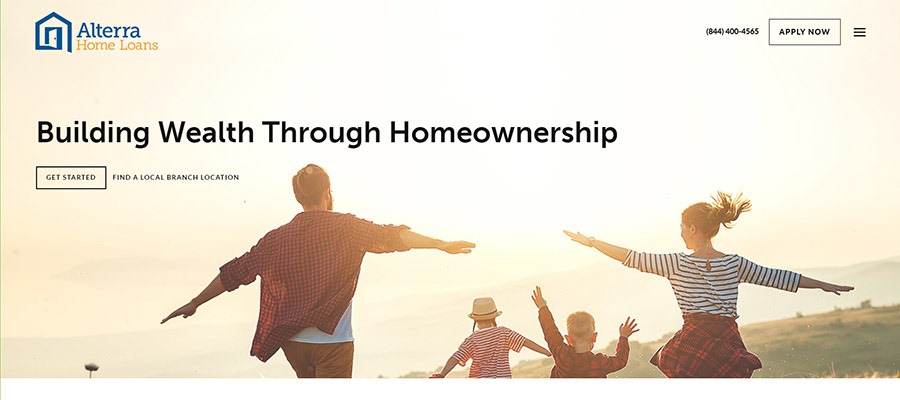 With an experienced team of originators, Alterra provides you with the knowledge and expertise needed to make informed decisions about your mortgage options. They offer a 3% minimum down payment on both conventional and non-conventional mortgage products, as well as refinancing options.
Alterra Home Loans also offers a variety of special programs, including FHA, USDA, and VA options, to help those with less-than-perfect credit histories.
This lender is best for looking for assistance programs, first-time homebuyers, as well as assistance for individuals looking to downsize or purchase a second home.
For those seeking a shorter-term loan, Alterra offers a 5-year adjustable-rate mortgage, which allows for more flexibility in the repayment of the mortgage. This lender also offers jumbo loans for those looking to purchase a home that is more expensive than what is allowed by conventional financing.
Pros: Online application, government-approved mortgages for low-income borrowers, conventional loan products
Cons: No online details on rates or fees, no home equity loans
Rocket Mortgages
Rocket Mortgage (once Quicken loans) is a mortgage provider that offers a convenient, fast online process for prospective homeowners in competitive housing markets. The online application process allows you to get pre-approved in just minutes and provides you with an instant decision.
In terms of the products they offer, with a 3% minimum down payment, borrowers can choose from refinance, VA, fixed, adjustable, FHA, and purchase loans. This lender is best for those who know what they want and need a no-fuss application process.
The Rocket Mortgage process also includes helpful tools like payment calculators and customized payment plans. You can also access helpful advice from experienced mortgage officers who can guide you through the process.
Pros: Approval letter, low rates compared to other lenders, phone applications
Cons: No home equity loans, high origination fees
Navy Federal Credit Union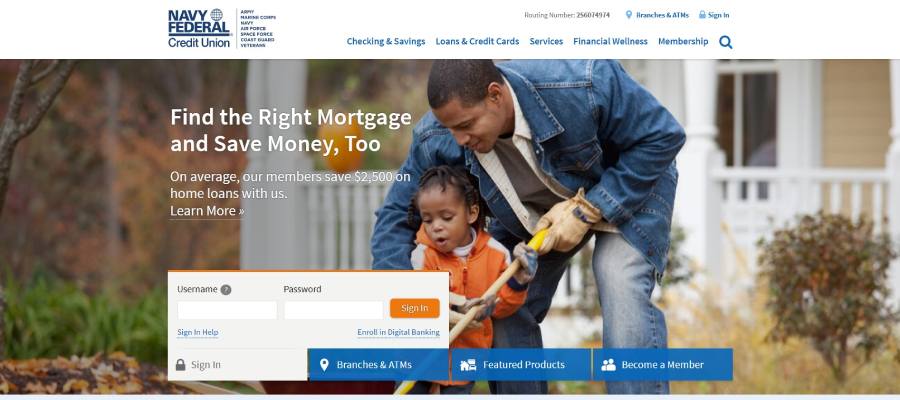 Navy Federal Credit Union offers additional benefits to veterans and those connected to military members, including no down payment options, low closing costs, and access to a variety of loan types. Borrowers can choose from VA, Jumbo, purchase, adjustable refinance, and fixed products.
When it comes to reviews, Navy Federal Credit Union mortgages have a great reputation. Borrowers praise their customer service, flexibility, and competitive interest rates. The process is also straightforward and easy to understand. Plus, the online application process is quick and easy to complete.
Overall, Navy Federal Credit Union mortgages are an excellent option for those looking to buy a home or refinance an existing mortgage. Plus, their cornerstone lending options mean borrowers can qualify for 100% financing.
Pros: Low rates, home equity loans, including lines of credit, 0% down payments
Cons: Additional saving features are for members only, customized rates come only after a credit check
Home Loans: Options For Bad Credit
If you have bad credit, it can be a challenge to find the right home loan options. Whether you're looking to purchase a home or refinance your mortgage, it's important to know what options are available to you. Fortunately, we have found plenty of mortgage loans for bad credit borrowers.
FHA loans
FHA loans offer lower down payments, lower closing costs, and more flexible credit requirements than conventional mortgages. They are also easier to qualify for because they require a lower credit score (500) than traditional loans, making them more accessible to those with bad credit.
The down payment on an FHA loan can be as low as 3.5%, allowing people with low funds to buy a home without having to save up a large down payment.
Additionally, closing costs are typically lower because the FHA covers the costs for lenders. And because they guarantee the loan, lenders are more likely to approve applicants with bad credit.
VA loans
VA loans provide an incredible opportunity for veterans, active service members, and their families to secure financing with unique features and benefits. They are offered by lenders in the private sector, namely banks and mortgage lenders, and are guaranteed by the U.S. Department of Veterans Affairs.
A percentage of the mortgage amount is guaranteed by the VA, allowing the lender to offer you better terms.
They are a great option for those who are eligible, as they offer lower interest rates, no down payment, or private mortgage insurance requirements. As an added bonus, VA loans are assumable, meaning that a qualified buyer can take over the loan from the original borrower when the home is sold.
USDA loans
A USDA loan, also known as a Rural Development loan, is a government-backed mortgage available to those living in rural areas and typically based on population size. It is issued through the United States Department of Agriculture or a USDA-approved lender and is designed in a way to ease buying a home for low-income individuals.
These loans are geared towards low to moderate-income individuals and families with a 100% financing option, meaning you don't need to put any money down. This makes it an attractive option for those who don't have a lot of money saved up.
Other benefits of a USDA loan include no private mortgage insurance, low-interest rates, and flexible credit requirements.
Grant Programs
A grant program enables eligible borrowers to buy a home without the requirement for a down payment. It's a great option for those who may not have the resources to make a deposit or have other financial obstacles.
They are funded by the government, so they come with additional benefits, such as lower interest rates and closing costs. Grants are typically awarded based on need, and the funds don't have to be paid back. There are many programs available, and you may qualify for more than one. Typical programs include:
The National Homebuyers Fund: 5% minimum down payment loan
Department of Housing: Discretionary payments
The $25,000 Down Payment Toward Equity: $25,000 awarded for first-time buyers
Each grant program has different criteria such as conventional 97 loan requirements or other types of requirements and employment status, so it is important to research and understand the different options before applying.
What Is Considered A Bad Credit Home Loan?
Bad credit home loans are mortgages offered to home buyers with a less-than-stellar credit score. These mortgages come with higher interest rates and more stringent borrowing conditions than conventional mortgages.
They are generally offered to those who have had a history of late payments, missed payments, debt delinquency, or have a high debt-to-income ratio. Bad credit home loan lenders also typically require borrowers to have a steady income and a good job history to demonstrate their ability to repay the loan.
It is important to note that a bad credit score is not the same as having no credit history, so potential borrowers should not be discouraged if they have a poor credit score.
Should I Get a Bad Credit Home Loan?
While a bad credit home loan can help you get into a home you otherwise wouldn't be able to afford, it's important to understand the risks. They typically come with a higher interest rate, which means you'll end up paying more in the long run. Additionally, you may have to put down a large down payment or pay additional origination fees.
That said, a bad credit mortgage can be a good option for those who have limited or no access to traditional home loans. If you're a home buyer with a poor credit history and have been shut out of the traditional market, this may be your best choice. Just remember to shop around to get the best deal possible and to read the fine print of any loan you're considering.
How To Get Home Loan With Bad Credit Score
Getting a home loan with a bad credit score may seem like an uphill task, but with a bit of know-how, it is possible. Here is a step-by-step guide to getting a mortgage with a poor credit rating.
First and foremost, it is important to understand why your credit score is bad. This could be due to late or missed payments or other factors. Once you have identified the cause, start working on improving the score by correcting mistakes and paying bills on time.
Next, start researching different lenders who are willing to provide home loans to those with a bad credit score. Make sure to check the interest rates and any other requirements of the mortgage. Finding the right lender is key to getting the best deal.
Once you have settled on a lender, it is time to start the application process. Provide all the necessary documents to the lender, and make sure to be honest about your current financial situation. It is important to be open and honest during this process.
Finally, make sure to keep up with payments after getting the loan. This will help you build a good credit history and help improve your credit score.
What To Consider When Applying For A Home Loan With A Low Credit Score
Having a low credit score when applying for a home loan is definitely a challenge. But with the right approach, it's possible. Here's a list of things to consider before you apply for a mortgage with a low credit score.
| | | | |
| --- | --- | --- | --- |
| Prepare | Documents | Loan Type | Compare |
| Make sure to check your credit score and credit report to understand what's impacting your score. This will help you identify areas that you can work on to improve it. | Put together a list of documents that will help you demonstrate your creditworthiness. This should include proof of income, employment, assets, and other financial documents. | Consider the type of loan you're applying for. You may need to look into options such as FHA or government assistance loans that have lower credit score requirements. | Shop around and compare rates. Even a small difference in interest rates can make a big difference in the cost of your loan. |
Conclusion
While home loans with a poor credit score may seem impossible to get, they actually exist. And they are available to borrowers like you. From private lenders to government-backed programs, knowing the ins and outs of these types of mortgages can help you make the right decision and get the best one possible.
Before applying for anything, you should consider the overall cost of the loan and whether it fits into your budget. Then, with the right understanding of the different varieties of mortgages for your situation, you can get the financial support you need to purchase your dream home.