Many people consider a cash advance a suitable option for getting supplemental money for the short term. This is a withdrawal of money from the credit card account. What does it mean? A consumer borrows against their credit card to put money in their pocket. These funds may be utilized for covering various expenses and unforeseen needs. 
On the other hand, there are certain limits on the sum you may obtain. Every lending option has pros and cons, so this cash advance withdrawal isn't an exception. Make sure you understand the terms of this lending tool before you accept it or review the cheaper alternatives.
What Is a Credit Card Cash Advance?
Let's cover the basics. What does this lending option mean? Is it a preferable solution for the short term? A credit card cash advance lets borrowers utilize their card to obtain a cash loan for a small period of time at the local bank or ATM. 
This lending option should be paid back on time unlike a regular withdrawal from a bank account. It works similarly to credit card withdrawal. You may consider it as a way to use your card to purchase extra funds rather than services or goods. It is a quick option but rather expensive.
Cash Advances via an ATM
The easiest and fastest withdrawal of cash advances can be done via an ATM. All you need to do is go to the nearest ATM to obtain cash through your card. This is not a personal loan you obtain in a lump sum; this option allows getting less money as it depends on your credit limit. 
Card issuers offer various interest rates for this service. You may obtain a map of the ATMs in your area at the local bank branch. A physical card is needed to obtain cash, while you also need a personal identification number (PIN) to access the money.
Cash Advances via Convenience Check
Convenience checks are blank checks offered by creditors that consumers can use to access credit lines. These checks can be used for balance transfers, cash advances, or purchases. They are also called credit card checks. You may want to pay down other cards using a check. 
They aren't the best option to turn to, but many cardholders choose checks as a way to pull some money advances. There isn't a grace period while the rates can be really expensive. Also, the credit card cash advance limit may not allow you to obtain enough money to cover immediate expenses.
In-Person Cash Advances
Another option is to go to the bank branch to obtain an advance in person. If you don't have a physical card or want to avoid convenience checks, going to the bank may also be a suitable choice. You can visit the nearest bank location on any business day and get an advance with your card. 
Make sure you understand the annual percentage rate and other fees that apply. It might not be the best decision if you urgently require extra money over the weekend as conventional lending institutions don't work these days. When you can't wait or face a real emergency, you may want to seek alternatives.
How a Credit Card Cash Advance Works
You may experience various situations in life when making a purchase with a credit card isn't available. Whether it's buying veggies at the local farmers' market or getting lunch from a street vendor, you may need only cash to make the necessary purchase. 
If you don't have any money left in your wallet, it can be a suitable choice to get a cash advance with your card. Knowing the credit card's PIN you can withdraw a particular amount and use it to your advantage.
One of the benefits of cash advances is that a client may use the money for various purposes. Any aims or purchases can be covered with this advance. Although people started using cards more frequently, situations when you urgently require paper money still occur. Thus, it is a comfortable option provided that you know the interest rate and the terms. 
The easiest and fastest way is to withdraw money from the ATM. Generally, people obtain about several hundred dollars for the short term. It's not a long-term option like a personal loan. Cash advances can cover immediate costs and urgent bills for a few weeks.
When to Consider Using a Cash Advance
You can use cash advances in situations when you don't have enough money in your pocket but urgently need to cover certain costs. Whether it's a daily expense or a big-ticket purchase, you may find yourself in an immediate cash need. 
Having an emergency fund is important as it protects you from such situations and offers you to utilize your own savings. If this isn't your option, getting paper money from the ATM is suitable.
This process is similar to getting money with your debit card. You also need to take your card, go to the local bank branch or the ATM, insert the card, enter your PIN and the desired sum, and obtain the funds. The only difference is that getting cash advances with your credit card will come with an interest rate and advance fees.
What Are the Costs Associated with Credit Card Cash Advances?
Although this is the fastest and easiest way to acquire additional paper money, a cash advance is also one of the most expensive options. Consumers need to think twice if they really need paper money at the moment. 
Can you wait until you get the next paycheck? Can you use your own savings? Maybe you can find a place to cover the purchase with a card instead of cash and save on interest. There are particular finance charges that apply and will be withdrawn so you need to take them into account:
A Transaction Fee
Every advance you take out will be accompanied by a certain fee for this transaction. This fee changes among crediting institutions.
The APR
The APR for cash advances is also charged every time you want to withdraw money. Make sure you know this div and calculate if it's affordable for you to use this lending tool as the APR is often higher for advances compared to the APR for credit card purchases.
No Grace Period
The interest rates start accruing at the time of each withdrawal. It means there is no grace period and you will eventually pay more money than with alternative options.
5 Best Credit Cards of 2023 for a Cash Advance
Credit cards are unique lending tools that allow people to borrow funds from their credit accounts. Unforeseen expenses and sudden bills may pile up while it's a suitable way to use your credit card in this case. 
If you can't wait to finance certain costs or face a financial emergency, cash advances will be of great help. Here is a review of the top-rated credit cards for 2023. We've compared their interest rates and fees as well as other features to help you choose among the selected options and make the right choice.
DCU Visa Platinum Secured Credit Card
One of the benefits of this card is that it's secured. Although you need to provide collateral to secure it, the interest rates are smaller. It is a more affordable option as there is no annual fee. You borrow against your DCU savings account. This credit card works with Apple Pay, Samsung Pay, or Google Play. 
There are no high fees for balance transfers or advances so this is one of the top picks for you to consider. Also, this card offers optional overdraft protection on your DCU checking, as well as travel, insurance, and warranty benefits.
Cash advance fee:
Cash advance APR:
Annual fee:
Regular Purchase APR:
N/A
N/A
$0
11.75% variable
PenFed Gold Visa Card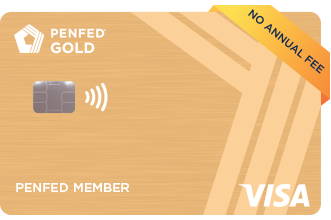 This is an attractive offer for consumers with excellent credit ratings. If your FICO score is 750 and higher, you have high odds of getting this card. It provides a low purchase APR and other perks. The variable APR is between 7.49% and 17.99%. 
Those with good and stellar scores may qualify for the lowest numbers of fees. Experts advise cardholders not to carry a balance on their card to avoid high fees. The main drawback is that this card doesn't earn rewards and only has a promotional offer on balance transfers.
Cash advance fee:
Cash advance APR:
Annual fee:
Regular Purchase APR:
N/A
N/A
$0
7.49% – 17.99% variable
DCU Visa Platinum Rewards Credit Card
This is another suitable option with lower interest rates. Is your credit rating good enough to obtain this lending tool? If yes, then you will be able to enjoy no annual fee offer. There are no fees or higher rates for balance transfers and cash advances. 
Besides, every client has a chance to earn 1 point for every $1 spent. There is no foreign transaction fee or balance transfer fee which makes it an affordable option for many consumers today.
Cash advance fee:
Cash advance APR:
Annual fee:
Regular Purchase APR:
N/A
N/A
$0
11.50% – 18.00% variable
PenFed Power Cash Rewards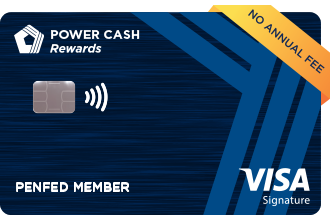 This credit card is available only for good and excellent credit holders. It provides some rewards to the cardholders which makes it an affordable solution. You may get 1.5% unlimited cash back on every purchase you are willing to make. 
Besides, you can get a $100 statement credit after you spend $1,500 in purchase transactions within the first 90 days of account opening. Would you like more cashback? You may acquire 2% on all purchases through the PenFed Honors Advantage program.
Cash advance fee:
Cash advance APR:
Annual fee:
Regular Purchase APR:
3%
N/A
$0
15.99% – 17.99% variable
DCU Visa Platinum Credit Card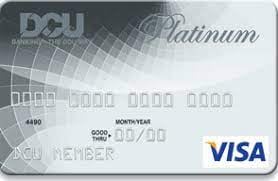 Are you willing to have more alternatives? Here is one more attractive lending tool for you to consider. This credit card offers some benefits to consumers. There is no annual fee and a low APR to enjoy. 
The purchases will be more pleasant while there are no fees for balance transfers and cash advances. So, if you are short on cash and urgently need additional funds, getting this DCU Visa Platinum card may be a reasonable choice. Also, there is no foreign transaction fee.
Cash advance fee:
Cash advance APR:
Annual fee:
Regular Purchase APR:
0%
18.00% variable
$0
8.75% – 18.00% variable
Will a Cash Advance on Credit Cards Hurt My Credit?
If you just order a cash advance and get it from your credit card, it won't hurt your credit rating. This procedure doesn't affect the credit of the borrower as it isn't registered separately on their credit report. 
Besides, there is no grace period so the charges will apply the moment you withdraw the funds. The grace period only happens when you make a purchase with your credit card of at least 21 days before you are charged fees and interest on it. 
However, the cash advance balance will be added to your credit card debt. This option may lower your rating in case it pushes the credit utilization ratio too high. Remember that you should try your best to keep your utilization rate as low as possible to prevent credit damage.
Alternatives to a Cash Advance on a Credit Card
Taking out cash advances might seem like a decent idea at the moment. However, every lending option has pros and cons. This crediting tool may easily lead you to debt if you don't understand its costs and fees. We advise you to look into alternatives and avoid getting this option if possible. Here is what you may utilize instead:
A Personal Loan
This is a more attractive option for the consumer with good and excellent credit. If you apply for a personal loan, you will get a fixed interest rate and a lump sum that may be used for various purposes and aims. 
The interest rates and generally lower compared to money advances. This loan can be secured or unsecured depending on your creditworthiness and other eligibility criteria.
Promotional Offers From Your Card's Issuer
Some issuers offer promotional rates for at least six months, which can benefit clients. A promotional rate is a low-interest rate provided on your credit card balance for a stated time period. 
This rate is usually an introductory interest rate only given during the first several months after the credit account was opened. Existing credit card users might get occasional promotional rates from service providers.
Borrowing From Family And Friends
It may be embarrassing to ask your relatives or friends for financial assistance. However, it may be a cheap or even free way to get the necessary funding to cover your immediate needs. If you can't afford to pay high costs and interest rates, asking your friends and family members may be of great help.
Using savings for an emergency fund
Many people decide to opt for their own funds when an emergency happens. This is a good option for those who have a poor credit rating or can't qualify for an advance with the lowest rates. If you have enough funds set aside in your emergency fund or savings account, you may tap this money for the short term.