Many travelers think they need an airline credit card to earn cashback when they travel, collect miles, and access various benefits, such as airport lounges. But do such cards have that much merit, and are they worth the expense?
In this article, we've put together the answer to this question and all the questions that people who want to get an airline's best balance transfer credit cards no fee usually have. Read it to decide if you need to take advantage of such offers.
Airline Credit Cards: Best Offers
We analyzed over 50 offers from various banks and airlines to determine which airline credit cards are the best. We've written detailed descriptions for each of them, including interest rates and rewards programs. Want to get the most out of the best airline credit cards? Then be sure to read the descriptions below for each option.
Capital One Venture X Rewards Credit Card

The Capital One Venture Rewards Credit Card is an excellent option for travelers who want to collect miles and fly to different states or countries for free. With it, you can earn 2 miles for every dollar you spend (about 2 cents), regardless of your purchase category.
What other advantages would this option give you?
If you spend $4,000 in the first three months of using this credit card, you'll earn a welcome bonus of 75,000 miles.
All earned awards can be spent on airline tickets and hotel stays.
Miles gained through credit card use have no expiration date, which means you can use them whenever you want.
Capital One offers you two free access to Capital One Lounges or 100+ Plaza Premium Lounges annually.
You will receive 5% cash back on hotels and rental cars booked through Capital One Travel.
Capital One Venture Rewards Credit Card has no foreign transaction fee.
The main disadvantage of this option is that you can only spend rewards at companies that are partners of Capital One. Unfortunately, this list does not include any significant airlines. Also, this credit card has an annual fee of $99, and its regular APR is 19.99%-26.99%, but that's the average among similar offers. This offer from Capital One is great for those who want a travel credit card with all cashback categories. To qualify, you must have a credit score of 690 FICO points or more.
United Club℠ Infinite Card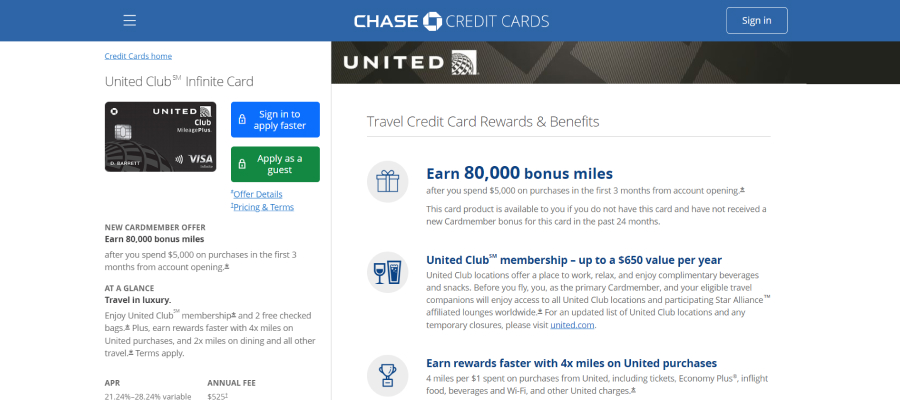 This credit card has a very generous welcome bonus of 100,000 miles after you spend $5,000 in the first three months of account opening. Plus, it allows you to get 4% cashback (in miles) on United purchases, 2% on travel and dining, and another 1% on all other categories. It is worth noting right away that the main disadvantage of this travel credit card is the $525 annual fee. However, if you want to become a member of the United Club, this amount will seem small since usually, membership itself without all the other card's benefits costs $650 per year.
What are the advantages of the United Club Infinite Card?
As a member of the United Club, you can attend (and even take two adults or one adult + child with you for free) Star Alliance lounges when flying United and its partners.
You can enjoy the benefits of the IHG Platinum status.
This offer includes two free checked bags, priority check-in, boarding, and baggage handling per flight.
United Club Infinite offers travel protection benefits for various accidents and emergencies.
Overall, this expensive offer is the best only for those who regularly fly on United flights. Also, remember that such travel credit cards have a high APR; in this case, it is 20.24% – 27.24%.
Delta SkyMiles® Reserve American Express Card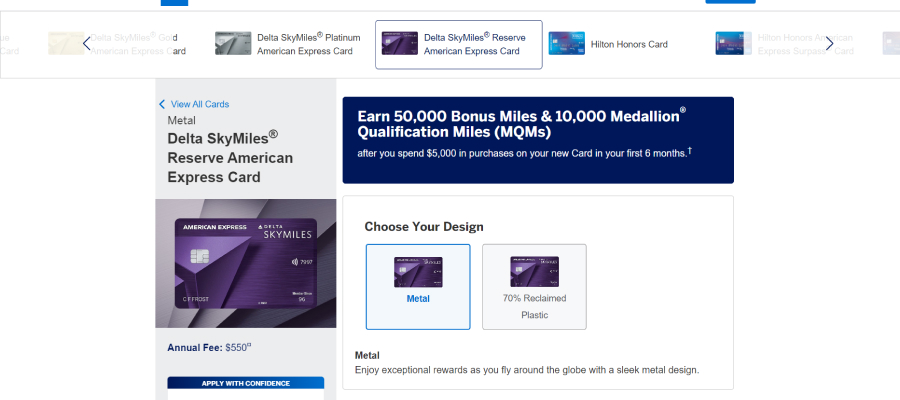 If you enjoy attending Delta Sky Club or Centurion lounges and flying first class, this airline credit card may be your best option. In addition to access to the Delta Sky Club, this offer includes a certificate for a round-trip flight to any US state in first class.
What do I need to know about the Delta SkyMiles® Reserve American Express Card before applying for one?
Its annual fee is its main disadvantage, as it costs $550.
If you spend more than $5,000 within the first six months of opening your account, you can get 50,000 miles.
This travel credit card also has 3% cash back on specific categories and 1% on all others (paid in miles, one mile equals 1.5 cents).
This offer includes concierge service, two free checked bags, priority boarding, and 20% savings on specific in-flight purchases.
Its APR is 19.99% – 28.99% (variable) and has no transaction fees.
This offer only makes sense for those who want to be part of the Delta Sky Club and have good credit. Otherwise, low ongoing rewards and a high APR make this option unprofitable for most users.
Chase Freedom Flex℠
The Chase Freedom Flex is an everyday card for travelers with a great sign-up bonus, a 0% APR intro period, and plenty of opportunities to get cashback.
Its pros are:
You'll get a $200 bonus for the first $500 spent within three months of opening your account.
You'll get an unlimited 1% cashback on all categories, 3% on pharmacy and restaurant purchases, and 5% when you travel through Chase Ultimate Rewards.
You will not have to pay APR for the first 15 months.
This card has no annual fees.
When the 0% APR trial period ends, the interest rate will rise to 18.74% – 27.49% (variable). In addition, it is essential to keep in mind that Chase Freedom Flex has a 3% foreign transaction fee, which is not very favorable for people who are often abroad. It turns out that the Chase Freedom Flex is a great option for people with good credit who don't want to pay an annual fee of several hundred dollars for lounge access or priority boarding. However, this option is more suitable for pragmatic people who want to earn cashback on their travel expenses.
Aeroplan® Credit Card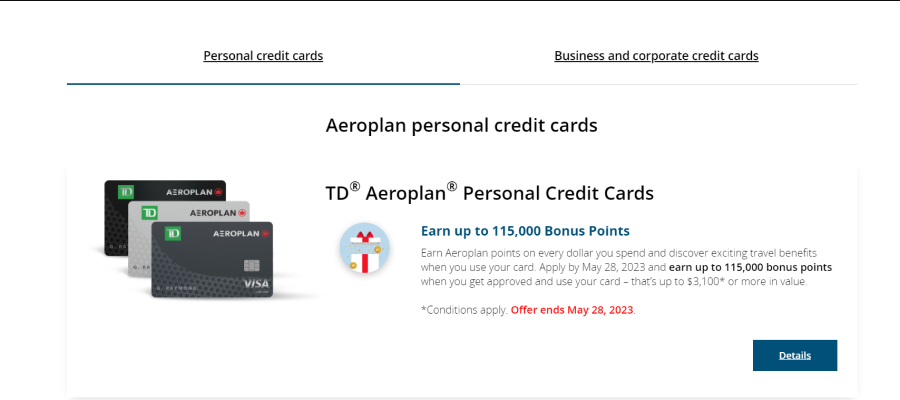 Chase, in partnership with Air Canada, issued this airline credit card several years ago. It allows you to earn rewards for daily purchases at supermarkets, restaurants, or flights with Air Canada (3 miles per dollar) and 1% cash back on all other categories. Plus, for every $2,000 spent in a month, you'll receive an additional $500.
This option has the following advantages:
On average, the price per point of the Aeroplan® Credit Card is 1.9 cents, which is more than many other competitors.
You can spend your miles on flights with Air Canada or one of its 45 airlines, as well as some hotels, car rentals, and upgrades with Air Canada and its merchandise.
You can enjoy priority check-in, boarding, and upgrades in the first year. Also, these benefits will continue to be available if you spend more than $15,000 each calendar year.
This travel credit card has no foreign transaction fee.
The first checked bag is free on Air Canada flights (+ up to 9 bags for your passengers who are on the same flight).
In addition, the Aeroplan® Credit Card has travel protection benefits.
The bank offers a generous sign-up bonus of 70,000 miles after you spend $3,000 in the first three months.
Among the main drawbacks of this option, users note that this airline credit card has few possibilities to redeem earned miles. For example, among all 45 partners, only one company, United Airlines, is domestic. Also, all the benefits, such as free checked bags, are usually only available for Air Canada flights, and that's all for $95 a year. Should you get the Aeroplan® Credit Card? This would be a good option if you have good credit, are an Air Canada airline employee, and want to receive flight bonuses. However, for everyone else, there are better alternatives on our list.
The Platinum Card® from American Express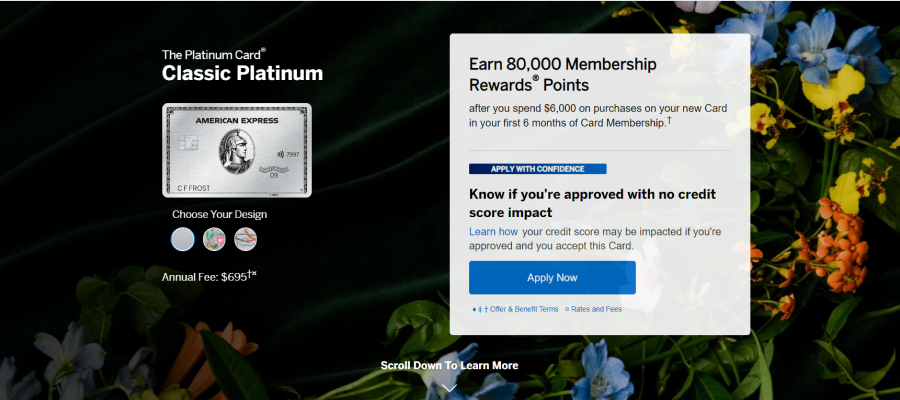 If you're looking to get the financial benefits of an airline credit card through miles or cashback, consider another option. But if you're looking for an offer that gives you access to more comfortable flights, lounges, and elite benefits, this Platinum Card is your best bet.
What does this American Express offer include?
You get $200 annually for reimbursement of checked-bag fees or in-flight refreshments on any airline (you can only change them once a year).
Another bonus of $200 per year you can spend on American Express hotels.
The next $200 per year will be available to pay for Uber deliveries or taxis at $15 per month (in December, you'll get $35). In addition, with this card, you will have Uber VIP status.
You'll receive a bonus of $300 a year, which you can spend at the Equinox chain of gyms, and a bonus of $189 for Clear (quick passes through security at airports and stadiums).
Of course, American Express has included unmatched access to airport lounges worldwide (more than 1,300 of the world's best lounges).
With this travel credit card, you can enjoy several hotel benefits and concierge services.
Its APR is 20.24%-27.24%, and the foreign transaction fee is $0.
You can get 80,000 Membership Rewards® miles after you spend $6,000 on purchases in the first 6 months of account opening.
You'll receive 5 miles for every dollar you spend on flights or hotels through American Express Travel and 1 point per dollar on all other purchases.
What are the disadvantages of this option? Users say the main one is the high annual fee of $695. Does this cost pay off? Yes, if you use at least 50% of all the benefits offered. However, if you want an everyday travel credit card with more cashback and the ability to earn miles, you may want to consider another option.
United℠ Explorer Card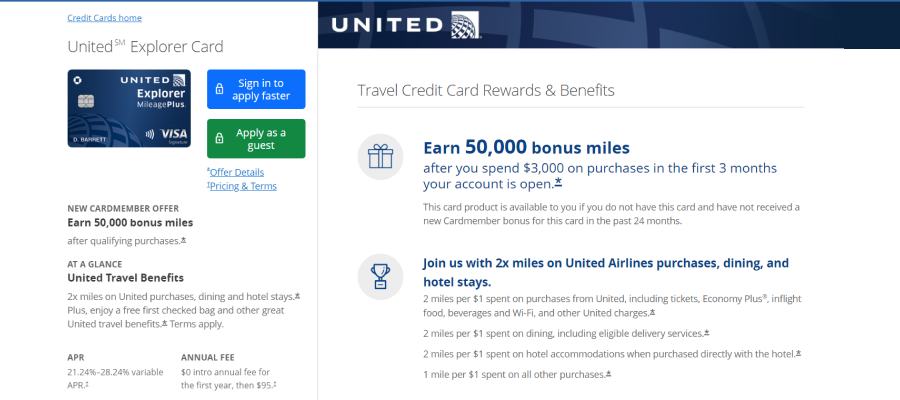 This airline credit card is best for people who frequently fly with United Airlines. It has a small annual fee of $95 (the first year it's waived), allows you to earn 60,000 miles after you spend $3,000 in the first three months, and offers 25% cash back on in-flight purchases.
What else do you need to know about this offer?
The United℠ Explorer Card allows you to earn two miles for every dollar you spend on purchases from United, restaurants, and hotels, and 1 mile/dollar on all other purchases (1 mile = 1.2 cents).
Its APR is 20.24%-27.24%, and it has no foreign transaction fee.
With it, you can get free trip cancellation or trip interruption insurance.
You will also receive a year of DashPass membership as a gift.
You can visit any more than 45 United Club lounges twice a year for free.
With this card, you also get priority boarding and a first checked bag free for you and a person flying with you.)
The main disadvantage of this option is that you can only spend your points on award flights and seat upgrades on United and its Star Alliance partners. Compared to other airline credit cards, this choice is minimal. Otherwise, if you frequently fly with United, this would be your best option. Just two free trips to the lounges, which usually cost $59, pay for its annual fee, so it's a good deal.
What Are Airline Credit Cards?
Airline credit cards allow you to earn miles, travel cashback, and extra bonuses such as flight upgrades. They usually also have various airline benefits, such as free access to airport lounges and priority check-in and boarding. Most often, banks issue such credit cards in partnership with airlines. They develop a bonus program, which can usually only be spent on flights and purchases by that airline and its partners. The limited ability to redeem points is the main disadvantage of such credit cards.
What Are Airline Miles?
Oddly enough, airline miles have nothing to do with the distance you would like to fly. Instead, they are points, the bonus currency banks use for airline credit cards. So, for example, you might get 5 miles for every dollar you spend and find out that miles equal 1.2 cents each when you buy tickets. Banks rarely allow you to convert miles into dollars and withdraw them into your bank account to use as regular money. Instead, they will enable you to pay for hotels, travel, flights, car rentals, or in-flight purchases with miles. On average, miles equal 0.8 to 2 cents each.
How Do Airline Miles Work?
You can earn miles for certain purchases (often through the services of the bank itself or the airline it cooperates with), receive them as a sign-up bonus, or after you spend a certain amount in a year. Once you have accumulated a certain number of miles, you can pay for your flight, hotel stay, car rental, or airport lounge. It is important to note that the bank determines the specific places where you can redeem miles, so you should carefully read the terms and conditions of airline credit cards.
Who Should Get Airline Credit Cards?
It's not always a good idea to get an airline credit card. Some have over $500 annual fees, and others offer benefits only for certain airlines. Should you get an airline credit card? If you're in one of the categories below, you probably should.
Luxury Travelers
Airlines credit cards can give you access to elite Sky Clubs, the best lounges, and free first-class flights. In addition, those in the premium segment make your travels more comfortable with priority boarding and check-in, free checked bags, and fast security checks. Airlines credit cards are the best choice if you want to fly with comfort, concierge service, and other elite benefits.
Travel Beginners
Arilines credit cards with low annual fees may be suitable for those who are just starting to travel and want to earn bonuses on every trip. With them, you can get several free lounges accesses a year, earn miles even on daily purchases, and get discounts on in-flight purchases. In addition, airlines credit cards have loyalty programs for better deals on hotels, restaurants, or car rentals. Calculate how many rewards you can earn with a credit card and decide if you should apply for one.
Airline Loyalists
Because banks usually issue such cards in cooperation with specific airlines, their benefits may be used only when you fly with that company. If you regularly fly with one or more companies, you may find the airlines credit cards that offer the most benefits for flying with them (e.g., free checked bags, access to lounges, first-class free trips, etc.).
Frequent Flyers
Every travel credit card offers the opportunity to earn more rewards than it costs to maintain. The problem, however, is that users rarely use all of the available options. For example, if you fly often, you should get an airline credit card. That way, you can use all the available bonuses and earn maximum miles for paying for flights, hotels, and car rentals.
Business Travelers
Another category of people for whom airlines credit cards can be a great option is business travelers. For example, you can get free access to the lounge and work there with such a card. In addition, you will get a lot of bonuses for paying for hotels, restaurants, or car rentals, and you can save a few hours by priority boarding and check-in.
How To Choose The Best Airline Credit Card
To choose the best credit card for miles no annual fee for you, you can use the following plan:
Determine what you need from such a card.
Conventionally, airlines credit cards are divided into two categories: the first is for those looking for a financially sound option, and the second is for those who want to travel in greater comfort and have access to premium services. Decide which category you want.
Compare the banks' offers with your plans.
For example, if you are going to fly a lot within the U.S., not all airlines credit cards will work for you since many of them only allow you to spend bonuses at international companies.
Look at all the fees and APRs.
Such cards often have a high annual fee, which does not always pay off through bonuses and cashback.
Determine if you qualify.
Each bank has a different credit score and minimum income requirements. Make sure you meet these criteria before you apply to open an account.
Are Airline Credit Cards Worth It?
Such offers are only worthwhile for those who fly often and use the benefits offered to the maximum. The main problem with these credit cards is that they have a very high annual fee and a limitation in the categories on which earned miles and bonuses can be spent. Because of this, a tiny percentage of users benefit from these cards. However, airline credit cards may be worth it if you don't care if you get enough benefit from such offers and only use them to access lounges and memberships in elite Sky Clubs.
Useful Tips on How To Make the Most of Your Airline Credit Card
How good such offers will be for you depends on whether you use them to the best of your ability. If you want to ensure you're not paying annual maintenance on such a credit card for nothing, follow our plan:
Choose the credit card that best fits your habits and plans.
Be sure to use the sign-up bonus – with them in the first three months; you can get enough miles to pay for the flight, hotel, or car rental.
Pay for travel through the services of the airline or bank that issued you a credit card to get maximum bonuses.
Learn all the benefits that are available to you and use them on your first flights.
Advantages and Disadvantages Of Airline Credit Cards
Such offers have the following advantages:
They allow you to save time through priority check-in and boarding, fast security checks, and other benefits.
You can fly more comfortably for the same money, as these cards often allow you to spend bonuses on seat upgrades or in-flight purchases.
You will get free access to the lounges with almost all credit cards of this type.
Usually, you will also be able to check your luggage for free several times a year.
You'll earn miles or points for every payment you make for travel, hotels, or car rentals and get a portion of the money back.
It's important to note, however, that at the same time, airline credit cards limit your choices because they usually only work with specific airlines. In addition, they have high annual fees and APR, so they are only suitable for those who plan not to carry balances. The final disadvantage of these cards is that they are best for travel but rarely needed in everyday life. If you rarely fly, they won't be viable for you.