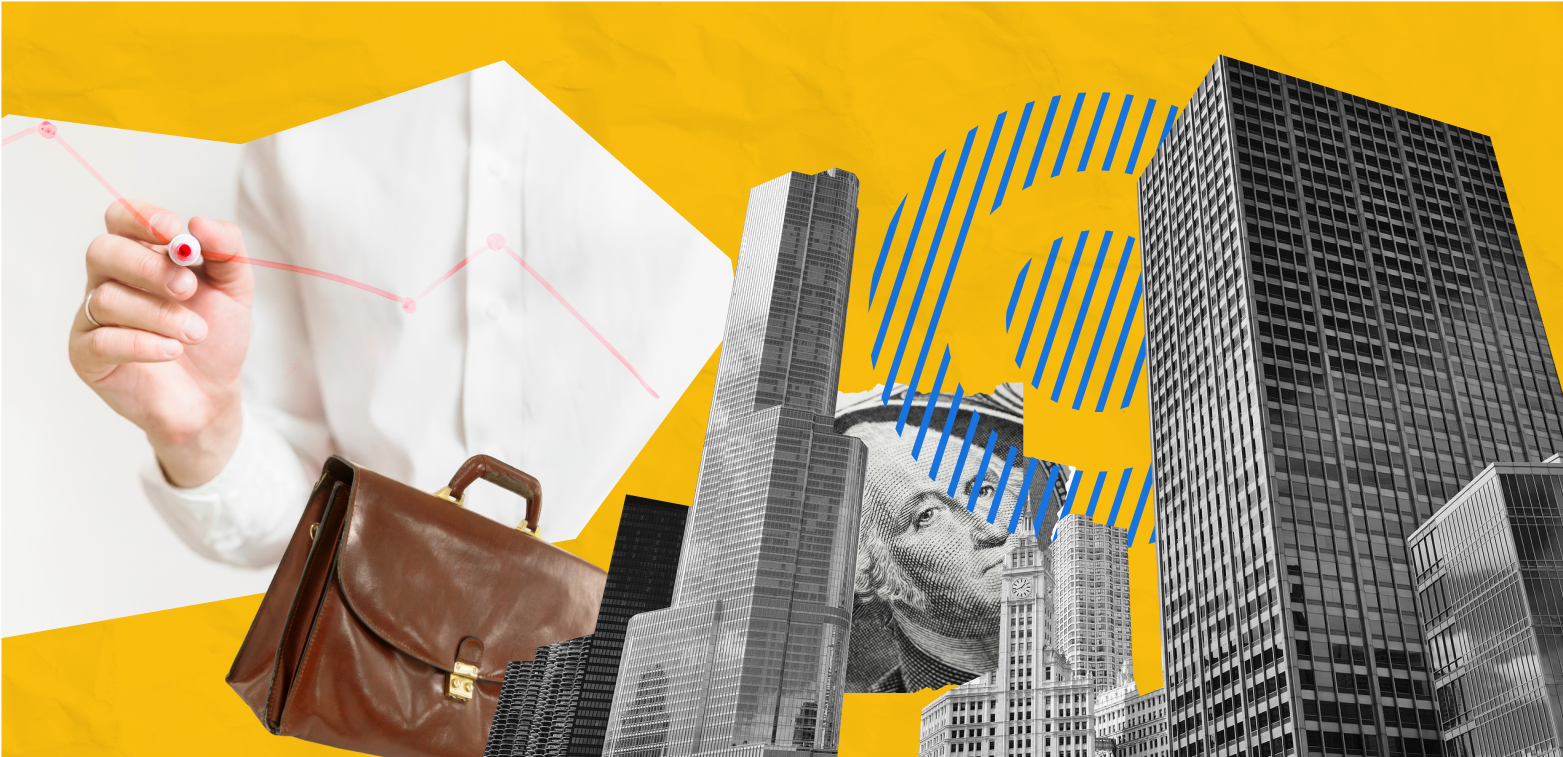 Annual income – twenty pounds, annual expenditure – nineteen six, result – happiness. Annual income – twenty pounds, annual expenditure – twenty pounds, result – misery.
– Wilkins Micawber, a clerk in Charles Dickens's 1850 novel David Copperfield
Americans know they need to create a household budget and stick to it. But do you know how many Americans follow it? Well, the answer may surprise you.
According to the Federal Reserve report, only 41% of Americans keep a budget.
As such, about two in five American adults say they have a budget and keep close track of how much they spend. Yet, the other study by the U.S. Bank reveals the top barriers why people struggling to manage their finances. So, for 45 percent of respondents, the key reason is money, while for 27 percent – it is time.
Planning, creating and sticking to a budget is a tough gig. Yet, it's one of the most effective ways to manage, and what's more, save money. On top of that, when funding, you skip using a credit card, personal loans or other debt issues. Indeed, it doesn't always mean that you'll get savings for a rainy day, yet, one thing you'll get is control of your money.
So, there are two key questions most people would like to get an answer for:
Do I spend more than I earn?
What can I afford to spend?
Interested in both answers? Then it's time to start forecasting properly.
Getting Started with a Financial Forecasting
If you are just starting, budget templates would be your smart bet. Not only you'll save yourself the trouble of having to create a worksheet from scratch, but you'll get a working sheet template that includes all bells & whistles you need to build your budget.
Financial forecasting can help you put forward a scenario that you believe is realistic to be achieved. Don't make the mistake thinking that forecasting is easy to do. As a rule, it's always wrong and only an educated best guess can foresee how the financial results will turn out. Yet, it hardly means that you are wrong or you don't need to do that. Instead, practice makes the master.
What Is the Main Purpose of Using a Budget Spreadsheet
In the simplest form, think of it as a sheet that comes with a table of rows and columns with data. It can be both text and data, as well as sorting and calculations. It's the very option that can save the day any time you have numerical data to store, organize, calculate.
Budget spreadsheets can be as simple or as complex as you need. It all depends on what you track or what you calculate. All in all, you build it to what you need.
In today's world when everything is available with just a click of a button, keeping track of your money is a real challenge. It's so easy to let go of and yet so hard to know exactly where it's gone. No need to say that every time you spent researching how to get your finances in order, you get the same piece of advice: make a budget.
Okay, but do you know how to do so? Well, even if not, don't fret. You're not alone.
At last count, only 24% of millennials demonstrate basic financial literacy. While 51 percent of respondents asked by the US Bank stated they want more knowledge about financing.
Different Budget Spreadsheet Template Styles for Different Money Needs
Indeed, getting the best plan for your specific needs is what really matters. But just like personal finance is personal, there's no one size fits all budget list template. And it's not always about design. What really matters is its effectiveness. If you can't use it properly, what benefit you'll get?
So, when choosing a budget sheet, there are certain things to consider. Namely:
Is it simple?
Is it easy to use?
Can you make any changes to fit your needs?
Is it right to your situation?
Is it available online?
Indeed, the list of questions can go on but once you understand that a personal budget worksheet works for you, you're on the right way. Whether you want to use a free budget worksheet or paid forecasting tool, it's up to you. Focus on what matters to you and pick the option.
Generally, you have 4 possible ways to set up your financial tracking spreadsheet. You can use:
a free app
a spreadsheet (Google Docs or Excel)
a paid tool
a pen and a paper.
And when it comes to the budget worksheets, you want to get the best of the best solutions possible to customize it to your needs. Say, if you're a single woman who's forecasting for yourself, a simple budget worksheet would be right up your alley. No extra categories that you won't use and need.
On the other hand, the Google Sheets budget template gives you a good starting point to customize it as per your specific finances. Simply put, it works the same way as Excel but offers more options to take advantage of.
Both Microsoft Excel and Google Sheets offer free tools to users. You can also create your own, though there can be a learning curve to using the programs. So, the one that fits you best might come quite handy for you.
The List of the Best Budget Templates to Choose From:
Are you motivated to have good fiscal management? Great for you. Having a working budget in place will help you track your income, see how you are doing.
Grab this worksheet to list your monthly expenses and see how much money you spend this month. Plan your sending for the next one to stick to your plan as much as possible. You can also plan many months ahead. The result? It's easy to forecast how major life changes will affect your financial future.
---
Monthly Budget Template from Mint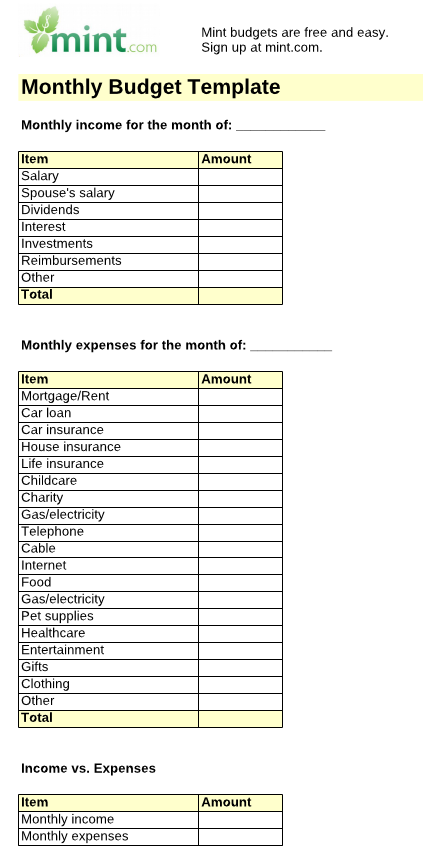 Whether you need to forecast a daycare, home, monthly or college spending, this template might come quite handy.
Forecasting is a necessary part of adulthood. It's the best way to identify exactly where you stand with your finances. At first, know your income and put in real numbers. Then, fix your expenses, both fixed and variable. Now you know how much you can save.
Depending on what you track, it's easier to get a clear picture of your financial health. To help organize your efforts, this monthly budget template would be a great help. And don't be afraid to do a bit of exploring. It's always worth doing.
---
Feel as a newbie in the adults' world? Yes, it can be overwhelming, yet no need to dampen your spirits.
Start with planning how much you can afford and get over that hump. With a personal budget spreadsheet, you can manage your money in a smart way.
Will it be your first plan? No worries, you can download this spreadsheet in Excel or Google Sheet format and use it conveniently. Remembering and calculating expenses is not that easy. Yet, this personal budget spreadsheet can play a key role in your monthly planning. It's time to forecast and work on big goals.
---
Personal Monthly Budget from Microsoft Office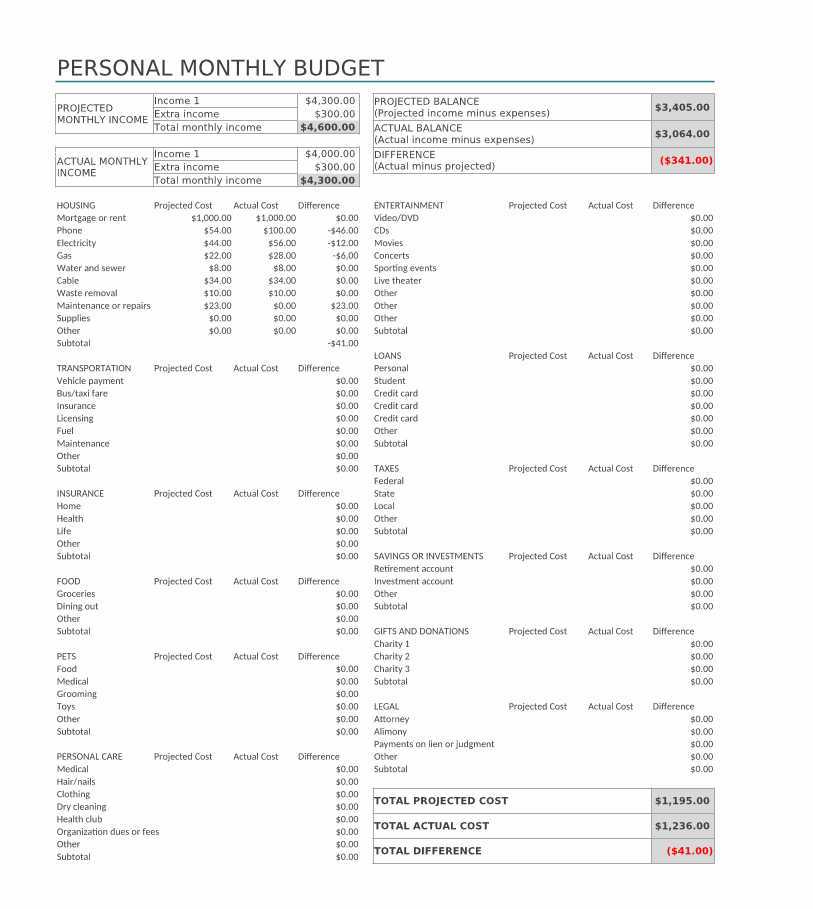 If you find it more convenient to work in Excel, give this personal monthly budget a try.
Whether you need to monitor your household, wedding, business or college expenses, this tool can handle it expertly. It includes different spending categories to help you know where each cent goes. Once you see where cash is leaking out, it's easy to skip a whole heap of troubles.
No matter how complex your financial situation is, this Excel template will come to the rescue. Also, don't forget to make a list of all the financial goals you want to accomplish. By identifying your priorities before you start planning can help.
---
If you prefer to manage your money in a quick and easy way, this simple forecasting tool would be a huge help. Designed in an easy to grasp manner, it allows you to see and plan how much you can spend each month. Even if this will be your first plan, using this simple spreadsheet is not that difficult.
First, enter your income. Be careful to enter only real numbers. Then, put in your month's bills and receipts. There you'll find different appropriate categories to place the numbers. Now, it's easy to see how healthy is your financial situation.
Are you far from your ideal income allocation? It's time to find and close the gaps.
---

This is the other great free tool that allows you to plan and manage your money. So, what can you do?
Well, it's easy to create unlimited budgets, track your transactions in your budget, and even get email support. Just because it's free, it makes it easier for you to plan your finances anywhere, from desktop or phone. For those who'd like to get even more benefits, can go with a paid version. As such, you get the possibility to connect this tool to your bank and monitor your account balances.
Take a closer look at where you're spending your money most and adjust your funds to make the difference.
---
Free Monthly Budget Template from FrugalFanatic
Find it difficult to div out how much money you spend each month? Well, you're not alone. Lucky you are to be able to take advantage of a free monthly budget template to plan ahead.
As such, this tool allows you to learn how to save money for things that matter to you. Without a doubt, managing your finances is not all that easy, yet this free tool can help get you started. Whether you need it to save money on your grocery bill, pay for college or close financial gaps, start using this template.
Track your income and expenses to find out where your money goes and learn how to increase your savings. Go ahead, download it, and fill it out to find which categories eat your money most.
---
Household Budget Worksheet from Kiplinger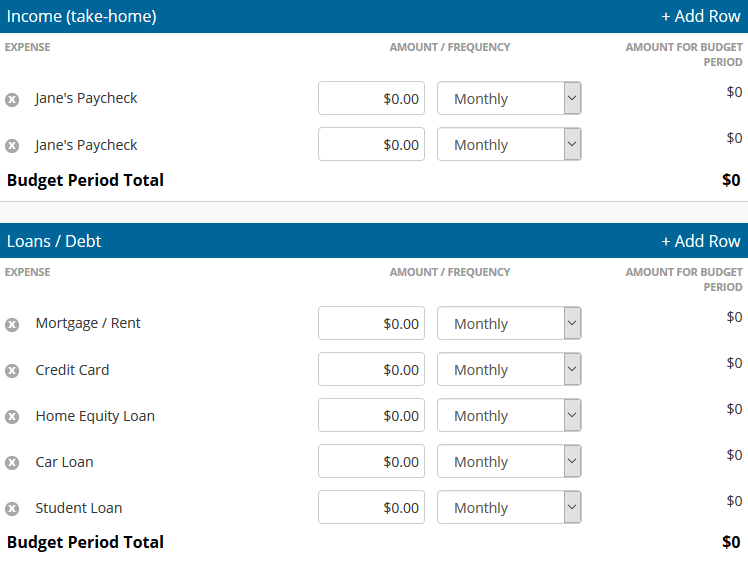 Why not create a yearly forecasting plan for your family?
No two families will have the same expenses, so you need to find a solution that fits your particular needs. Give this household budget worksheet a shot. The best thing about it is that you can poke around its rows and columns to match it perfectly to your requirements. The result? It can help reflect your personal finances in a more useful way.
Find what works best for you and you'll be more prepared for the unforeseen changes and expenses. An accurate household plan is what you need to understand where you are at on your journey to financial independence.
---
Simple Monthly Budget Template from TheSavvyCouple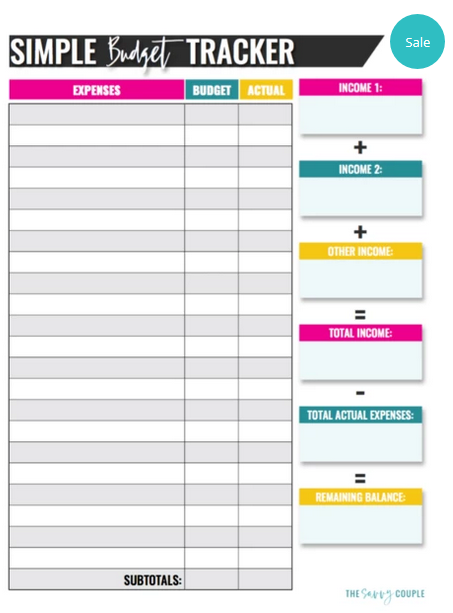 Living from paycheck to paycheck can be stressful. Go the other way.
Without planning, reaching your financial goal is almost next to impossible. Let your financial journey begin with this simple monthly budget template. Easy to use and customize, it can help you take complete control over your financial health.
No need to stress about money. Just download the template, enter your income, and fill in the expenses according to the categories. In the end, see the totals calculated for you. Don't like the numbers you see? Well, then start from the beginning.
---
Monthly Budget Printable Sheets from FrugalMomEh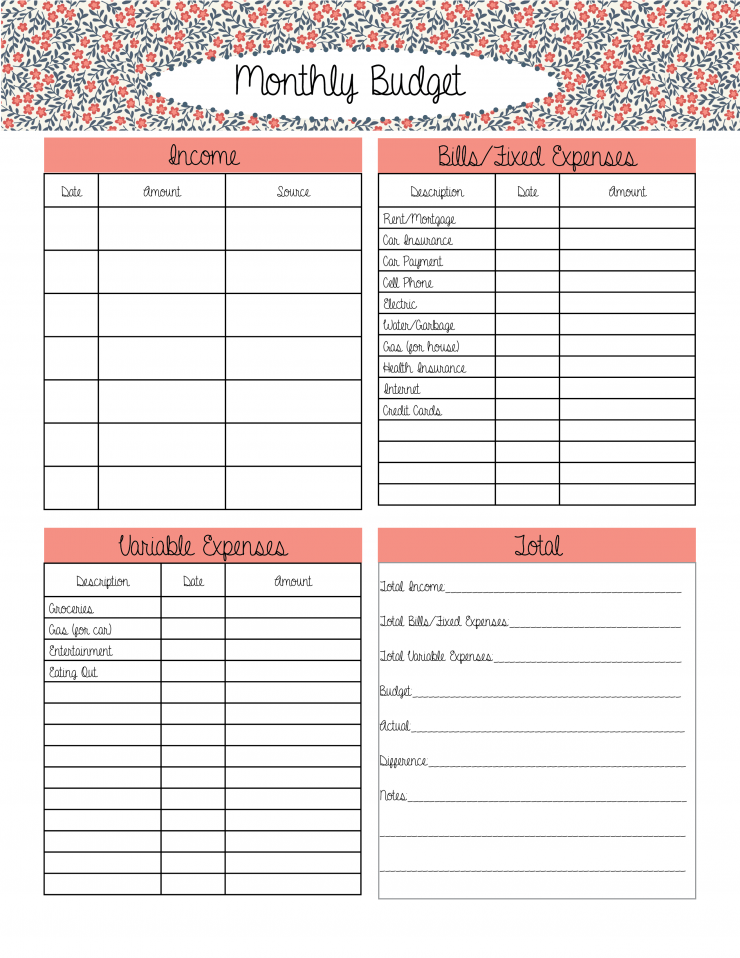 Bored with dull Excel or Google sheet budget templates? No worries.
Who said that planning should be bored to death? Today, we have something special for you. Designed in a cute way, these monthly budget printable sheets would be a nice extra for you. With this financial tool, you'll be ready to calculate your expenses and learn what percentage of your income could be generated for the savings account.
The best thing is you can print those sheets and put it right in front of you. On top of that, you can even print money envelopes and label each category as per your needs. Start with these cute templates to see how far you can get in your financial planning.
No matter what budget planner worksheet you'll end up with, no need to learn the formulas to run calculations. Anyway, that is the best thing about those free budget spreadsheet options. At last, whether you are using a simple monthly budget template or Excel monthly budget template, you cannot go wrong. All of them are powerful and have you a lot to offer.
How to Use Budget Sheets
Download your personal budget spreadsheet
Whether it's 50/30/20 budget spreadsheet template, wedding, monthly or college worksheet, find the right one for you. Your financial life is unique, so need to be the tool to manage your money.
Write down your total income
Here comes: full-time jobs, second jobs, freelance pay, Social Security checks, and other ongoing sources of income you can get. If you're married, forget not to include your spouse's income.
Don't fear radical honesty. It's your first step on your way to getting your financial life in order. Even if you feel uncomfortable listing your expenses, you need to do that.
Adjust expenses from income
The math here is simple: your income minus your expenses should be equal zero. That's an ideal result. As such, you understand that every dollar you spend has a place in your financing. Every time you are over or under means that your math is not accurate. So, try again.
Tracking every cent you earn is easy with a budget planner worksheet. It may sound like a tough gig, but once you start, you'll see that it's interesting and brings results. All in all, that's the only way to learn whether your spending is aligning with your plan.
When Dave's Budgeting Worksheets Might Come Quite Handy
"Tell your money what to do instead of wondering where it went."
– Dave Ramsey, the silky-voiced financial guru
Are you one of 13 million radio listeners who consume all the material Dave has? Great for you. If you're familiar with his best tips on how to stick to the financial plan, then you have to try something else. The Dave Ramsey budget worksheet is the other tracking tool to try.
In general, the Dave Ramsey budget sheet consists of the monthly cash flow form and the irregular planning funds form, which work together to provide a solid home budget worksheet. It includes different components made up of charity, food, savings, clothes, and so on. Each component has its own saved and spent columns to help you track spending.
The Dave Ramsey budget spreadsheet works especially great for people are self-employed or working on commission. You know that unpredictable income makes it usually difficult to create a funding. That's where Dave's budgeting spreadsheets would be a huge help.
Tips to Use Dave's Budgeting Worksheet Expertly
It's important to follow the theory in which budgeting worksheet is built, otherwise, you'd better consider using any other solution.
Incomplete or inaccurate information doesn't make sense. No matter how little, yet, any type of income matters.
At last, it's a zero-based budget. So, if the difference between your income and expenses is not zero, recheck your calculations.
How Can Planning Help
"Getting through life without a care in the world and expecting others to care for you is no good feat. That's called being a child. Adults devise a plan and follow it. Children do what feels good."
– Dave Ramsey
Being proactive with your money takes effort but it works. The funding is going to give you an action plan to follow. Better yet, with a monthly budget sheet, you'll get a clear picture of where your funds are ending up each month.
What's your goal? To get out of the debt? To save for retirement? Or maybe to keep your grocery bill from getting out of hand? No matter where you're at on your journey, reaching your goal is only possible with financing.
Irrational or emotional purchases are no exception for all of us. With a monthly budget spreadsheet, take control over your spending your money intentionally. Your task is to create a realistic plan and stick with it. Otherwise, no 'extra' money would appear.
You're the boss of your own funds, so it's your job to make sure it's going where it needs to. Anyway, who else can prove the contrary if not you?
Easy Visualization as One of the Benefits of Financial Templates
With the variety of available online, downloadable and printable monthly budget template forms, it's easy to manage your money. The dense rows and columns of numbers provide the ability to view the data in a variety of graphical formats.
The best thing is that it's easy to get the answer to the 'what if' question. By way of example, you can change the numbers at a time or a combination and see the instant result of what may happen in your financial life.
As such, you can start with a monthly budget template and customize it as per your needs. Over time, it will fit your requirements the way it should.
Think of it this way. Imagine, you want to buy a suit or a dress. You have options: whether to buy it off the rack or to go to a tailor to make custom just for you.
Yet, there is another option. As long as your body changes, you can get your dress or suits tailored to match. The same with a monthly budget worksheet. The tool stays the same but your updates and numbers change. As you go through your life's adventures, your numbers will change.
---
The best budget spreadsheet allows you to update your form graduating beyond simple funding.
---
When you use a monthly budget spreadsheet, you're able to quickly and easily create a visual to help you realize how far you are on your financial journey. Moreover, you also have the ability to compare and contrast any data set. In turn, it'll give you the most out of your funding efforts.
Already a Millionaire? Guess What? You Still Need a Budget
For those making a financial plan for the first time, a sample budget sheet would be a more hands-on approach. No matter whether you prefer a weekly or monthly tracking tool. Getting started with a family budget worksheet or household budget spreadsheet doesn't require some sound funding skills.
Yet, the most important thing about it is to start as soon as possible.
The best thing is that you can plan together and work on big-time goals. Just div out what's your goal and where you are on this journey. What type of debt do you have? What's the interest rate? How much? Prioritize the things that are most important to you and your spouse (if you have) and stick to it.
Start planning right away. Best of luck with your forecasting!