You can pay off many bills at once using a debt management strategy called debt consolidation. One account may be easier to manage than multiple. Besides, you might be able to lower your average interest rate if you have lending rates that are greater than usual.
Obtaining a debt consolidation loan is considered to be one of the most common ways to consolidate debt. This is a personal loan utilized in order to pay off numerous bills. It may be challenging to secure this type of loan with bad credit. Regardless, there are a few things you can do to increase your chances of approval. There are other options as well to consider.
Best Debt Consolidation Loans for Bad Credit
An unsecured loan, unsecured credit card with bad credit debt, medical expenses, and other types of debt can all be paid off with a debt consolidation loan. The only remaining obligation is a single monthly payment. This can make paying off debt easier and quicker.
Loans for debt consolidation are accessible to individuals with all levels of credit. There are still options available for borrowers with poor credit.
However, those with good and exceptional credit will probably be eligible for reduced interest rates. See the list of potential lenders below if you need a debt consolidation loan with bad credit.
Upstart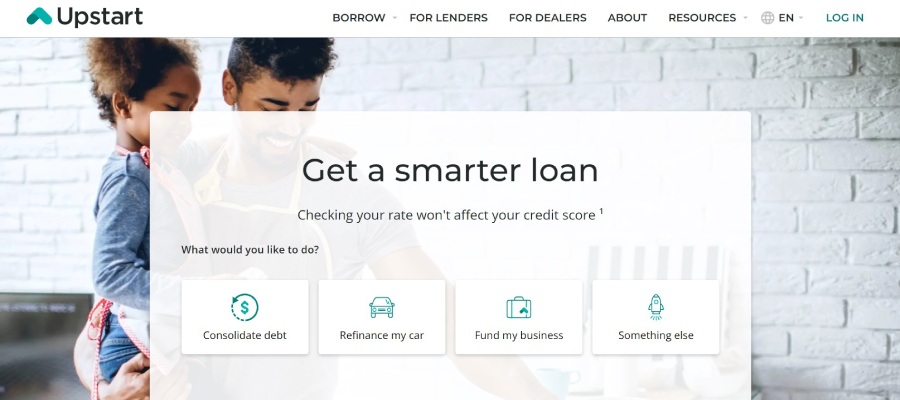 Fast funding is available via upstart personal loans. It may be a choice for applicants with bad credit or short credit histories. For important purchases, Upstart provides a dependable source of cash. The approval and funding processes are some of the fastest among lenders.
Upstart incorporates information like college major and employment history in its borrower evaluations. On the other hand, many personal loan lenders focus on reviewing credit and income data. It helps them make an application decision.
The lending platform claims that other lenders simply look at credit scores. In comparison, their unusual process helps approve more consumers and offers lower rates.
There are loans available ranging from $1,000 to $50,000. They provide lengths of 3 or 5 years and fixed interest rates from 6.5% to 35.99%. There is no charge for paying in advance.
| | |
| --- | --- |
| Pros | Cons |
| No credit history required | Only 3 or 5 years repayment terms |
| No additional fees | No secured loans |
| Soft credit check | |
Tally
To help you eliminate your debt faster, Tally consolidates lower-interest lines of credit. They offer a personalized payoff plan and helpful guidance.
It is a smartphone app that provides clients with a personal credit line, so they can combine their credit card debt. The startup claims that the app's technology can quickly eliminate debt. They do so by directing users' attention to their highest-interest accounts immediately.
Three membership tiers in the app provide users access to different debt-payoff capabilities. Tally's credit line is a wise decision only if it will reduce your interest expenses. Members are typically required to have a FICO score of at least 580.
They provide an 11.99% fixed APR! The maximum amount is $12,000. Additionally, there are no penalties for making payments early or late.
| | |
| --- | --- |
| Pros | Cons |
| Low APR | Reports to 1 of the credit bureaus |
| Automated process | Membership charge for Tally+ |
| Credit check does not hurt your credit score | |
Upgrade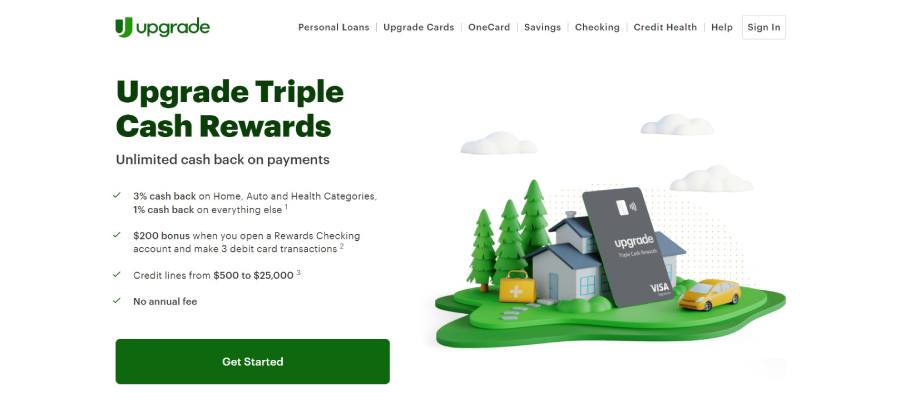 You can get a personal loan from Upgrade in the amount anywhere from $1,000 to $50,000. Within a day of your application acceptance, money is transferred directly to the account you name. Upgrade is a website that covers a full range of financial products.
We encourage you to pay off your borrowings early if you're prepared to do so. Fees for advance payments do not exist. The benefits are even more noticeable due to the lender's low minimum credit rating demand (560).
Annual Percentage Rates (APRs) for personal loans obtained through Upgrade range from 7.96% to 35.97%. The origination charge, which ranges from 1.85% to 8.99% for all personal loans, is taken out of the borrowed funds. Repayments may range in length from 2 to 5 years, sometimes even 7.
| | |
| --- | --- |
| Pros | Cons |
| Longer terms | Various fees |
| Minimum credit score of 560 | Upgrade chooses the repayment date |
| Wide range of lending amounts | |
Universal Credit
The ideal personal loans for individuals with poor credit who want to rebuild their score are those from Universal Credit. Compare loan offers before applying. The interest rates are high in comparison to other bad-credit lenders. The online loan provider Upgrade runs Universal Credit.
The distinction between them is that applicants for a Universal Credit loan get accepted more easily. This means that even with higher levels of debt and poor credit ratings (689 or below). A more adaptable personal loan is available from Upgrade, which is excellent for consolidating debt.
Your credit score must be at least 560 to be eligible. Three to five years is the typical loan length. The range of loan amounts is from $1,000 to $50,000. A $10 late payment penalty applies.
| | |
| --- | --- |
| Pros | Cons |
| Longer loan terms | Various fees |
| Minimum credit score of 560 | Upgrade chooses the repayment date |
| Wide range of loan amounts | |
OneMain Financial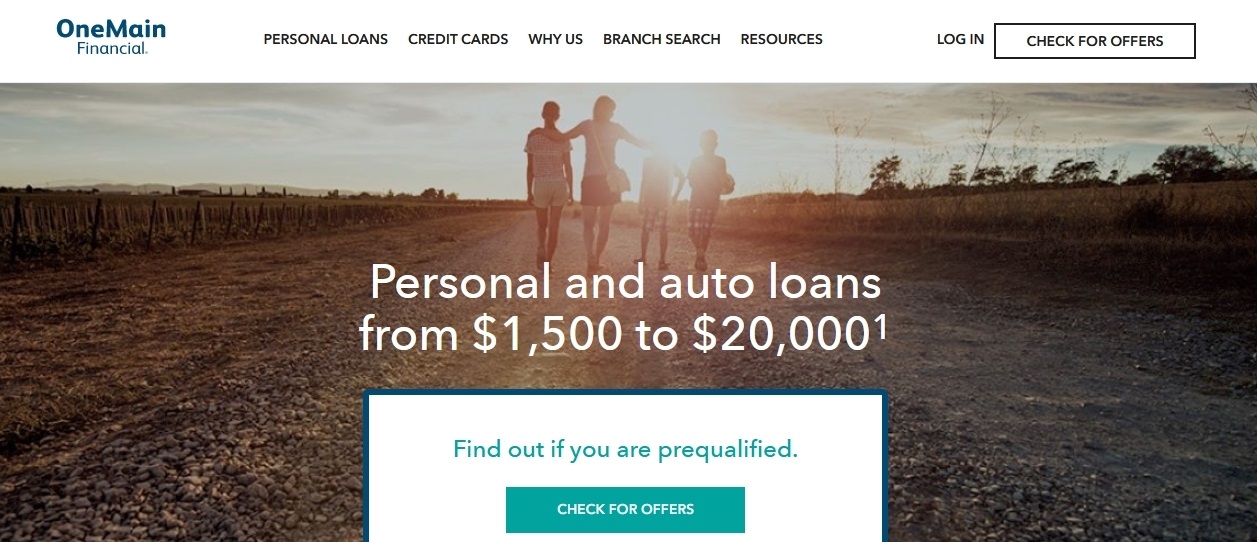 OneMain wants to recognize the individuality of every consumer. Regarding debt consolidation, there is no solution that fits everybody. They wish to work together with you to comprehend your circumstances. That way, they can assist you in determining whether a debt consolidation loan is the best option for you.
The ability to add collateral to personal loans is what distinguishes OneMain from most other debt consolidation loans. Interest rates on loans with collateral are typically lower. This significantly lowers the repayments and ultimately saves the borrower cash.
Across most states, OneMain's lowest loan size is $1,500. OneMain provides a range of loan terms, from 24 to 60 months. The lender does not impose penalties for early repayment. Estimated APR ranges from 18.00% to 35.99%.
| | |
| --- | --- |
| Pros | Cons |
| Allows collateral | Origination fee |
| No min credit requirement | High APR |
| No prepayment fees | |
LendingPoint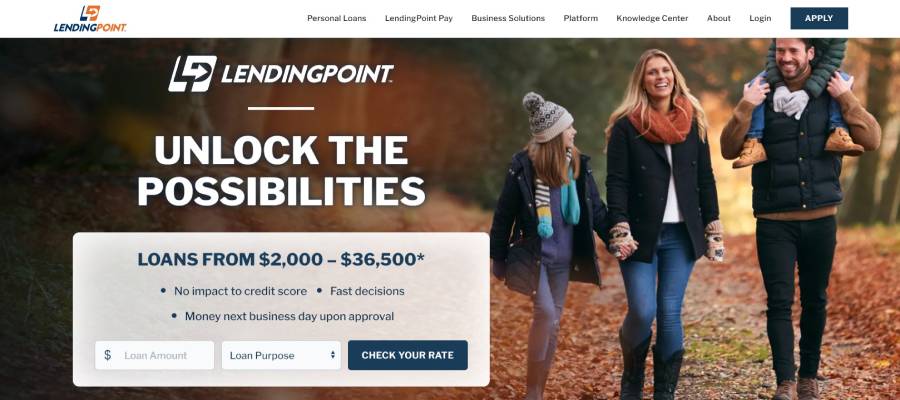 Borrowers with solid or poor credit could be eligible for instant funding personal loans from LendingPoint. Personal loans from LendingPoint appear to be a reliable source of funding.
Rates are realistic and financing happens more promptly than usual. There is a chance to pre-qualify and see what your rate would be before the application submission.
On the LendingPoint mobile app, borrowers may pre-qualify. They can also submit applications and handle personal loan installments. Additionally, the lender offers credit-building advice. They also permit customers to keep track of their credit ratings. With other lenders, these characteristics are sometimes frequent but not always given.
LendingPoint enables pre-qualification. The customers can review their loan offers prior to applying. Your credit score is unaffected by this practice. However, you must obtain a 600 to be eligible.
Loan sizes range from $2,000 to $36,500, and the APR runs from 7.99% to 35.99%. 2 to 5 years are the repayment terms.
| | |
| --- | --- |
| Pros | Cons |
| Soft credit check | Min credit score is 600 |
| Mobile app | There is an origination fee |
| Quick financing | |
How to Get Debt Consolidation Loan With Bad Credit
If you have bad credit, getting debt consolidation loans is not that simple. However, there are quite a few lenders willing to overlook that. This particularly refers to online financial institutions.
Even with terrible credit, debt consolidation loans are certainly attainable. However, it is critical to be advised of the negatives connected with bad credit loans no credit check, such as high costs of interest and other expenses. See below for some of the main factors you need to consider first.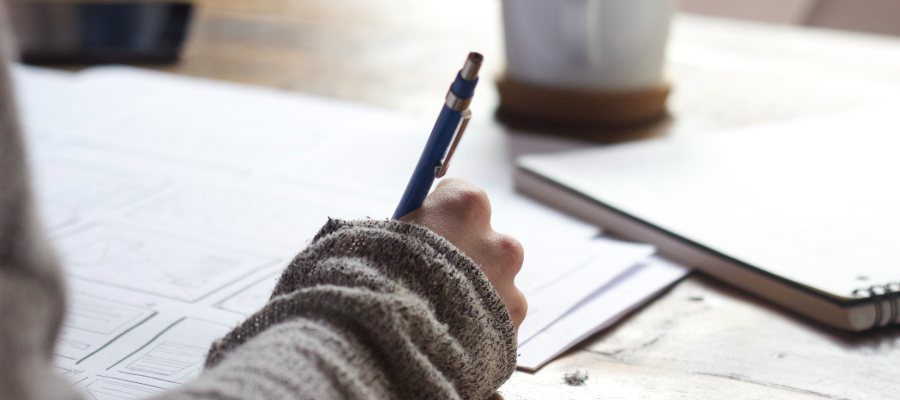 Check Credit Score
If you want to get a debt consolidation loan, your credit score is extremely important. It contributes to the calculation of interest rates. It might become challenging or impossible to borrow money when your credit rating drops, which is typically caused by missed credit card payments.
Payment history is a crucial component of credit rating. A debt consolidation loan may help you strengthen it. With a debt consolidation loan, you only have one payment every month to remember. It is much easier than managing several.
As there may be mistakes, make sure to clean up your credit report. Moreover, before you apply for debt consolidation, be well aware of your credit score. The initial step would be to enhance those two areas.
Choose The Best Lender
'A bad credit loan' is a type of personal loan designed for borrowers with poor credit. Applying is simple. The majority of creditors provide quick financing and make funding decisions quickly. If you have little to no credit history, you may still be eligible for a negative credit loan. Most lenders normally do not place limitations on how the money can be spent.
It is crucial to look around to find a better deal. These loan programs often have high interest rates because they are riskier for the lender. However, the majority of loans for those with bad credit have set interest rates, so the regular monthly payment will not fluctuate.
Knowing the different loan kinds will help you choose the best alternative prior to seeking a loan with a poor rating. Choose a repayment period that fits your personal finances. Prequalification, figuring out loan expenses, and assessing creditors based on their standing and benefits offered are further recommendations.
Check Terms And Requirements
The pricing and qualification criteria are important factors to think about. You must meet the lender's minimum credit rating criteria, preferably have one that is higher than that, in order to be approved. Generally speaking, lenders prefer to know that you can afford your payment obligations, along with any other loans or card transactions.
Also, remember to look over the APR. The interest rate and any costs collected by the lender are included in the APR of a borrowing. A percentage of the loan the creditor extracts before granting it to customers, known as the origination fee, is what many online lenders demand from individuals with bad credit. This price is reflected in the APR.
To find a manageable monthly payment, evaluate your spending plan. Next, determine the interest rate and period necessary to achieve that monthly payment. Examine additional loan aspects. Assess characteristics like financing period, if the creditor offers help in improving a score, and whether the repayment date is flexible.
Apply
If you currently have a poor rating or even no credit history whatsoever, personal loans and the possibility of accumulating additional debt could seem overwhelming. However, if handled sensibly, they can support you in meeting a significant, unavoidable expense.
They can help boost your credit rating as you make installments. You simply need to conduct proper research if you are asking to consolidate debt with bad credit. Applicants with bad credit may find that applying to internet creditors is a smart alternative. Even better if you do so through an online financial company.
You can frequently make an initial application through these networks and afterward compare propositions from various creditors. Finding lenders wanting to cooperate is greatly simplified by online lenders.
What to Consider Before Taking Debt Consolidation Loan
Consider all potential future events before selecting a debt consolidation loan. Think about what could prevent you from making payments. Consider the following scenarios: interest rates rise, you get sick or lose a job, and so on. It would be an indicator of financial trouble if you frequently used credit to cover essential home expenses.
Your troubles may not be resolved by a consolidation loan. Prior to obtaining a debt consolidation loan, it is crucial to obtain free debt counseling. Watch out for the expensive costs some businesses charge to arrange the loan.
To see whether they would agree to decrease your installments, try getting in touch with each of your lenders separately. There is a chance that some creditors will take lower monthly payments. They might remove particular charges or adjust the lending rate.
To assist you in repaying your debt, some companies may even adjust the payment date so that it fits your paychecks.
Pros and Cons of Debt Consolidation Loan With Bad Credit
If you can obtain a low rate, pay installments, and avoid going into additional debt, consolidating your debts could be a wise move. However, consolidating debt has both advantages and disadvantages. Here are some of the benefits and drawbacks we compiled to help in your decision-making.
Pros
Saving money by repaying the loan at a lower interest rate is the main benefit of debt consolidation.
You may pay off your debt even more quickly by combining at a lower interest rate and using the money you saved on interest. Many creditors do not charge prepayment fees either.
By combining your debt, you can make one payment per month with a fixed rate rather than managing various payments.
Cons
Not everyone is eligible for lower rates
It might be challenging to get approved as lenders demand strong to excellent credit rating (690 or higher on the FICO scale).
Consolidation does not fix everything
Debt consolidation can be beneficial. But, it is not a permanent solution to reoccurring debt. It does not resolve the habits which contributed to the accumulation of debt.
Alternatives to Debt Consolidation Loan
Many consumers find it beneficial to use a debt consolidation loan. They can repay high-interest obligations like credit cards. However, it may be difficult to be approved to receive the most favorable interest rates and conditions if your score is bad. Below are some alternatives to that choice.
Credit Card with Balance Transfer
A credit card with an introductory 0% APR that typically lasts 12 to 21 months might support customers in debt repayment. This means that customers may use the balance transfer card to move high-interest loans. They can also repay them within the card's promotional period without interest.
Cash-Out Refinance
With a cash-out refinance, you can get rid of your old mortgage and replace it with a new, larger loan. It will pay out the cash you have for the gap between the sum you owe and the worth of your house. Although the amount can differ, most creditors allow you to take up to 80% of the value of your property.
Budget Modification
Budgeting is essentially a financial plan. Making a budget is a crucial first step in controlling your expenses. A great strategy should always be reviewed and modified as necessary.
Conclusion
Is debt consolidation a good idea? Debt consolidation loans are attainable even if your credit score is not great. There are many lenders willing to work with you on that. However, bear in mind that you might get higher interest rates with a poor credit rating.
The minimum credit most creditors are looking for is at least 560. Apart from that, you should look into the other requirements prior to making your decision. Compare various lenders to determine what is best for you!