These days, financial stability feels unattainable, especially for anyone struggling with bad credit and a low income; moreover, for people who were not familiar with basic terms in the financing sphere, for instance, what's the earned income credit? But worry not because the search for the best personal loans to suit your unique needs is now easier than ever! We understand that life can throw curveballs at the most inopportune moments, and having access to quick financial assistance can make all the difference.
That's why we've meticulously researched and compiled a comprehensive guide to the best 550 credit score personal loan for low income and bad credit. With the right knowledge, you will confidently navigate the lending landscape, securing the funds you need without drowning in the fine print.
So, leave expensive payday loans at the door, and embark on this journey with us as we unveil the top personal loan options that cater to your financial situation, and take the first step towards regaining control of your financial future.
Upgrade — Best For Bad Credit Small Loans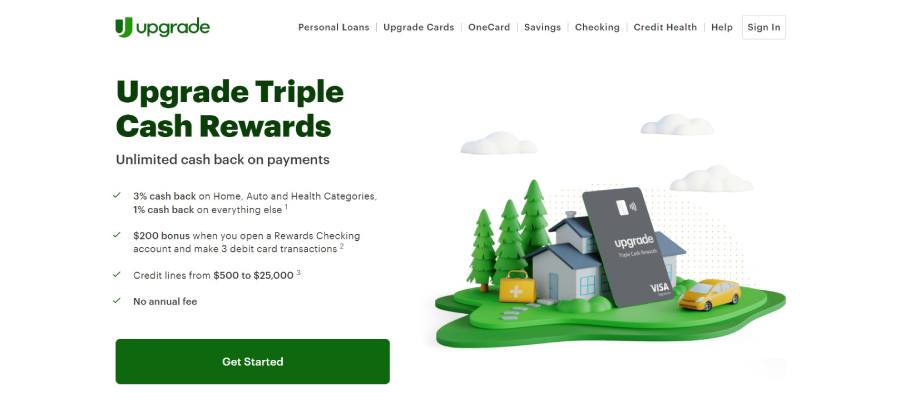 Upgrade is a relatively new player in the world of personal loans, having been founded in 2017. However, it has quickly made a name for itself thanks to its unique approach to lending. Upgrade is best for low income borrowers who have less-than-perfect credit but still need small loan amounts.
While Upgrade may not be as well-known as some of the larger lenders, it has received positive reviews from borrowers and industry experts alike. In fact, Upgrade has an A+ rating from the Better Business Bureau and has been recognized by NerdWallet as one of the most reliable personal loan lenders for fair credit borrowers.
Highlights Of The Loans
| | | | | |
| --- | --- | --- | --- | --- |
| APR | Minimum Credit Score | Loan Amount | Repayment Terms | Process Time |
| 8.49%-35.97% | 580 | $1,000 to $50,000 | 2 – 7 years | 1 – 4 business days |
The lender offers low income loans ranging from $1,000 to $50,000, with APRs between 8.49%-35.97%. Upgrade also gives you flexible loan terms, ranging from 2 – 7 years, which can be a huge benefit for borrowers who need a longer repayment period. The application processing time can take anywhere from one to four days, with most applications taking less than this.
Details Of The Lender
Upgrade works through an online platform that allows borrowers to apply for a loan and receive funds without having to visit a physical location. They provide personal loans for all sorts of things like home improvement, debt consolidation, and large-scale investments.
The lender has a simple and user-friendly online application process, allowing borrowers to apply for a loan in minutes. When a borrower applies for a loan, the lender evaluates their creditworthiness and financial history to determine the loan amount and interest rate.
They offer fixed-rate personal loans, meaning that the interest rate remains the same throughout the life of the loan. This provides borrowers with a predictable monthly payment and helps them budget accordingly. In terms of reliability, Upgrade has received positive reviews from borrowers.
The lender is transparent about its fees and charges, and there are no hidden fees or prepayment penalties. Additionally, the lender offers a range of resources and tools to help borrowers manage their loans, including a mobile app and online account access.
Pros and Cons
Like any financial product, there are advantages and disadvantages to taking out a personal loan with Upgrade. Let's take a closer look at the pros and cons of borrowing from this lender.
Advantages:
One of the things that set Upgrade apart from other personal loan companies is its Credit Health program. A series of personalized tips and tools are provided to help borrowers improve their credit scores.
A credit score simulator, which allows borrowers to see how different financial decisions can impact their credit score.
Depending on your credit score, you may be able to qualify for rates that are lower than what you'd find with other online lenders.
Streamlined and efficient application process. In just a few minutes, borrowers can apply online and receive a decision. Within the next business day, you can receive funds in your bank account if approved.
Disadvantages:
Charges origination fees, which can range from 1.85% to 9.99% of the loan amount. This fee is deducted from the loan proceeds, so it can increase the overall cost of borrowing.
May not be available to borrowers with poor credit.
Upstart — Best For Limited Credit History
Upstart is a reputable online lender that specializes in personal loans as well as low income loans. The company uses a unique underwriting model that takes into account factors beyond just credit score, such as education and work history, to determine a borrower's creditworthiness.
This approach can be particularly beneficial for those who have a limited credit history but have other factors that make them a low-risk borrower.
Highlights Of The Loans
| | | | | |
| --- | --- | --- | --- | --- |
| APR | Minimum Credit Score | Loan Amount | Repayment Terms | Process Time |
| 6.50 – 35.99% | NA | $1,000 – $50,000 | 3 – 7 years | 1 business day |
A reasonable interest rate is also available from Upstart (6.50-35.99%). Borrowers can receive loan amounts ranging from $1,000 to $50,000, with terms of three to five years. Most borrowers receive their funds within one to two business days after applying.
Details Of The Lender
By utilizing advanced AI technology, this lender can determine creditworthiness in a way that does not require traditional bank loans. Upstart personal loans have a simple application process that can be completed online, and borrowers can receive their secured loan funds as quickly as the next business day.
They are a reliable lender that has been in business since 2012. The company has an A+ rating with the Better Business Bureau, and it has received positive reviews from customers. Upstart personal loans are also transparent about their charges (e.g, origination fees) and interest rates, which are competitive with other lenders in the industry.
Overall, Upstart is a reliable lender that offers terms. Its advanced technology and simple application process make it a popular choice for people who need financial assistance.
Pros and Cons
It's always a good idea to weigh the pros and cons carefully before deciding if an Upstart loan is the right choice for you.
Advantages:
Use a unique underwriting model that assesses a borrower's potential based on factors beyond just their credit score.
Fast approval process
Payment options are convenient
Competitive interest rates and no prepayment penalties make it easy for borrowers to pay off their loans early if they choose to do so.
Disadvantages:
Not available in all states, so borrowers in certain areas may not have access to these personal loans.
Charges origination fees (0% to 8%), which can add to the overall cost of the loan.
Lending Club — Best For Debt Consolidation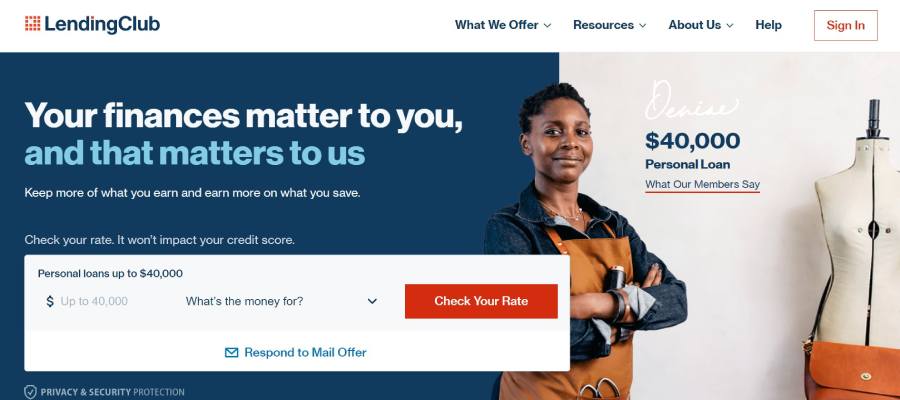 This peer-to-peer platform connects borrowers with investors, making it a great option for those looking for a personal loan. But what exactly is the Lending Club best for? Well, it's a great option for those who need to renovate a house, consolidate debt, or settle credit card debt.
Whether you're a first-time borrower or an experienced one, Lending Club is a popular lender that has proven to be a reliable and trustworthy option for low income loans.
Highlights Of The Loans
| | | | | |
| --- | --- | --- | --- | --- |
| APR | Minimum Credit Score | Loan Amount | Repayment Terms | Process Time |
| 8.30% – 35.89% | 600 | $1,000 – $40,000 | 3 or 5 years | 1 – 3 business days |
For personal loans ranging from $1,000 to $40,000, Lending Club offers competitive interest rates, with APRs ranging from 8.30% to 35.89%, and terms ranging from 36 to 60 months. The application process is entirely online and takes only a few minutes to complete. Quick and easy, with most borrowers receiving their funds within a few days.
Details Of The Lender
Lending Club personal loans have become increasingly popular over the years for several reasons. This peer-to-peer lending platform connects borrowers with investors who fund loans at competitive rates.
Lending Club personal loans are best for individuals with good credit scores who are looking for a quick and hassle-free loan process. In terms of popularity, Lending Club is definitely a top contender in the lending industry. Their business has received positive reviews from both borrowers and investors.
With over 4 million customers and an A+ rating with the Better Business Bureau and has funded over $55 billion in personal loans since its inception. It's clear that Lending Club is a trusted and reliable lender. Additionally, Lending Club has a wide range of loan options, for example, business loans, personal loans, auto refinancing, and medical financing, making it a versatile choice for borrowers with different needs.
Pros and Cons
Lending Club has grown in popularity in recent years as an alternative to traditional bank loans. With this in mind, it's still a good idea to carefully consider the pros and cons of this lender before deciding if they are the right choice for you.
Advantages:
Come with lower interest rates than credit cards, making them a more affordable option for those looking to consolidate debt or finance a large purchase.
Fixed interest rates, which means that borrowers can budget more effectively and avoid unexpected rate hikes.
No prepayment penalties, which is a significant advantage if you want to pay off your loans early.
Disadvantages:
Lower credit scores may not qualify for the lowest interest rates, making these personal loans less affordable for everyone with bad credit.
The repayment terms for these loans are fixed. Meaning you can only choose between two payment options, which can result in higher monthly payments.
Avant — Best For Bad Credit Small Loans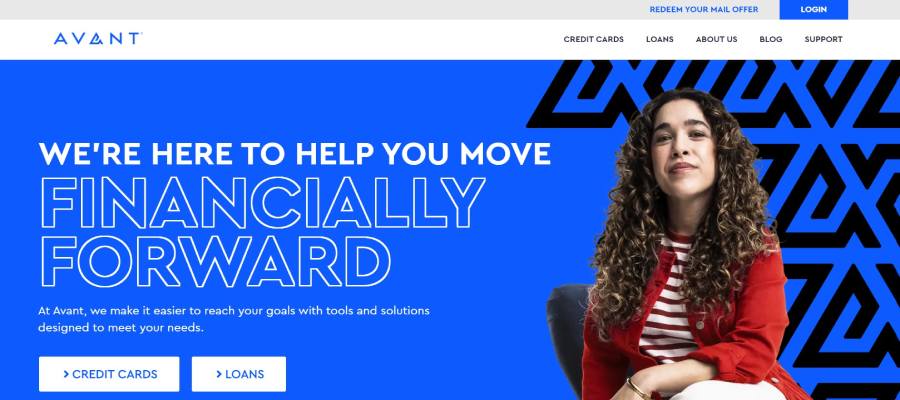 Avant personal loans are a popular option for those who need quick access to cash. These loans, and unsecured credit card for poor credit, are best for individuals who have a less-than-perfect credit score and are looking for a loan with flexible terms.
While they may not be as well-known as other online lenders. Avant has established a solid reputation for providing quality customer service and reliable loan products.
Highlights Of The Loans
| | | | | |
| --- | --- | --- | --- | --- |
| APR | Minimum Credit Score | Loan Amount | Repayment Terms | Process Time |
| 9.95% to 35.99% | 550 | $2,000-$35,000 | 1 – 5 years | 1 – 2 business days |
Avant offers loan amounts ranging from $2,000 to $35,000 with terms of 12 to 60 months. Their monthly payment terms fall within industry standards. And their online application process is quick and easy, allowing borrowers to receive their funds as soon as the next business day.
Details Of The Lender
As a lender, Avant has an online application process that is clear and easy to follow. They have personal loan options, including debt consolidation loans, home improvement loans, and emergency loans. When you apply, the lender will review your application and determine if you are eligible for a loan.
If you're approved, Avant will work with you to determine the loan amount, interest rate, and terms that best suit your needs. Once you accept the loan offer, the funds will be deposited directly into your bank account, usually within one to two business days.
But is Avant a reliable lender? The answer is a resounding yes. Avant has an A+ rating from the Better Business Bureau and has been accredited since 2012. Additionally, the company has received positive reviews from customers, with many praising its customer service and transparency.
Pros and Cons
Avant can be a good option for those with poor or fair credit who need quick access to funds. Still, you should weigh the pros and cons before making a decision and consider other lenders that may offer lower interest rates and fees.
Advantages:
Available to those with poor or fair credit. The company considers a variety of factors beyond just scores when making loan decisions, which can be helpful for those who have struggled to obtain personal loans from traditional lenders like credit unions.
Competitive interest rates, especially for borrowers with lower scores.
Does not charge prepayment fees, which means borrowers can pay off their unsecured personal loan early without any additional costs
The customer service team is available seven days a week to answer any questions or concerns.
Disadvantages:
Come with higher interest rates than traditional lenders. This is because the company takes on more risk by lending to those with lower scores.
It doesn't offer co-signer options, which can be a disadvantage for those who need help qualifying for a loan or want to secure a lower interest rate.
LendingPoint — Best For Personalized Loan Types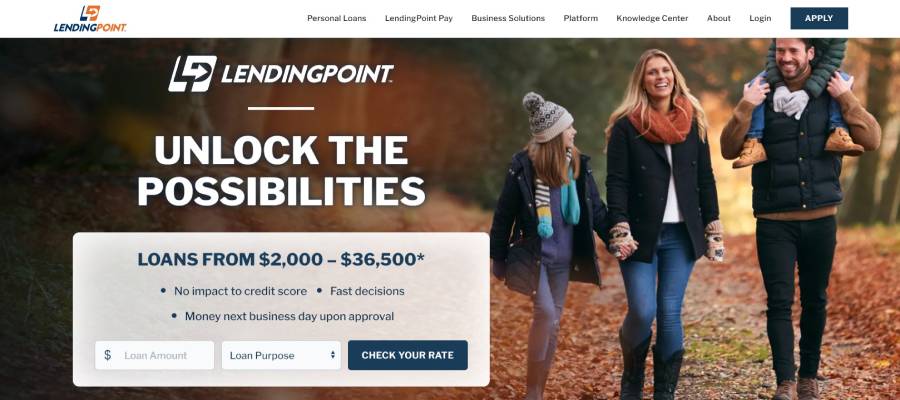 LendingPoint is best for individuals who have a decent credit score but are struggling to secure a loan tailored for them personally. LendingPoint has gained popularity in recent years due to its ability to provide personalized best loan options for fair credit to its customers.
They're ideal for consolidating high interest debt, financing home improvements, or covering unexpected expenses. This lender considers factors such as your annual income, employment history, and debt-to-income ratio, which makes it easier for borrowers with less-than-perfect credit to secure a loan.
Overall, LendingPoint is a great option for anyone who needs a personal loan and has a credit score of at least 600.
Highlights Of The Loans
| | | | | |
| --- | --- | --- | --- | --- |
| APR | Minimum Credit Score | Loan Amount | Repayment Terms | Process Time |
| 7.99% to 35.99% | 620 | $2,000 – $36,500 | 2 – 6 years | One business day |
With an above average credit score, borrowers can get a $2,000 to $36,500 loan, and pay it back between two to six years.
Details Of The Lender
LendingPoint uses a proprietary algorithm to assess borrowers' creditworthiness, taking into account factors such as annual income, employment history, and debt-to-income ratio. This allows them to offer personal loans to individuals who might not qualify with traditional lenders.
One of the pros of working with LendingPoint is that they allow flexible payment options, including the ability to change your due date or make early payments without penalties. They also report to all three major credit bureaus, which can help borrowers improve their credit scores over time.
With a proven track record of providing loans to individuals with different credit scores, LendingPoint is a reliable lender because it is a registered and licensed lender. They have also received positive reviews from previous clients who have used their services.
As well as this, they provide transparent and clear information about their personal loans, fees, and monthly payment terms. The lender also provides excellent customer service to its clients, ensuring that they are satisfied with their loans.
Pros and Cons
Like any other financial institution, LendingPoint has its share of advantages and disadvantages that potential borrowers should be aware of before applying for a loan.
Advantages:
Offers personal loans to people with fair to good credit scores, which means that individuals who might have been turned down by traditional banks or credit unions can still qualify for a loan.
Same-day funding, which is a huge advantage for people who need funds quickly.
The application process is straightforward and can be completed entirely online, which saves time and effort.
Borrowers can use the loan for any purpose, and the terms are customizable to fit their financial situation.
Disadvantages:
Their rates can be higher than some other lenders, particularly for borrowers with lower credit scores. This means that consumers could end up paying more in interest over time.
A loan is not available in every state, so applicants should check their eligibility.
Ally — Best For Home Improvement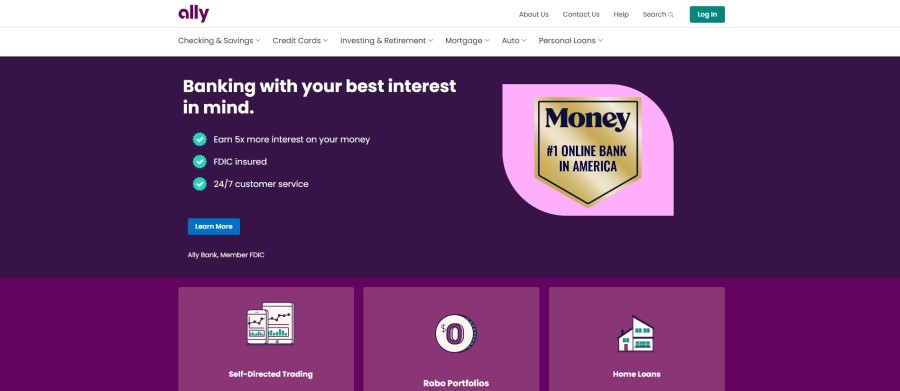 Ally is a digital financial services company that offers a range of banking and financing products, including unsecured personal loans. They're ideal for anyone who needs to borrow money for medical bills, financing a home improvement project, or covering unexpected expenses.
Ally has received positive reviews from customers and experts alike for its transparent and competitive rates, no origination fees, and flexible monthly payment options. In fact, they've received high marks from independent review sites such as NerdWallet and Credit Karma.
Additionally, this lender has been recognized as one of the best online banks and credit unions by Forbes and Kiplinger's.
Highlights Of The Loans
| | | | | |
| --- | --- | --- | --- | --- |
| APR | Minimum Credit Score | Loan Amount | Repayment Terms | Process Time |
| 0.00% – 26.99% | 580 | $250 – $65,000 | 3 months – 15 years | 3 – 5 business days |
With Ally, borrowers can receive secured loan amounts ranging from $250 – $65,000, with fixed rates and terms ranging from three months to fifteen years. Instead of personal loans, or an unsecured loan, this lender focuses on healthcare and home improvements needs.
The application takes longer for them to validate borrower applications because of this eligibility requirement.
Details Of The Lender
Ally is a home improvement lender that provides unsecured loans specifically for home renovation or improvement projects. The loans available through this lender are tailored to meet all kinds of budgets and needs.
A home improvement loan can be an excellent way to fund your home renovation project, especially if you don't have the cash on hand to pay for it upfront- whether you're looking to remodel your kitchen, add a new room to your home, or make some energy-efficient upgrades.
As a lender, Ally is known for being reliable and trustworthy. They have a strong reputation for providing excellent customer service and are committed to providing their customers with fair and transparent lending practices. Ally Bank is also FDIC-insured, which means that customers' deposits are protected up to $250,000 per account.
Pros and Cons
Advantages:
Borrowers can use unsecured loans for a wide range of purposes, including debt consolidation, home repairs, and even medical expenses.
No application fees, origination fees, or prepayment fees
Offers secured loan terms that cater to the long term expenses that come with home renovation and hospital bills.
Disadvantages:
Strict eligibility requirements. Borrowers might have to submit further paperwork or collateral.
Their products are only offered to certain people. To get approved, you will have to provide detailed information on what the money will be used for.
How To Choose The Best Low Income Loan
By diving into the crucial factors you need to consider, you'll make better decisions, saving you time and ensuring you get a secured loan or unsecured loan tailored to your circumstances. Understanding these factors not only simplifies the process but also equips you with the knowledge to navigate the competitive landscape of low income loans, ensuring you get the best possible deal.
Lender
Choosing a reliable lender is essential because it protects you from falling victim to scamming schemes. For example, a reliable lender is a financial institution with a reputation for providing fair and transparent lending services.
They offer reasonable interest rates and flexible repayment terms, making sure that borrowers can afford to repay their loans without causing financial strain. Just make sure to be on the lookout for scammers.
These can be individuals or companies, such as the worst debt relief companies that prey on unsuspecting borrowers, often using fraudulent tactics to exploit them. They grant loans with unrealistic terms and conditions, high rates, and hidden fees, making it impossible for borrowers to repay their secured loans.
To check if a lender is a scammer, you should conduct a thorough background check, including checking their credentials, reviews, and complaints.
APR
Understanding APR (Annual Percentage Rate) is crucial when seeking a low income loan, as it directly impacts your borrowing cost. APR represents the annualized interest rate, including fees and other charges, providing a comprehensive picture of a loan's true cost.
If you don't understand APR, you could end up selecting a loan with hidden costs or higher overall expenses. To choose the best lower income loan APR, ensure you compare secured loans with similar terms and consider both the interest rate and the fees involved. Calculating APR correctly involves:
Dividing the total interest and fees by the loan amount.
Multiply that by 365 and the loan term.
Divide the result by the loan term again.
Required Credit Score
Typically, these apps demand a decent credit score to ensure borrowers have a history of responsible credit management. But the best modest income loan credit score typically falls within the range of 620-680, with lenders considering applicants who demonstrate financial responsibility and a stable source of income.
To choose the right option, you'll need to know how to check your score. Thankfully, numerous websites and apps provide free credit history checks, allowing you to gauge your eligibility before applying. For example, use free services like Credit Karma or Experian to check your credit score and identify areas for improvement.
Extra Fees
APR isn't the only cost to consider when looking for the best low income loan. Additional fees can add up too. And these fees can significantly impact the overall cost of borrowing. So consider the following:
Origination fees: The costs associated with processing a loan. This fee can range from 1% to 6% of the loan amount and is often deducted from the loan proceeds
Prepayment penalty, which is charged if you pay off a loan early. This can discourage borrowers from paying off their debt sooner and reducing their interest rate payments
Late payment fees and returned payment fees can also add up if not managed properly.
Requirements
Typically, loan apps require potential borrowers to enter their full name, contact details, and Social Security number. Additionally, they may ask for proof of income or employment, credit history checks, and bank account details to evaluate financial stability and creditworthiness.
Some apps may have specific requirements, such as a minimum credit score or a particular income threshold, to ensure borrowers can repay the loan without undue hardship. However, there are certain requirements that loan apps shouldn't impose on potential borrowers.
For example, they shouldn't have discriminatory requirements based on race, gender, or sexual orientation. Additionally, they should avoid requiring unnecessary personal information that could lead to privacy concerns or potential misuse of data. Loan apps need to maintain a balance between ensuring borrower eligibility and respecting the privacy and rights of their customers.
Repayment Terms
The repayment terms dictate how much time you have to pay off your loan, which directly impacts your monthly payments. Choosing the best loan repayment terms will make sure that you can comfortably afford the monthly payments without stretching your budget too thin.
This, in turn, will allow you to maintain a healthy financial state while also making progress in paying off your loan. Not only this, but the interest rates associated with different repayment terms can differ substantially, affecting the total cost of the loan.
Always carefully consider the repayment terms, so you can minimize the interest paid over the lifetime of your loan, ultimately saving money in the long run. Lastly, some secured loans can come with prepayment penalties, which can catch borrowers off-guard if they attempt to pay off their loans early.
Reviews
When reading reviews, always consider the source. Reputable financial websites, blogs, and forums with a history of providing accurate and unbiased information are your best bet. Check out reviews from real customers who have experienced the product first-hand. This will give you a better understanding of their experience.
Pay close attention to the language used in the review. Fake reviews often contain vague, generic, or exaggerated claims that don't provide any meaningful insight into the product or service. Real reviews, on the other hand, will likely include specific details about the borrower's experience, such as the application process, rates, and customer support.
Additionally, watch out for patterns in the reviews. If you notice a sudden influx of either overly positive or negative reviews within a short period, this could be an indication of manipulation. Competitors sometimes post fake negative reviews to discredit a rival company, while some businesses may post fake positive reviews to boost their own reputation.
Lastly, always be cautious of reviews that seem too good to be true. If a review is overly enthusiastic and lacks any constructive criticism, it may be a red flag. Genuine reviews will often include both the pros and cons of the service, providing a balanced perspective.
What Is a Low Income Personal Loan?
A low income personal loan is specifically designed for people with limited earning potential. These secured loans cater to can't qualify for conventional loan options. At its core, they function similarly to other loan types.
Borrowers apply for a loan, provide the necessary documentation to prove they are who they say they are, and if approved, receive funds that they will need to repay over a predetermined period. The key difference lies in the eligibility criteria and the loan terms. Lenders recognize that people with modest incomes face challenges when it comes to securing loans, such as having a lower credit score or a lack of collateral.
To accommodate these unique situations, low income personal loans come with more lenient requirements and flexible repayment plans. Moreover, these loans may feature lower interest rates, lower minimum credit score, and smaller loan amounts, making it easier for borrowers to manage their debt and avoid falling into a cycle of unmanageable repayments.
Their goal is essentially to provide a financial lifeline that empowers individuals to address their financial needs without compromising their long-term financial health.
How to Get Personal Loan With Low Income
This step-by-step guide will outline how to get a personal loan with low income, giving you the knowledge you need to make informed financial decisions.
Assess your financial situation: Begin by evaluating your current financial status, including your income, expenses, credit score, and outstanding debts. This will help you determine your eligibility and the amount you can realistically afford to borrow.
Research potential lenders: Look for banks, credit unions, and online lending platforms that cater to individuals with low income. Compare their rates, loan terms, and eligibility criteria.
Strengthen your application: To improve your chances of securing a personal loan, consider enhancing your application by providing collateral or finding a co-signer with a stable income and good credit score. You can also improve your credit score by reducing your debt, as well as paying your bills on time.
Prepare necessary documents: Gather all documents, including proof of income, bank statements, identification, and any collateral documentation. This will speed up the application process.
Should I Get a Low Income Personal Loan?
Whether or not you should get a personal loan varies depending on your circumstances and needs. Low income personal loans work best for people who have a minimal or irregular income and find it challenging to secure traditional loans due to their creditworthiness.
They're a lifesaver for those who need immediate financial assistance to cover essential expenses such as medical emergencies, urgent home repairs, or even debt consolidation. In these situations, a low income personal loan can provide relief and help the borrower regain control of their financial situation.
However, carefully evaluate your financial needs before opting for a low income personal loan. If the loan is used to pay for non-essential expenses like a vacation or luxury goods, it's better to avoid it.
Borrowing money for these things can lead to a vicious cycle of debt, making it difficult to achieve long-term financial stability. Plus, low income loans often come with higher interest rates and fees compared to traditional loans, making them an expensive option in the long run.
Will Low Income Personal Loan Hurt My Credit?
Like any form of credit, the impact on credit reports ultimately depends on the borrower's actions and the lender's reporting practices. Although not as detrimental as payday loans, first, let's address the misconception that low income personal loans automatically hurt your credit.
In reality, getting a personal loan can cause a slight dip in your credit score due to a hard inquiry on your credit report. But, this short-term effect can be reversed by timely repayments and responsible credit utilization. In fact, a well-managed personal loan can even boost your credit score by diversifying your credit mix and showcasing your ability to handle various types of credit responsibly.
On the other hand, low income personal loans can hurt your credit if you fail to make timely payments or default on the loan altogether. Late or missed payments are reported to credit bureaus and can lead to a significant drop in your credit score. Additionally, a defaulted loan can remain on your credit report for up to six years. This can severely impact your ability to obtain credit in the future.
Will My Debt to Income Ratio Rise?
Debt to income ratio (DTI) is a financial metric that compares your total gross monthly income to your recurring debt payments. Lenders use this factor to determine your creditworthiness for loans or credit products. When you take out a personal loan, the borrowed amount, along with the interest and any fees, becomes part of your total debt.
As a result, your monthly debt payments will increase, which in turn, raises your DTI. The good news is that the impact of a personal loan on your DTI is not always negative. If you use a personal $1000 loan no credit check to consolidate high-interest debt, such as credit card balances, you may be able to lower your overall monthly debt payments.
This can lead to a decrease in your DTI, making you more attractive to potential lenders and improving your overall financial standing.
Conclusion
While traditional banks and financial institutions might be less accommodating to those with poor ratings and limited income, online lenders have a more inclusive approach. So, when looking for alternative lending sources, find ones that show they understand that financial hardships can impact anyone and so are more inclined to offer tailored solutions to help you regain your footing.
Always prioritize lenders that have transparent fee structures, reasonable interest rates, and a simple application process. And don't forget to check your credit score before applying. You don't want to end up with a further debt in your report.
While you should always shop around when selecting a lender, in most cases, the ideal personal loans are the ones best suited to your specific situation – not always the ones with fewer fees or a higher loan amount. And, as with any financial product, you need to make sure you fully understand the lender's fees and other costs associated with the loan before applying.