If you are about to borrow money, online personal loans could be a good option to go for. No wonder millions of Americans consider using it when they need cash. The best thing is that it could work for any specific purpose. Whether it's about debt consolidation, a large purchase financing, or emergency expenses, it could be the right one for you.
A personal loan is a viable option for borrowers who need to get money as soon as possible. There are a variety of reasons why to apply for a personal loan online. The key point here is to be sure you are able to pay it back. Otherwise, you might end up in deep financial troubles. If you haven't experienced this option yet, then it's a great way to learn its ins and outs before you decide to apply.
Below, you'll find out what is a personal loan, how it works, and find the best place to get a personal loan online. At the end of the day, it will help you shop for the best personal loan options and get approved.

Known also as Opportunity Financial, LLC, OppLoans has been in business since 2009. Thus, as many as 300,000 customers have sold their financial issues since the OppLoans' founding. Focused on providing small personal loans for borrowers with bad credit, OppLoans has funding amounts ranging from $500 to $4,000.
Their mission is to provide customers with damaged credit access to fast personal loans in a simple, secure, and transparent way. Even though their APR rate ranges between 99-199 percent, it could be still a good option if you absolutely need cash.
Other important things to consider:
Are you on the lookout for personal loan companies that offer competitive rates on the market? Then LightStream is perfect for that task. The coolest thing about LightStream is that it can make the loan you need much more affordable, but there is a trick.
To qualify for the best rates, you need to be at least a premier consumer. If you have a plan to pay back what you borrowed, your competitive loan package may be as high as $100,000.
Backed by SunTrust Banks, LightStream provides quick personal loans for borrowers who need large funds fast. Also, this online lender works with customers who are not members of SunTrust Bank. If you meet the requirements, simply submit all of the necessary documents and get the funds you need fast.
You can use your personal loan to fund auto purchases, home remodeling, or medical expenses. Once you get a loan, LightStream plants a tree.
LightStream in a nutshell:
Other important things to consider:
Avant is one of those lending companies that provide quick personal loans for borrowers with less than desirable credit scores. Since 2015, Avant has originated $4 billion in loans to over 6000,000 borrowers.
Thus, if you have trouble with your financing and need money fast, Avant could be exactly what you're looking for. The application process is as simple and easy as that. Once you apply, Avant will pull a hard inquiry on your credit and this will affect your score.
Avant could be a good option for borrowers with damaged credit. A minimum 600-700 credit score is required to apply for a personal loan. Yet, you can also try to get the funds with at least a 580 score. You can use a personal loan from Avant to pay off your debt, fund a wedding or trip, make improvements to your home, and the like. Unsecured loans mean that you don't need to put down collateral.
Other important things to consider:
Founded in 2012, Upstart is an online lending platform that takes the lending process to new heights. Because the process is automated, getting money tends to be very easy. It provides personal loans to consumers in a bit different way.
As the company states, it has originated over $4.2billion in loans, and 60 percent of approvals are entirely automated. As such, if you want to get a personal loan in a smart way, Upstart to the rescue.
The company provides its services in 48 states with APR rates ranging from 8.27% to 35.99%. The amount you can borrow is something between $1,000 to $50,000. Your credit score is not the only criteria to determine your eligibility and APR.
Factors like the area of study, work history, and GPA are also taken into account. If you want to get instant loan funding, Upstart offers to do that within one day after approval.
Other important things to consider:
Upgrade is a good option for borrowers who prefer to deal with direct lenders. The company provides easy personal loans with APR starting at 7.99%. To qualify for a personal
loan online, make sure your score is at least 600. Forget not also about factors like the borrower's income, credit usage, and credit history.
The whole process is done online, so you don't have to step foot inside a bank or office. To choose the best personal loan, simply visit Upgrade's website and follow the steps to complete the offer. After online approval, you are able to receive the funds as soon as the next business day. For borrowers who sign up for auto-pay, Upgrade offers the lowest rates.
Other important things to consider:
Comparing options could be the best way to get a personal loan online. Not sure? Visit an online marketplace that connects you with lenders. And Lending Club could be the solution. Whether you're looking for personal loans, small business loans, and auto refinancing, Lending Club has a lot to offer. All in all, since 2007 Lending Club has helped over 3 million customers with $50 billion in loans.
The company is a peer-to-peer platform that allows you to borrow personal loans that range from $1,000 to $40,000. For borrowers with good credit, an APR rate can be as low as 6.95%. Even if your score is not as high as needed, it's worth your time to look in to your options with Lending Club.
One thing to consider when you apply for personal loans online is that Lending Club is best suited for borrowers who are not in a hurry to get funding. The reason for that is that it could take up to seven days to get your money.
Lending Club in a nutshell:
Other important things to consider:
How to Get a Personal Loan?
Nearly a quater of Americans have personal loan. That is why there are many different personal loan lenders that provide financial solutions for borrowers. Important thing is that there is no best lender in the field. That's why comparing options is always smart. Thus, you will not only pick the lender you want to deal with but also the solution that will work best for you.
When you need a loan, the first thing to do is to check your credit. When you know where you're standing, it's easier to understand how much you can get. Even bad credit is not a big problem if you have a plan in place on how to pay it back. Now, shop around to find the best personal loan lenders possible.
When you opt for an online personal loan, you save the day. Thus, you are able to check multiple lenders and compare your options. Also, take the time to look for hidden fees if you don't want to put your financial future in harm's way. Finally, online lenders sometimes offer more convenience. This is especially true when it comes to getting funds. In some cases, a lender promises to give you the money you need the same day.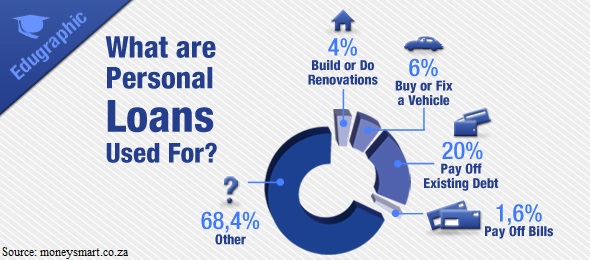 What Is the Benefit of Obtaining a Personal Loan?
Even though personal loans won't work for everyone, there are smart ways to use them. For instance, credit card refinancing is one of the reasons for getting a personal loan. Just because a credit card has a higher interest rate, a personal loan can help you pay off your debt faster.
Paying off other high-interest debts like payday loans. Say, you have an old personal loan with a higher interest rate than you would qualify today. Also, the best online personal loans can provide you with the funds you need to repair or remodel your home. To add, if you run into emergency expenses, personal emergency loans can help you over it.
When it comes to long term personal loans, the advantage of using them is obvious. They have a tenure of three years or more and can help build your credit score. Want to fund your child's overseas education, wedding, or medical expenses? Find an option that enables you to meet your financial commitments fast. Need money in a hurry? Then opt for an instant loan to get the funds you need the same day.
Before you apply, take time to consider the pros and cons of personal loans. Oftentimes you can find much lower interest rates, but a poor credit score could be a reason for denial. Also, the possibility to get quick funding with no collateral required may end up with a higher APR rate.
When it comes to downsides, origination, late, or prepayment fees are some of those. You should necessarily pay attention to it before you sign up for the application. Otherwise, it might break your budget. So, if you are able to pay off your loan at any time without paying a penalty, go for it.
Which Describes the Difference Between a Personal Loan and a Credit Card?
Even though credit cards are one of the most common types of credit used, personal loans are not at the tail end. Think of personal loans as  installment loans that you can use for a myriad of purposes. Thus, you receive a lump sum of money to cover the void in your budget.
So, a credit card has a certain limit on the amount of money you can spend at a time span. And here is the difference – an interest rate. Once you pay the balance on the credit card in full, there is no interest.
Which Best Describes a Way People Can Use Personal Loans?
Thing is, you can get personal loans and use them for various purposes including home renovation, wedding, travel purposes, or debt pay off. To add, there is no strict limit for the amount borrowed.
If paid on time, a personal loan can help build your credit faster than other forms of credit. Sometimes a personal loan can be a good option to help you afford the education you need to get a better job or qualify for that promotion.
No matter your purpose in getting a personal loan, make sure you've done your research. Things like interest rates, the size of your loan, the loan's term, and of course fees can make a big impact on your decision.
Just because personal loans are the fastest-growing type of consumer debt, they can be used depending on your particular situation. When your score is suffering and you're in a tough spot, guaranteed personal loans may sound like a lifesaver. Yet, the truth is that being able to qualify for a guaranteed loan is no easy feat.
Typically used by borrowers with poor credit, guaranteed loans are backed up by a third party that takes responsibility for a loan if a borrower defaults. Guaranteed by a government agency, these loans enable risky candidates to qualify for a loan.
On the other hand, it assured that the lender will get money back. In turn, it benefits the lender at the expense of a borrower. Guaranteed mortgages, federal student loans, and payday loans are a few options available for borrowers strapped financially.
Thus, when shopping for a fast personal loan, watch out for the following red flags.
Taking out a personal loan could be a real challenge if you don't compare your personal loan options. If you are in a situation when you need money fast, a short term personal loan could be perfect for that task. Expected to be repaid within a year, short term loans can help save you money and stress down the line.
When looking for the best private lenders for a personal loan, consider the pros and cons to make the right decision. Private personal loans are typically hard money personal loans that can work for borrowers with poor credit.
You can get an instant approval for hardship personal loans today and get the funds you need the same day you apply. When you utilize this option, you need to be aware that you are going to pay a much higher rate of interest.
Also, keep in mind that you can't have bad credit, bankruptcy, or poor credit history if you want to apply for large personal loans. To find a perfect private lender for personal loans of up to $100,000, make sure you do your homework.
Research the types of competitive rates currently available and do the math whether you could repay it.
How Long Does It Take to Get a Personal Loan
Interested in applying for a personal online loan? Then you definitely need to check the best personal financing loans available out there. If not, the time is now. After weighing all pros and cons, take the time to read personal loan reviews. You know that you are going through hard times in the future, so it's in your own interest to learn personal loan comparisons.
The coolest thing about personal loan service is that you can get the funds you need in one day. Even better, to close the best deal possible, keep your credit score favorable. At the end of the day, you'll be able to earn maximum personal loan benefits and save yourself from any trouble.