Launched in March 2019, the Apple Credit Card is the first ever credit card launched by the tech giant In. It's powered by Goldman Sachs and Mastercard and is designed to assist users in leading healthier financial life.
But the credit card is not like any traditional card. It does not exist as a physical item with digital features but rather as a virtual product integrated with Apple Pay. Nevertheless, customers can get a physical titanium credit card laser engraved with their names for situations where they can't pay digitally.
Despite being in the market for three years, people still have a ton of questions about its workings, terms, rewards, and overall benefits. Here, we will address one of the most commonly asked questions, "is apple card worth it" to help you know if it's right for you.
Who Is Apple Credit Card Best For?
It is an ideal option for individuals who own iPhones, use Apple products, and love rewards. But people who regularly shop at the official store or selected Apple merchants like Exon, Uber Eats, or Mobil might benefit more from using it.
Apple Card's easy budgeting tools, transparent interest rates, no-fee policy, and other perks make it very enticing. For instance, if you use Apple Pay to settle large bills on certain categories like travel or restaurant, this card will maximize your reward. As a result, it will help you save money.
It's also best for iPhone users who love simplicity. It centralizes and packages its offerings in a unique way. The spending trackers, alerts, pay-down help, and transaction lucidity are straightforward. The 24/7 support also makes lots of difference for consumers who're too busy to make phone calls.
Of course, the company makes it easy for users to manage their accounts via iPhones built-in Wallet App. That eliminates the hassle of chasing down paper statements or figuring out where you spent money.
Apple Credit Card Highlights
According to Apple, the credit card provides consumers with a simpler and smarter way to manage their finances. It takes a slightly new approach to getting cash rewards and giving cash back on daily purchases.
With a $0 annual fee, its monthly installment offers users up to 24 months to pay for products bought from the official store. During the periods, consumers will not incur any interest and will still earn 3% cashback.
So, if you purchase a MacBook Air for $1,000, you will still receive a daily cashback of $30 without paying interest for the next two years.
That said, below are other characteristics to help you understand this product better.
Rewards Rate
A reward rate helps consumers determine how rewarding their preferred credit card is for certain purchases. In most cases, it's represented by a percentage return on every dollar used. So, if a credit card comes with a flat rate of 3%, it means users will enjoy a 3% return on every purchase charged on it.
That said, this product provides holders with 3% cash back on purchases made directly at Apple Store and for Services. The reward rates also apply when making purchases with Apple Pay at participating merchants.
Apart from that, consumers receive 2% cash back on all purchases made through Apple Pay and 1% cash back when using the physical titanium Apple Card.
The best part is the card offers no limit on the number of daily rewards you can earn. Also, the rewards never expire.
Purchase Intro APR
An Intro APR refers to interest offered by a credit company to new customers for a limited period after opening an account. The APR can apply on cared purchases or balance transfers, or both. In most cases, the intro APR is lower than the regular APR. In fact, some credit companies offer 0% intro APR.
Although the Credits come with interest-free financing options for several Apple-branded products, customers will receive no purchase intro APR on other types of purchases.
Regular APR
When you use a credit card for a new purchase, the issuer will offer you a grace period. If you clear off the pending balance on time each month, you will only pay the owed amount with no interest. But, if you carry the balance on the card, an agreed-upon interest will get added to your outstanding balance at the end of the year. That interest is referred to as the Annual percentage rate or APR.
APR of Apple Credit Cards ranges from 13.24 to 24.24% as of August 1st, 2022. This APR seems a bit on the top end. That means that if you don't make timely payments, you might accumulate more interest.
Fees
Unlike traditional credit cards, this product charges no fees. That might be because it doesn't offer customer services that come with fees like balance transfers and cash advances.
Customers don't have to pay regular fees, like annual fees, or punitive ones, like late payment fees and over-the-limit fees. But keep in mind that missed or late payments result in extra interest accruing on your outstanding balance.
Since most merchants across the globe accept Apple Pay, you will not incur any foreign-exchange or currency exchange fee. That's true, especially when making purchases abroad. You also don't have to deal with setup fees, maintenance fees, reward-redemption fees, and other pesky fees often charged.
Security Features
The Apple credit card is a no-brainer when it comes to security. Both its physical and digital sides boast several features designed to make it secure and privacy oriented. At the core, we have Secure Element, a certified chip that stores payment info and sensitive data safely on your iPhone.
Besides, it generates a unique device number for every payment, plus a one-time dynamic security code created for every transaction. Both the device number and code get locked in your Secure Element.
Additionally, for every transaction, it requires a Touch ID and Face ID Biometric access. As such, anyone without your face or fingerprint will not gain access to your account if they get a hold of your device.
For the physical card, the tech giant doesn't add card numbers or CVV numbers for extra security. Also, if it gets stolen, you can quickly freeze it via the Wallet App.
Pros of Apple Credit Card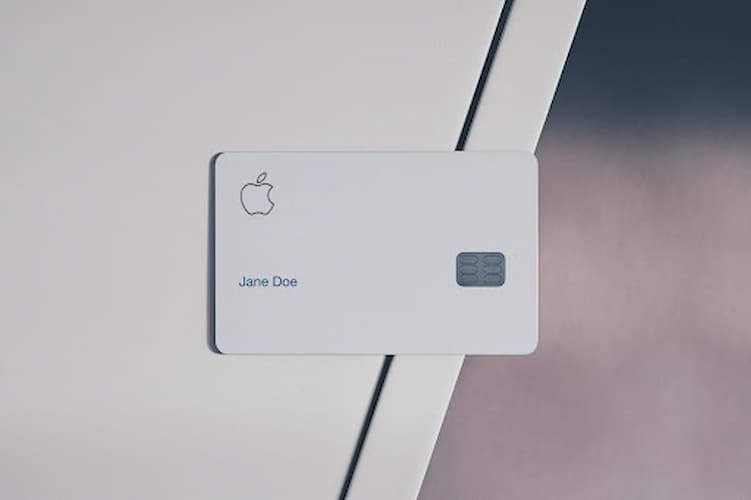 Without a doubt, apple card benefits and rewards are designed to help users manage their finances and build up credit.
For example, cardholders can use the Wallet App to track their purchases based on several categories or determine spending habits and trends. Every time you pay using your credit card, you will receive recommendations from the Wallet to clear your debts faster and avoid interest charges.
Despite these generous perks, credit card is not for everyone. You will only get the most out of apple card benefits and rewards if you're a customer of the same company. That's because you need to add it to an iPhone or iPad with the latest version of iOS or iPadOS.
If you're still wondering if this product is for you, consider these main pros and cons.
Lots of Cash Back
Every time you use the credit to shop, regardless of the place, you will earn daily cash back rewards. The rewards are unlimited, in real cash, and get applied to your account every day. You can also choose to use your daily reward to clear your balance, send money to family and friends or buy apple products.
Here's a breakdown of the product reward structure:
Get 3% cash back on apple purchases

Earn 3% cash back when you make purchases from selected merchants, such as Exxon, Mobil, Nike, and Panera Bread

Receive 2% cash back when paying using Apple Pay

Get 1% cash back on purchases made using the titanium card
There's no limit on 1%, 2%, or 3% rewards categories, and you can earn the cashback for as many purchases as possible.
No Fees
Like we said earlier, this product offers no cash advance or balance transfers. As a result, you will not deal with any fees whatsoever. As a fact, it has no annual fees, late repayment fees, financing fees, foreign transaction fees, over-the-limit fees, and so on. Because of this, you can only focus on paying less interest and building your credit score.
Potential low APR
The credit's variable APR ranges from 13.24% to 24.24%. However, these divs vary depending on the consumer's credit worthiness.
While this APR might be the highest interest rate since 2019, it's still low compared to the regular APR offered by other cards. That coupled with the lack of yearly fees, transactional fees, and no penalties makes this card the perfect option for Apple users.
Equal Monthly Payment Financing
Another perk holders of this product enjoy is equal monthly payment financing. When you purchase a product, let's say iPad or Mac, you can choose to make monthly installments instead of paying all at once. This allows you to enjoy interest-free, low monthly payments.
The equal monthly payment financing option allows you to purchase expensive products at the brand's stores. That holds even when you don't have sufficient funds to pay for them at the moment. Apple will divide the total amount into fixed, manageable monthly installments, and you can pay for them with ease.
Because you already know the monthly payments and how it's spread across the loan tenure, you can easily invest in other things or spend elsewhere.
Integration With Apple Products
The card is designed on existing credit card integration for Apple devices, like Apple Pay. It's built into the Wallet app on your iPhone or iPad, and you can sign in to use it with Apple Pay for in-store and online purchases. Because of this, it's the best option for individuals who often use this payment method to make purchases.
Apart from Apple Pay integration, it allows for partial integration with Mint, a popular budgeting service. The service links multiple banks, bills, and credit cards. The budgeting platform integration means customers can see their details like balance, available credit, fees, and APR hassle-free.
Metal Card
Besides the digital card, the credit comes in the form of a physical card made of metal–more specifically, titanium. Usually, the product bears the user's name laser engraved on it.
Apart from its stylish and durable nature, the sleek titanium card is devoid of information such as CVV numbers, credit numbers, signature box, and expiration date.
To use it, users need to provide a virtual number stored in their Wallet App. This prevents individuals from accessing their account if it gets stolen or lost.
The card comes in handy for purchases online and in-store purchases at vendors who do not accept Apple Pay. Furthermore, consumers enjoy a 1% cash back on every purchase.
Cons of Apple Credit Card
Like most cards, the product is not free from downsides. Below are some cons you need to know:
Purchase with a titanium card only guarantees 1% cash back

: If you shop on apps, websites, or physical stores that don't offer Apple Pay support, you only enjoy the lowest tier cashback of 1%.

Require an Apple device for use

: People who don't use iPhone or iPad cannot use Apple Card. You need to have a device running on the latest iOS to leverage its benefits.

Few Benefits

: Unlike other credit cards, this one offers limited perks beyond the rewards on Apple Pay and purchases from the official store. You won't enjoy any special financing offers, welcome bonuses, or a free credit score.

Apple Pay isn't accepted everywhere

: Not all vendors accept this Payment method. Though you can use the brand's physical card, you only get to enjoy limited cashback offers and rewards.
How to get an Apple Credit Card?
You can easily get the Apple Credit Card by applying for it via your iPhone. Here's a step-by-step guide to the application process via the phone:
On your iPhone, navigate to the Wallet app and open it

Next, click on the + button on the top side of the screen

You will see a screen providing you with the option of applying for the Apple Card

Choose Apple Card and hit continue

Confirm or update your personal details, then complete the application process

Read and agree to the terms and conditions

Finally, accept the credit limit and APR offered by the company
Once you accept the offer, Apple Card will appear on your iPhone Wallet app. If you want a physical product, you can request for titanium card that will arrive later in your mail.
If you're using an iPad, head to your Setting App > Wallet & App Pay> Add Card and choose Apple Card.
What Should be Considered Before Applying for Apple Credit Card?
Before applying for an Apple Credit Card, there are a few requirements you need to pay attention to. Failure to do so, your application might get declined. The requirements include:
Depending on where you live, you must be at least 18 years

You must be a U.S citizen or lawful U.S resident with a verifiable U.S address

You need a device compatible with Apple Pay, preferably an iPhone 6 or higher model with the latest iOS

You must activate 2FA (two-factor authentication) with your Apple ID

You must sign in to iCloud using your Apple ID

You might have to verify your identity by presenting a state-issued photo ID or driver's license

Individuals with a freeze on their credit report might need to lift it before applying for the Apple Card
Bottom Line
The Apple Credit Cards make the perfect option for the device users or individuals who use Apple Pay occasionally. It's a virtual card designed to revolutionize how consumers manage their finances and build credit.
It stands out because of its benefits like a no-fee policy, low-interest rates, and impressive security features. It's also built for simplicity, and users can seamlessly access it via their Wallet App.
But perhaps this product's selling point is its amazing cash back rewards on the official stores and selected merchants like Uber Eats and Nike. What's more, you can get a sleek titanium physical card to use with vendors who don't support Apple Pay.
That said, the product is not without limitations. It's not ideal for individuals with Android devices or older models of Apple devices. Also, people searching for extra perks like a welcome bonus and rewards or access to an airport lounge should look into other options.