When a sudden financial shortfall hits you, it may seem challenging to cope with unforeseen costs. Having a savings account can help, but too many consumers have to rely on their own means.
Are there any other good options? Yes, if you weigh your current choices and choose the most suitable option, the risks will be minimized. Keep on reading to find out more on how to get emergency money today.
According to a recent report from Statista, almost half of Americans don't have an emergency fund at all. For those who do have a buffer for unexpected expenses, the average amount is just over $1000.
This leaves a significant portion of the population vulnerable to financial ruin in the event of a job loss, medical emergency, or other major setbacks. Emergency loans and emergency payday loans are options for people who find themselves in a bind, but they can be very expensive and often cause more financial problems down the road.
For those without an emergency fund, the best option is to start setting aside money each month so that you'll have a cushion to fall back on in case of tough times.
Statista reports that almost a half of Americans don't have an emergency fund at all and a quarter of them have less than $1000 for emergencies.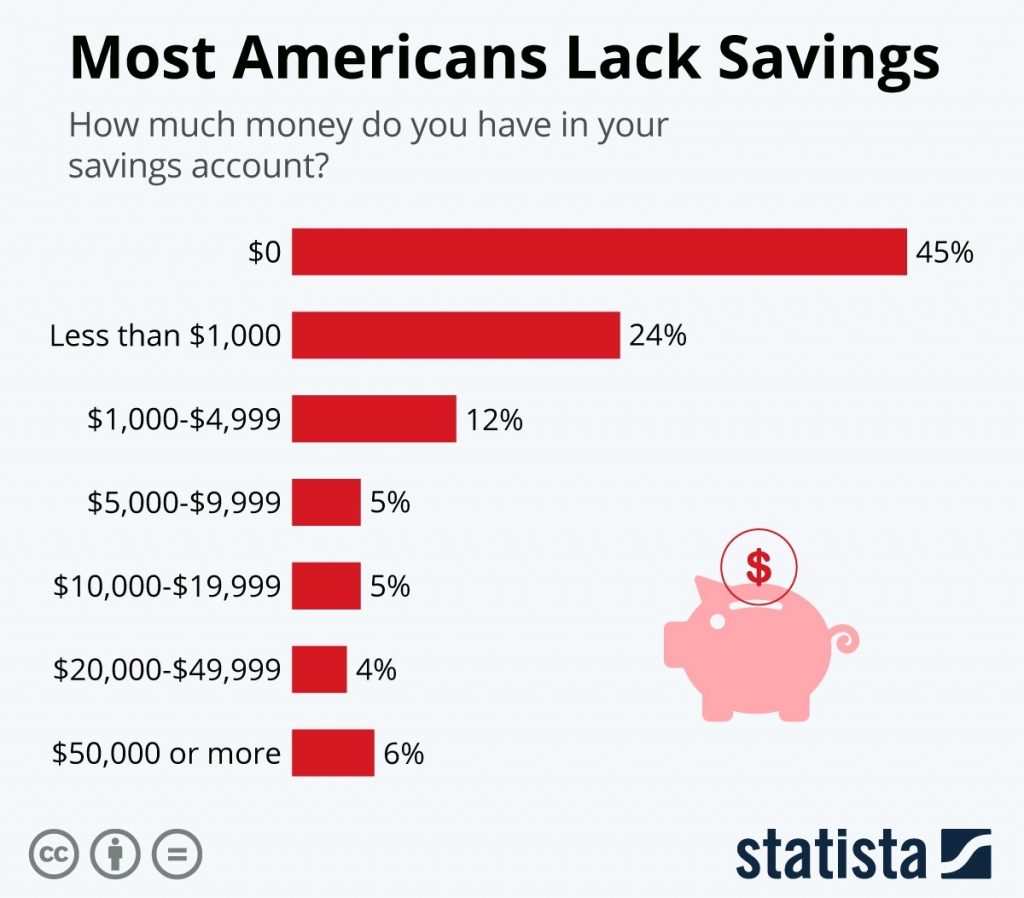 You can't protect yourself from sudden expenses and unpredicted costs. Sometimes the water pipe in your house starts leaking, the auto suddenly breaks down, or you need to cover an urgent medical or dental procedure. Not every consumer has enough funds in their pockets to support such urgent needs. When you need emergency cash immediately, the following options might bolster your situation and provide the necessary aid.
On the other hand, it pays to evaluate your existing debt and try to negotiate better terms. Do you already have some type of debt, whether it is a personal loan pre-approval, student loan or a short-term loan? Then talk to your creditors about the interest rates and conditions of your agreement. Maybe they will agree to lower the rates or offer you're a period of forbearance. Then you will be able to utilize this extra money for covering your needs. However, pay attention to possible penalties and charges for making late payments.
I Need Emergency Money Now: Where to Turn To?
When you are strapped for cash, you have several prospective options to choose from. Here are some of the most common solutions for people in financial need:
#1 Small Personal Loans
They are small emergency loans given to consumers for a short period of time. You can turn to conventional crediting companies or to alternative emergency loan lenders. Banks and credit unions are among the most popular places for the times when you need emergency cash now.
The interest rates offered at traditional lending organizations can be lower compared to other bad credit direct lenders. You can expect to have up to 35% in interest, while payday lenders charge much more.
One of the disadvantages of turning to such companies is a lengthy application process. It won't take you one hour or even one day to obtain the funds even if you say, "I need emergency money!"
First of all, you will be required to fill in their loan request forms and provide all the necessary papers. The tedious paperwork and hassle make consumers want to opt for alternative ways of getting additional funds.
#2 Credit Card
When you already are a credit card owner, you might want to tap some funds from it in the form of instant money now. Make certain you review the terms of using such a cash advance. Many cards have about 25% in interest rates.
Furthermore, the majority of them don't have a grace period (the period when the APR is 0%), so the interest will start building up the day you withdraw the funds.
Do you need emergency money immediately? Bad credit holders may take advantage of credit card cash advance option if they can't qualify for other lending solutions.
#3 Payday Loans
Sometimes consumers want to opt for the quickest solution, especially when they claim "I need emergency loan now!" Payday creditors have become very popular as they offer additional funds in the shortest terms.
Are there drawbacks? Of course, you should be ready to pay higher fees and extra charges for this decision. Quicker doesn't mean cheaper, so the interest rates can be at the top range. It can be wiser to select among other alternatives even if you can't qualify for lower rates.
According to statistics, 16% of Americans prefer to cover their emergency expenses with credit cards. Credit cards are a popular choice for emergency funding because they are readily available and easy to use.
However, credit cards often have high interest rates and fees, which can make them costly in the long run. Only 7% of Americans used to turn to personal loans for emergency funding, but this number is likely to increase in the future.
Personal loans typically have lower interest rates than credit cards, making them a more affordable option for covering unexpected expenses. In addition, personal loans can be used for a variety of purposes, including home repairs, medical bills, and car repairs.
As more Americans become aware of the benefits of personal loans, it is likely that more people will turn to this source of emergency funding.
According to statistics, 16% of Americans prefer to cover their emergencies with credit cards and only 7% used to turn to personal loans.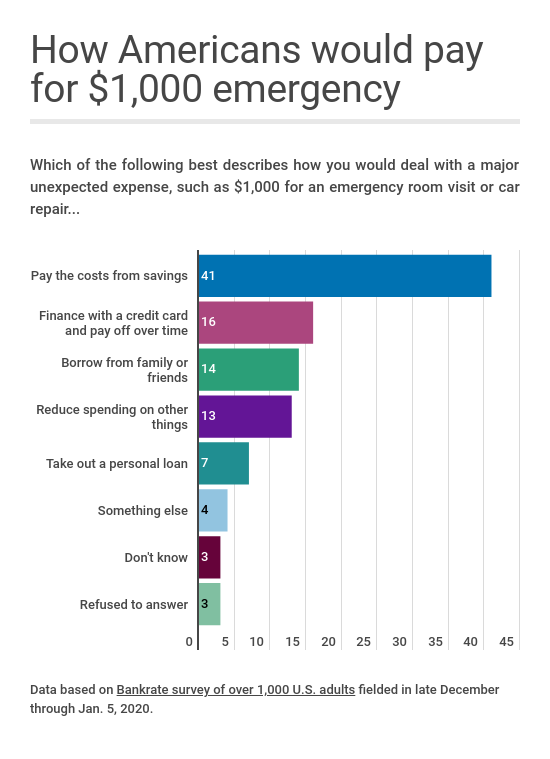 Instant Emergency Money with Poor Credit
Do you need urgent money? Do you have a tough financial situation? Many people experience emergencies connected with personal finances once in a while. Emergency cash immediately bad credit is what thousands of borrowers are looking for when it comes to unforeseen expenses.
The main reason for this search is the lack of time to improve their repayment history and credit rating. When the next financial issue happens all of a sudden, emergency loan bad credit may save the day. But you need to be careful and seek the most affordable solution.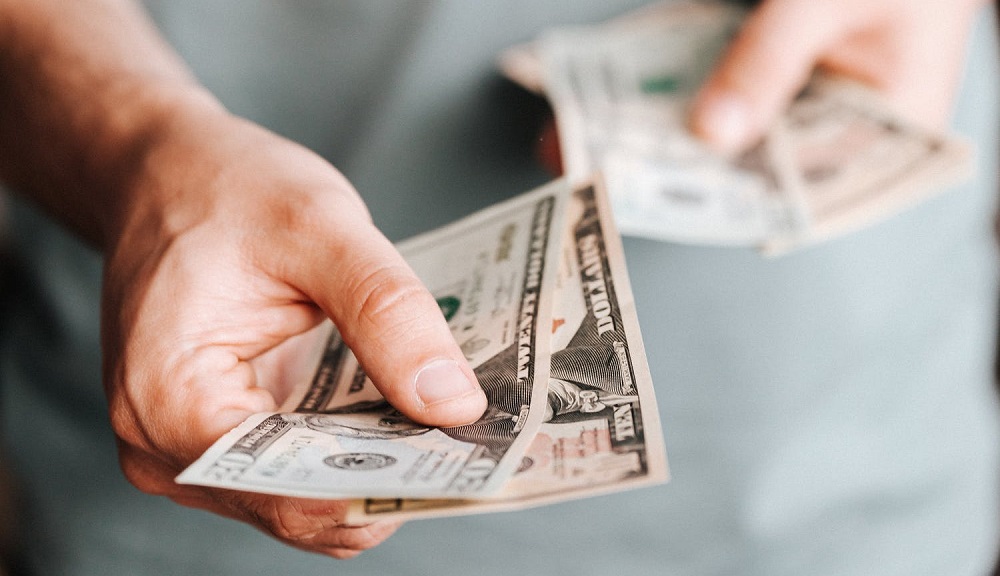 Not every lending institution is eager to deal with high-risk borrowers and issue emergency loans for bad credit. The reason is the possibility of default and non-payment.
It's no surprise that creditors aren't willing to give their funds as a present in case the borrower won't be able to return the debt.
What is emergency bad credit loan? This is a popular lending option for consumers in need who can't qualify for regular personal or payday loans due to low credit rating.
If you've had certain problems with debt repayment in the past, getting emergency cash bad credit from alternative crediting companies may help you out. Banks and other conventional lending organizations will definitely reject such an application as they only cooperate with borrowers who have a good credit history.
So, you may need some time to look for other companies and online lenders if you need financial help immediately, bad credit won't be a problem for many lending services.
How to Get Emergency Cash Today with Any Credit
What if you search for quick funds and want to find urgent cash loans for unemployed? Some potential borrowers don't follow the basic requirements of the crediting institutions.
For instance, it is obligatory to have steady employment to qualify for personal loans, hardship loans or even payday lending options. If not, you won't be able to get emergency money immediately bad credit from such finance-related service providers.
The reason for that is their willingness to verify your creditworthiness. If a borrower doesn't have enough means to repay the debt, he or she won't get approved. How to get emergency funds with bad credit?
One of the easiest ways is to tap your friends or family members. It may be an awkward decision as you might feel embarrassed to talk to your loved ones about your financial issues. However, when you need instant money now, you can discuss the conditions of such monetary assistance with your relatives or friends. Pay attention that this cash shouldn't be taken for granted. So, make sure you ask for the sum you will be able to return.
Another alternative is to turn to nonprofit organizations in your area. Some of them help consumers with rent payments, utility bills, or paying for groceries. Search for companies like the Mission Asset Fund and compare reviews. This organization is created in the form of crediting circles allowing people to borrow from one another in your community. Consumers take turns to borrow and to lend their funds to other members. The drawback here is that getting some extra cash today through such companies is almost impossible as you might be in the middle or at the end of the line. This is a decent option for the times when you can wait to get qualified for the lowest rates.
As you can see, there are many options to obtain both quick emergency money for rent as financial help with medical bills for any financial need. Shop around for the best quotes, compare various service providers, and choose the most affordable solution to fund your urgent expenditures.
If you improve your budgeting skills and learn how to manage your personal finances, you will be able to lower the risks of having such money disruptions in the future.
Also, building up your credit history can help you qualify for better loan conditions when you urgently need extra funds.
Emergency Cash Loans for Unemployed
Are you having issues with employment these days? If you don't have a steady source of monthly income, it may be rather challenging to get funded for urgent cash loans for unemployed.
Stable employment, full-time position, having welfare or disability benefits – you should get some financial support that may be considered your monthly income. You want to find emergency loans unemployed no more hassle but it means you have no salary or income at all.
Direct Express Emergency Cash
Quick emergency loans unemployed may be issued in case you still obtain some type of benefits of income – even if it's welfare benefits or disability benefits. This way the creditors will issue direct express emergency money advance as they will see you have enough means to repay the debt on time.
Emergency loans unemployed often means you are temporarily out of job, you may still have a side hustle, a part-time position, or even be self-employed with some steady monthly income source to pay the loan off.
If you need urgent money now and can't afford to repay it at all, you should search for alternative options or ask your relatives to help you.
How to Choose Emergency Cash Loans Direct Lenders
Are you dreaming of much-needed financial assistance to cover the unpredicted expenses? Fast money lending service may help you fund any upcoming needs without delay.
You may see that there is a huge variety of crediting companies and lending services around today. How can you select the best emergency cash loan direct lender?
You shouldn't rush with your decision in the first place. Making smart financial moves may take some time as you need to shop around for the best terms on the emergency advance.
When you can't boost your earning potential all of a sudden, you can compare several offers from various creditors. Review their feedback and their lending offer.
Are you satisfied with the repayment schedule and the amount they may issue? Can you afford to get money in the case of emergency? Emergency cash immediately bad credit direct lender may sometimes ask for higher fees or extra charges.
Try to avoid prepayment and origination fees and look for the most suitable solution tailored to your needs.
How Can You Obtain Emergency Loan Now?
There are not so many ways you can receive the funds from the crediting companies. Once you submit your application and get approved for the direct express loan feature, you need to fill in your basic personal and banking details in the loan request form. Hence, the funds will be deposited into your bank account.
Visa emergency loan may be obtained within the same or next business day. Everything depends on your bank account features and the time of the day as some banks don't work during the weekend.
If you want to obtain Mastercard urgent money, it won't be a problem as well. Creditors accept accounts and cards from various banks and you may utilize the money for many purposes.