Life is never predictable, and so is the requirement for extra money. Whether you're after covering unexpected expenses or bridging a financial gap, the call for some quick, extra cash is always hard to guess.
What's the solution, then? The answer is simple: Backup plans that can generate money instantly.
If you've been banging your head all over the internet, searching the query, "I need money," guess what? You've made it to the right destination!
This blog post is all about helping you get money fast. From borrowing options to alternative income sources, we've listed 19 life-changing strategies.
Need cash fast? If yes, continue reading! Let's look at how you can gain access to cash when you need it most quickly.
1. Get a Cash Advance
As its name suggests, a cash advance is a smart solution for quick cash. It refers to a situation when someone is allowed to borrow money against their upcoming paycheck.
Cash loan brings multiple benefits that range from rapid access to minimal documentation requirements. It wonderfully serves as a helpful hand to someone in urgent need of money.
However, there do exist some disadvantages. Cash advances often come with high-interest rates and fees. That said, you should always weigh the costs before considering this option.
Real-Life Example: If you need $500 urgently and are willing to pay a fee of $50, you can obtain a short-term loan through various online lenders or payday loan stores.
2. Ask Friends and Family for Help
Borrowing money from friends and family for financial assistance can provide prompt relief. Yes, you can get access to money immediately without facing much trouble.
The benefits of this method include flexibility in repayment terms. You can avoid interest charges, which is a great plus.
But then again, seeking help from your known circle can be tricky. You must approach with caution and maintain healthy relationships throughout. Be transparent about your intentions, repayment plan, and timeline.
Real-Life Example: You might ask a close friend for $200 to cover your car repair costs, ensuring you'll repay them within a month. If he or she agrees, you can borrow money instantly and get the job done!
3. Quick Money from Credit Unions
Today, credit unions are an efficient way to grab some money as soon as possible in the form of personal loans. For those unaware, these bodies are financial institutions owned and operated by a local group.
Unlike traditional banks, credit unions are non-profit organizations that aim to serve rather than maximize profits!
One benefit of preferring Credit Unions has to be the lower interest rates. You can borrow money without worrying about heavy repayments.
But remember that credit union loans are not open to all. These institutions typically mandate membership, which could involve meeting specific eligibility requirements or paying a nominal fee.
4. Try Credit Card Cash Advance
You can obtain some quick cash in advance if you have a credit card. The card owners can withdraw money from an ATM or request a transfer to their bank account.
Cash advance from your credit card is one of the best ways to get your hand green, especially in a tight spot. However, credit card advances often come with high-interest rates and transaction fees. Over-usage can also negatively impact your credit score. Use this option wisely and only consider it when you have no other alternatives.
Real-Life Example: Suppose you've got an American Express credit card with a limit of up to $300. Now whenever you are in need, you can withdraw any amount within that limit by heading to the nearby ATM.
5. Look for a Payday Alternative Loan
Payday alternative loans (PALs) are short-term loans offered by some credit unions. It works as an affordable alternative to high-interest payday loans.
PALs typically have lower interest rates, longer repayment terms, and more affordable fees. On top of it, thanks to the regulation work by National Credit Union, these loans are free from predatory lending practices. Overall, it's a great way to arrange some emergency cash.
But there is a catch—as credit unions offer PALs, you may need to become a member to qualify. Moreover, these loans often have a cap meaning the maximum limit might not be sufficient to meet your financial needs!
6. Installment Loan to Get Cash Fast
Installment loans are another option for obtaining some cash quickly. They allow you to borrow and repay a specific amount over a fixed period through regular installments.
The benefits include structured repayment plans and the ability to borrow more significant amounts. This method is perfect if you need money immediately and are ready to pay installments in return.
Before you proceed, though, have a thorough understanding of one thing. Installment-based loans are one of the best ways to borrow money instantly, but they often come with interest charges.
Be mindful of the total cost before committing!
Online lenders and financial institutions offer various installment-based loan options, so research and compare terms to find the best fit for your needs.
7. Take a Personal Loan and Grab Money Quickly
Personal loans are credit loans that can be used for any purpose, including covering unexpected expenses. When you think: "i need money, financial institutions like Banks, online lenders, and credit unions allow users to borrow money online instantly, But remember, they adhere to a strict credit check application process in this regard.
The benefits of personal loans can be many. Speaking of the most valued ones, we've got fixed interest rates, flexible repayment terms, and the ability to borrow larger sums of money.
However, being eligible for the same is often a tough task. Everything will be under the radar, whether you've got good credit or bad credit score, whether you're able enough to repay the loan, etc.
Consider personal loans an option when you want or need to get the cash quickly and can manage the repayments comfortably.
As you can see in the survey results below, almost half of Americans don't have savings at all. That is why facing an emergency, people should apply for up to $2500 loan or even more to cover expenses.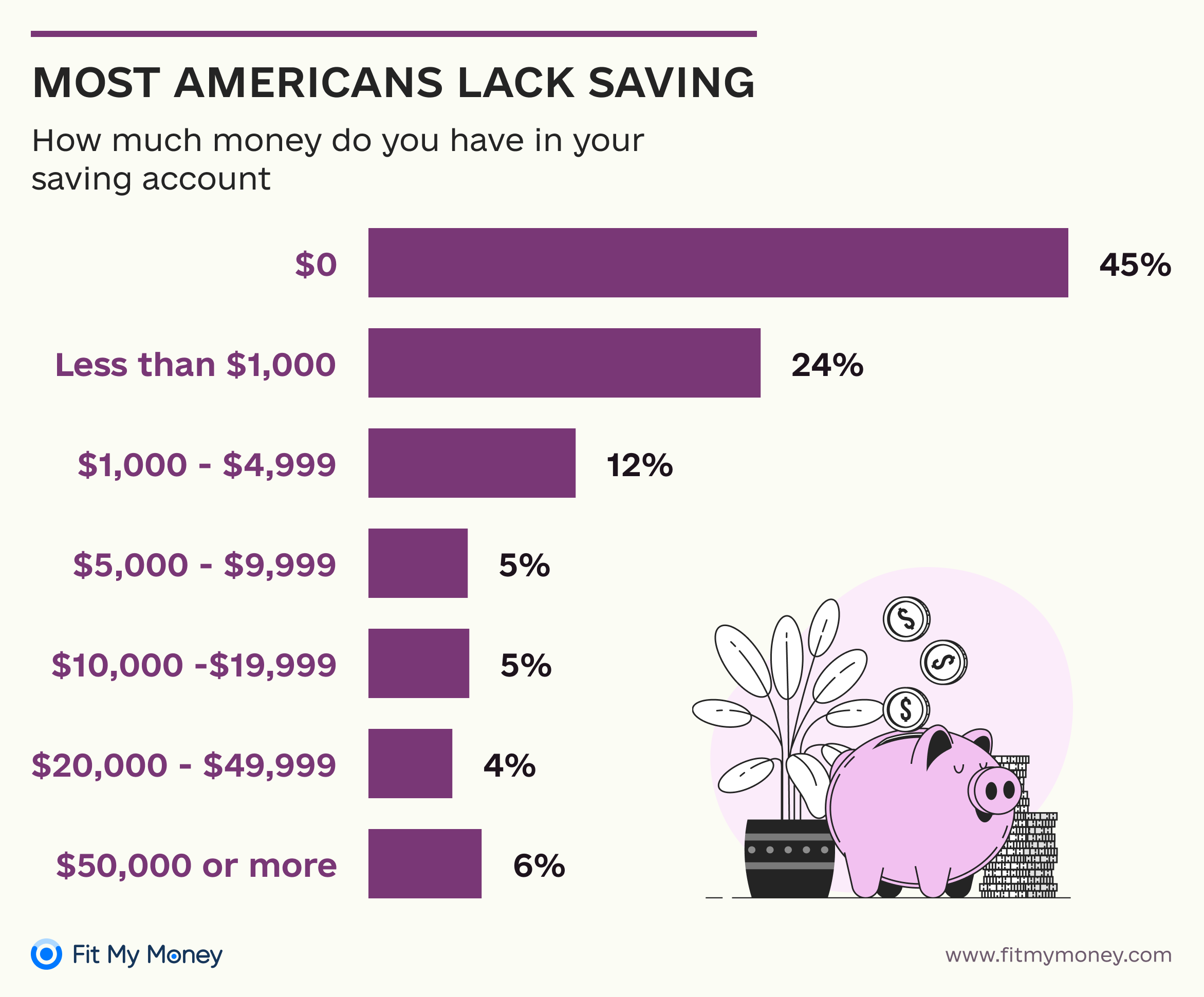 8. Grab a Side Job to Get Fast Cash
Taking on a side job or gig can provide an additional source of income when you need cash urgently. A side hustle can be a day saver in many respects, from earning money to pay your bills to piling up the cash in your pocket.
If you still wonder why, well, side hustle is the modern-day talk of the town for many reasons. From immediate income to flexible working hours, this option can serve as a solution when you need to streamline your financial life.
Caution: The side hustle industry is booming but is already crowded. That said, this way to get money might need some extra effort from your end!
Examples of side jobs include signing up as a rideshare driver with Uber or Lyft, delivering groceries with Instacart, and more.
You also have the freelancing option on several platforms like Upwork or Fiverr. Just create an account, get approved, and get cash now without even leaving your home.
9. Sell Things You Do No Longer Need
Do you have unused or unwanted items (ones you no longer want or need) lying around? Great! Selling them can help you get the cash you need with minimal effort. There are several online marketplaces, like eBay, Craigslist, or Facebook Marketplace, where you can conveniently sell a wide range of items.
The benefits include decluttering your space while earning money at the same time. However, the drawback is that selling items may take time, depending on demand and market conditions.
Real-Life Example: Consider selling spare smartphones or electronics. Head to the desired marketplace, analyze the demand, post an ad, and wait for your customer. Voila, you can get the fast cash, and that too regularly.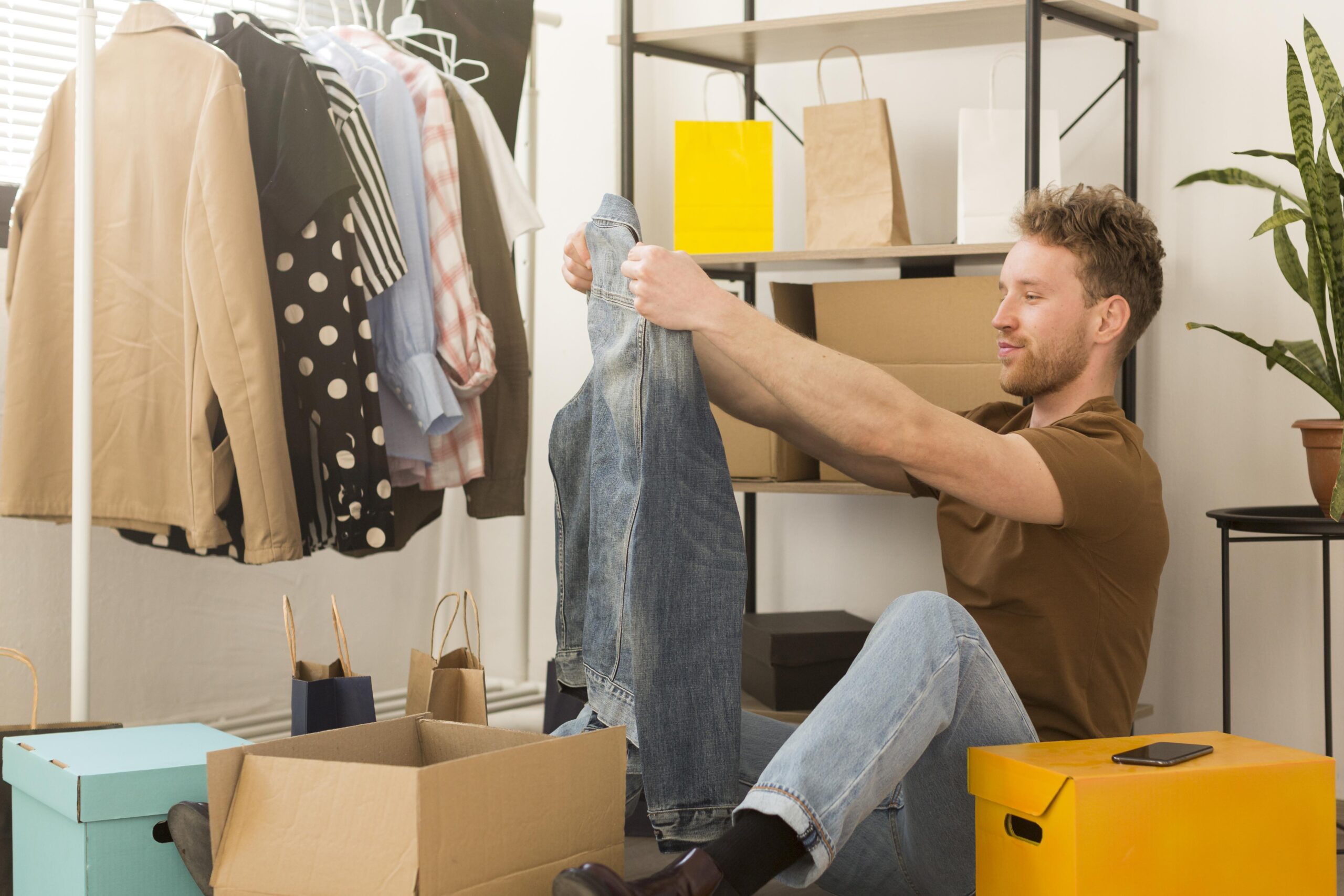 10. Rent Out a Room
Need fast cash? Your property is there to help!
Suppose you have a spare room or a rarely used property. In that case, renting out the same can be a reliable way to earn extra income. It not only serves as an immediate good way to make money but also yields some long-term financial benefits.
What are the advantages? Well, in simple terms, there is a potential to earn a steady income stream and meet new people. Many across the globe prefer renting as a way to make extra money fast.
Any drawbacks? Yes, mostly responsibilities! Being a host will not always be straightforward. Maintaining the property and ensuring a positive guest experience can occasionally be challenging.
But then again, you can make some extra cash, which you're here for!
Platforms like Airbnb allow you to list your space for short-term rentals to travelers or individuals needing temporary accommodations.
11. Borrow Against Life Insurance
We all have secured our life with an insurance policy, right? But can you arrange the money you require using the same? Yes, that's right!
Most insurance companies allow customers to borrow money online against the insured cash value instantly. This option provides access to a portion of the accumulated amount without hampering the policy.
One advantage of using this method to get quick cash is the relatively low-interest rate. Additionally, the flexible repayment options act as an added boon. Customers can borrow money instantly without any hassle.
However, borrowing against your life insurance reduces the death benefit and may affect the policy's performance.
12. Forbearance On Bills
Need fast money? Try forbearance on bills!
In times of financial hardship, reaching out to creditors to discuss forbearance or hardship programs can provide temporary relief. It allows you, as a user, to pause or reduce payments on loans, mortgages, or credit cards.
Activating a temporary break from financial obligations is always handy. It gives you enough time to stabilize your situation.
While it sounds pretty cool, failing to proceed strategically may have fatal consequences. Note that forbearance is not forgiveness. You'll need to make up for the missed payments in the future.
13. Request a Payroll Advance
Are you a salaried individual under a generous executive? If yes, this very method is a game-changer!
Leverage the concept of payroll advances. It is when employers allow employees to receive a particular share of their upcoming paycheck before the scheduled payday.
It's not like the traditional offline or online loan. So one of the primary benefits of obtaining an advance paycheck is immediate access to money with no additional interest or costs.
Although promising, availability is the issue. Not all employers provide this option, and there may be limitations on the amount you can request.
Real-Life Example: Consider yourself a salaried employee who earns $4000 per month. Suppose you urgently need money, and the next payment is scheduled 20 days later. You can speak with your employer's HR department to inquire about payroll advance policies and procedures in this situation.
14. Community Loan
Some places have local groups or non-profits that give loans to the community. These loans are made to help people who need money!
Most of the time, community loans have lower interest rates and more flexible terms than standard loans. This makes them a good choice for people who need to pile up some funds quickly. But availability may rely on where you live, and there may be rules about who can get a loan or limits on how much you can borrow.
15. Cut Your Insurance Premiums
Cutting down your insurance premium is a fantastic way to get the money you need. It can help free up extra funds in your monthly budget!
The modern-day insurance industry is flooded with options. Reviewing the policies and comparing different providers can help you find a cheaper alternative.
This, however, is more of a momentary measure and won't do much to stabilize your overall financial situation.
Example: Say you're paying $50 per month as a premium. What if you find an alternative with almost the same coverage but 70% of the premium amount? Yes, you'll save flat $35!
16. Consolidate your Debt
Do you have multiple loans that are active at the same time? If yes, Debt consolidation can save some money for emergencies.
It is a method where multiple debts combine into a single loan with a lower interest rate or more favorable repayment terms. The whole concept of debt consolidation can benefit your budget in numerous ways. First, it could reduce the overall interest paid over time. Second, you'll get to deal with a more simplified finance system.
But wait? Here is something that might hurt the process. Look, debt consolidation, in most cases, requires collateral or involves fees. That said, assessing the long-term impact on your financial situation is essential before proceeding.
17. Become a Rideshare or Delivery Driver
If you own a car and have some spare time, becoming a rideshare or delivery driver can be a flexible solution to your "I need money" situation. The perks include quick earning potential alongside flexible working hours.
However, you'll need a valid driver's license before proceeding. Additionally, you should be ready to handle vehicle maintenance costs and potential wear and tear on your car.
Wonder where to get started? The answer is platforms like Uber, Lyft, or DoorDash. There are many who leverage their vehicle instantly and get the cash they need in no time.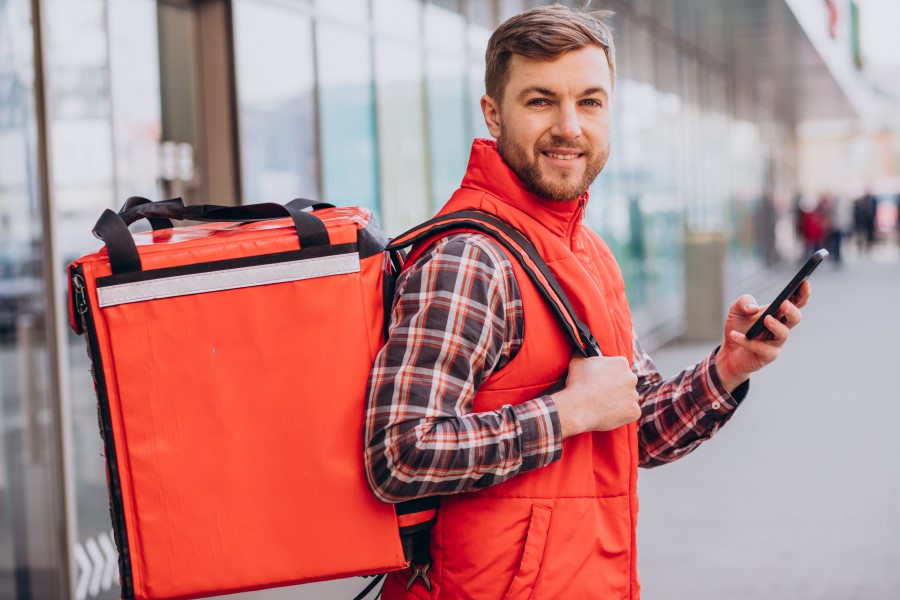 18. Change your Mobile Phone Plan
It might sound strange, but reviewing and adjusting the amount of money you spend on mobile recharges can result in significant savings. You can switch to a more affordable plan or explore different providers. This is a great way to lower monthly expenses without hurting essential services.
Be cautious about potential termination fees or limitations on coverage in certain areas when switching providers. Also, cutting the pay might result in a degraded user experience.
Real-Life Example: If you're currently paying $200/mo for mobile data, finding a plan (or provider) that offers almost the same benefit for around $150 can save $50 in no time. This is a good way to get money without getting any headaches.
19. Borrow from Your Retirement Account
If you have a retirement account, such as a 401(k) or an Individual Retirement Account (IRA), use it to borrow money instantly against it. These loans often have lower interest rates compared to other forms of borrowing.
The benefit is that you essentially borrow from yourself and pay yourself back with interest. However, there are potential drawbacks, such as penalties or taxes. These come into play when the loan is not repaid within the specified timeframe.
Wrapping Up The Best Ways to Get You the Money Fast
When you need money immediately, multiple ways are available to help you get some. In this article, we've reviewed not one or two but 19 of them! From getting credit advances to borrowing against your life insurance, doing side jobs, or selling things you don't need, each spoken method is a brilliant way to get cash today.
You can even use a credit card cash, arrange money from the policy payout, get a payday loan, or seek help from federally chartered credit unions. The options are many that are meant to help you get quick funds!
But before choosing any, it's crucial to consider the boons and the burdens accompanying them. Consider how much money you need and how you'll pay it back. Ensure you understand the risks and benefits before picking an option to help you get quick money.
That wraps up today's session on the best ways to get cash fast. Make sure to let us know your preferred way to get money fast.