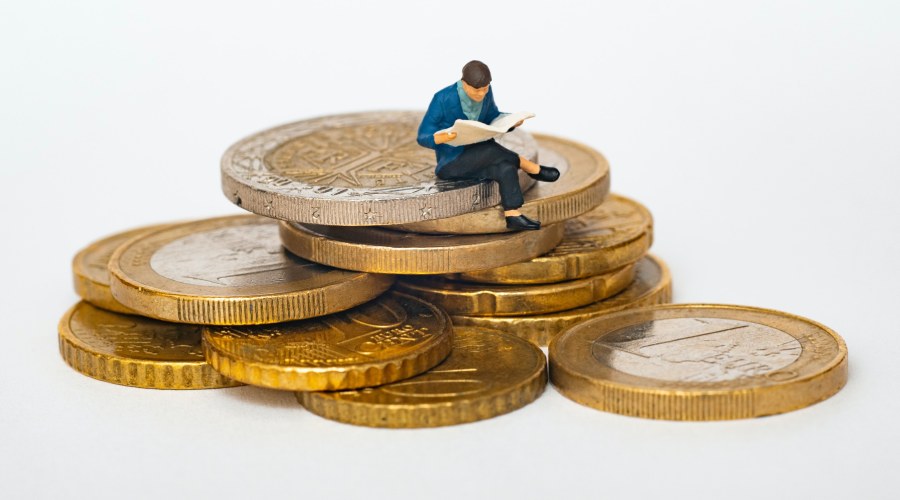 Credits and loans are cash advance options that are sometimes hard to avoid. Cases for taking them out are many, starting from surprise expenses and finishing with accomplishing the goals long craved – home improvements, mortgages, etc.
With lots of loan types out there, payday loans are still at the peak of popularity. While heavily criticized for immense interest rates and far from loyal conditions, paydays are popular with young and old and are mostly used to cover the short-term needs of employed citizens.
This guide reviews some of the most used payday lenders in the United States for this day and lets you see their good and bad sides, as well as loan requirements.
Payday Loans Online: Best Offers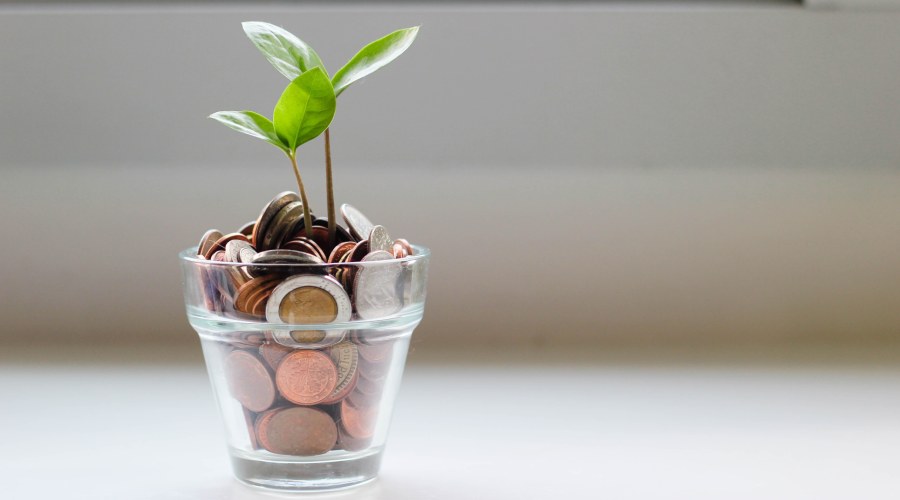 So, you have a financial emergency. What are you about to do?
The best way is to do good research on payday loans online, learn, and compare the offers by numerous online payday loan providers before you go for any of them. By taking time to do so, you will be able to save money on fees, choose the best online payday loans, and find the way to greater financial independence.
Many online loans will also let you build credit, which is a big accomplishment.
This process is quite tiresome and time-consuming, but only if you do it alone. Since we gathered the most promising online payday loan lenders here, this can simplify the task and give you structured information on each of them. So, let's dive in and see it all to answer the question, 'What are the best online payday loans?'
Upgrade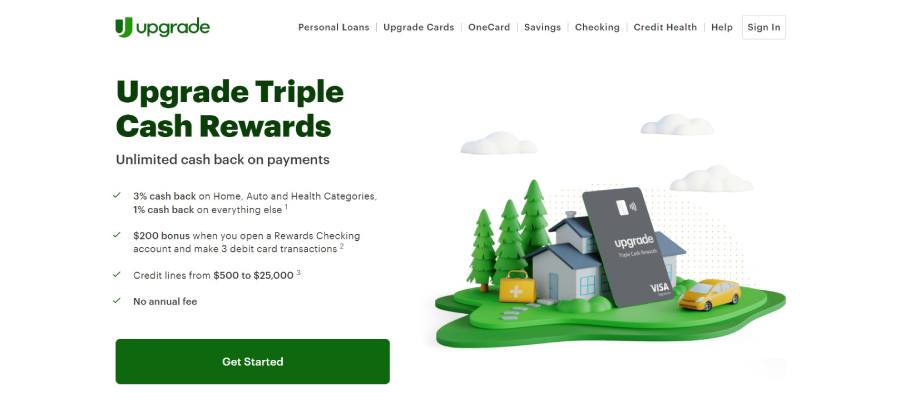 Upgrade loans are considered the ones with the most loyal conditions. They are easy to get since minimum credit score requirements are low (just 560) and simple to obtain and manage, thanks to the mobile app.
Upgrade can match a borrower's needs with a bad credit score and stands out with its convenience: management in the app, online application, and direct payments to creditors in case of debt consolidation.
It is also best for bad credit borrowers who seek a good joint or secured loan. It is an excellent chance to build credit and win the best conditions at the same time.
Loans by Upgrade don't have strict borrowing requirements. Along with a large spectrum of credit scores accepted, it gives autopay and rate discounts, direct pay discounts, and perks if you have a reward checking account. It also extends loan terms (for large loans) up to 7 years, mostly for large-scale projects such as home improvement or renovation.
APR is 7.96%-35.97%, with loan amounts between $1,000 and $50,000. Upgrade makes decisions fast and funds loans within 1 business day. Users have to pay an origination fee, – 1.85% to 8.99% of the loan amount, late and failed payment fees of $10 each.
Application for a loan by this payday loan company takes a few things from payday loan borrowers: credit scores 560 and up (TransUnion, version 9), at least one checking account on a 2-year credit history.
Pros
Easy to qualify

Online application & fast approval

Accepting any source of monthly income

Secured and joint online loans

Rate discounts

Lower end APR
Cons
Origination fee

No chance to pick payment date
Upstart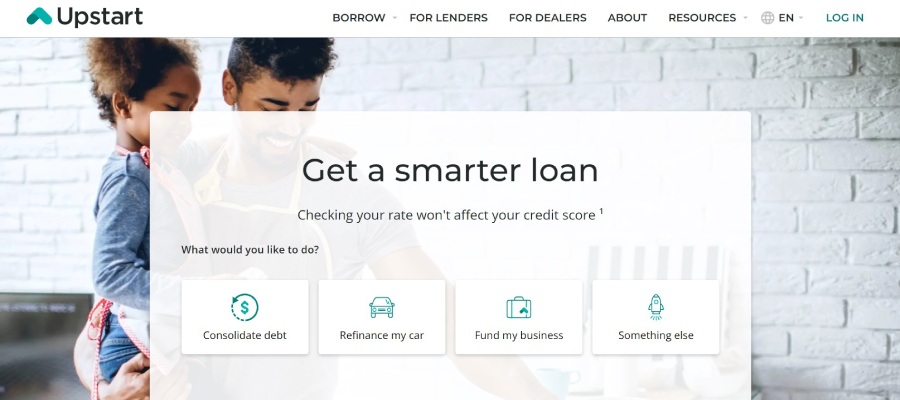 Upstart is a provider of payday loans online and direct lender for fair credit borrowers with quite a democratic policy for credit history. It also considers other nontraditional indicators to determine if a borrower is creditworthy.
The lender is best for those who need a loan urgently and don't care much about an extra percent of APR.
So, Upstart comes at an APR of 6.50%-35.99% with loan terms for longer than payday loans from 36 to 60 months and amounts from $1,000 to $50,000. Minimums vary from state to state, e.g., $3,100 in Georgia and $7,000 in Massachusetts.
Fees include: an origination fee is 0% to 10%, a late fee of either 5% of the due amount or $15, failed payment fee of $15, and a $10 paper copy fee. Upstart online loans come with hardship programs where interests still accumulate for extended periods.
To apply, one needs good dedication and employment history, a suitable debt-to-income ratio (45%-50%), and a yearly income of $12,000 and up. Upstart approves most online loan applications instantly and funds them in 1 business day.
Pros
No early payment fee

Minimum credit score of 300 and no credit history needed

A 15-day grace period
Cons
No cosigner loans

High average interest rate: nearly 27%

Origination fees
SoFi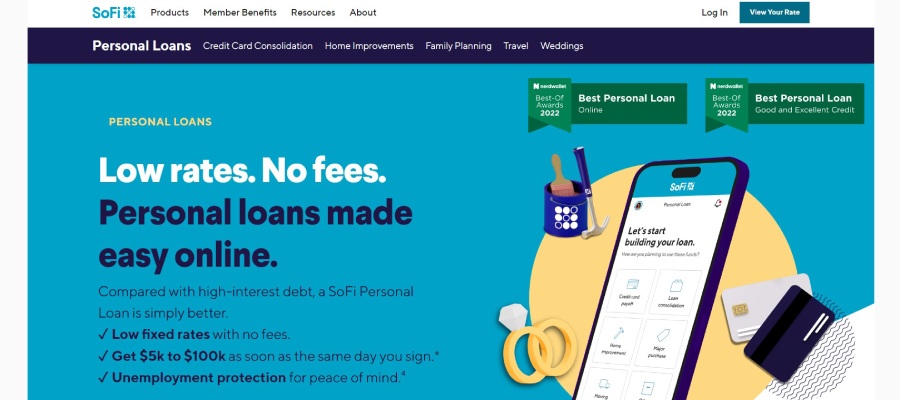 The reward-holding lender SoFi is one of few payday loan providers famous for zero fees and rate discounts. On the other hand, it is not always possible to qualify for loans as it is focused on providing personal loans to payday loan borrowers with good and excellent credit, – 700 on average.
Loan amounts are somewhat surprising – they start from $5,000 and reach $100,000, perhaps because it's not a bad credit loan and are funded the same day. If your credit score lets you match the lender, taking out a loan will come at 7.99%-23.43% APR with loan terms of 2 to 7 years.
Payday loans surely will come at considerably higher interest rates. However, the official page doesn't disclose the minimum credit score, so they are going to look at other factors too.
The great plus of SoFi is that application never affects your credit score.
To qualify, you need to be employed (or have an offer of employment), provide your address and ID date, and qualify at SoFi's app or website. It is recommended to calculate monthly payments and the overall loan cost. Next, provide all documents in the necessary format and send the loan request.
Pros
Available anywhere in the US

Fast application and funding

No fees

Discounts: 0.25% for autopay, 0.25% for direct deposit, and 0.25% for payments to direct lenders

Joint loans
Cons
High minimum loan amount

No chance for a secured personal loan
CashUSA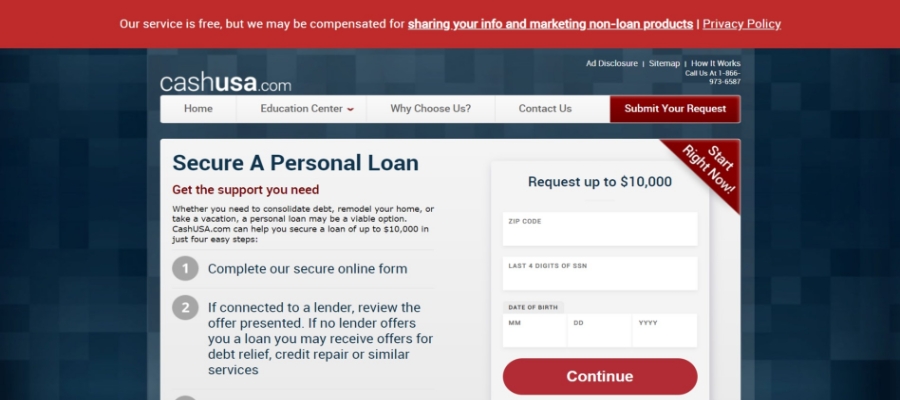 Many payday loan providers at CashUSA offer both short term loans and those to repay in loan terms up to 72 months. Amounts vary from $500 to $10,000 at interest rates of 5.99% to 35.99%. In fact, CashUSA is one of the online payday loan platforms to connect users with online payday lenders.
The online lending marketplace functions as a buffer between the sides and forwards your loan request to the chosen lender. Given the peculiarity of the platform's work, it doesn't show interest rates for every lender but provides the data after you send the application.
CashUSA makes a worthy competitor for other instant payday loans as it has few eligibility requirements. The application includes completing an online form, reviewing offers, exchanging info with the lender you'd like to try out, and finishing the application by sending all the necessary documents.
To take out an online payday loan, you need to be a US citizen of 18 years old, have a valid bank account, monthly income (post-tax) of at least $1,000, as well as give standard info such as an address, birthdate, and Social Security Number (SSN).
Pros
No minimum credit score required

Convenience of application and loan use

Variety of loans
Cons
High APR

Indirect loan provider

Income requirements
BadCreditLoans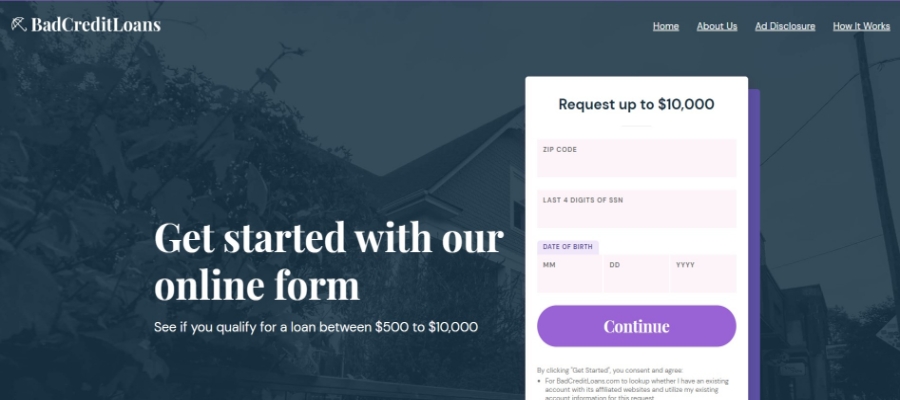 With BadCreditLoans, it's possible to get a loan with damaged credit or not enough credit history. The online lending marketplace helps you get matched with more than a hundred lenders focusing on personal loans for bad credit.
Accepting a credit score under 500 gives loans an average of $1,000. Users with higher credit scores qualify for sums up to $10,000 and $35,000 for larger loans with repayment terms of 2 to 5 years. If you are looking for an installment loan for bad credit with adequate interest, this provider is best.
In most cases, the interest rate lies between 5.99% and 35.99%, with online applications made just in several minutes.
To apply, just go to the homepage and fill in the application form, selecting the desired amount, your reasons to borrow money, entering address information, Social Security Number (SSN), driver's license, and contacts. Additional info to mention is:
Bank account type

Bank account number

Types of payment from employer: direct deposit or paper check

Routing or ABA number

Account number
Pros
Funding in one business day

Helping users with bad credit score

Variety of loans: mortgage, installment, student, auto, home loans, etc.

Super easy application & fast decision making

Affordable interest rates
Cons
Origination fee 0% to 8%

No BBB accreditation
MoneyMutual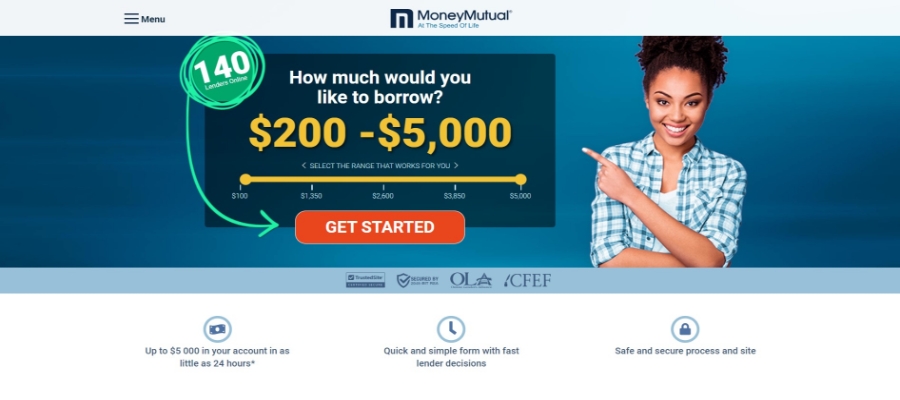 In the world of urgent loans, MoneyMutual is viewed as a golden standard and a place where users turn to specifically for payday loans. Interest rates are much lower for all types of borrowers, and cash is given for multiple purposes.
This platform also acts as a legit matchmaker, allowing users to access many offers by 60 lenders for financial emergencies. The mechanism is simple: you provide the loan-relevant information, and they send you the most suitable offers.
MoneyMutual keeps many requirements undisclosed, especially considering they depend on the lender itself. Although you can consider the following criteria:
Income of at least $800 per week

Having a valid checking account

Being 18 years old and a legal US citizen or resident

Demonstrating a steady source of income
Even despite users' insufficient monthly income or being unemployed, the online lending marketplace gives them a chance by looking at many other factors.
Pros
Quick funding

Easy to qualify for mid and small-size loans

Multiple options for bad credit
Cons
No data on APR and fees to find out in advance

Loan options entirely depend on which lenders are available now and which of them contact you
What Payday Loans Are
Payday loans are a widely used method to receive extra financing for a short term. This type of borrowing includes the interest rate, calculated based on your rough income, financial situation, and loan amount.
Payday loans tend to appear extremely high-interest, but by researching online payday loan providers, comparing rates, and aiming for offers for bad credit, one can find decent options that don't urge them to pay over the odds too much.
As a rule, users need to provide their documents, such as ID, driver's license, Social Security Number (SSN), as well as pay stub when applying for a payday loan.
How Payday Loans Work
Payday loans belong to unsecured online loans and require no collateral. Payday loans require proof of income. The amount of payday loan you are eligible to get depends on your salary. In fact, the loan would always be a part of the money you are going to get in the next paycheck.
Such loans must be repaid in very short terms – up to 30 days – which is, again, based on the payment date. Some payday loan providers can mention shorter terms, like 2 or 3 weeks.
A full credit check is rarely made by an online payday loan lender. Instead, they may partially check credit and employment history. Such loan variations can use the borrower's salary as collateral to reduce risks for themselves.
How We Choose Best Payday Loans Online
With hundreds of online payday loan options, it is crucial not to believe every payday loan company that claims to give 'the best payday loans.' We are looking for above standard marketing tricks and right into the offers' pluses and minuses.
Here are the factors we count as the most significant to review to figure out how beneficial this or that personal loan can be.
Interest Rates
The interest rate, or APR, is the amount that an online payday lender charges. This is a certain percentage of the amount taken out. The term is abbreviated for APR because it is an annual percentage rate, so it is calculated annually.
For an average payday lender, charging up to 1000% is typical. This certainly comes at the pricier end and makes borrowers compare rates first or seek payday loan alternatives. Best online payday loans charge nearly 400% of interest rate if you manage to qualify. This equals $15 for every $100 borrowed.
Setting up high interest rates, on the one hand, lets lenders be on the safer side concerning lent amounts. On the other hand, it can be a type of predatory lending since, in many cases, they don't consider a user's ability to repay. High, often hidden fees amplify this.
Fees
Apart from the initial loan interest, your online payday lender can charge numerous fees: returned payment and late fees if you fail to repay the loan as planned, insufficient fund charge fees when you don't have enough funds to withdraw on your balance, the origination fee for opening a loan, etc.
One should treat payday loans carefully and take time to compare fees. With useful tools that can calculate the overall cost of a loan, mindful planning for repayment, and checking if a payday loan is going to impact credit, you can nail your loan and avoid getting trapped into a debt cycle.
Loan Amount
Loan amounts differ in every loan offer. They can depend on the state and its regulations of payday lending, as well as on a loan provider. In most cases, one can borrow money from small amounts like $50 to $1,000-$2,000.
This often depends on the amount of salary, as well as if borrowers have bad credit scores and bad credit and show the capability to repay in the stated loan terms. For emergency cash needs, $1,000 can be an excellent option until the next paycheck. Sums over $1,000 can be hard to qualify for, especially with a poor credit score.
Repayment Terms
From as little as 14 days to the gracious 30-31 days, payday online lenders keep you in tension. The term 'loan terms' refers to the period that an online lender gives to a borrower to pay the loan off completely.
What Do I Need To Get Payday Loan Online
Since each type of loan has its own specific requirements, we will focus on the criteria that make users eligible for payday loans. Even though a low credit score and a too fresh bank account don't get in the way of obtaining online payday loans, other points should be considered.
These requirements regulate the work of online lenders and are made by the US Consumer Financial Protection Bureau. Here are the basic demands of taking out online payday loans.
| | |
| --- | --- |
| Requirements for borrowers | What exactly is meant |
| Source of income | Online payday loan lenders can differ in their views of how much income is enough for users, even with bad credit, to qualify for their loans. However, one should provide proof of employment and pay stubs. Besides such payday loan lenders, you can come across those that accept other incomes than a salary (alimony, separate maintenance, child support, other people's income, etc.) |
| Valid checking account | A bank account is a must for obtaining online payday loans. American online payday loan platforms widely accept checking and sometimes savings accounts. |
| Valid identification (plus driver's license) | A government-issued ID, Social Security Number (SSN), and driver's license are the documents online lenders require to confirm a user's identity. No loans can be taken without them. |
| Age | One must be at least 18 years old (in some states, 21) to qualify for a payday loan. |
Advantages And Disadvantages Payday Loans
If you are in two minds about a payday offer and want to weigh all the pluses and minuses, let's see what the reasons to advocate such short-term loans are and in what cases they need to be avoided.
Advantages
The first and most outstanding benefit of payday loans is that, unlike personal loan offers, they are available for anyone. With few papers to use in the application, they make decisions instantly and fund you in nearly 24 hours.
Moreover, online lenders are available online, and applications can be sent online at any time of the day and night.
Less requirements than in other loan types.
Payday loans are minimalists among loan types since they only require:
Being 18 years old

Having

Social Security Number (SSN) and a government-issued ID

Having an active checking account

Being employed, having an employment offer, or other steady source of income
This makes getting emergency cash a breeze, – you don't need much time to gather all the documents, wait for your loan request to be approved, or have a lender tap into your credit. No credit check (hard credit pull) is a special plus.
No credit check is great, especially for those with poor credit scores as it means the score will not be damaged even more.
No need to risk collateral.
This variation of unsecured loan doesn't make you put up any valuables. That's why, in case of default (failing to pay off), the property can't be seized.
Disadvantages
With average payday loan interest rates ranging from 391% to 700%, it's always way more expensive to take out a payday loan than any other. Compared to personal loans with APR 4%-37% or credit card rates 10%-30%, payday loans come at a price.
If we look at how much it can cost to borrow money in the amount $500 with the APR 30%, you would probably pay $30 to $80, depending on the state.
One can get into debt even more.
The point is that payday loans are harder to repay. Statistics say that 1 in 4 payday loans taken in the US are borrowed over 9 times and this tendency doesn't cease. This proves that the loan terms given by direct lenders are often not enough to repay loan funds.
That is why payday loans are recommended to avoid. As alternatives, you could seek credit union loans, other short-term loans, installment loans, etc. An installment loan will give you a more relaxed repayment period.
Remember that an instant payday loan for bad credit and low interest rates often exists only in your dreams and the reality is much more complicated.
Targeting low-income social groups.
Another side we don't like about most payday lenders is working mostly for the sake of enrichment at the cost of national minorities. Unlike personal loan, they don't help even a bit to build credit, put users in danger of being sued for the loan funds owed, and can misuse the full access to the bank account.
This explains why there are so many payday lenders in regions with Latino and African American communities.
They often can't choose between payday loans and personal loans. Hence, not all Americans get equal opportunities and chances to get out of poverty. This is an issue that still has to be dealt with.
What to Avoid When Taking Payday Loans
Knowing the pros and cons of payday lending is great but what specific things one needs to stay away from when making a choice? We compiled the list of top mistakes.
High Interest Rates
Even if the situation needs you to react immediately, being thoughtless and issuing a payday loan with extremely high interest rates can be a huge mistake. Payday loan interest can get as high as 1000% and leave you feeling like you've engaged into something unsustainable and stupid. Going for a credit card with more loyal conditions can be much better.
Unlicensed Lenders
Falling for a non-legit and unregistered lender is the worst you can do. So, use these rules to stay safe:
Always do prior research on the company

Don't hurry to fill in any forms (even if you don't submit or sign loan agreement yet, there is a risk of information stealing)

Be careful with names of direct lenders (online payday loan companies) and lead-generating companies, – even if they work together, it doesn't mean you can trust both

See the website provence policy
Skipping Terms and Conditions
Another danger but also an irresistible temptation is just scrolling down terms and conditions or not seeing them at all. This can happen with personal loan lenders too. Yes, it can be boring and require concentration, and even meticulous accuracy, but not reading and understanding what the lender means can cost you everything.
Not Paying on Time
A lot of negative consequences can follow if you don't repay on time. First, additional fees and penalties can be charged that increase the loan cost. Your credit score will drop immensely, especially if the payday lender resorts to credit bureaus. With this financial behavior, you will have a hard time obtaining any loan or line of credit in the future.
That is another reason to be a careful reader of terms and conditions, – every lender can have different terms for a loan to become delinquent. For some, it is 50-90 days, but every lender can have a different policy.
After delinquency, follows loan default which means it's been 270 days since a borrower stopped making payments. This can take the credit report down. So, taking out a payday loan only makes sense if you are sure you can make monthly payments in time and pay off the whole loan amount together with fees.
Can I Get a Payday Loan With Bad Credit?
Poor credit is never an obstacle in getting payday loans. In their nature, they don't rely on a credit score much but rather value an employment history and a regular income into the borrower's budget.
Like other forms of high-interest loans for short term, payday loans are created to fit the needs of poor credit score borrowers who can't qualify for other loans.
Alternatives to Payday Loans
Let's be honest, – payday loans are one of the most recklessly expensive loans available. If the risks of such bad credit loans leave you doubting if it's necessary in your case to take one, thinking of other ways to get cash is wise. There are better options with more attractive conditions, even to those who have bad credit.
Here we can't but mention a bank or credit union. Money from credit unions that are included in National Credit Union Administration can be used instead of payday loans or to deal with consequences if you feel that repaying sums of bad credit loans you already owe is impossible. Such loans are even called PALs, – payday alternative loans.
You can be charged an application fee and get $200-$1,000 of cash with far more gracious repayment terms from 1 to 6 months. A credit union is also an alternative for personal loan. APR of a credit union usually equals to the one of a credit card.
Cash Advance Apps
Other payday loan alternatives are apps to help you borrow money on quite favorable conditions. Cash advance apps can be either instant or make you wait 1-3 days and often skip fees such as late and failed payment fees.
Applications such as Brigit or Empower are examples of this, – they only charge small amounts on a new cash advance or a membership fee. Qualifying for such financial emergency tools is easy, just provide a valid checking account and a photo ID. Many of them offer cash up to $300 at no interest.
Auto Title Loans
This is a secured loan that uses a vehicle as a collateral and acts like other secured bad credit loans. If as a lien holder you pledge your car as a repayment guarantee, you can get a short term loan from $1,000 to $10,000. They often come at the annual interest rate 300%-400% and are expected to be repaid in 30 days.
Personal Loans
If a car title loan is still a too expensive option, online personal loans are another way to go. A personal loan is much cheaper, with APRs coming close to those of credit cards. A personal loan extends loan amounts up to $100,000 and offers efficient terms to repay them. On average, Americans take personal loans of nearly $8,000.
With a personal cash advance loan, being eligible is easier too. With a specific reason, such as home renovation, moving, or wedding, you can get the sum without daunting procedures for checking your credit past and use the sum right away. Moreover, personal loans let you build credit on conditions of making monthly payments in time and in the determined size.