You may not be able to live the high life, but you're still entitled to a decent standard of living. Paying bills on time and staying out of debt has never been more difficult for those on modest incomes. With the rise of digital banking, borrowing money has made it easier than ever before.
If you find yourself needing fast cash, there are a lot of options out there. This article will give you a breakdown of all things about payday loans so that you can make an informed decision about which option makes the most sense for you if the need arises in the future.
Best Payday Loan Lenders
When you don't have enough cash on hand to cover an unexpected expense, your car is in the shop, or perhaps you're just putting off buying groceries until payday – a cash advance may be the perfect solution for you.
Payday loans are small, short-term advances that are intended to help you meet unexpected costs and get through a cash-crunch period. And are designed to be paid back on your next payday.
However, they have received a lot of negative press over the years for being predatory and encouraging people to take on unaffordable debt. In the following section, we'll explore everything you need to know about these types of loans and their lenders.
Zippy Loan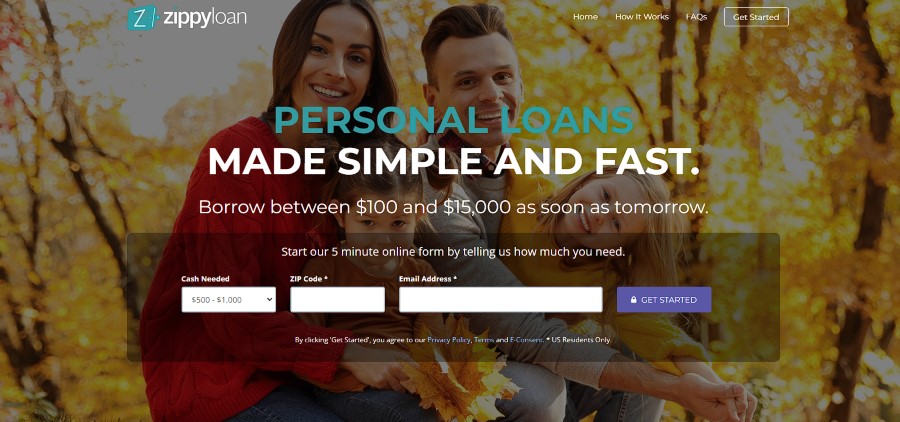 Zippy is a broker that helps customers with emergency cash. The company connects people with all types of credit, including those with poor credit, to lenders. You won't have to put down any collateral because they offer short-term unsecured financing ranging from $100 to $15,000.
Interest is charged from the date you take out the money until the date it's paid back in full. But interest rates vary because Zippy only connects borrowers with lenders, so they can't guarantee the rates you'll be offered from their network of lenders. Although, you can at least choose a repayment plan that works best for you.
For a loan, you must also submit a separate application to one of the lenders they select for you – usually online. As well as your personal and bank account information, you will need to provide your employment details during the application process.
Money Mutual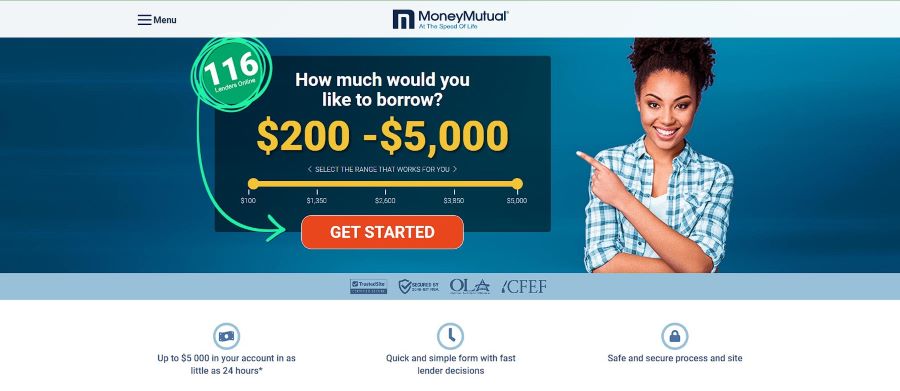 Money Mutual (not available in New York and Connecticut) is one of the most popular options available for people who can't qualify for traditional financing. They link borrowers with lenders for consumer loans and instant funding up to $200-$5,000 without additional fees.
When you apply with Money Mutual, you'll need to provide basic personal information, like your name and email address. The application process also requires proof of employment or recent financial statements. If you are approved, you can expect to receive your funds within 24 hours.
The APR depends on the lender, but most are very competitive. There are no fees for applying, and the process is quick and easy. And they come with a variety of different repayment options, so you can choose the one that works best for you. Plus, there are no obligations or penalties when you pay off what you owe early and get back to your normal life.
Dollar Loan Club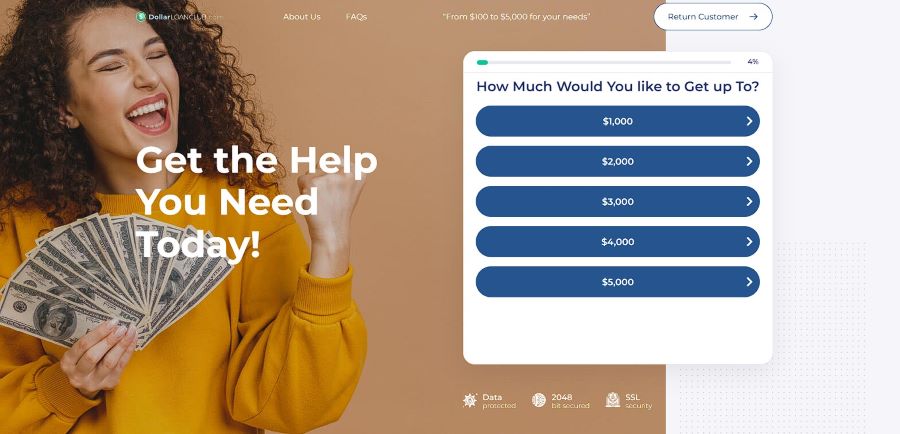 A community lender, Dollar Club, is a company operating within the community that offers a short term loan of up to $2,500 to borrowers experiencing credit difficulties. Depending on the state in which the applicant resides, the actual limits will differ.
Despite the fact that the interest rates given for each state range from 196.96% to 388.93% APR, the actual rates will vary based on loan amounts and the state to which the financing will be applied. Daily interest accrues, but borrowers only pay it on days when the amount owed is still outstanding. And there are no early repayment fees if you settle early.
Payments are due according to the borrower's payday frequency, and repayment terms can extend up to 65 weeks. In this situation, you can get a small payday loan with instant funding to tide you over until payday if you have a low credit score.
ClearViewLoans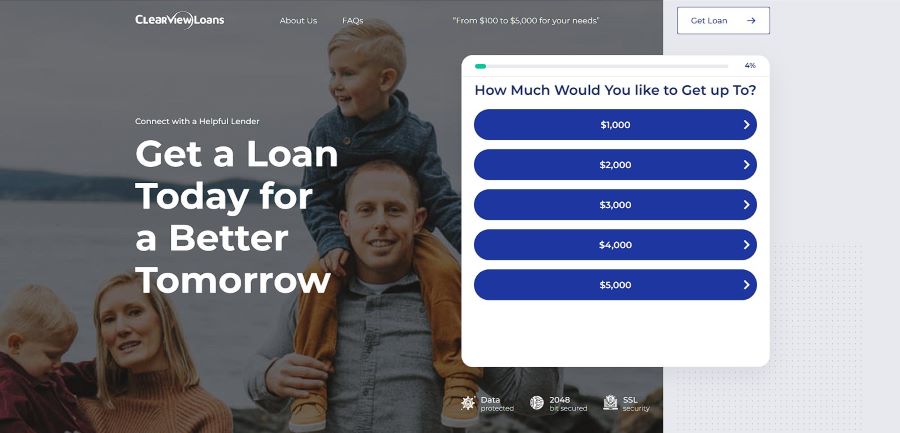 Through its network of approved lenders and lending partners, ClearView connects interested parties with small dollar loans. With a minimum amount of $100 and a maximum amount of $5,000, ClearView is the perfect solution for any financial protection.
It is a simple and easy application process that doesn't require you to visit hundreds of websites or fill out a large amount of paperwork. Response times may take a little longer than other lenders, but on the plus side, they lend to young adults (18) who might need a little help getting on the credit report ladder.
In order to borrow money from ClearView, people who require a little extra help with their finances seek credit counseling for additional assistance. There's also the assurance that you'll be able to get the money you need as quickly and safely as you need it since you'll be required to have a checking account and employment.
Viva Loan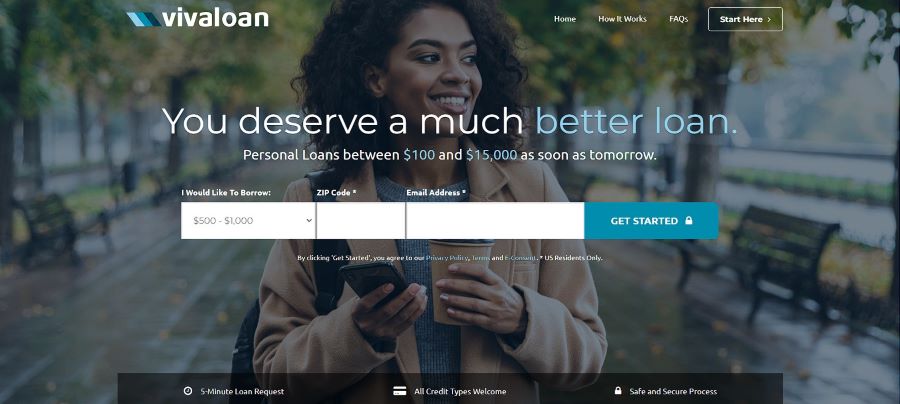 Viva is a no-frills payday lender for those who need to borrow money fast. It's easy to apply and can be approved in minutes. There are some states in which Viva is not available, so people who are looking for short term financial assistance will need to contact the company first before applying.
A payday loan of $100 to $5,000 can be obtained with this service, with a repayment period of 90 days to six months, and you will be able to repay with installments. APRs typically range between 5.99% and 35.99%, depending on the type of financing you are taking out.
Using the search tool on their website is free of charge, and the application is 100% online. In spite of the fact that bad credit is taken into account, the cost of a short term loan can become expensive if the state in which the application is made is one that has high interest rates.
Check Into Cash

Check Into Cash is a direct lender that offers quick and easy financing. They provide same day approval for the financial protection of up to $5000. As long as the borrower can repay the money by their next payday, they offer low-interest rates that are usually much shorter than traditional financing terms.
This makes them ideal for people who need short term cash quickly but don't necessarily qualify for a long-term loan or have time to wait for a traditional loan to process.
The main requirements during the application process will vary depending on the transaction that is being applied for. But in most cases, this will include a checking account number, Social Security Number (SSN), proof of income, and ID documentation.
Max Lend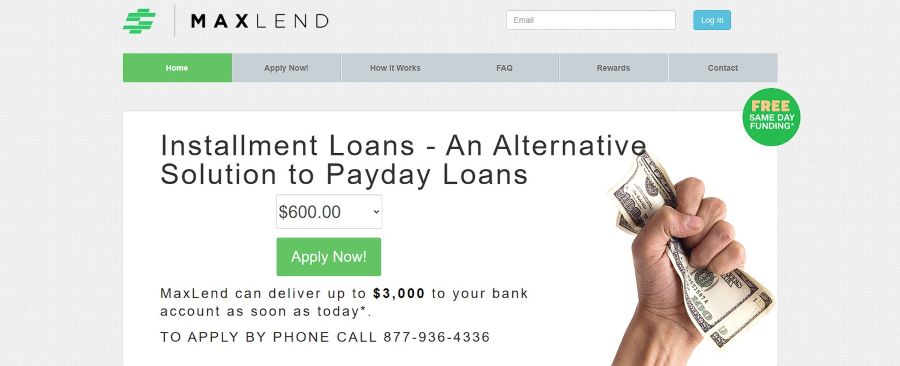 Max Lend is a payday lender offering financial protection to borrowers with very bad credit. To qualify with Max Lend, you must have an active bank account, be employed, and have access to direct deposit. You can take out up to $1,500 with APR rates between 471% to 841%.
In comparison to other online payday lenders, these rates are quite high, but the company is easy to apply for, and you can get instant cash without any collateral when you need it. If you are a returning customer, Max Lend offers the option of borrowing up to $3,000, and you will automatically qualify for a small, short-term installment loan with a lower interest rate.
Bad Credit Loans
Online payday loans with Bad Credit link borrowers who seek credit counseling with reputable financial service providers. There is a wide variety of consumer loans available on their site that range between 5.99% and 35.99%, although the APR will vary based on the information that you provide when making a request.
Their services generally have a 90 day minimum repayment term and a 72 month (6 year) maximum repayment term. For borrowers looking for a long term financial solution, there is no cost or obligation to use their service.
As an added benefit, if they are unable to provide you with instant funds, they will be able to show your inquiry to their extended network, which includes a third-party payday lender or credit union in order to assist you in finding a better offer.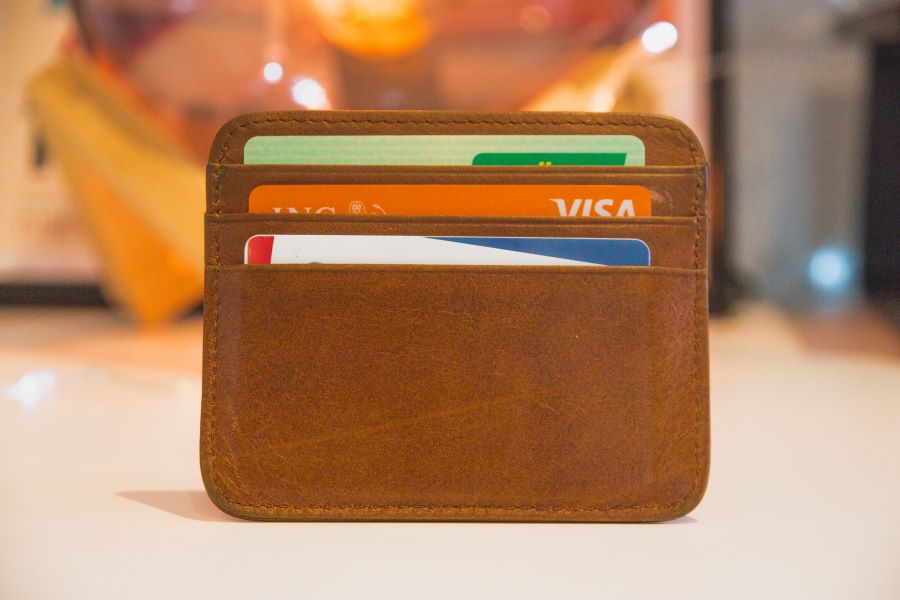 What Is a Payday Loan?
A payday loan is a short-term loan that can be taken out from a lender to cover expenses when you don't have enough money to cover them yourself. As of 2023, there are over 12 million payday loan users in the U.S., according to data from the Federal Deposit Insurance Corporation (FDIC).
It is clear that the nature of payday lending makes them ideal for borrowers who need money quickly. But they come with a high interest rate and credit check, and can carry fees and penalties if you are late on your payment. One of the biggest advantages is that they are very easy to get. You don't need any kind of collateral, and poor credit is usually accepted.
Online payday loans can be taken out in as little as one hour at most locations, and they are typically available on a 24-hour basis. The money is quickly transferred from your bank account to the lender's account, and you repay it on your next payday.
How Do Payday Loans Work?
A payday loan is a short-term financial advance that you receive from your bank, credit union, or another lender. With payday loan, you pay back the principal amount plus interest, depending on the amount and your agreement with the lender.
Typically, you will likely have to pay a fee (such as an application fee or a processing fee) and an interest rate in order to receive the money. Once you receive the money, you must pay back what you owe on your next payday. And if you have trouble repaying, there may be late fees or other penalty charges applied to the balance.
They are designed for emergencies, such as medical expenses or utility bills that aren't covered by insurance. They can also be used for unexpected expenses, such as car repairs, dental work, or other unexpected costs due to an accident or job loss.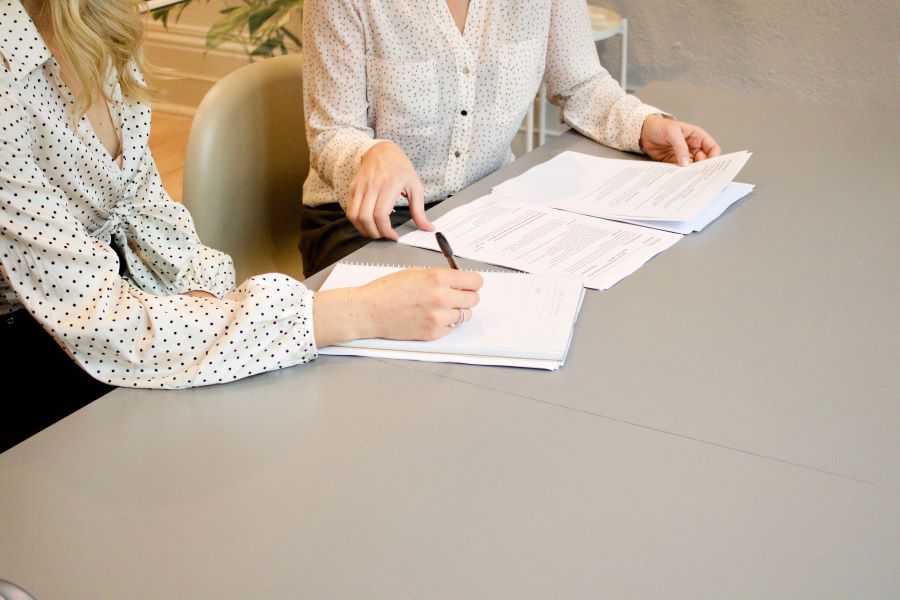 Are Payday Loans Legal?
It is legal to take out a payday loan as long as they are regulated by both the federal government and the state; Legal status of payday loans in your state. In some states, certain payday loan transaction, such as those charging high interest rates (between 24 and 48 percent), may be illegal in certain states.
In some states, lenders who are believed to have violated their state's laws have been aggressively pursued by their governments. Now, as of 2023, payday lending is allowed in 37 states, while it is illegal in 13 states. In the remaining states, short term lending is permitted in some form, with some restrictions.
How Do I Get a Payday Loan?
If you are sure you meet the lender's criteria and have decided on a payday loan that fits your needs, you might think you are ready to apply. Consider whether you will be approved before submitting your details.
Perform a credit check before making an application to find out if you will be approved. Lenders will consider your credit score when considering your application

Applying for more money than you need may be tempting. Apply only for the funds you need if you need to borrow money for a specific purpose. You will have a harder time getting approved if your borrowed amount is higher, so keep it as small as possible

There is no doubt that you will not have any difficulty finding a payday loan if you are in need of one. You have to shop around if you want to find the best lender for your needs

In the event that you find that you have a low credit score, you should look at why and see what changes you can make so that you are more likely to be approved

Applications for small dollar loans can be submitted in as little as a few minutes, and the process does not take too much time. Make sure you don't rush your application since it can be easy to make a mistake or answer something incorrectly.
Pros and Cons of Payday Loans
Despite the relatively easy application process and instant funding, there are pros and cons to seeking financing for your credit difficulties. Before you make a decision to buy, it is important that you do your research and understand all the costs involved before you sign the contract.
Pros:
They can be obtained very quickly – sometimes with instant funding – which can be helpful if you need to cover unexpected expenses

They are a convenient way to get money when you need it. You sometimes don't have to leave your house and can apply straight from your phone

Their repayment terms typically last between three to six months and are meant to cover unexpected expenses like car repairs or medical bills
Cons:
The interest rates charged by payday lenders are usually higher than those charged by traditional banks

There is often an application process, so you may have to wait several weeks before receiving notification of the loan transaction status

The terms of most cash advances are only for a few weeks, and if you do not pay back the advance when the term ends, you will be charged a late fee or possibly even turned over to a collection agency.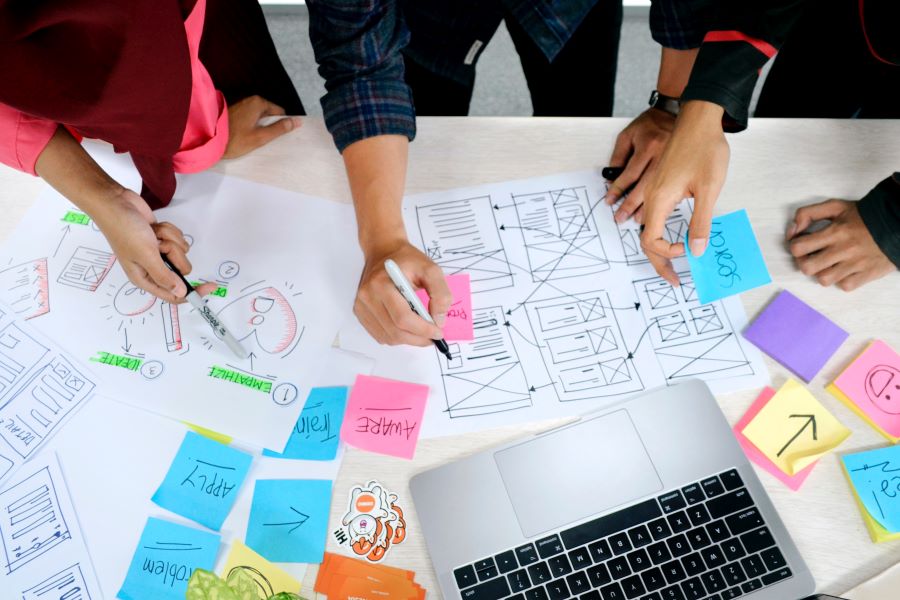 Things to Avoid When Getting Payday Loans
Getting a payday loan is not for everyone, and there are risks associated with these short-term financing options. Shop around for the best long term financial solution in order to understand how things work and what the risks are.
Not all are created equal. When you are looking for a payday loan, make sure the terms and conditions are clear

Beware of lenders that charge fees or interest rates that are too high

Make sure you review your financial situation. You'll want to be able to make the repayments, as well as any application or early repayment fees

Be careful about how much money you borrow. Too much debt can lead to problems such as late payments and lack of financial flexibility in the future

Try not to make any late payments. Online lenders typically charge large fees for late or missed payments
While a short-term payday loan can help cover unexpected expenses, they are not intended to be used as a regular source of income. If you plan to use a payday loan to fund a regular expense, such as rent or car payments, then consider other sources of financial protection.
Can Payday Loan Debt Be Forgiven?
It is not always feasible to wipe out loan liabilities in a lump sum, so there is a chance it may be forgiven. However, this will depend on the circumstances of each case. There is no set rule when it comes to debt forgiveness. The Fair Debt Collection Practices Act (FDCPA) prohibits most creditors from pursuing non-dischargeable obligations.
There are, however, a few exceptions to this rule: The FDCPA allows employers to pursue unpaid wages due to a missed payment. And the FDCPA allows third parties to collect unpaid bills if they have a valid judgment against you.
What Are Payday Loans Most Commonly Used For?
They are most commonly used for financial protection. For example, you can use one to pay off existing debts or to avoid late fees by paying your bills on time. In the event of an unexpected expense, such as medical bills or car repairs, you can use them to cover the cost.
Another common use is to cover small costs that you might not otherwise be able to afford, such as groceries or utility bills. In addition to covering emergency and short-term expenses, they can also be used for longer-term goals, like paying off high-interest debts or saving for a down payment on a home.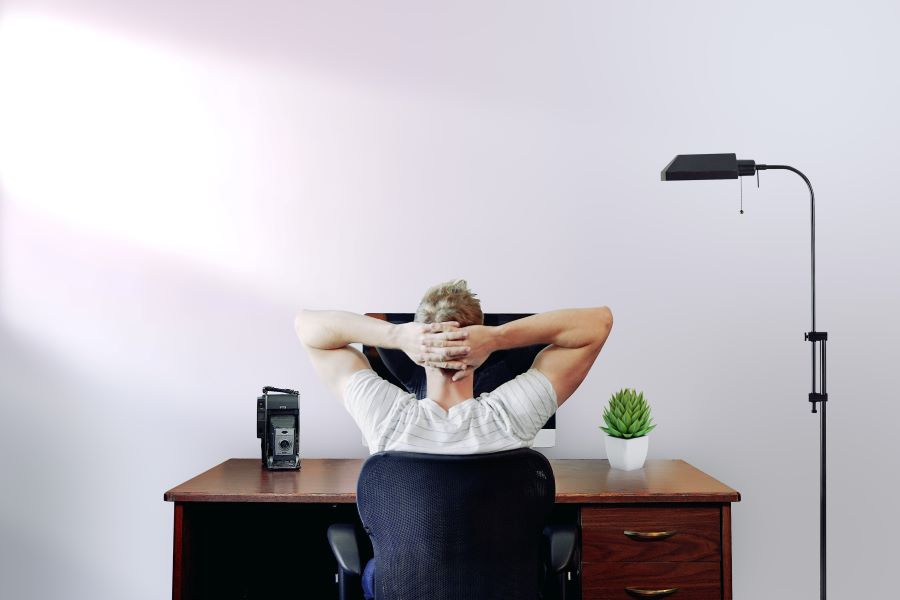 Conclusion
Payday loans can be a lifesaver for those who are short on cash. And if you take it from the right place, you can actually end up saving money in the long run.
But which institution is right for you when you need quick cash? And how do you choose the right one to depend on? These are all important questions you need to ask yourself before taking out a cash advance.