If you're looking to renovate your house but cannot cover the costs on your own, home improvement loans can help. These improvement loans provide financial assistance for home repairs, renovations, or remodeling.
For example, you can upgrade your kitchen or bedroom, fix your roof, or add extra space to your house.
There are various types of home improvement loans available to homeowners. A home equity loan requires you to use your home's equity as collateral. Another option is to seek out traditional home improvement loans.
If you're interested in getting a home improvement loan, it's important to research and compare lenders to find the best loan terms. In this article, we'll explore the different types of home improvement loans and answer questions from borrowers.
Best Home Improvement Loans
In this section, we'll be exploring the best home improvement loan options available on the market. Then, we will focus on their pros and cons to help you tailor the personal loan to your needs.
Do you want to take on a home improvement project but don't have the money to cover the costs? Then, a home improvement loan could be a true lifesaver.
There are several types of improvement loans to choose from. We will take a closer look at each option to help you decide and finance your home improvement project.
SoFi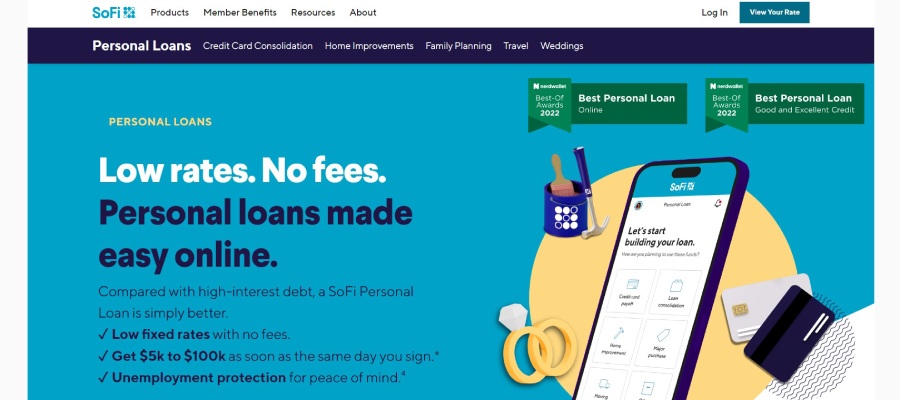 SoFi is an online lender that provides a variety of personal loan options to help individuals with their financing needs. One of the most useful for you should be the home improvement one. You can get mortgage loans with competitive rates.
APR: from 5.99% to 18.28% annual percentage rate for personal loans and from 4.99% to 19.63% for their improvement loans

Fee: no origination fee or monthly payment penalties

Loan amount: from $5,000 to $100,000 for personal loans and home improvement loans

Loan term: from 24 to 84 months for personal loans, while improvement loans can range from 2 to 20 years

Required credit score: a minimum credit score of 680 for personal loans and 620 for home improvement loans
What are the pros of working with this personal loan provider? First, you get competitive interest rates that can save you money in the long run.
The second benefit is the wide range of financial products. And the third pro is the absence of fees. The company doesn't charge fees for its services.
With the home equity as collateral, the lender will consider your credit history to determine the annual percentage rate. However, some drawbacks could be of high importance for borrowers.
First and foremost, the eligibility requirements are very strict. And the physical locations are limited, which can be a real drawback for some borrowers.
LightStream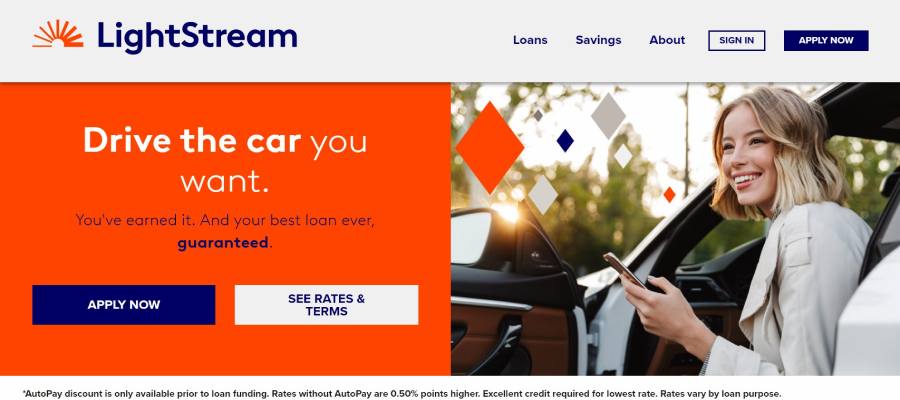 Being an online lending division, LightStream has a lot to offer to its borrowers. There are multiple products and services to get from the lender. One of them is a home improvement loan option.
Why is this company different from others? You can use their specific Rate BEat program to win from the best interest rates on the market.
APR: 2.49% annual percentage rate for borrowers with excellent credit, including a 0.5% autopay discount. The annual percentage rate may vary depending on the amount, personal loan purpose, term, or creditworthiness.

Fee: no fees on its improvement loans

Loan amount: from $5,000 to $100,000

Loan term: from 24 months to 144 months, depending on the loan term and its purpose

Required credit score: 660 for improvement loans to qualify for better rates and loan terms
With the competitive interest rate, you can borrow from the personal loan provider on more affordable groundings than with other providers. Moreover, the company has a fast and easy application process. And the third advantage is flexible loan terms.
Upgrade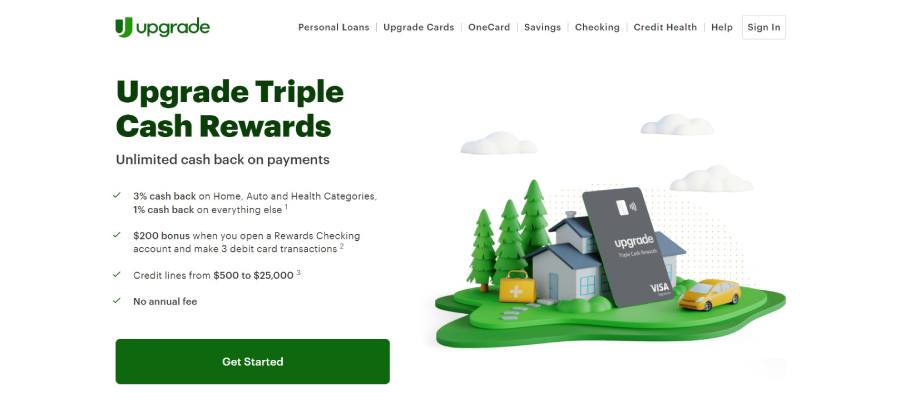 The company's mission is to provide accessible services to people in need. So if you need to renovate your house, it's the perfect way to handle this issue. Upgrade has a wide range of services and products, and home equity loans are on top of the list.
One of the best things about the Upgrade is its application process. It's fully digitized and doesn't require coming to the physical location. All of it makes the process of getting your money fast and seamless.
APR: 5.94% – 35.97% annual percentage rate for borrowers with good or excellent credit

Fee: 2.9% – 8%

Loan amount: from $1,000 to $50,000

Loan term: 36 or 60 months, depending on the personal loan amount, its purpose, or other criteria

Required credit score: 600 for improvement loans or higher
As mentioned before, if you're looking for an unsecured personal loan for a home improvement project, you will enjoy the application process for its ease and seamlessness. The second real advantage is the absence of penalties.
There's no prepayment penalty, meaning you won't incur any fees on your way. The upgrade also offers cash-out refinance options, allowing homeowners to tap into their home equity to fund larger home improvement projects.
LendingClub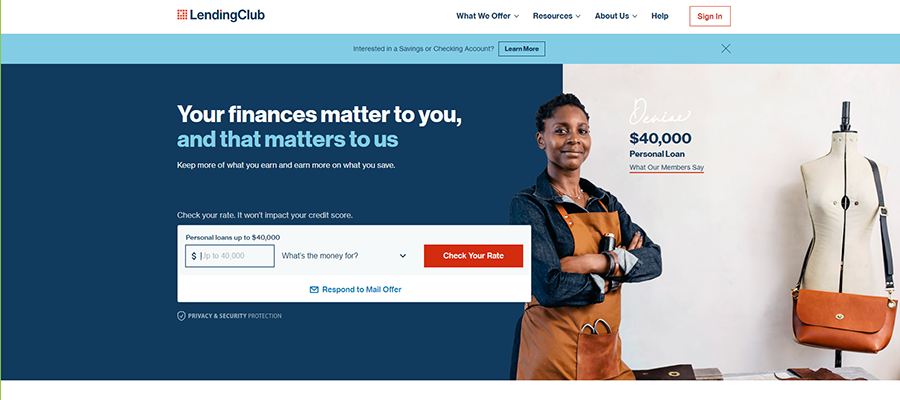 LendingClub is an online peer-to-peer lending platform that offers borrowers a range of personal loan options, including home improvement loans. The company connects borrowers with investors to provide improvement loans at lower interest rate than traditional lenders, making it a good option for those with good credit history.
If you're planning a home improvement project, LendingClub's home improvement loans can help you finance it with a fixed interest rate and flexible repayment terms.
APR: fixed annual percentage rate ranges from 8.05% to 35.89%

Fee: an origination fee of 2% to 6% of the personal loan amount and no monthly payment penalties

Loan amount: personal loans from $1,000 to $40,000

Loan term: loan terms of 36 or 60 months

Required credit score: 600 points for borrowers
The monthly payment on LendingClub's improvement loans will depend on the loan amount and the repayment terms you choose. With LendingClub, the application process for home improvement loans is online and takes only minutes to complete.
With competitive rates, you will make it through the personal loan repayment period with fewer financial losses. The second advantage is a seamless application process. And you can also benefit from flexible loan term as a borrower.
Are there any drawbacks? One of the potential drawbacks is the high required score. It may restrict the list of borrowers who can apply for the loan.
Best Egg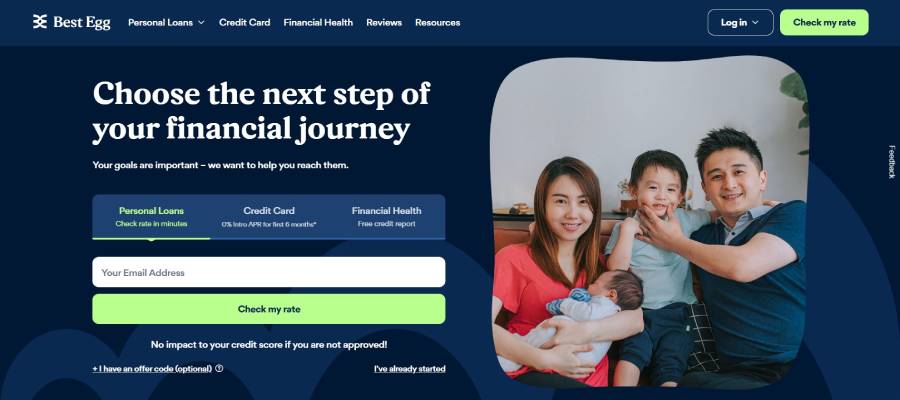 You can use BestEgg as an online personal loan provider that offers a range of services. With Best Egg, you can benefit from a quick and straightforward application process. It also offers highly competitive rates.
APR: annual percentage rate from 5.99% to 29.99%

Fee: an origination fee of 0.99% – 5.99% and no prepayment penalty

Loan amount: personal loans from $2,000 to $50,000

Loan term: from 36 to 60 months

Required credit score: a minimum credit score of 640
With the most flexible term, you can adjust your monthly payment process and meet your needs by working with this personal loan provider. A good credit history is important for home equity credit, as a poor credit history can lead to a higher annual percentage rate and limited personal loan options.
What Is A Home Improvement Loan?
A home improvement loan is a financing option that can help homeowners make renovations, repairs, or upgrades to their homes. These improvement loans can come with various loan term, typically ranging from 1 to 3 years.
Borrowers may choose between a secured or unsecured loan, depending on their credit score, income, and the home equity they have in their home. Closing costs, ranging from 1 to 2 percent of the personal loan amount, may apply.
In some cases, borrowers may be required to take out a new mortgage to secure the loan, which can have a repayment term of 1 to 2 years.
Home improvement loans may come with same day funding options, which means that borrowers can receive their funds quickly and start their renovation projects right away. Borrowers should keep in mind that the repayment term for these loans is typically 2 to 5 years.
Therefore, they should carefully consider their ability to make monthly payments before taking out a loan. A home improvement loan can help homeowners make the necessary upgrades to their homes and increase their overall value.
How Loans For Home Improvements Work
Home improvement loans offer loan options varying from secured to unsecured improvement loans based on credit score and home equity. Some lenders offer an extended period of up to 5 years.
Borrowers can withdraw funds during the draw period, typically 1 to 3 years. Same-day or next business day funding may be available. Home improvement loans can increase a home's value, but borrowers should consider repayment terms before applying.
When applying for a fair credit card, the bank will conduct a soft credit inquiry to determine your eligibility. It may pay interest on your account balance on an as needed basis.
Average Cost Of Home Improvement Loan
Many lenders offer home improvement loans with fixed rates and loan options ranging from 2 to 8. These improvement loans can be used on an as-needed basis to fund various home repairs, but the cost of the personal loan can vary depending on the size of the project.
Most lenders offer fixed rates on home improvement loans, making it easier for borrowers to budget for home repairs.
The average cost of a home improvement loan can be influenced by the interest rate and fees associated with the loan. To ensure the lowest possible price, borrowers should compare loan options and loan term offered by multiple lenders before making a decision.
Overall, home improvement loans can be a valuable tool for homeowners who want to improve the value of their property. By choosing the right loan option and carefully planning their home repairs, borrowers can successfully fund their projects and enjoy a more comfortable living space.
What Can I Use Home Improvement Loan For?
You can use home improvement for a wide range of things. For example, credit union members who apply for a Discover personal loan can benefit from the convenience of fixed monthly payments.
In addition, a fixed monthly payment can help them manage their budget effectively. In the following list, there are the most popular ways to use your home equity loan:
Use it for remodeling your kitchen or bathroom.
Add new space to your house by building a new room.

Install new doors, windows, or other facilities inside your house.

Repair your house or fix the applicant's inside of your home.

Work on new features outside, for example, in the garden or the pool area.
Overall, you can use a home improvement loan as long as the processes are related to your house. The range of services to be provided on the grounding of the home equity loan are vague, so you can play with it and choose it for as many things inside or outside of your home.
Types Of Home Improvement Loans
There are two main types of home improvement loans: secured loans and unsecured improvement loans. A personal home improvement loan is better.
An unsecured personal loan or Rocket Loans typically has a higher interest rate. Comparing the financial options and understanding the repayment terms and any origination fee is important.
When considering financing options to borrow money for home renovation, it's essential to carefully review the repayment terms to ensure they are affordable and fit your budget.
Home Equity Line Of Credit (HELOC)
Home equity lines of credit are similar to home equity loans, but there are certain differences. For example, you won't get a lump sum with the home equity line of credit. Instead, you will have access to home equity lines of credit that you can draw from as the needs come.
Homeowners who want to fund their home renovation project can explore online lenders, home equity improvement loans, and cash-out refinances to get the best from online lenders on financing their home improvements.
Personal Loans
Personal improvement loans are unsecured improvement loans that you can use for a wide range of purposes. And home improvement is one of them.
These improvement loans usually come with higher interest rate than secured loans. However, the benefit is that they don't generally require collateral.
When planning a home renovation project, it's crucial to consider the impact of home improvement loan rates on monthly payments, especially if the monthly payments involve using home equity.
FHA Rehab Loan
An FHA rehab personal loan allows homeowners to borrow a lump sum to cover home improvement costs and pay interest over time. This type of home improvement loan can be an excellent option for those with less than excellent credit.
When choosing the right loan for your home improvement or home renovation project, consider your credit score and whether there are any monthly payment penalties. If you cannot secure an unsecured personal loan, a second mortgage could be an option to consider.
Cash-Out Refinance
Cash out refinancing can be a viable option for homeowners with excellent credit. Homeowners with excellent credit can choose between an unsecured home improvement loan or cash out refinancing to fund their home improvement project, depending on their specific financial goals and circumstances.
Cash-out refinancing is a type of home improvement loan where homeowners refinance their second mortgage for a higher amount than they currently have by taking the difference in cash. This type of home improvement loan can have a longer monthly payment period than different home improvement loans.
Credit union members may offer lower interest rate and fees for a loan application, including origination fees, compared to other lenders, so it's worth exploring different home improvement loan options to find the best fit for your financial situation.
Home Equity Loan
With these home improvement loans, you will need to have your home as collateral. Another difference is that home equity loans may offer lower interest rates than personal loan. They also can come with longer repayment terms.
When considering home renovations, it's important to research and compare the best home improvement loans to find the one with the most favorable terms for home renovations, including affordable monthly payments.

Before deciding to use home equity to finance home renovations, it's better to shop around and compare home improvement loan rates to find the best home improvement loans.
Which Type Of Home Improvement Loan To Choose?
The choice of the home improvement loan will solely depend on the preferences you have. When considering home improvement loan rates, factor in fixed monthly payment.
How do home improvement loans work? You can use your home equity to finance home improvements through a cash out refinance or home equity loan, which will fund the home improvement projects.
When To Get Home Improvement Loan?
You may consider taking money from the bank in the following cases. If you need to repair your house, but no money out of your pocket can be taken, a home equity loan is a good choice.
If you have fair credit, you may consider lenders that perform a soft credit inquiry to check your credit usage before applying for a loan. It's also great to take additional funds if you want to increase the worth of your house before selling it.
If you don't have enough home equity to finance repairs, you may need to consider a new loan to cover the desired loan amount. With a good financial standing and sufficient credit score, you can fully repay the debt.
Pros And Cons Of Home Improvement Loans
One of the biggest pros of a home improvement loan is fast access to funds. Once you're approved for the loan, you will get the money and be ready to renovate your house. Low interest rates are common for home improvement loans, and the absence of collateral in many cases. With the wide range of benefits, home improvement loans can also be destructive due to their fees, interest rates, and risk of default in some cases.
How To Get A Home Improvement Loan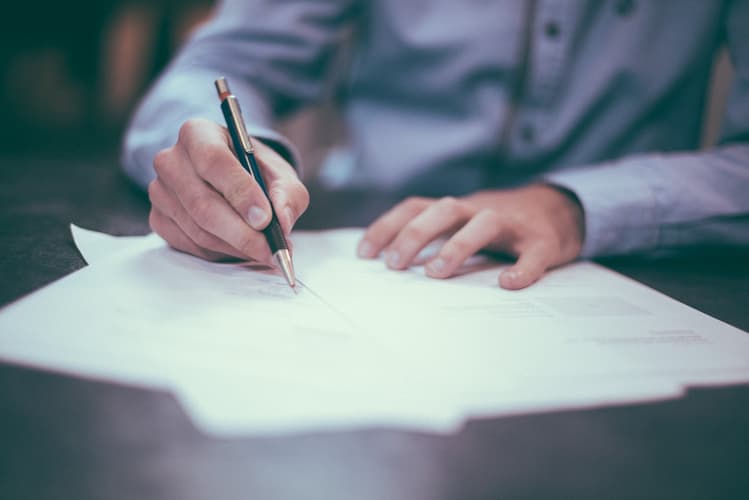 When financing home improvement projects, homeowners can use their home equity to secure a cash out refinance for home improvements to align with how home improvement loans work.
Compare Lenders
The process of applying for a home improvement loan should always start with research. You, as a borrower, have a certain list of requirements from the lending partner. So, the best way to ensure a smooth application process is to find the loan provider to fit all or at least most of your needs.
Check Requirements
The next step is to identify your list of requirements and make sure the lender of your choice can meet them. A borrower's credit history is critical in determining the annual percentage rate, which affects your monthly payment amount. It's best to have a couple of favorite lending providers at this stage to easily choose the best for your future home improvement loan.
Prepare Documents
It's a critical step because the whole process and the final decision on whether or not to give you the home improvement loan will depend on your papers.
Apply
The last and one of the easiest steps is to apply for the loan. There are usually 2 financial options. You can either do it online or go to the physical branch and perform all the actions there.