Upgrade is one of the first services several individuals consider when seeking a personal loan. The independent company has documented over 8 million on its online application in the past two years. While they are popular for personal loans, they also offer credit monitoring to track your credit score.
Our review of Upgrade explores the company's loan options, how to apply, and the requirements you should know. During our Upgrade review, we checked out the safety of the service to decide if this is a good choice for you. As you read further, you'd learn about fees on personal loans, our Upgrade app review process, and customer support on this application.
Pros and Cons of Upgrade
Pros
Getting a loan from Upgrade has some good sides. The following are advantages of the money lender:
Individuals can borrow as low as $1,000

Money arrives in your checking account within 24 hours of submitting the required documents

It supports secured joints loans

Users have several repayment terms

Benefits individuals with a fair and bad credit score as they can still take out loans
Cons
Aside from the benefit of using the company's services, there are also has some downsides, including:
Loans are only available for up to $50,000

Charges origination and late fees
How Upgrade Works
Upgrade is an online money lender that began operations in 2017. The San Francisco-based company offers unsecured personal loans, free credit monitoring, and personal lines of credit.
One of the perks of Upgrade is the loan amount it offers. The service provider is open to lending between $1,000 and $50,000, though these amounts would vary depending on your location. Minimal interest charges, no costly overdraft fees, and a reasonable minimum deposit are also advantages.
When you're prepared to apply for a loan, complete an official application online. This entails producing paperwork like most recent pay stubs and bank account statements. In addition to an existing bank account statement, you need a form of government-issued identification.
However, you must create an Upgrade account before applying for personal loans. You'll need information on your checking account or other bank accounts where a direct deposit will be made, debit card, and location.
Afterward, complete the requested loan amount and purpose fields to apply. Upgrade will perform a soft credit check after receiving personal information from you and then present the loan offers for which you are eligible.
You can check the status of your application after submitting all required paperwork by going into your Upgrade account online. Email updates on the status of your application will also be sent to you.
Upon approval, Upgrade makes direct deposits to your linked bank account within one business day. Getting your deposit depends on how quickly your bank processes the transaction, but it shouldn't take more than four days.
Upgrade Features
Most loan companies offer better products and services to people with better credits, and Upgrade is no different. That doesn't mean having a low credit score disqualifies you from the perks other users enjoy. However, you should note that you might not get an APR that's as good as a person with an impressive credit score.
The online service offers personal loans for several purposes, including:
Financing credit cards

Minor home renovations

Medical expenses

Emergencies

Debt repayment

Budgeting for starting a business
You can't apply for the loan if you intend to use the funds to
Pay college expenses

Gamble
Other Features of Upgrade Loans
Upgrade has a few unique attributes, and they include:
Autopay:

Upgrade provides this advanced feature to borrowers; a rate reduction in exchange for setting up automated payments. Although the company's website doesn't specifically state it, the discount is 0.5% off the APR.

Rewards Checking:

When you apply to open an Upgrade Rewards Checking account, you might get loans with lower rates and better loan terms.

Joint applications:

Upgrade enables you to apply for a loan jointly with another individual, lowering your interest rate compared to applying alone. Both parties will be accountable for repaying the loan, and the company will consider your credit history. Ensure to read the terms and conditions before applying for joint loans.
The service provider also provides checking accounts, credit cards, personal loans, and a credit monitoring service called Credit Health. Borrowers can use this free service to track their VantageScore 3.0 credit score and simulate it based on various circumstances. They also get financial solutions, receive advice on improving it, and other helpful financial products.
The time it Takes to Receive Funds
Upgrade provides two ways to distribute funds. The choice you select will determine how long it takes for you to receive your money:
Bank deposit:

After the relevant processes, the amount you applied for will be sent to your bank within one business day. That is, if you want your money deposited into your bank account by ACH transfer. The loan distribution time for bank deposits with Upgrade is quicker than many other lenders.

Payments made to creditors:

It may take up to two weeks for your cash to clear with this option. This is when you choose to have Upgrade pay off your current accounts directly while using your loan to consolidate debt.
Upgrade Fees & Rates
The Annual Percentage Rate (APR) of personal loans on Upgrade is between 5.94% and 35.97%. These interest rates are fixed; thus, they don't increase for as long as the loan is valid.
A borrower's APR may be higher or lower depending on factors like your credit score and loan term. To get the best rates, eligible borrowers must sign up from Autopay while handling another outstanding debit.
While there is no membership fee, personal loans attract an origination fee with percentages between 2.9% and 8% of the amount. The company subtracts this cost from the loan proceeds.
If you cannot make automatic payments due to your monthly expenses, you will attract overdraft fees of $10. Also, there's a need to pay $10 for every late payment. Also, note that there is no monthly fee for early payment. Therefore, you can pay off your loan without worrying about attracting prepayment penalties.
A one-time title transfer charge may be deducted from your loan balance if your car is the security for the loan. Your local motor vehicle agency determines the amount, and Upgrade does not retain any of the government filing fees.
The Better Business Bureau (BBB) claims that loan frauds have illegally utilized Upgrade's name and emblem. Upgrade doesn't demand any upfront fees in return for loans. Thus, if a business posing as Upgrade demands these additional fees, you should report it as a scam.
Upgrade's usual origination fees, usually deducted from the ultimate loan payout, are nothing like these bogus advanced fees.
Upgrade Safety and Security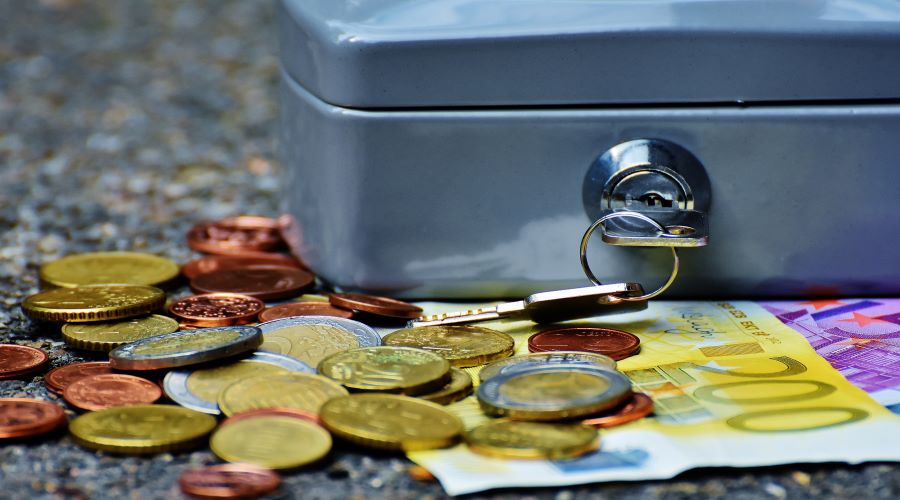 The security of your personal and financial details is very important, and Upgrade takes this seriously. In order to secure your information from unauthorized access, the company takes precautionary measures. After creating an account, it uses technologies like cookies to track your session and detect fraud.
The online money lender employs several intrusion detection systems, firewalls, data loss prevention, and malware detection systems. Upgrade also works with accredited banks to provide services to its users.
You also have to use a strong password that you can easily remember. Upgrade doesn't know this password, so you shouldn't share it with anyone. It's also best to avoid using public computers when logging into your Upgrade account.
Trustworthiness & BBB Rating of Upgrade
The Better Business Bureau, BBB, gave Upgrade a B+ rating in 2016. BBB decided that the company has met the accreditation standards, including prompt response to customer complaints. The online money lender also has an outstanding rating of 4.6 out of five stars on Trustpilot. These stars are based on reviews from over 20,000 users.
In 2020, the CFPB (Consumer Financial Protection Bureau) received over 20 reports on the company. These were mostly reports of incorrect information, errors with making payments on the app, and unexpected charges. However, Upgrade answered each complaint with a valid explanation, closing these cases.
The company also has a good US News rating of personal money lenders. Generally, it holds 4.1 out of 5 stars, 4.9 for its customer service, 2.9 for affordability, and 4.7 for eligibility. With this, the company beats the standard 4.0 rating for personal money lenders in the US.
Upgrade Mobile Support and Accessibility
According to our observations and the client feedback, Upgrade's website is simple. You can easily find the service you're searching for without having to sift through irrelevant content.
Upgrade's website has a straightforward design. Completing the Upgrade three-step online application takes less than ten minutes, and you receive loan alternatives immediately. Their login procedures are also simple to understand and use.
Accessing the Upgrade website using a desktop isn't always possible. Thankfully, a mobile application is available for download. The app is compatible with several devices, including an iPhone, Tablet, and Android. You can apply for a loan and use other Upgrade offerings via a smartphone.
The mobile app also features a clean user interface where you can find their services easily. Once you have downloaded the application, you can use your login details to access your Upgrade account. If you don't have one, you follow the same process as desktop users and create an account in a few minutes.
Customer Service at Upgrade
The company's customer service is commendable. Users with a few problems or need clarification can visit the FAQ page for information. Here, you will find several articles covering important topics you might need to understand more. If the details don't satisfy you, you can email [email protected].
Responding to your mail might take a few hours; however, you could speak to a representative if you called 1-855-997-3100. The service is available from Monday to Friday from 9 am to 9 pm Eastern time. As expected, you get prompt responses, making phone calls the best contact option to use in an urgent situation.
We found the support team professional and well-informed to answer whatever questions you might have. However, standard call and messaging rates will apply based on your service plan.
Is Upgrade Good Choice for You?
According to our observations, Upgrade provides a fantastic service for various kinds of income earners who need loans for the short term. You can use such loans to pay off long-standing bills, supplement your paycheck, and settle rent and utility. After paying off the borrowed money, applying for a refinance and getting another loan is possible.
They also provide several useful tools for debt consolidation, like their Upgrade card and a credit health program. These enable users to raise their credit scores significantly.
Upgrade uses a straightforward approach. So, borrowers can understand the terms of their loan arrangement and decide whether to use their services. Additionally, although it may assist applicants with acceptable credit, these people might not enjoy the company's maximum APRs.
Apps Like Upgrade
Upgrade Vs. LightStream
LightStream offers loans from $5,000 to $100,000 with a 3% Annual Percentage rate for certain purposes. Therefore, it has more flexible repayment plans and works well for individuals who need larger loans. Both companies' loan terms begin from two years, Upgrade ends at seven years, while LightStream extends to 12 years.
| | | |
| --- | --- | --- |
| | Upgrade | LightSream |
| Loan Amount | $1,000-$50,000 | $5,000-$100,000 |
| APR | 5.94%-35.97% | 3.99%-17.99% |
| Loan Terms | 2 to 7 years | 3 to 6 years |
| Late Fee | $10 | None |
| Origination Fee | $10 | None |
Upgrade Vs. Marcus
Marcus is one of the alternatives to Upgrade but doesn't have the same features. First, Marcus provides smaller personal loans from $3,500 to $40,000. Rates begin at about 7%, a little higher than Upgrade's lowest APR. However, they only reach a maximum of about 20%, which is lower than Upgrade's highest rates.
Marcus doesn't impose origination or late fees, either. The downside to these cheaper rates is that Marcus has a higher minimum credit score requirement of 660.
| | | |
| --- | --- | --- |
| | Upgrade | Marcus |
| Loan Amount | $1,000-$50,000 | $3,500 to $40,00 |
| APR | 5.94%-35.97% | 6.99%-19.99% |
| Loan Terms | 2 to 7 years | 3 to 6 years |
| Late Fee | $10 | None |
| Origination Fee | $10 | None |
Upgrade Vs. SoFi
Online lenders Upgrade and SoFi provide loans for up to seven years. The two businesses, however, differ significantly in some ways. SoFi permits customers to obtain up to $100,000, whereas Upgrade's maximum loan amount is $50,000. Additionally, SoFi doesn't impose origination or late fees.
| | | |
| --- | --- | --- |
| | Upgrade | SoFi |
| Loan Amount | $1,000-$50,000 | $5,000 to $100,000 |
| APR | 5.94%-35.97% | 6.99% to 21.28% |
| Loan Terms | 2 to 7 years | 2 to 7 years |
| Late Fee | $10 | None |
| Origination Fee | $10 | None |
How we Review
Our review process follows strict criteria, evaluating personal loans from different financial institutions and online money lenders. We gather more than 25 data points from each lender and speak with business representatives to obtain better information. After this, we compare that lender to others who target the same clientele or provide a comparable service.
Our writers and editors perform a thorough check and update once a year. They also make any necessary revisions to older reviews to ensure the information we provide is up to date.
Additionally, we consider regulatory actions brought by organizations like the Consumer Financial Protection Bureau. Lenders that provide customer-friendly features like no fees, better interest rates, and flexible repayment terms receive better points during our ratings. We evaluate these aspects depending on which we believe are most significant to customers and how they affect their experiences.
We only review lenders with a maximum interest of 36% with this methodology. This is the maximum rate that most financial professionals and activists find reasonable. It's also worth noting that our reviews are not biased, only influenced by facts we collect from these lenders. No financial institution pays us to feature and rank their company on our platform.
Conclusion
Upgrade offers a simple solution to money problems by letting you borrow a reasonable amount of money. The online money lender has gained trust for its swift customer response and safety measures. While the late and originated fees can be bothersome, it has fair interest rates to suit several individuals.