SoFi, short for "Social Finance," is a fintech company based in the United States that was formed in 2011. It initially specialized in student loan refinancing but has subsequently moved into the broker industry. SoFi is governed by the US Securities and Exchange Commission (SEC) and the Financial Industry Regulatory Authority (FINRA).
The SoFi app has many features, can be used on various devices and is quick and easy to make an online application.
Here in this blog, we will provide a comprehensive SoFi app review so you can make an independent decision before using it. Check out the review of SoFi below!
Pros and Cons of SoFi
Advantages:
Low cost

is one of the main benefits of using SoFi. Their management fee is $0, unlike other companies with a 0.25% fee.

Access to certified financial planners

is another great benefit of using SoFi. If you have financial questions or want someone to guide you about investing, you can turn to SoFi's financial planners.

Cash management account

– Without a monthly cost, a SoFi Banking account provides fundamental bank functions such as mobile banking, money transfers, a debit card, and more.
Disadvantages:
No tax-loss harvesting

– Tax-loss harvesting allows you to minimize your tax payment while maintaining your investment. Since SoFi doesn't have this function, it's a significant disadvantage for them.

No socially responsible investing option –

investors want to know how their funds are invested and their impact, so not having this option is a big flaw.

Basic portfolio –

SoFi's portfolio construction may seem basic compared to other companies' portfolios.
How Does Sofi Work?
SoFi evolved from a student loan refinancing company to a diversified financial service provider. It attracts customers by offering cheaper interest charges and the chance to combine numerous loans into a single debt. The majority of the money it lends comes from private investment funds.
SoFi has grown its business to include personal loans, investments, mortgages, brokerage, deposit accounts, and financial advising services. Here's the full product line-up:
SoFi Student Loans – includes home loans, personal loans, and student loan refinancing.

SoFi Money – a money management platform with checking accounts and savings. Unlike other bank accounts, it requires no minimum deposit, they have reduced costs, and they don't have costly overdraft fees.

SoFi Invest – an online brokerage platform that allows you to invest or trade securities in an automated investment portfolio.

SoFi Relay – which can be used for credit monitoring.

SoFi Protect – offers different insurance products with outside partners.

SoFi Credit Card – a cash-back credit card that offers great advantages if you redeem the rewards into another account. SoFi also offers a debit card.
One of the most famous features of SoFi is SoFi Student Loans. A prospective loan borrower can quickly get a loan rate online or via the cellphone app. They can submit a formal application if they are happy with the terms. Once the loan is approved, the money will undergo direct deposit after a few days.
Another well-known feature is the SoFi Checking and Savings account. Direct deposits to other SoFi accounts are immediate. But, things are different if the receiver has a different existing bank account.
The funds will be transferred to the recipient's bank account within 2-3 business days. That's why you need to check what type of linked bank account your receiver has before transferring money.
Sofi Features
SoFi has a track record of offering various financial products and financial solutions. They can help you with budgeting, investing, and other financial needs. One advanced feature that many people try is their loans.
Here are the most common ones:
Federal Student Loans
There are various types of federal student loans. Each has a set of standards, interest rates, and borrower maximums. Understanding your options can help you select the best approach to finance your education.
Federal Direct Loans or Stafford Loans are present in subsidized and unsubsidized forms. The government will pay the accrued interest on a subsidized student loan while the borrower is enrolled in school, throughout their grace period, and during deferment.
The government does not pay unsubsidized Loans The unsubsidized direct loans' interests. That implies the loans are generating interest while you're in school. You don't need to make payments when you're a full-time student, but the interest stocks up. The interest is added to the loan's principal as it accumulates.
A graduate student can borrow a Direct Plus loan, whereas an undergrad's parents can only borrow a Parent Plus loan. Plus loans have the same perks as other types of federal loans, such as fixed interest and flexible options for repayment. It needs a credit check.
Direct Consolidation Loans
You may join all your loans into one through this type of loan. It helps you make a single monthly payment on all of the loans. Your overall interest rate will not be reduced with this type of loan.
For 2022 to 2023 academic year, here are the sample interest rates of the loans:
| | |
| --- | --- |
| Type of Loan | Interest Rate |
| Direct Subsidized or Unsubsidized loans (undergraduates) | 4.99% |
| Direct Unsubsidized loans (graduate and professional students) | 6.54% |
| Direct PLUS loans (parents, graduate students, and professional students) | 7.54% |
Personal Loans
There are various types of personal loans, and here are the most common ones:
Unsecured or Secured

– risky because it has no collateral. Approval and interest amount generally depend on income and credit score.

Fixed Interest Rate

– have the same fixed monthly payment.

Variable

– interest rate changes over the loan's lifetime.

Cosigned

– a person asks help from someone to get their loan approved. If the person can't pay, the cosigner would be responsible for the account even if they did not receive funds.
Here's an example of SoFi's loan terms: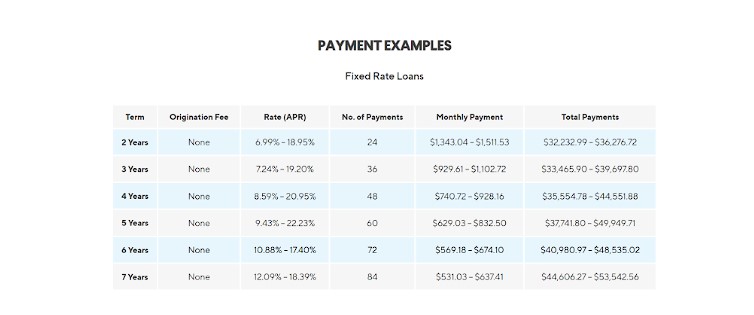 Keep in mind to check SoFi's terms and conditions regarding their products and services before you avail them.
SoFi Fees & Rates
SoFi is generous in terms of fees because they don't charge for account management, monthly, overdraft, minimum balance, and other normal additional fees.
If you apply for a loan, the annual percentage rate might range from 6.99%-18.39%, depending on the loan term, financial history, and other factors.
The loan interest rate you need to pay may range from 1-13%. Remember that student loans have fixed interest rates, and private loans have higher interest rates.
You may also use SoFi to invest your money. Here are their trading fees:
| | |
| --- | --- |
| Feature | SoFi Invest Fees |
| Minimum Deposit | $5.00 |
| ETF Trade Fee | $0.00 |
| Mutual Fund Trade Fee | $0.00 |
| Stock Trades | $0.00 |
| Options (Base Fee) | $0.00 |
| Options (Per Contract) | $0.00 |
| Futures (Per Contract) | $0.00 |
| Broker Assisted Trade Fee | $0.00 |
Margin Rates
| Feature | SoFi Invest |
| --- | --- |
| Below $24,999.99 | 0.00% |
| $25,000.00 – $49,999.99 | 0.00% |
| $50,000.00 – $99,999.99 | 0.00% |
| $100,000.00 – $249,999.99 | 0.00% |
| $250,000.00 – $499,999.99 | 0.00% |
| $500,000.00 – $999,999.99 | 0.00% |
| Above $1,000,000.00 | 0.00% |
Account Fees
| | |
| --- | --- |
| Feature | SoFi Invest |
| IRA Yearly Fee | $0.00 |
| IRA Closure Fee | $20.00 |
| Account Transfer Out (Full) | $75.00 |
| Account Transfer Out (Partial) | $75.00 |
SoFi's revenue also comes from its ETFs that annually charge management fees. The table shows how much is deducted from your invested money.
| | | |
| --- | --- | --- |
| Name of ETF | Ticker | Gross Expense Ratio |
| SoFi Next 500 | SFYX | 0.19% |
| SoFi Select 500 | SFY | 0.19% |
| SoFi Social 50 | SFYF | 0.29% |
| SoFi Weekly Income | TGIF | 0.59% |
| SoFi Gig Economy | GIGE | 0.59% |
You can use SoFi to pay your monthly expenses and bills, and this feature has no cost to you. Being a SoFi member will provide you many other benefits. Just check their website if you need to pay a membership fee.
Sofi Safety and Security
SoFi is regarded as secure because it is regulated by the best accredited financial regulators in the country. They also offer up to $500,000 in investor protection (including a $250,000 money limit) as part of the SIPC protection system. To enhance your security, you can add biometric authentication to your account.
You can also use two-factor authentication (2FA) for your SoFi account. Two-factor or multi-factor authentication is a widespread and recommended method for safeguarding sensitive accounts, such as those related to financial services.
Because the second factor works as an additional "gate," 2FA increases account security by reasonably validating your identity.
SoFi takes the privacy and security of its users' personal and financial data seriously. They uphold industry-recognized administrative, physical, and technical precautions to preserve the confidentiality and integrity of your data.
Thorough third-party security testing is performed at least once a year. Their systems and security procedures are rigorously tested to security standards, including PCI DSS and SSAE18 SOC2.
Trustworthiness & BBB Rating of SoFi
The Better Business Bureau or BBB has given SoFi an A+ rating. However, SoFi is not BBB-accredited. Even though SoFi's A rating implies that it interacts extraordinarily well with customers, it's equally critical that you conduct your own research on the firm. According to the BBB, its ratings do not guarantee an organization's dependability or performance.
Last 2018, the Federal Trade Commission (FTC) mentioned that SoFi provided misleading information about how much clients saved through its lending programs. In 2019, the FTC reached a Consent Order with SoFi that barred the company from presenting deceptive information about loan refinancing savings. SoFi didn't confirm nor deny the allegations.
In 2021, the Consumer Financial Protection Bureau got 14 loan-related complaints against SoFi. The most frequent issues involved borrowing money from them. They replied to most of those complaints in a timely manner. Additionally, SoFi has a rating of 2.8 on Trustpilot.
SoFi Mobile Support and Accessibility
SoFi has a mobile app for iPhone, Android, and smartphones. You can also use your tablet and desktop to access your account. Using the SoFi app, you can ask for a loan, view your balances, and handle your payments. You can install the app through Google Play or the App Store.
To optimize the user experience, SoFi provides features such as:
Text alternatives for non-text content

The functionality of content via a keyboard interface

Using labels or headings to describe purpose or topics
SoFi will also be giving free Web Enhancement Tools to help customize the user experience in the coming weeks. To enable the AudioEye Ally Toolbar, just turn AudioEye On. The Ally Toolbar offers users AudioEye Accessibility tools that are personalized to their needs.
Please contact SoFi at [email protected] or (855) 456-7634 if you encounter accessibility problems while using their website or app. Be specific in stating the issue you encountered so they can help you properly.
Customer Service at SoFi
There are mixed reviews about SoFi's customer service. Other clients mentioned that SoFi provides good customer service. However, some customers gave low reviews. Since each person has their own experience, it's understandable that the results varied.
If you have questions, suggestions, or concerns, you can call SoFi at (855) 456-SOFI (7634). They can be called from Monday to Sunday. Working hours may vary, but credit card support is available 24 hours per day.
If you don't want to contact them by phone, you can also try chatting with them or sending them mail. SoFi can assist you with any questions, comments, and suggestions that you may have. Be sure to elaborate on your reason for calling so they can properly assist you.
Is SoFi a Good Choice for You?
SoFi is a good choice for you if you're a beginner or an investor looking for zero-commission trading. You should live in the United States since it is unavailable in other countries. It has many functions that will help make your life much easier.
You can use SoFi to pay for your rent and utility, credit cards, and other bills. If you need money, you can apply for a short-term or long-term loan if you have a credit score of at least 680. You may also use SoFi to refinance your home.
SoFi is also an excellent choice if you have other SoFi accounts. Switching money between SoFi Invest and SoFi Money accounts is relatively simple. This makes investing your paycheck or other income easy to grow your money.
Apps Like SoFi
There are many alternatives to SoFi. Before choosing one, check the feedback from previous and current users. Consider various factors such as user interface, fees, investment options, security, and others. Be sure to properly research those before choosing which one to use.
Some alternatives have the same features, which makes them easy to use. However, keep in mind that no two apps are completely similar, so read their instructions first before using them.
You can check out some options below:
SoFi
Robinhood
Fidelity
Wealthfront

Minimum Investment

$0

$0 ($2,000 for Robinhood gold)

$0

$500

Fees

0% (active trading and automated investing)

About 1.25% (for crypto transactions)

0% ($5 per month for Robinhood Gold)

0%

0.25% for automated investing

Investment Options

ETFs, stocks, cryptocurrencies

Stocks, options, ETFs, cryptocurrencies, and ADRs

Mutual funds, ETFs, stocks, cryptocurrencies, bonds, and more

Index funds, ETFs, and crypto trusts
You may even consult with financial experts that can help you choose the right one for you.
How we Review
We're not just another standard firm. We're a team of specialists with the experience and expertise to make sure the data is accurate, clear, and easy to understand. Our experts carefully and thoroughly conduct our testing and review process to remove inaccuracies and enhance precision.
We start by collecting all information in one place. Then we dive into each piece of information and make sure it's clearly presented in an easy-to-read format that's clear for anyone to understand.
Next, we check how accurate and consistent each data piece is with other information we've collected from different sources. This helps us identify any discrepancies or inconsistencies between related pieces of data (like accounts receivable vs. accounts payable).
Once we've completed all that work, we present our findings back to you so that you can see exactly where the company stands financially compared to where it should be based on our analysis.
Let us know if you have something that you want us to review. Our team of experts would be happy to lend you a hand. They would provide the information that you need wherever and whenever you may need it. Feel free to reach out to us!