Personal loans are ideal for funding regular expenses, including renovations, wedding costs, trips, and other expenditures.
Due to the frequently reduced interest rates, individuals also choose personal loans to consolidate debts. This applies particularly to candidates with a good credit score.
Banks, internet lending platforms, and credit unions all provide this lending option. With some of them, you can even submit an online application. The best bank personal loans offers are easy to find, and the funding is quick! They generally have various amounts you can borrow and flexible payback terms.
Banks For Personal Loans: Best Offers
Finding the right lender can be a tedious and time-consuming process. However, being informed can be of great help to you. Make sure to look into some of the best banks for personal 1000 loan before making a decision.
There are multiple factors that you should have in mind. You need to look into the interest rates, terms, amount, and any additional fees that might occur. To help you pick your lending company, we compiled a list of the best ones with detailed explanations.
TD Bank Personal Loan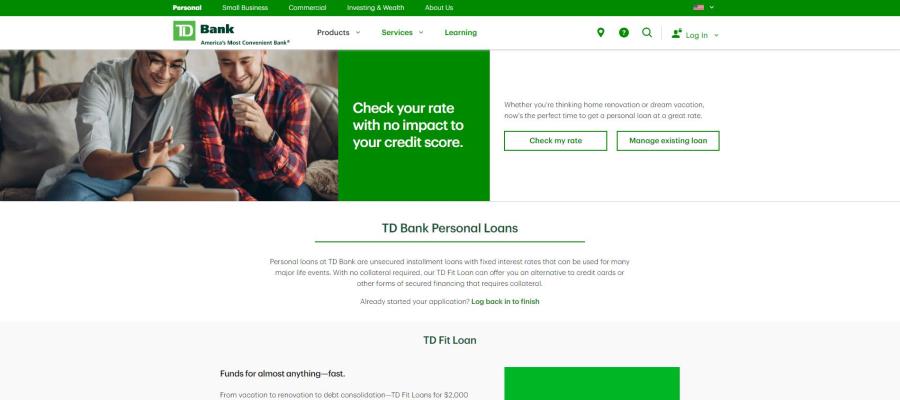 TD Bank offers unsecured personal loans with a set interest rate. The loan can be utilized for various purposes. They will provide you with a replacement for different secured funding since no collateral is necessary.
TD provides various loan amounts, anywhere from $2,000 to $50,000. The borrowers can select the sum that best suits their requirements. If you need money quickly, this is the best solution for you. You can also prequalify to check out the loan terms without damaging your credit score.
The minimum credit score is not specified, which is why you need to go through the prequalification process to find out. The Annual Percentage Rate can vary from 6.99% to 19.99%, depending on your situation. There is a late payment fee, but they do not charge origination fees.
| | |
| --- | --- |
| Pros: | Cons: |
| Prequalification | Late payment fee |
| Repayment period from 2 to 5 years | Not accessible in all states |
| No origination charges | Required credit score is not public |
LightStream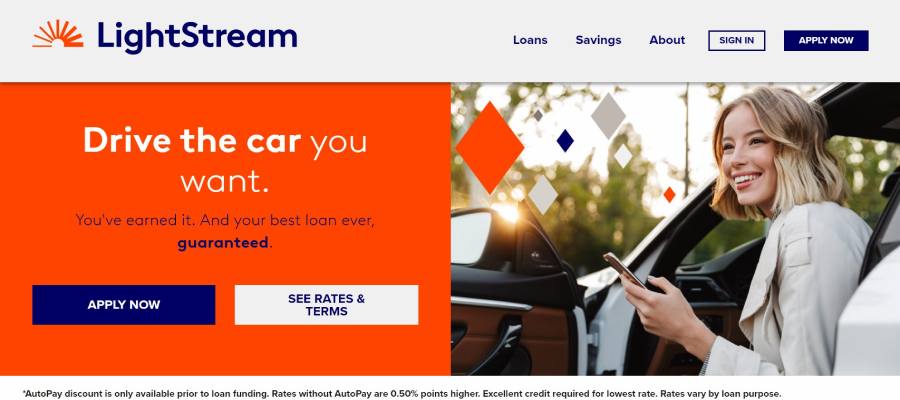 LightStream is one of the best lending options due to its flexibility. They will allow you to pick a day when you want to receive your funds. This helps you figure out your repayment schedule and plan out the expenditures.
Their loans are best for borrowers with good or excellent credit ratings. If your credit score is good, you are more likely to get a lower interest rate. This can also help you get a longer term for the funds repayment!
The APR tends to vary from 6.99% to 23.99% based on your circumstances. The minimum loan amount is $5,000, and the maximum is $100,000. The terms can last from 2 to 7 years, except for house renovation loans, which can be extended to 12 years.
| | |
| --- | --- |
| Pros: | Cons: |
| No additional charges, such as prepayment or origination fees | You cannot prequalify |
| Excellent amount range | Great credit records |
| Quick funding | Support for non-customers is limited to email |
Wells Fargo Personal Loan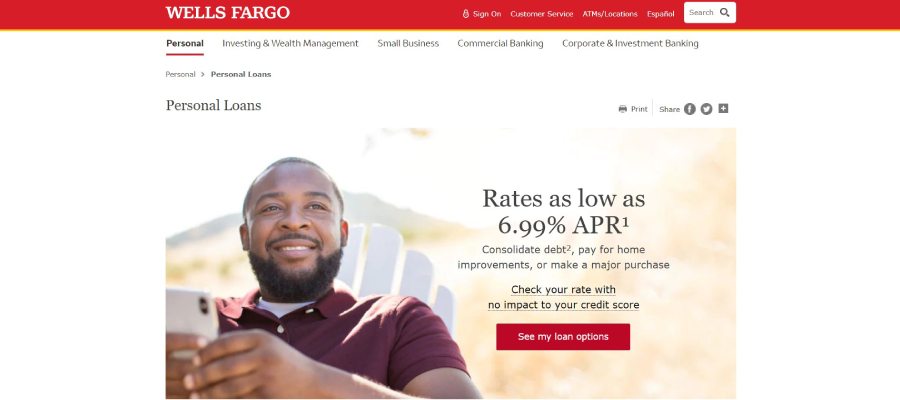 Well Fargo loans are ideal if you are looking for financing for a house renovation project! They individualize every loan with a wide variety of terms and amounts. The best part is that they allow prequalification, so you can compare offers and choose the right lender for you!
Their loans are available to individuals who are already Wells Fargo customers. Apart from that, they require a good credit score to qualify. However, you can also apply as a non-customer, but you have to visit the bank in person.
The Annual Percentage Rate varies from 5.74% to 20.99%. There is a late payment fee of $39, so make sure to be responsible. The loan amount range is excellent, and it goes from $3,000 to $100,000. The terms can be anywhere from 1 to 7 years.
| | |
| --- | --- |
| Pros: | Cons: |
| Prequalification option | Late payment fee of $39 |
| Various repayment terms | Online application is for customers only |
| Money is paid out quickly | Co-signing is not allowed |
U.S. Bank Personal Loan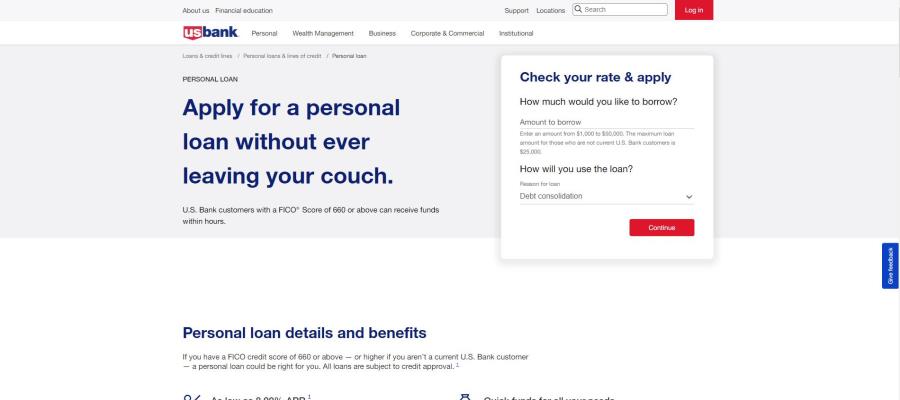 With U.S. bank, you can apply for funding online and have your money in no time. You can use the money to cover all kinds of expenses and even consolidate your old college debt. Pay for your vacation, cover medical bills, or buy new furniture.
These loans are ideal for U.S. Bank customers that have a solid credit history. They are also available to non-customers, but different requirements and terms can apply. For example, customers can take out up to $50,000, whereas non-customers can get up to $25,000.
APR can range from 8.99 to 21.49%. This depends on the repayment term, your income, and the amount you borrow. Your credit score has to be at least 660 to make you eligible. The term of your payment can be between 2 to 7 years. There are no origination or other hidden fees.
| | |
| --- | --- |
| Pros: | Cons: |
| Fast financing | Higher APR than average |
| Solid requirements | Different offers for customers and non-customers |
| Multiple loan terms | Higher credit score required |
American Express Personal Loan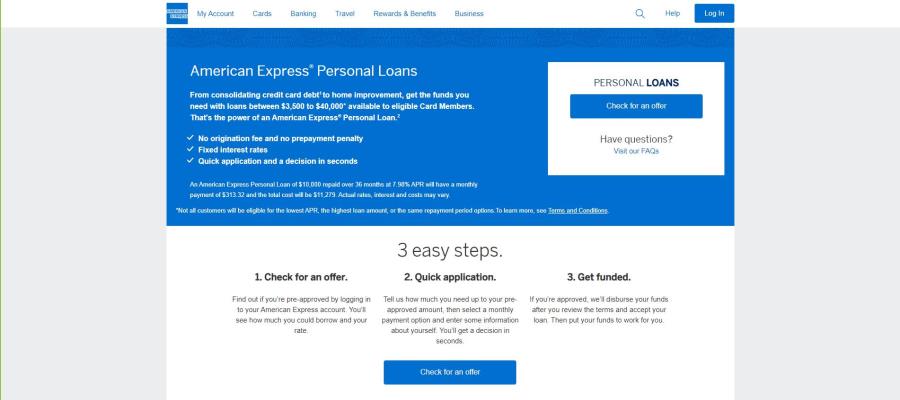 If you are looking for a lender to fund your home renovation or any other expense, American Express might be the place for you. If you already have an American Express account, you can prequalify and compare offers.
To be eligible for their personal loan, you must already be a cardholder. It is ideal for preapproved members who need quick financial aid. Checking your eligibility will not hurt your credit score!
You can borrow money between $3,500 and $40,000. The minimum credit score is not disclosed, and your approval depends on different factors. If you are a good candidate, your APR can be as low as 5.91%. However, depending on the circumstances, it can be up to 19.97%. The repayment terms are from 1 to 3 years.
| | |
| --- | --- |
| Pros: | Cons: |
| Preapproval | Only for card members |
| Low APR | Low options on terms |
| No origination fees | Co-signing is not a possibility |
PenFed Personal Loan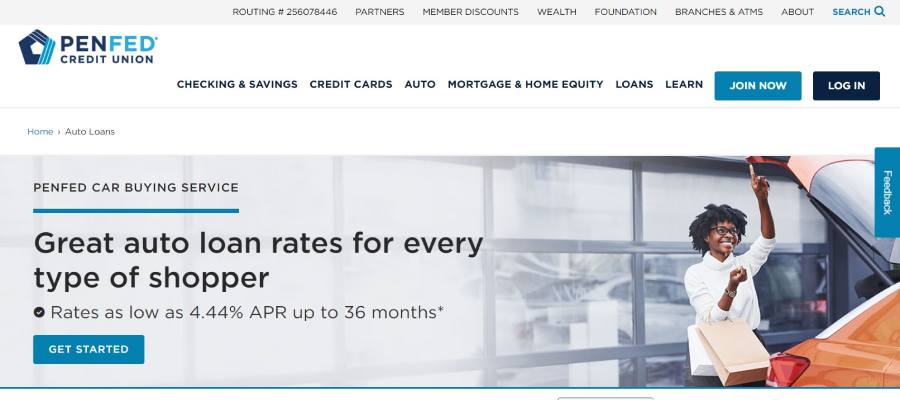 PenFed is a credit union whose personal loans can be utilized for all types of expenses. You can prequalify and avoid damaging your credit score. There is no collateral, and you can even co-sign a loan!
Their financing is best for those who have a higher credit rate. The score requirements are at least 700 on the FICO scale. However, if you are eligible, there are many terms and amounts to choose from.
They offer loan amounts from as low as $600 up to $50,000. The repayment term can be from 1 to 5 years. The Annual Percentage Rate ranges from 7.74% to 17.99%. Unfortunately, there is a late payment fee of $29 and a fee for non-sufficient funds of $35.
| | |
| --- | --- |
| Pros: | Cons: |
| Co-signing is available | High credit score requirement |
| You can borrow as little as $600 | Fee for late payments |
| Prequalification | A $35 fee for non-sufficient funds |
Read More: PenFed Credit Union Review
How to Choose the Best Bank for Your Personal Loan
Picking the right lender for your personal loan can be overwhelming. There are too many options, and it is difficult to determine which one suits you the best. For that reason, we have compiled a list of factors you need to consider before choosing a bank.
Do not settle for the first offer you find because that is the easiest solution. Always look into different lending companies and compare their interest rates. A good interest rate can save you a lot of money in the long run.
Check for any additional fees and charges. Is there an origination fee? What if you are late with your payment? Many lenders do not charge fees at all.
Look into the credit score requirements. Check if your income is enough to cover the monthly payment. If the bank offers prequalification, make sure to utilize that option as well.
Consider what amounts are offered. Some banks will let you borrow more than others. Some even cover a smaller loan that might better fit your needs.
The period in which you need to pay back the funds is critical. Calculate your income and expenses, and check if you can cover the payments in a given term.
Is your lender willing to adjust the agreement based on your individual situation? It is important to check if the repayment schedule will be based on your paychecks. A good bank will help you choose a type of funding that will not be stressful. They will not make you have to struggle with making payments.
Reasons to Get a Bank Personal Loan
When you have a fixed income, unplanned expenses can be a real setback. Looking for additional funding is overwhelming and choosing the right option is difficult. This is when personal loans come in.
Here are some of the main reasons you should consider this type of funding:
1. Medical emergency
Unfortunately, medical bills can pile up, especially if you do not have good insurance. Surgeries and check-ups are costly. However, your health comes first, and a personal loan can help you cover this expense.
2. House renovations
Do you want to get modern furniture or a new fridge? Maybe you want to remodel your entire kitchen? In that case, you should definitely consider this financing option.
3. Consolidating debt
You have different borrowings, maybe even old college debt, and you want to manage them all in one place? A personal loan can help you make one monthly payment. You can even get a lower interest rate and save up.
4. New vehicle
Having a car is incredibly convenient and sometimes even a necessity. However, not many people can afford a brand-new vehicle out of their own pocket. Submit an application for funding and enjoy the ride.
5. Starting a business
If you have a business idea but no funds to execute it, this might be your solution. Instead of a business borrowing option, apply for a personal loan. Once your company takes off, you will be able to get back the money you invested.
6. Avoiding payday loans
Payday lending is considered predatory, and it is even banned in many states. They charge extremely high interest rates and offer short terms. This makes it unattainable to repay the money in time for many borrowers.
7. A vacation
Even though vacations are considered a luxury, there are special occasions when you want to relax and travel a little. For example, for your wedding or honeymoon. These are once-in-a-lifetime opportunities that you do not want to miss due to the lack of funds.
Read More: Personal Loans Vs. Credit Cards: Which Is Best For You?
What Do I Need to Qualify for a Personal Bank Loan?
Lenders have different requirements for personal loans. But the majority of them take into account factors like earnings and credit rating. Learn about the typical requirements you need to fulfill and the necessary papers you must submit before you start looking for a loan.
Even though the criteria depend on the lender, most of them require a good credit score. The minimum is usually around 660 on the FICO scale. There might be a couple of lending companies that will not ask for your credit history.
As this lending opportunity does not need collateral, the lenders will want to make sure you can pay them back. For that reason, they will generally ask for proof of income. You might also need to provide your bank statements, information about another debt, and employment letters.
Many lenders will look into your debt-to-income ratio. This is a percentage of your current borrowings based on your earnings. To be an ideal candidate, you should keep your DTI under 35%. However, some banks will even allow you to go up to 50%.
Do All Banks Offer Personal Loans?
Personal loans can be obtained through banks, online lending companies, and even credit unions. However, this does not imply that all creditors necessarily provide personal loans. Even though most of them do, there are some creditors, such as Bank of America, that do not.
The reason why some banks shy away from this option is the risk it carries. This type of lending is unsecured, which means there is no collateral. The bank cannot take your property or a vehicle if you fail to fulfill your obligations.
Some lending companies simply avoid paying out smaller amounts. They prefer larger borrowings with a lot less hassle. But luckily, there are still many options for you out there!
Do I Need to Be Existing Bank Client to Get a Loan?
Every lending company is different and has its own requirements. While some banks require you to be a member or a cardholder, others do not. Best online lenders will not ask for a previous membership.
However, if you are looking for funding from a credit union, you have to be a member first. Their members own the funds and issue them to their circle only. If you are not a part of such a group, you can still look into other banks and online companies.
Being an existing client might provide you with some additional perks. This completely depends on the lender. The bottom line is that many of them will let you take out loans even if you are not a customer.
Sources Used in Research for the Article:
TD Bank, Personal Loan, https://www.td.com/ca/en/personal-banking/products/borrowing/loans/benefits-of-a-personal-loan
Wells Fargo, Personal Loan, https://www.wellsfargo.com/personal-loans/
PenFed, Personal Loan, https://www.penfed.org/personal-loans