Secured personal loans involve the provision of an asset (such as a house) as collateral. The asset is at risk if you do not return the money according to the agreement. That is, the lender can take it away and thus compensate for the losses by providing you with a certain loan balance.
In practice, people usually use secured personal loans rather than unsecured loans to obtain cash deposit in the tens or even hundreds of thousands of dollars. Most online lenders feel more comfortable because they have property as collateral and, therefore, can offer a fairly low-interest rate.
For example, such a loan is often used for debt consolidation, as the total required amount is relatively high.
Read this article to learn more about savings secured loans, their pros and cons, and the best credit unions.
Secured Personal Loans: Best Offers
Today, there are many credit unions that offer secured loans. Choosing the best is often quite difficult. However, several important criteria will help you make the right decision:
License. Information about permits must be presented in an open form. Such links are usually placed at the bottom of the main page of the company's website. In addition to the license, the legal address of the organization and its contact information must be indicated;
Loan terms. The next thing to pay attention to is the secured loan terms. These include the minimum loan amount, required credit score, fees, repayment terms, etc. The conditions for issuing a loan may differ, so it is crucial to study them carefully;
Interest rate. The average annual interest rate on a secured personal loan ranges from 6.99% to 23.24%. However, some online lenders charge higher rates, up to 35.99%. It is important to take this into account and make the appropriate choice;
Possibility of prolongation. Try to find a lender that offers a loan prolongation. Such a service allows you to extend the period of use of credit funds for a certain time set by the online lender. This can solve the problem if you cannot repay the secured loan on time.
Below we provide highlights of the best secured personal loans. Consider the loan terms of each lender and choose the one that suits you best.
Upgrade
If you have a low credit score and want to improve it by getting a loan on your savings account and strictly observing the regularity of monthly payments, Upgrade will be a great choice.
It is a lending-focused fintech startup offering affordable secured loans online. The company was founded in 2016 and is headquartered in San Francisco, United States.
Upgrade offers secured loan amounts from $1,000 to $50,000. APRs vary between 7.96% and 35.97%. The loan origination fee is 1.85%-8.99%. The loan term is 24-84 months. The minimum credit score required is 560 FICO.
The advantages of Upgrade are that it offers multiple discounts on the credit services provided and has a mobile application that makes debt management as simple and convenient as possible.
The lender's disadvantage is that the available secured loan amounts are not higher than $50,000. In addition, the rates are pretty high, and there is an origination fee.
Upgrade is BBB accredited. It has an A+ rating for excellent customer service. Therefore, the company deserves your attention.
Upstart
Upstart is a developer of a cloud-based AI lending platform. The platform unites consumers and the network of partner banks of the company. Using the Upstart artificial intelligence platform, consumers can quickly learn about the rate, select the right loan, and provide the necessary information for verification.
The main benefit for consumers is that they get a high loan approval rate at lower rates. Partner banks, in turn, gain access to new customers with a low level of fraud.
Upstart started its activity in 2012. The headquarters is located in San Mateo, California, U.S. Secured personal loan amounts are $1,000-$50,000. The money can be borrowed for a period of 3 to 5 years.
An active savings account is required. APR is 6.50%-35.99%. The origination fee is 0%-8%. An early withdrawal penalty is also charged.
The company does not impose any requirements on the customer's credit score. Even applicants with a low credit rating are considered. This is the main advantage of the lender. The downside is high APRs and numerous fees.
According to the BBB, Upstart deserves an A+ rating. Its simple requirements make it the best choice for those with thin credit history and a poor credit score.
Municipal Credit Union
Municipal Federal Credit Union is a public financial institution with a full range of lending services, including secured loans. The company was founded in 1916 for municipal employees. The headquarters is located in New York City, New York, U.S.
Municipal Tech Federal Credit Union customers can receive both secured and unsecured loans ranging from $1,000 to $50,000. A valid savings account is required. APR is 6.95%-14.95%.
A late monthly payment fee of $25 is usually charged. Repayment terms vary from 12 to 72 months. The minimum credit score required is 640.
The lending conditions of Municipal Credit Union are quite favorable, so many choose it today. The main advantage of this online lender is low interest rates. The disadvantage is that only people with a good credit rating can use the services.
So, Municipal Tech Federal Credit Union is the best for those who want to borrow money and have a credit score of 640+.
Personal Loans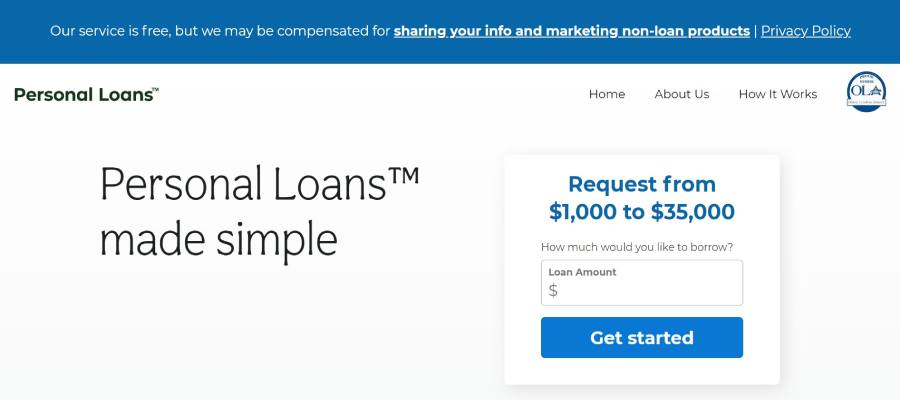 Personal Loans is a trustworthy company operating in the US fintech market. It is best for those who need to cover urgent expenses, as it provides loan payments the next day after the loan approval.
The company offers secured loan amounts ranging from $1,000 to $50,000. The loan term is from 12 to 60 months. APRs are 6%-36%. The origination fee ranges from 1% to 6% of the total loan amount.
There is also a penalty for early repayment. It is 2%-5% of the loan amount. The lender sets the minimum credit score requirement for applicants. It must be at least 610.
The advantage of the Personal Loans credit union is the quick transfer of loan proceeds to the applicant's savings account. The disadvantages are high interest rates and the minimum required credit score of 610.
Nevertheless, Personal Loans is a good place to get secured personal loan online. It has a lot of positive reviews and therefore is popular among consumers.
Regions Bank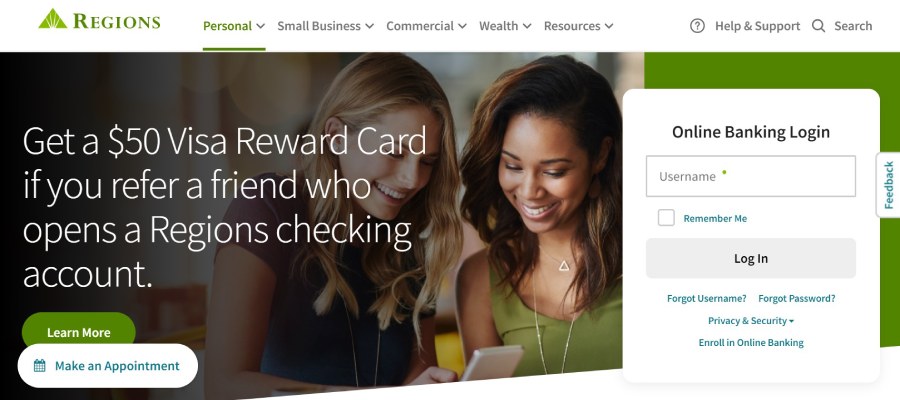 Regions Bank is a popular bank holding company founded in 1971. It is headquartered in Birmingham, Alabama. The company provides commercial and retail banking services, so you can get a secured personal loan there.
The secured loan amount ranges from $2,000 to $50,000 for regular customers. Those who receive services from Regions Bank for the first time can receive no more than $35,000. Annual interest rates are 7.99%-29.99%. The minimum loan repayment period is 25 months, and the maximum is 60 months.
Regions Bank prefers to cooperate with people with an excellent credit history (800+). Sometimes applicants with a credit score between 750 and 800 get approved. But in this case, the interest on a secured personal loan is much higher.
The main advantage of the company is its simple and transparent lending conditions. In addition, it has relatively competitive rates. The downside is that only those with a credit score of 750 or higher can borrow money.
Regions Bank is a good choice if you have a good credit history and want a secured personal loan on favorable loan terms.
U.S. Bank Personal Loan
U.S. Bank is a US-based company that offers a wide range of financial services, including savings account, checking account, debt consolidation, real estate secured loans, mortgages, etc. You can also get secured loans there.
The minimum amount of best secured personal loans from U.S. Bank is $1,000, and the maximum is $50,000. The loan term is from 12 to 84 months. Average annual interest rates are 11.50%-21.50%. They directly depend on the client's credit score.
The higher it is, the lower the rates, and the lower it is, the higher the rates. The tech federal credit union has no hidden costs or fees. The minimum credit score required is 660 FICO.
The advantage of U.S. Bank is that it has a wide variety of loan term options and low interest rates. The main disadvantage is that services are limited in many states. You can learn more about this directly by visiting the company's website.
OneMain Financial
OneMain Financial is another popular finance company in the US. It offers both secured and unsecured personal loans for active savings account holders. The company was founded in 1912 and is headquartered in Evansville, Indiana, U.S.
The loan amount available to customers is $1,500-$20,000. APR varies from 18.00% to 35.99%. In case of a delay in the monthly payment, the company charges an additional $5-$30. The minimum repayment period for secured loans is 24 months.
The maximum repayment period is 60 months. The minimum credit score is 600. But practice shows that OneMain Financial is more willing to approve applications from applicants with a credit score of 650+.
OneMain Financial's strengths are that it offers a variety of secured lending options and provides fast funding to a savings account. The downsides are that there are requirements for a minimum credit score, and the rates are quite high.
Therefore, it can be a great option for people who need funds to cover emergency expenses and can`t get better rates elsewhere.
Best Egg
Best Egg is a well-known online lending platform founded in 2014 and headquartered in Wilmington, Delaware, U.S. It offers the best secured personal loans at a low-interest rate for large purchases, debt reduction, and other expenses.
Available loan amounts range from $2,000 to $50,000. Borrowing money is issued fairly quickly, within 1-3 business days after the approval of the applicant's application. A valid savings account is required. APR is 5.99%-35.99%.
The lender charges an origination fee ranging from 0.99% to 8.99%. Repayment terms – 3-5 years. The minimum required credit score is 600.
The main advantages of Best Egg include its diverse secured personal loan options and affordable annual interest rates.
The disadvantage is that there is an origination fee. In addition, the minimum amount of a secured personal loan is $2,000. This means that people who need smaller loan amounts should look for other more suitable secured loan options.
What Secured Personal Loan Is
There are two basic types of personal loans:
An unsecured loan is a loan that does not have any collateral, such as land or an apartment. The unsecured loan is based exclusively on the borrower's credit rating and ability to repay the money within the stipulated time.
Secured personal loans require collateral. Collateral can be any financial asset that you own, for example:
Real estate;
Bank accounts (money market account, checking account, savings account);
Vehicles (cars, trucks, motorcycles, SUVs, boats);
Investments in stocks, mutual funds, or bonds;
High-quality collectibles and other valuables (antiques, precious metals), etc.
The creditor may seize the collateral if the debt is not paid according to the agreement. This can lead to borrower defaults. Thus, secured loans tend to be riskier than unsecured loans. However, interest rates are usually more favorable.
How Secured Personal Loan Works
Are secured loans easier to get than unsecured ones? Lenders require collateral. Collateral is a fairly effective mechanism for protecting the lender's interests on the issued secured loan.
In fact, this is a series of guarantees that give online lenders confidence that the borrower will return the funds received with interest even in case of financial problems. It is mainly used if the client has a bad credit rating and wants to borrow a large amount of money.
Here are a few examples of how a secured personal loan can be used:
For debt consolidation;
Pay for urgent medical services;
Finance your vacation;
Cover the costs associated with the upcoming celebration;
Make home repairs;
Buy household appliances, etc.
Each lender independently establishes the procedure for fulfilling obligations and necessarily fixes them in the loan agreement. It is strongly recommended to carefully study all the conditions and make monthly payments on time. Failure to repay a secured loan can result in the loss of property.
What Are Types of Secured Personal Loans?
There are several types of the best secured loans. They include:
Bad Credit Loans;
Business Loans;
Home Equity Loans;
Land Loan;
Auto loan.
Each type of secured personal loan has its own characteristics. Check out the brief descriptions of loans secured by assets below.
Bad Credit Loans
Financial transactions previously carried out by the borrower are displayed in his credit history. This allows lenders to evaluate how responsible the borrower is and whether he makes timely payments. There are several types of credit histories:
Thin (the borrower has not previously received credit union personal loans or does not have enough data to obtain a credit score from a credit bureau);
Good (all previous secured loans were repaid in full and on time);
Bad (the borrower has previously violated the loan terms).
People with bad credit history usually have poor credit score – from 300 to 579. Some credit unions refuse to cooperate with such borrowers, as there are doubts about their solvency.
However, many financial institutions provide secured bad credit loans ranging from $1,000 to $50,000. APR, in this case, is higher (9.95%-35.95%). Loan term – 36-60 months.
Bad credit loans are a good choice for those who need a large amount of money but have poor credit.
Business Loans
Business loans are usually issued to the savings accounts of entrepreneurs who want to start a new business or develop an existing one. There are different types of credit union business loans depending on the purpose of obtaining financing. The following are the most popular:
Overdraft – receipt of circulating funds;
Credit for the purchase of movable and immovable property for use in commercial activities (purchase of cars, machinery, production facilities, etc.);
Investment loans for long-term financing of projects for business expansion;
Loans secured by a deposit;
Property secured loan.
The amounts of secured loans for business are quite large, up to $500,000 or more. Average annual interest rates are 6.98%-19.97%. Repayment terms: from 3 to 10 years. 640-700 is a good credit score for getting a business loan. Bad credit borrowers are often rejected.
Home Equity Line Of Credit
Home Equity Line Of Credit (HELOC) is a line of credit that uses the home's equity as collateral. The amount of credit available depends on the borrower's home equity, credit rating, and debt-to-income ratio.
Since home equity loan is backed by assets, it has higher credit limits and better interest rates than credit cards or credit union personal loans.
HELOC is usually determined by the amount of home equity. Most personal loans borrowers receive up to 85% of the property's appraised value. Practice shows that HELOC proves to be an effective way to finance home improvement projects, consolidate debt, pay tuition, and so on.
Land Loan
A land loan is usually used to finance the purchase of a land plot. You may be interested in this offer if you are planning to start building your own house or want to get a certain piece of land for commercial use.
The conditions for issuing a land loan vary. However, most financial institutions are ready to provide a land loan up to 75% of the value of the property used as collateral.
Car Title Loans
Auto title loans are loans secured by a car. The average loan amount is $100-5500. However, it can reach $10,000 or even more, depending on certain parameters:
Car model;
Year of manufacture;
The technical state of functionality;
Engine size;
Features of the category;
Expert opinion of transport assessment.
The annual interest rates on auto loans are quite high and often reach 300%. The advantage of a car loan is that fast funding is provided. So the auto secured loan is good for those who need to cover emergency expenses.
How To Get a Secured Personal Loan
To get a secured personal loan, you must go through the application process. It is imperative and, therefore, must be done correctly. Otherwise, you will not be able to borrow money. Read more about each step to be taken below.
Check Your Credit
Credit score (rating) is a digital assessment of the subject's creditworthiness based on data from the borrower's credit. There are three main levels of credit rating:
701-850: excellent. People with such a rating receive unsecured loans on the most favorable conditions and a variety of bonuses;
600-700: good. A borrower with a good credit score receives standard lending conditions and a low probability of refusal;
300-599: bad. Loan conditions are worsened, and the risk of rejection is increased.
As we can see, the higher the credit rating score, the more chances a person has to get a loan on favorable terms. Before applying for a secured personal loan, it is recommended to carry out a credit score check.
For this, visit the annualcreditreport.com website and request copies of your credit reports from nationwide credit bureaus.
Don't worry if your credit score is low. There are many lenders who are willing to work with borrowers with bad credit. You will certainly be able to find the right one.
Decide on Loan Amount
The next step is to determine the loan amount. This is a critical point since the amounts can vary, ranging from $1,000 to $50,000 or even more.
Therefore, you need to clearly understand how much money you need and for what purposes. It is also essential to correctly assess your ability to make monthly payments to avoid falling into a debt hole.
Compare Loan Details
Different credit unions offer different loan conditions. To choose the best one, you have to be very attentive. First of all, pay attention to the number of unsecured loans.
Be sure to evaluate annual interest rates and various fees. Particular attention should be paid to the loan repayment terms and how quickly the financing is provided.
Apply
After completing the steps above, you need to apply for a secured personal loan. There is no difficulty in this. It all depends on the financial institution you choose. But most credit unions will offer you a simple form. You need to fill it out and wait for a response.
Try to be careful when filling out the form. Provide only truthful information at the request of the lender. This will greatly increase your chances of getting approved.
Advantages and Disadvantages of Secured Loans
Secured loans have some pros and cons. Learn about it from the table below.
| | |
| --- | --- |
| Advantages of Secured Loans | Disadvantages of Secured Loans |
| Secured loans are available even for people with low credit scores. | Property loss is risky if you fail to make payment on time. |
| Large loan amounts are usually offered. | Any payment overdue by more than 30 days is reported to the credit bureau and displayed on the credit report for seven years. |
| Interest rates are pretty acceptable. | |
Alternatives to Secured Personal Loans
Like any other type of loan, secured loans have several alternatives (pawn shop loan, unsecured personal loan, cosigner or joint application, etc.). If you think a secured personal loan is not right for you for any reason, please select one of the loan options below.
Credit Cards
A credit card is a payment card with a set credit limit. When determining the limit, the lender takes into account various characteristics of the borrower: age, income level, credit rating, etc. The limit is renewable. That is, the part of the loan repaid by the borrower can be borrowed again.
You can use a secured credit card to pay for any products or services at your own discretion.
Unsecured Personal Loans
An unsecured personal loan is a type of loan that means no assets are used as collateral. This is usually the most common type of loan you can find online. The unsecured personal loan is an excellent alternative to a secured personal loan as it has a number of important features:
Unsecured loan can be used to meet any personal need;
Unsecured loan does not require any pledge of property;
Fast funding is usually provided when applying for an unsecured loan.
When using an unsecured personal loan, you do not risk losing property, as with a secured personal loan. This is the main advantage of this type of lending. The disadvantage is that it is less than stellar credit.
Cosigner or Joint Application
This is another good alternative to a secured loan. It is best for those who cannot apply for a personal loan on their own. A regular monthly income and excellent credit history of another person can be a good basis for granting you a large secured loan amount at a low-interest rate.