Credits and loans are in great demand among Americans. It was estimated that up to 13 million citizens or residents of the United States take small cash loans each year, and the tendency seems to grow. This means millions of fees that users are still willing to pay, mostly for the urgency of cash loans.
Lendly is one of the household names when it comes to the sphere of lending. This is an American short-term loan provider with high ratings and customers' trust (4.7 stars on Trustpilot) all over the states.
So if you want to get excellent loan terms and conditions but don't qualify for Lendly yet, don't get disappointed. We collected a list of worthy alternatives and will tell you about each of them in this guide.
Loans Like Lendly: Best Offers
As an installment loan provider, Lendly offers $1.000 to $2.000 for customers whose credit scores range from poor to excellent. It is pretty flexible but not always easy to get.
That is why we gathered the best alternatives to Lendly loans for you to check out and choose the best options for covering your financial needs. We will reveal what can be expected from these loans, how easy it is to get them, and in what cases they are especially great. Let's delve in!
PayDaySay
Installment loans like lendly are not the only way to receive extra financial support. PayDaySay, among other sites and apps like Lendly, is a platform that specializes in helping users find lenders with many types of loans and divides them into goal-specific categories. In addition, the lender functions as a mobile app and accepts applications online.
Here the spectrum goes beyond just installment loans and includes moving, auto repair, medical bill payment, emergency, consolidation of payday loans, major purchases, and home improvement loans. Of course, a payday loan is the fastest way to get cash here.
The app functions in all states except New York, California, West Virginia, and Arkansas.
At PayDaySay, clients are given the following conditions: 59% to 2,200% APR for small loans and 6% to 36% APR for longer-term loans (up to 70 months). Loan amounts range from $100 to $5,000 but, in other cases, can reach $10,000. Fees depend on the specific lender.
Short-term loans are to be repaid in 2 to 3 weeks. No credit check is usually required, and minimum credit scores are rarely stated. Loans are funded in 1 business day. To sum the lender up, here are the pros and cons:
Pros:
Getting any sum between $100 and $8,000
Minimum personal data needed, and no credit checks
Application online in the real time
Fast funding
No early prepayment fees or entry fees
Cons:
High interest
Short repayment terms for most loans
Possibilities for getting into loan traps
Affirm
Affirm is widely considered a wise way to eliminate the lack of finance in a specific situation that can't wait. It is focused on making you able to perform online purchases on platforms such as Amazon, Best Buy, apnd Nordstrom and making payments later.
Its main function is letting you use afterpay for your own benefit.
APR depends on the platforms for shopping – for instance, Amazon and Reloton charge no interest percent. Other payment plans can require 0% to 30% APR with users bound to make the first payments 1 month after the purchase.
There are plans for 3 up to 60 months. In addition, you can go for a more loyal repayment plan – paying by four parts with 0%.
Luckily, loan amounts vary from $50 to $17,500 (however, there is no 'floor'), and no fees are ever charged. No minimum credit score is required, – instead, there is just a soft credit check and credit report review. Online application and fast funding are guaranteed.
Pros:
Multiple options for loan repayments
No fees
Fast loan funding and simple application
Accessibility for borrowers with different scores and thin credit histories
Cons:
Short repayment terms
Interest rates can get high
Upgrade
The company Upgrade provides a lot for an average borrower. Among Lendly loans dupes, it offers loans in sizes $1,000 to $50,000, grants fast funding, loyal credit requirements, and affordable fixed interest rates for users with a credit score of at least 560.
The APR lies between 7.96% and 35.97%, and the origination fee starts at 1.85% and reaches 8%. Loans are not limited to high-score borrowers, making it easier to qualify.
The minimum loan amount is just enough to cover some urgent needs, and there is a direct payment feature for debt consolidation loans. Every borrower undergoes identity and income verification, as well as soft credit pull, and is deposited funds in 1 to 3 business days.
Repayment terms are 24 to 84 months.
Pros:
Great loan amounts almost for all cases
Direct payments when users consolidate debts
Availability for low and fair credit score borrowers
Fast funding
Cons:
Origination fee adds up to the overall cost of a loan
Interest can get on the higher side
Best Egg
Best Egg is a lender focusing on unsecured and secured loans and making them available for people with fair credit. This is one of the rare loans like get lendly that can suit for refinancing credit cards, dealing with debts, and making important purchases.
Amounts vary from state to state and, in most locations, are $2,000 to $50,000 with loan repayments of 3, 4, or 5 years. APR at Best Egg ranges from 8.99% to 35.99%.
If you wonder if you can qualify for a loan, the first requirement to check is the minimum credit score – it should not be less than 600. After that, pre-qualifying takes place with a soft credit check. One to three business days are given for loan funding.
Users can be burdened with a 0.99% to 8.99% origination fee and a $15 returned check fee. All in all, we can sum the lender up with pluses and minuses:
Pros:
Convenient loan amounts for many purposes, including home improvement projects, moving to a new apartment, repaying debts, etc.
Free access to credit scores with the help of users' Best Egg accounts
Chance to build up credit score with regular payments
Cons:
Unavailable in West Virginia, Vermont, Iowa, and Washington D.C.
Origination fee
Rate discounts are absent
Upstart
Finding out about Upstart is good for anyone with damaged credit history and imperfect credit score because this lender stands out from other loans. First of all, this is connected to getting low-interest rates and being able to finance purchases of different scales.
Upstart offers sums ranging from $1,000 to $50,000 and never requires a minimum credit score. Moreover, it accepts those whose credit history is too short to make them qualify for other loans and those who are completely new to credit.
The estimated APR is 5.42% to 35.99%, and loans are given with terms to repay for 3 to 5 years. Upstart relies on other than the user credit data – education, residence and employment history to decide who qualifies for credits.
Being an affordable option in terms of interest, Upstart can still change fees: an origination fee of 0% to 10%, a late fee of 5% from the unpaid amount (or $15), and a $15 returned check fee. Funding happens on the next business day, and pre-qualifying is available with soft credit pull.
Loans by Upstart are functions in all states except Iowa. Essentially, the lender can be summed up with these advantages and disadvantages:
Pros:
Easy to qualify
Fast funding
No credit check to damage the credit
Chance to edit payment date
Valuable advice on finance management
Cons:
Fees that make loans more expensive
Limits in payment term options
No opportunity to get a joint or co-signed secured loan
SpeedyCash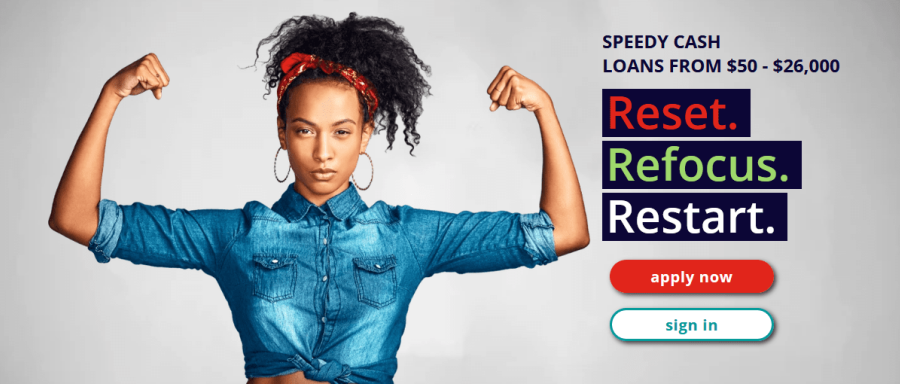 Another option similar to sites like Lendly is Speedy Cash, with its application opportunities over the telephone, in-store locations, or online. The lender gives quite a range of loan types to take out: title loans, installment loans, lines of credit, prepaid cards, and payday loans.
The most common types here are payday and installment loans. SpeedyCash funds your needs on the same business day.
Do not expect low APR – at Speedy Cash, APR can reach a few hundred percent, with the average APR being nearly 150%. Users also face several fees, such as extra transaction fees. They are counted based on daily interest.
Speedy Cash accepts users with bad and fair credit and doesn't impose a credit score floor. Amounts from $50 to $26,000 are available with a so-called 72-hour satisfaction guarantee. This means you can change your mind in the stated period, and you don't have to pay any fees in case of return.
In addition, users can repay loans in short terms (up to a month for payday type) and up to 60 months.
A credit check is made at the application. All in all, applying requires users to provide bank accounts, address and name, ID, proof of income, and birthdate. Unfortunately, the lender isn't active in many states.
It functions in 28 states of the US, including Ohio, Oklahoma, Illinois, Alabama, Texas, Colorado, Mississippi, Missouri, New Mexico, Nevada, South Carolina, and Wisconsin.
Pros:
Many application ways
No prepayment fee
Automatic payments
Instant funding
Easy to qualify
Cons:
Very high APR
Additional fees
Check Into Cash
Check into cash specializes in payday loans with a repayment period of up to 31 days and is renowned for super-fast decision-making and next business day funding. While being present only in 22 states (including Alaska) and not offering all types of loans in each of them, it quickly expands the area of work.
Loan amounts between $50 and $5,000 are available, depending on the loan type and maximum limit in the state. Curiously, they don't charge interest on payday loans, only fees: a $10 to $30 flat fee, a $25 to $30 late fee, plus 5% of the loan amount if you're more than 15 days late.
APR for payday loans ranges from 400% to 1,000%, and most come with 14 days to repay. Users undergo hard credit pull but set no lower credit score limit to apply. To place an application, you need a Social Security Number, ID, active bank accounts, personal and address data, and proof of income.
Pros
Easy and quick application
A large spectrum of personal loans
Immediate decisions
Cons:
High fees
Insufficient credit limit
Inactive in many states
Avant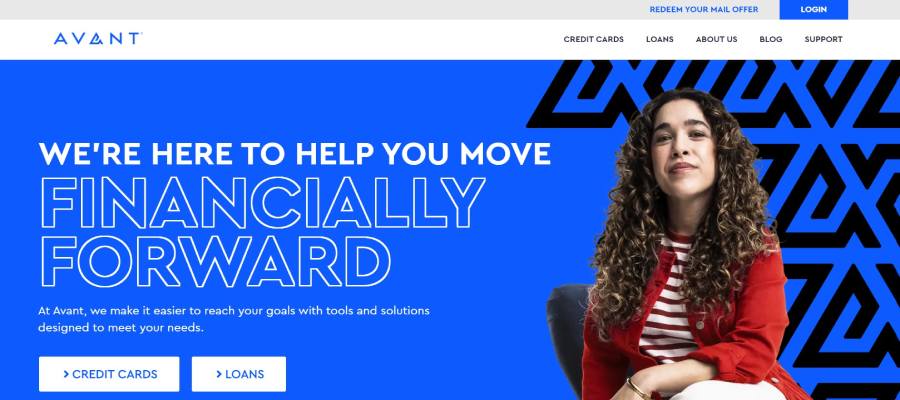 Avant is a quick cash provider (in 1 business day) regarding urgent cash advances and is available for bad and fair credit borrowers. At the APR of 9.95% to 35.95%, it offers loans from $2,000 to $35,000 to those whose credit score is at least 550.
The repayment term is 1 to 5 years, and pre-qualification needs only soft credit pull. Funding takes place in 1 business day. Regarding fees, Avant charges quite an affordable origination fee, – 0% to 4.75%, – a $25 late fee, and a $15 returned check fee which is still less than at other providers.
Loans like Lendlyprovided by Avant are given in all states except Hawaii, Vermont, Iowa, Massachusetts, New York, and West Virginia.
Pros:
Easy to qualify
Payment date change option
Mobile app to manage your loan
Quick funding
Cons:
No co-signed and joint loans
Origination fee
The absence of rate discounts
Spot Loan
Spot loan is one of Lendly loans alternatives famous for short-term solutions up to $800 and is not too heavy on fees. Its loan offers come at loan repayment terms of up to 10 months, but most expect repayment in a few months.
APR reaches 490%, but there are no origination and prepayment fees. It funds you in 2 business days and needs nothing but valid bank accounts, ID, driver's license, and a minimum yearly income of $12,000 for application.
Spot Loan reports to major credit bureaus and lets you build credit. However, a soft credit check is not available. The minimum loan amount is $300.
The loan provider doesn't disclose its lower limit of credit score to borrow from them.
Pros:
Active in 39 states
Doesn't impose many fees
Convenient rates and terms
Rebuilds credit
Easy to apply and qualify
Cons:
Sky-high APR
Small loan amounts
No chance to pre-qualify with a soft credit check
What is Lendly?
Lendly is an online lender specializing in small cash loans up to $2,000. It is famous for its convenience for users and features like automatic payment deduction from paychecks and interacting directly with your employer's payroll deposit.
Lendly varies its plans and repayment options depending on the state and employment details. For instance, there are direct debits ACH (automatic clearing house) or ACH withdrawal if your employer is their partner.
This is especially handy for clients who tend to forget payment due dates of Lendly loans and don't mind giving their control over your spending to the lender.
Why is Lendly so Popular?
While in some features, Lendly is just an average company for funding financial emergency and purchases, some things make it shine. One of them is looking far beyond credit history and credit score.
Now, it is often frustrating to many young borrowers that a lot of lenders don't let you qualify for their services just because they haven't been using credits for long enough.
Lendly focuses on your employment history rather than your credit score and payments. Next, a painless application and approval process make Lendly loans so great.
With Lendly loans, your application is made in 5 to 10 minutes, a decision comes in 1 day, and loans are funded on the next business day after providing all the documents needed. How urgent you need the cash also makes an impact on how soon they fund the loan.
Why to Choose Lendly
Lendly loans are perfect for those who struggle with qualifying for other loans for bad credit no credit check, and seek adequate loan repayment terms and conditions. People choose them when unexpected expenses need to be made, and their own income is not enough, or they can't afford to spend the last penny.
In addition, Lendly loans are great alternatives to average payday loans because of Lendly's rates: Lendly's APRs can reach 1,000%. Although you will likely pay nearly 175% of Lendly's APRs, many car repair or title loans or paydays can get pricier at other providers.
Details of Lendly Loans
Is Lendly legit? Lendly is a legit lender, rated by BBB as B- and functioning in 26 states of the US, and offers personal loans up to $2,000. A legitimate bank backs it up. Most of Lendly's APRs reach 200%, which is a competitive interest compared to many other lenders.
For Lendly loans that are not paid with a direct payroll deposit, APR can rise to 220%.
You can choose from multiple loan terms. They range from 20 to 52 payments twice a week. The minimum age for borrower Lendly loans is 18, which is, again, lower than the best online loan companies, and the lender considers any credit scores.
For application, one must have a driver's license, valid checking or savings account, recent bank statements, and proof of income.
No additional fees are charged, which balances the high APR. If Lendly made its users face fees, Lendly loans would get ridiculously expensive. The absence of fees makes the provider a good option. Reporting to credit bureaus helps clients build credit to receive better borrowing conditions in the future.
Advantages of Lendly
Let's sum up all the pluses of Lendly's loans:
No extra fees.
Can build credit.
Fast funding.
No early payment penalties.
When To Avoid Lendly Loans
Along with the good sides, Lendly has drawbacks that should be known before applying for a Lendly loan.
First of all, these are insufficient loan amounts. Sums from $1,000 to $2,000 are rarely good for an urgent credit provider. If you need to borrow just a few hundred dollars, you can't because $1,000 is the lower limit. If you need more, you don't always qualify for $2,000.
All in all, these amounts don't make much sense.
Next, Lendly loans are available only in 26 states, and there is no chance to extend the payment date for over 29 days. Lendly is too strict to allow it, and being even one day late will make your credit score drop. Lendly's rates are also on the pricier side.
Finally, Lendly's loans aren't always good to build credit because Lendly reports only to Experian.