If you own a small to medium business, you've probably been looking for the best business credit card that can cover all of your needs. Because it is crucial for you that every penny from your financial transaction brings benefits. Such cards can offer many nice bonuses. These can be cash or top cashback rewards, loyalty points and long initial periods of 0% per annum.
You do not need to be an official business entity to apply for such a credit card. We looked at many options and compared their advantages and disadvantages. In this review, you will learn about the best business credit cards 2022 for small and medium business owners. Check out our material to choose the option that suits you with the best financial offers.
Business Credit Cards: Best Choices
We take into account various criteria that are significant for businessmen when we select the best credit cards. First of all, we look at the annual interest rate. Some credit card offers instant approval have a lower variable annual interest rate, while others allow their customers to manage large purchases.
Such cards offer a zero initial offer of an annual interest rate on credit accounts. The second is the commission rates and corresponding repayment amounts that a credit card user can expect with each transaction. Furthermore, it is important for us that they have bonuses, loyalty programs and additional benefit.
Ink Business Unlimited® Credit Card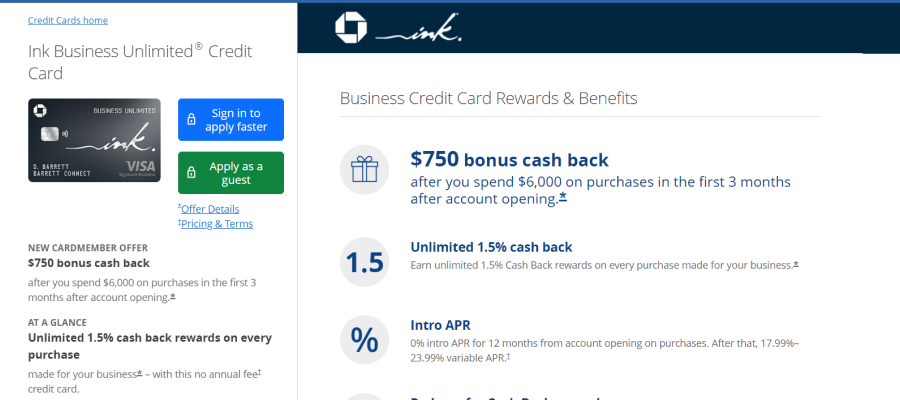 Businessmen will appreciate the wide and reliable selection of this card with the best interest rates and many beneficial repayment options. Especially if they are looking for a simple fixed rate incentive program. You can also connect employee cards, set individual limits and receive rewards.
Using the Ink Unlimited Credit Card allows you to receive a $900 cash bonus after you spend $6,000 on purchases within the first 3 months. The card also gives the best cashback of 1.5% from each offline and online purchase for business.
This money can be redeemed for gift cards, travel and other offers in the Chase Ultimate Rewards program. The card is protected from fraudulent financial transactions.
| | |
| --- | --- |
| Pros | Cons |
| Unlimited 1.5% cashback on purchases for company | High fees for foreign transactions |
| No annual fee | There is no introductory APR when transferring a balance |
| Generous welcome bonus | |
| 0% initial APR on purchases within 12 months | |
| Generous reward program | |
The Blue Business® Plus Credit Card from American Express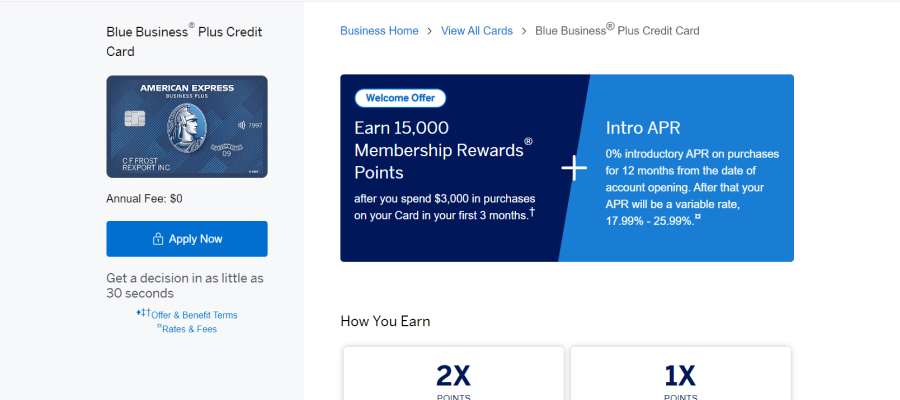 This is one of the best business credit cards will appeal to business owners because of the promotional APR on purchases. Membership in the Membership Rewards program allows customers to earn 15,000 points on cards after spending $3,000 on purchases within the first 3 months.
The 2X Membership Rewards program covers purchases for employees of this best business credit card in the amount of $50,000 per year.
The Blue Business Plus Credit Card from American Express allows cards holders to use it over the credit limit with enhanced purchasing power.
They also receive 0.0% per annum on purchases within 12 months from the date the account was opened. Subsequent expenses are subject to a rate of 16.99% – 24.99%, depending on the creditworthiness and other factors of the client.
| | |
| --- | --- |
| Pros | Cons |
| Generous loyalty program for the card with no annual fee | There is no initial APR offer for balance transfer |
| Access to flexible financing option | Bonus rewards are limited |
| Wide range of transfer partner airlines | There is a foreign transaction fee |
| No annual fee | |
| High commission rate for the first $50,000 of annual expenses | |
New Business Card! Ink Business Premier℠ Credit Card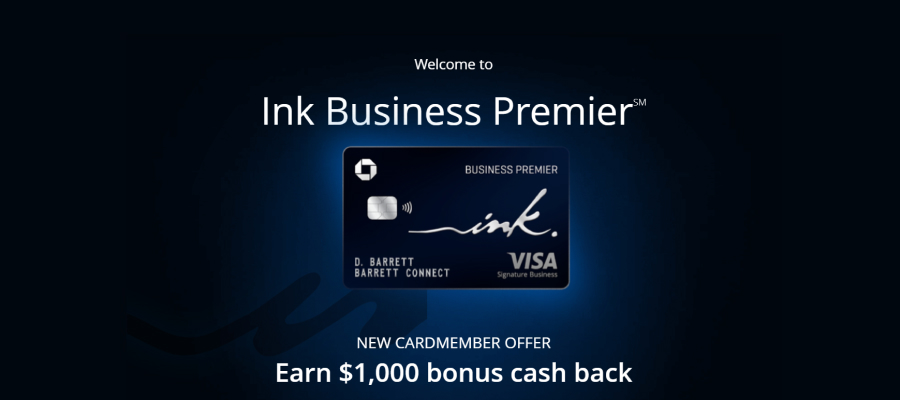 This is Chase's new calling card. In addition to a generous flat rate on all business purchases, customers can get the best higher cashback rate on purchases of $5,000 or more on cards. When making a $10,000 purchase within the first 3 months of opening an account, all customers receive a $1,000 bonus back.
On purchases over $5,000, customers receive an unlimited 2.5% cashback. All other business purchases have a 2% cashback.
As part of the Chase Ultimate Rewards program, customers receive the best refund of 5% of the total cash for the trip. The card has a built-in anti-fraud system, as well as zero liability protection, purchases, cell phones and has an extended warranty.
| | |
| --- | --- |
| Pros | Cons |
| Top rewards and premium benefits | No bonuses with increased rates |
| One of the biggest fixed rates | High annual fee reduces remuneration income |
| High signup bonuses | Points of this business credit card cannot be redeemed for airline or hotel programs |
| 5% refund on travel purchased through Chase Ultimate Rewards | Points cannot be redeemed to other Ultimate Rewards cards |
| No annual fee for employee cards | |
| Multiple ways to protect travel and purchases | |
World of Hyatt Business Credit Card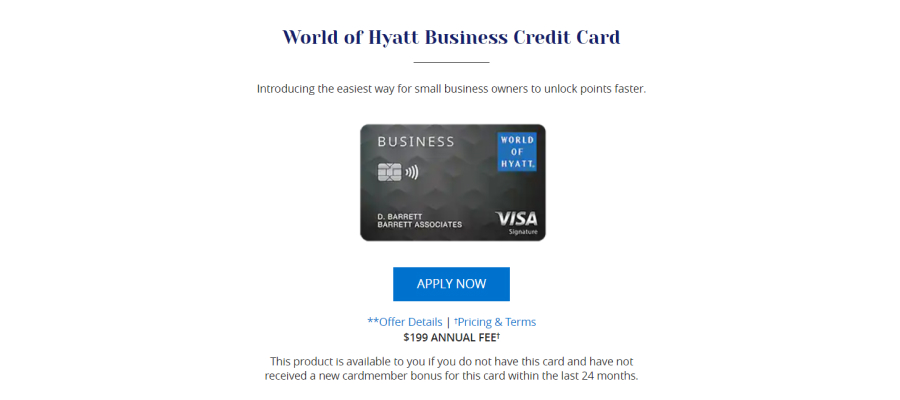 The World of Hyatt Business Credit Card has the ability to use spending as an additional incentive to gain online status. When you use it for $5,000 worth of purchases within the first 3 months of opening an account, you earn 60,000 reward points.
If you choose to stay at a Hyatt hotel, you will earn 9 points per $1 spent and 5 Base Points per $1 from Hyatt as a World of Hyatt member.
Fitness clubs and gym enthusiasts will receive 2 Reward Points for every dollar spent. And 1 Reward Point for every dollar spent on all other purchases. Credit card customers receive World of Hyatt Discoverist status as long as the account is open. In addition, the status of the discoverer up to five employees.
| | |
| --- | --- |
| Pros | Cons |
| Best welcome bonuses | Annual usage fee |
| Up to $100 in Hyatt credit statements | Low rate of earnings on non-bonus expenses |
| Fixed earning rates | Basic level status with a card offers limited benefits |
| Automatic discoverer status | |
American Express® Business Gold Card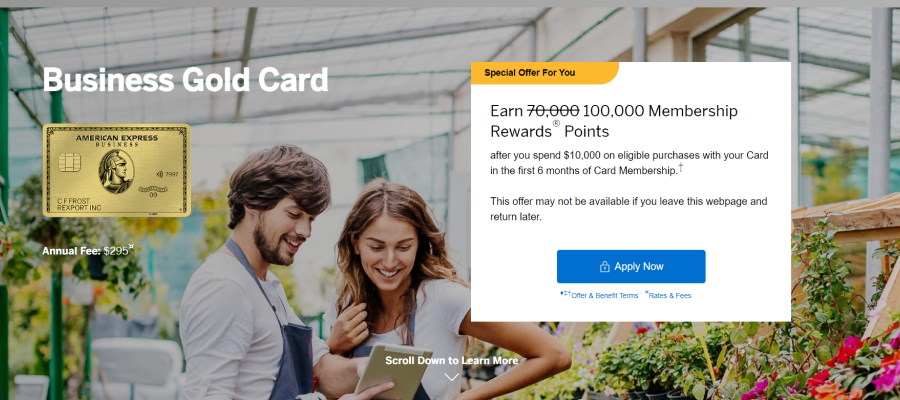 Despite the high annual fee, this is one of the best business credit cards which is ideal for the small business owner. Since American Express has a large list of companies that are part of the affiliate program, you will be able to exchange your rewards for travel.
Choosing the 2 categories your company spends the most on each month will earn you 4 times more Membership Rewards points. When you book with points for all or part of an eligible flight through Amex Travel, you will receive 25% points back (up to 250,000 points per calendar year).
The best benefit of the American Express Business Gold Card is that you can choose to pay in full each month or pay in installments with interest.
| | |
| --- | --- |
| Pros | Cons |
| Generous extras from some of the main categories of business-focused bonuses | Very high annual fee compared to benefits |
| Flexible redemption and transfer options | The annual fee is $295 |
| Access to business expense management tools | Refund of bonus money is limited |
| Reliable travel spending benefits | |
Wells Fargo Business Elite Signature Card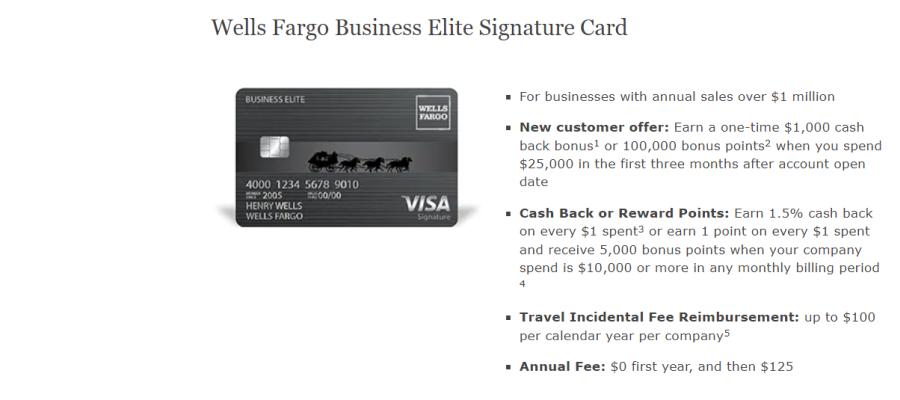 This is one of the best business credit cards which designed for businesses with over $1 million in annual sales. One of the requirements is reliable employee spending control and reporting. For purchases of $25,000 during the first three months, customers receive a one-time cashback bonus of $1,000 or 100,000 Reward Points.
If your business spends at least $10,000 in any monthly billing period, you'll earn 5,000 Reward Points. For every dollar spent, you will receive 1.5% cashback or 1 point. You also have the opportunity to receive a refund of up to 11.5% cashback for incidental travel expenses. The first year of using the card is free, and then $125 per year.
| | |
| --- | --- |
| Pros | Cons |
| Top perks and privileges | Annual fee of $125 for the second and subsequent years |
| The best travel insurance | Other cards in the same category offer higher rewards |
| No fees for foreign transactions | Cashback only once a quarter |
| Connecting up to 200 employee cards at no additional cost | |
Ink Business Preferred® Credit Card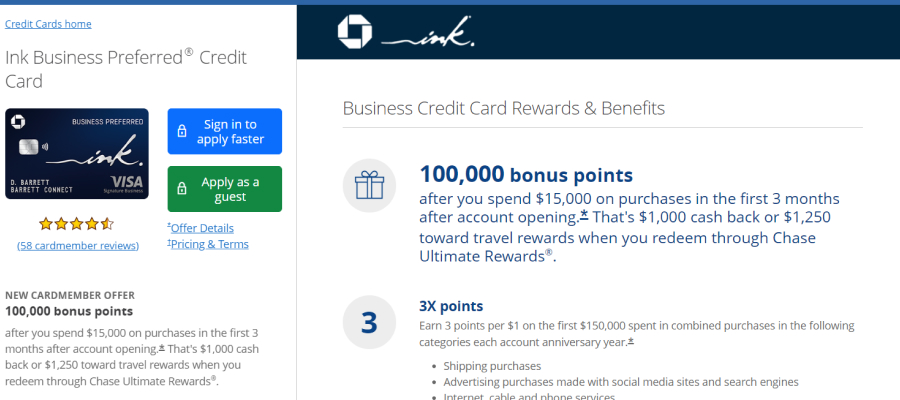 This card offers benefits ranging from shopping promotions and search engines to airline tickets. Businesses that incur high monthly expenses can qualify for top-notch signup bonuses. You will receive 100,000 Reward Points for $15,000 on purchases within the first 3 months for each of your best business cards.
You will also receive $1,000 cash or $1,250 travel credit when redeemed through Chase Ultimate Rewards. For every $150,000 spent on travel and selected business categories, you will earn 3 points and 1 point for every $150,000 spent on all other purchases.
The card has protection against banking transaction fraud. With Zero Liability, you will not be held liable for unauthorized charges to your cards. Points can be redeemed for gift cards, best cashback, travel and more. Cards will not expire as long as the account exists.
| | |
| --- | --- |
| Pros | Cons |
| The best sign-up bonus – $1,250 | High costs associated with the welcome card offer |
| Frequent business travel increases the value of points by 25% | Annual fee is $95 |
| | Purchases or balance transfers do not earn initial annual interest rates |
Brex 30 Card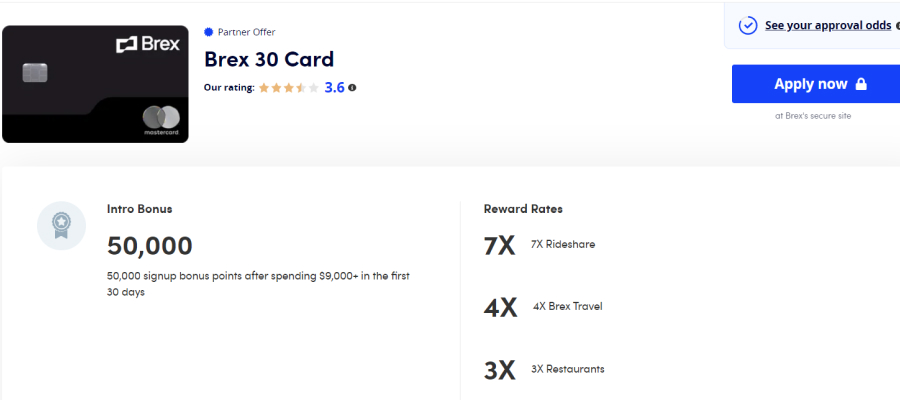 This corporate card does not require a personal guarantee. You will receive 50,000 sign up bonus points immediately after you spend $9,000 in the first 30 days after signing up. The Brex 30 cards have the best limits 0-20 times that is higher than traditional business credit cards.
Save time and money with automatic check matching and built-in expense management tools.
You can also issue an unlimited number of virtual cards for your team and set your own limits for each of them.
| | |
| --- | --- |
| Pros | Cons |
| No credit check and no personal guarantee | Can't carry a balance |
| No account fees and no interest | Complicated rewards |
| The best and generous rewards for certain categories of expenses | |
What Are The Best Business Credit Cards?
The best business cards are like personal credit cards, only for business spending. Rewards for day-to-day expenses are tailored to the needs of the business. Such cards make borrowing easier and entitle you to a better annual interest rate in the future.
This simplifies accounting, especially during taxation. Also, any business that generates income can be considered a legitimate commercial activity for this card.
How Does a Business Credit Score Work?
The best business cards work in the same way as personal credit cards. Although, they may have a different fee structure or offer a different type of fraud protection. Some business credit cards also require a personal guarantee from the business owner.
This means that the owner promises to pay off the balance on the credit cards himself if his business cannot pay off its debts. These cards have additional benefits and upgrades that vary by card type. For example, rewards for spending on office supplies, food and travel. Rewards are usually converted into cashback and trip miles.
Business Credit Cards VS Personal Cards
Using the best business credit card makes it easier to meet the financial challenges of your business. For example, it will be easier for you to keep track of business expenses, which cannot be done on a personal credit card. The reason is all purchases will be mixed up. Therefore, it will be easy for you with taxes and work with the IRS.
Personal credit cards have less for-profit protection. If you are a limited liability business or LLC, the benefits of legal protection only remain if you separate your purchases. You also cannot increase your business credit when you use a personal credit card to spend on business purchases.
Who Should Qualify for a Business Credit Card?
Anyone who runs a business, regardless of its structure, can apply for this credit card. And you don't even need to have the business credit history to apply. Only your credit history and scores matter. Most often, those who qualify for a credit cards are self-employed.
They take on the responsibility of owning and managing the business. And although the business may not be registered, they are solely responsible for profits, debts and losses. Unlike LLCs and other structures, sole proprietors do not need to take any formal steps to start a business.
Read More: Credit Card with Preapproval: Best Offers
How to Apply for The Best Business Credit Card
Applying for a business card is pretty easy. But you will need to provide a lot of information:
Company name or your name if the first is missing.
Business contact information or your personal address and phone number. Employer identification number or social security number.
The legal structure of your business and whether there are other beneficial owners who own 25% or more of the business.
The official name of your business.
Type of businesses activity.
Time in business, income and expenses.
Your federal tax ID.
Personal guarantee.
Annual income.
Credit rating.
To receive one of the best cards you have chosen, you need to fill out an application.
Often institutions have online applications through which you can get a business credit card. Follow these steps for the application to be successful:
Decide for which you need one of the cards
Choose the best option
Check your credit score
Read the contract on the website or in the bank
Collect all documents
Apply for the best business credit card for your needs
How to Compare Business Credit Cards
First, you need to assess your business's spending habits. Next, compare the following functions to narrow down the type of cards you need:
Evaluate each score diligently and make sure you look not only at their number, but also at their benefit to you.
There are fixed rate cards or a bonus category card. The former pays the same rewards for each purchase. The second type of cards has a higher reward rate in certain categories of purchases and a lower one for everything else.
Make sure you have a plan to pay off any large purchases before the original annual income expires and the regular card interest rate begins.
Introductory annual period
Some of these credit cards offer 0% interest for the first year or longer.
If you choose a payment card, then you will have to repay it monthly, but a credit card will allow you to carry the balance with interest.
But most often you can see criteria and types like this:
Clients can track and get rewarded for employee spending. Most of these cards allow owners to add employees as authorized users. This allows you to keep track of employees' cards and even control all their business expenses or even manage employee expenses. Sometimes you can even set spending limits.
The best welcome bonus can be a zero interest rate for the first year of use. Also, customers can be offered cashback and bonuses for traveling and buying stationery.
Calculate how much you will need to spend to accumulate enough rewards or cashback for compensation. And don't forget that annual fees are also deductible for-profit expenses.
The annual interest rate is determined based on your creditworthiness. Clients with the best creditworthiness can claim the lowest interest rate.
Read More: 10 Benefits Of Using a Credit Card
How to Get the Best Business Credit Card
If you are a CEO or even an ordinary worker, you can apply for the best credit card for your business. You do not need to be registered or have a formal businesses structure. Even if you are a freelancer or self-employed person, you can get a credit card to manage your commercial expenses and earn rewards.
To obtain, collect your employee identification number or social security number, information about your income. Then apply online or at a bank branch. Some cards will require a personal guarantee.
Getting Instant Approval Business Credit Card
In today's world, to get a business card, you can fill out an application online. You will immediately receive an approval notification. Sometimes the bank may must more information before granting you a line of credit. You must have a good or best credit score to be approved. If you have been in the commercial industry for some time and can show your annual income.
Sometimes you may be required to pre-qualify. If you can't, then start by checking your score to decide which type of credit cards is right for you.
Getting Business Credit Card With Bad Credit
If you have bad credit, a secured great business credit card is your best bet. Such cards help reduce credit risk and help you start building for-profit credit. However, they are also tied to your deposit. Other card options have an improvement in your credit score before applying for cards that don't require a personal guarantee.
Conclusion
If you are looking for the best solution for your business, then you should definitely look into a business credit card. This type of cards will cover all your requests. Such as payment for the best business trips for employees, purchases of stationery, payment for travel expenses. A business credit card has many more benefits than personal cards or travel rewards credit cards no annual fee.
Because it adapts to the needs of customers and always has the best special bonuses for commercial spending. Sometimes you may even encounter zero annual interest on the use of such cards for the first time after registration. In addition, they have a greater level of protection against fraud than personal cards.
Sources Used in Research for the Article:
Business Gold Card, American Express, https://www.americanexpress.com/us/credit-cards/business/business-credit-cards/american-express-business-gold-card-amex/
World of Hyatt Business Credit Card, https://world.hyatt.com/content/gp/en/rewards/hyatt-credit-card.html
Ink Business Unlimited® Credit Card, Chase, https://creditcards.chase.com/business-credit-cards/ink/unlimited