Cashback is one of the most popular ways to save money while shopping, whether online or in-store. With the rise of cash-back apps and websites, consumers can now earn points for regular purchases.
But with so many options available, navigating the world of cash-back rewards can be overwhelming.
In this guide, we'll provide valuable information on everything you need to know about cashback. These will include its pros and cons, maximizing rewards, and some of the best online cashback apps and sites.
What Is Cash Back?
Cashback is a popular feature that lets you earn a certain percentage of your purchase back on some cash rewards credit cards. Depending on what the credit card allows, you can earn it on various purchases, such as gas, groceries, and dining out.
Some cards also offer higher cash-back rates for specific categories or during certain promotional periods. These bonuses can add up quickly, primarily if you use your credit card to make most purchases.
You can redeem its rewards for account credits, bank deposits, or other rewards like gift cards or merchandise.
How Cash Back Works – Earn Cash Backs
Cashback gives cardholders a percentage of their purchases back as a rebate. As a cardholder, a certain percentage of the purchase amount will go into your account if your card purchase qualifies for the bonus.
The bonus is usually in the form of an account credit, a check, or a deposit into your linked bank account, but you won't get this offer on a cash or debit card.
For example, if you own a card offering a 1% reward and make a purchase worth $100, you'll get a $1 cashback as a reward. Meanwhile, you get $5 for a $500 purchase.
The rewards' earning and receiving process can vary, depending on the card type and your issuer. Users can sometimes receive a flat rate bonus on all purchases, while some provide higher cash back on spending categories like gas, groceries, or dining.
Furthermore, some generous issuers let you activate your bonus cash back in select categories each quarter, so you can be eligible for the higher rates.
Earning Cash Back
The process of earning the bonuses is relatively straightforward. You typically make a percentage of your purchases in return as a rebate when you use your cashback credit card. The percentage earned can vary depending on the card.
Issuers can offer rewards in various ways, and some may also grant bonus cashback categories each quarter, which cardholders can activate to earn higher rates on specific purchases.
Redeeming Cashback
Log in to your account through the issuer's website or mobile app to redeem your cash back rewards. From there, you can navigate to the rewards section and select the option to redeem your bonuses.
The redemption options may vary depending on the issuer. However, common options include:
Applying your rewards as a statement credit to your account.
Receiving a check in the mail.
Receiving an electronic payment to your connected account.
Moreover, you might face some restrictions when using your cashback rewards card. For example, you might need to keep an eye out for the minimum redemption thresholds or be unable to make necessary purchases with the bonus as you hoped or wished.
So, try to pay attention to every detail when selecting your card or redeeming your rewards. It's always smart to go through the terms and conditions of your rewards program carefully and be aware of any restrictions.
Does Cash Back Expire?
Of course, cash back cards work period can expire, and the expiration policies vary by the issuer. Some issuers set an expiration date for their offers, typically around one to two years after they were earned.
Others may have more complex policies, such as expiring rewards on a rolling basis or requiring that bonus be used within a certain time frame after earning them.
So, keep track of your cash back work validity period. If your cashback rewards expire before you can redeem them, they will typically be forfeited and cannot be reclaimed. To avoid losing rewards, it's best to redeem them as soon as possible once they are earned.
Types of The Best Cash Back Credit Cards of 2023
Many different types of cards let you earn back a percentage, with each type having its benefits and drawbacks. Hence, your best choice will depend on your spending habits and preferences.
We advise you to compare different cards, check the percentage of cash back, and read the fine print to understand any restrictions or limitations before choosing a credit or debit card.
Flat-Rate: These provide a fixed percentage of cashback on all purchases made with the card, typically ranging from 1% to 2%. Flat-rate cash-back options are straightforward, making them popular for cardholders who prefer a hassle-free rewards program.
Tiered Cards: With tiered cash-back options, the percentage back you earn varies depending on the purchase category. For example, a typical Citi® Double cash card can offer 3% cash-back on groceries, 2% on gas, and 1% on all other purchases. Tiered cash-back options can be beneficial if you spend a lot in specific categories, but they can be more complicated to keep track of than flat-rate cards.
Rotating Cards: This credit card is a type of card with a higher rate on specific categories, rotating quarterly. For example, one quarter may offer a 5% rate of cash back on dining and entertainment, while another may give you 5% on gas and groceries. Cardholders must usually activate the rotating categories each quarter to earn a higher cashback rate.
Bonus Category Cards: Some cashback cards offer a permanent bonus category where cardholders can earn a higher rate. For example, a card can give 3% cash-back on dining and entertainment all year. Bonus category cards can be a good option if you consistently spend a lot in a particular category.
Store-Specific Cards: This type of credit card is tied to a specific retailer or group of retailers and offers higher cash-back rates on purchases made at those stores. For example, a store-specific cash back card offers a home improvement retailer 5% cashback on all purchases made at that store. Store-specific cash-back options can be beneficial if you frequently shop at a particular store, but they may not be as versatile as other cash-back options.
Co-Branded Cards: Co-branded cards are partnered with specific brands or organizations, such as airlines or hotels. You earn cash back rewards for the associated brand and may include additional benefits such as free checked bags or priority boarding. Co-branded cash-back options can be good if you frequently use the associated brand or organization.
Business Cards: Business cash-back options are designed for small business owners and give rewards and benefits tailored to business spending. These cards offer higher cash-back rates on office supplies, internet and phone services, and other business-related expenses. They provide cash back rewards cards with specific usage that fits business executives, entrepreneurs, and employees.
Types of Cash Back Cards Categories
People use their cards differently, so issuers try to guarantee various packages that vary by credit card. Anyone who enjoys traveling can maximize their cash back with travel perks, while those who find shopping exciting will also get good deals. Below are some of the best options you can consider when choosing a cash back credit card of 2023 based on spending categories.
Dining: This category is designed for those who enjoy dining out frequently. It awards bonus points on restaurant purchases; some may even give you rewards on takeout and delivery purchases. These rewards can range from 1-4% cash back on all dining purchases you make. But you might be lucky enough to get one card with additional points on multiple categories, such as entertainment or travel.
Gas: This option is more equipped to serve people who frequently drive or commute. These cards gift bonus points on your gas purchases, and like dining, you can also get some bonus points on other transportation-related purchases. So, your points continue to pile up with tolls or parking fees. The bonus percentage here typically ranges between 1-5% cash-back on all your gas or related purchases.
Grocery: Here, you can make the most of your purchases if you enjoy shopping for groceries. The big deal here is that you get bonus points every time you go shopping for groceries. You might also get some extra points if you shop for things like drugs, baby products, etc. The usual range of money that returns to your account here is between 1-6% on grocery store purchases.
Travel: This category is a perfect fit for anyone that spends a lot on travel purchases. However, this alternative is often limited because the cash back on travel purchases cards allow you to redeem rewards on travel-related purchases only. But you can bypass this with cards that offer cash back on hotels and rental cars. The cash-back can be between 1-5% on travel purchases. Like many other alternatives on this list, you might benefit from additional perks in other categories, such as dining or entertainment.
Entertainment: If you are a fan of movies, concerts, and sporting events, this option is for you. Their rewards typically range from 1-4% cash-back on entertainment purchases. They give cash-back bonus points on entertainment-related purchases; some may come with dining or travel discounts.
Online Shopping: The credit card company shares bonus points for users who love online shopping. You would probably get an offer between 1-5% on all online purchases. Generally, online shopping cash-back options reward bonus points on purchases made through online retailers such as Amazon, Walmart, and Target.
Rotating Category: This category is perfect for those who want to maximize their rewards in multiple categories, especially cash back on everyday purchases. Rotating category cash-back cards offer higher cash back every time you spend on specific categories that change every quarter, such as dining, gas, or groceries. These rewards typically range from 5-6% cash-back on rotating category purchases. Cardholders must usually activate the rotating categories each quarter to earn the higher cash-back rate.
Credit Card Cash Back Amounts
The cashback amount is the percentage of money a user can earn back on their purchases with a cashback card. This percentage typically ranges from 1% to 6% and varies depending on the card and the category of purchases.
For example, you might have a card with a 3% cash back you can earn on grocery purchases, but it will only give you a 1% cash back on all other purchases.
So, the bonus amount is a significant factor you should consider when choosing a credit card because it directly relates to the bonus points you can earn on your purchases.
Simply put, the higher the cashback amount, the more money you can earn back on your purchases, depending on the category. Meanwhile, you should note that some cards can limit the amount of cashback earned per transaction or year, so you might not always get the bonus points. But you can accumulate cashback rewards over time and redeem them for various rewards.
Advantages and Disadvantages of Cash Back
Cash-back cards make a popular financial tool among consumers for their rewards. However, like any financial product, they have their merits and demerits. Here, we will discuss some of the most important pros and cons you should consider before using cashback credit cards.
| | |
| --- | --- |
| Pros | Cons |
| You get the ability to earn bonus points on every credit card bill and payment you make | They usually come with high-interest rates, which can be problematic for users with a balance. |
| Straightforward, unlike other bonus programs that can be complex and difficult to understand. | Some can charge a yearly fee, which can eat into the rewards earned. |
| It allows you to use your rewards however you choose, giving you the freedom to spend on what you want. | Though many credit card cash back rewards are flexible, some cashback credit cards may have limited redemption options, such as only allowing rewards for account credits |
| Usually has no expiration date | It can tempt users to overspend and carry a balance |
| Many cashback cards come with no annual fee, making them an affordable option for users looking to earn cashback rewards without extra costs. | |
| Some of them offer higher rewards for specific categories, such as groceries or gas, allowing users to earn more bonus points on their everyday purchases. | |
| Using a credit card responsibly can help users build credit scores, which can be beneficial in the long term. | |
What Are the Ways to Redeem Cash Back?
As a user, one of the most exciting ways of saving money is by earning cash back on purchases. But the first step is to know how to redeem your cash-back rewards to take full advantage of the benefits.
In this comprehensive section, we will provide a step-by-step and actionable process to redeem your cash-back rewards.
Step 1: Check your rewards balance
You need to hit the ground running by redeeming the cash back you've earned. We advise that you check your bonus points balance by logging into your account online or through the issuer's mobile app.
Step 2: Choose a redemption method
After you've confirmed your rewards balance, the next thing you should do is choose a redemption method. Some of the most standard options include monthly credit card statement credits, bank deposits, or merchandise purchases.
Step 3: Select your redemption amount
Once you've decided on a redemption method, the next step is to select the amount you wish to redeem. You can redeem all or a portion of your incentive, depending on the credit card.
Step 4: Submit your redemption request
After selecting the amount you wish to redeem, the final step is to submit your redemption request. Make sure to follow the prompts provided by your issuer and confirm that all details are correct before submitting.
Step 5: Wait for confirmation
After submitting your redemption request, you will typically receive confirmation within a few business days. Once you confirm, it applies your rewards and sends them to the selected redemption method, and you can enjoy the savings!
How Do Cashback Reward Programs Work?
The cashback reward programs work simply; they return a percentage of your spending as rewards into your account. So, when a user purchases their credit card, the issuer earns a fee from the merchant.
The issuer will then have to return a portion of that amount paid to the user as a cashback reward. The reward can be sent to you as credits, merchandise, or cash.
How Much Cashback Can I Receive?
The amount of cash back on all purchases you can receive depends on factors like the credit card issuer, the specific card you have, and the spending category or card bill.
The percentage of cashback rewards usually ranges from 1% to 5% of the purchase amount. For example: In the United States, the average cashback rewards earned annually by a single user fall between $300-$400.
But this figure can vary widely depending on your spending habits and financial preference.
How to Maximize Cash Back Rewards Credit Cards
To maximize your rewards, you need to put a lot of effort into your financials. This can be a great way to earn money for things you already buy. Hence, here are some tips that can help you make the most of your cash-back rewards:
Consider getting a card with cash-back rewards that align with your spending habits. Look for cards with higher cashback rates for purchases that you make regularly.
Use multiple cash-back apps and sites that can help you earn more rewards. Hunt for deals and offers across different platforms and compare the rates to find the best deal.
Take advantage of many cash-back apps and credit cards that give sign-up bonuses for new users. Pay attention to the terms and conditions to qualify for the bonus, and take advantage of it to earn extra cash.
Pay off your balance in full each month to avoid carrying a balance on your credit card, which can result in interest charges that can offset any rewards earned. Pay your balance in full each month to avoid unnecessary fees and maximize your rewards.
Monitor your cashback rewards and ensure they are credited correctly to your account. Some cash-back apps and credit cards may limit your earnings, so keep an eye on your progress to ensure you maximize your rewards.
Look out for cash-back apps and credit cards bonus offers and take advantage of them when they align with your spending habits.
Consider using your cash back rewards to save money. Some cash-back apps offer the option to invest your rewards or transfer them to a savings account with higher interest rates.
Get a Cash Back: Best Sites and Apps
Here, we will evaluate some of the best cashback credit cards, apps, and sites available to users. These apps and sites allow users to earn a bonus on their purchases from various retailers.
This can be a great way to save money, unlike paying gift cards to popular retailers. We will provide an overview of each app/site, including the rewards, user experience, and any notable features or drawbacks.
Ibotta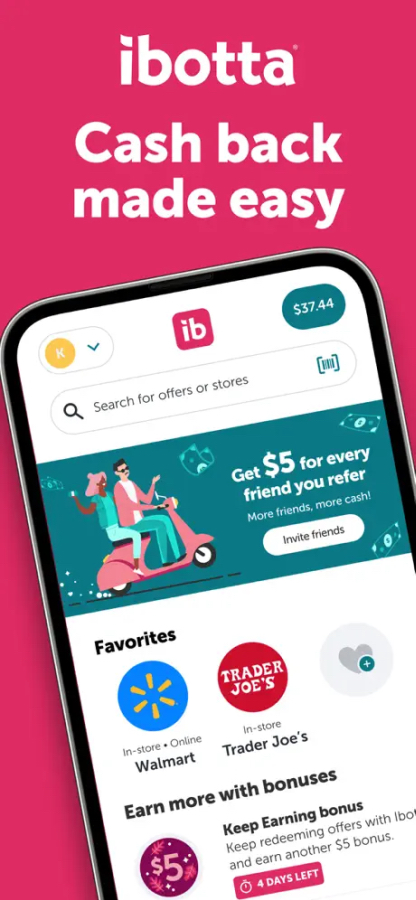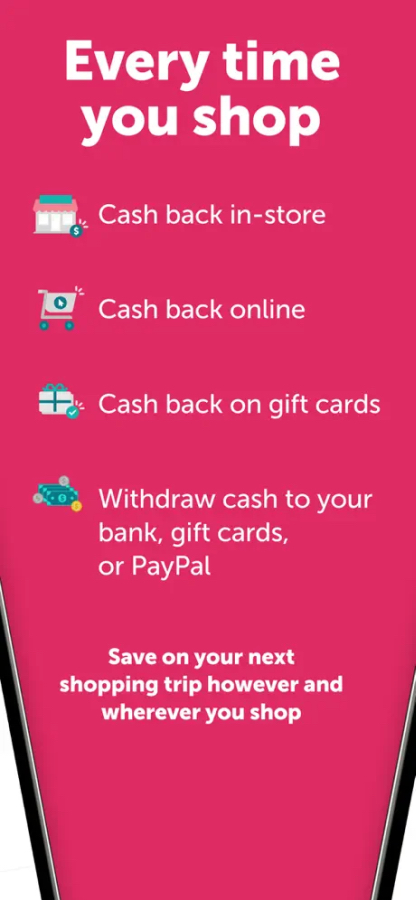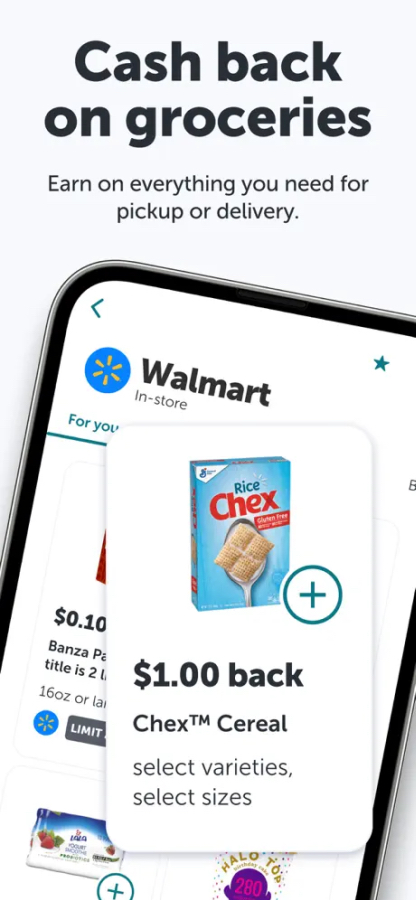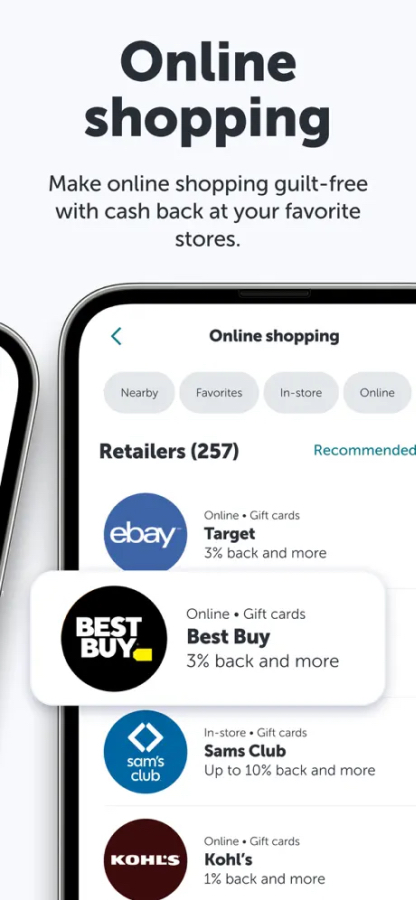 Best for: Users who want a comprehensive cash-back program that offers a variety of ways to earn points.
Ibotta is a cash-back app that gives users a variety of ways to get incentives on their purchases. Users can earn bonus points by scanning receipts, shopping through the app, and linking their loyalty accounts. The app partners with various retailers and gives bonuses for completing certain tasks or purchasing specific items.
Strengths: Ibotta offers one of the most comprehensive cash-back programs on the market, with various ways to maximize purchases. The app also provides a user-friendly interface and regularly updates with new deals and promotions.
Weaknesses: Some users may find that the rewards are lower than other cash-back apps, and the app can take a while to process rewards. There is also a cap on how much cash back you can get.
Shopkick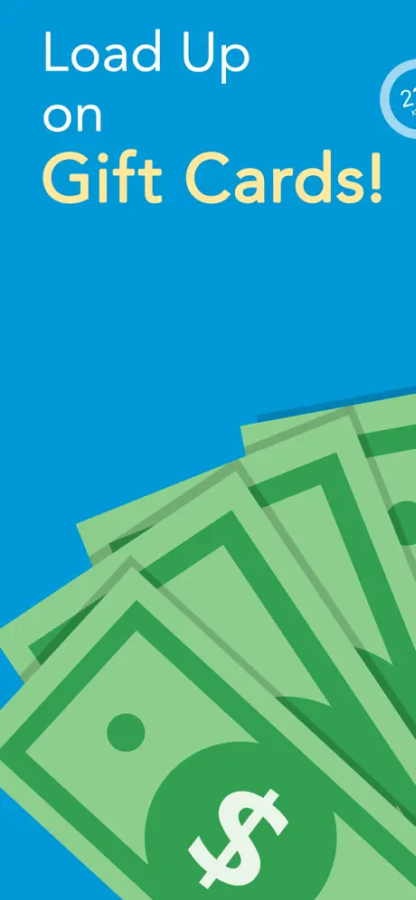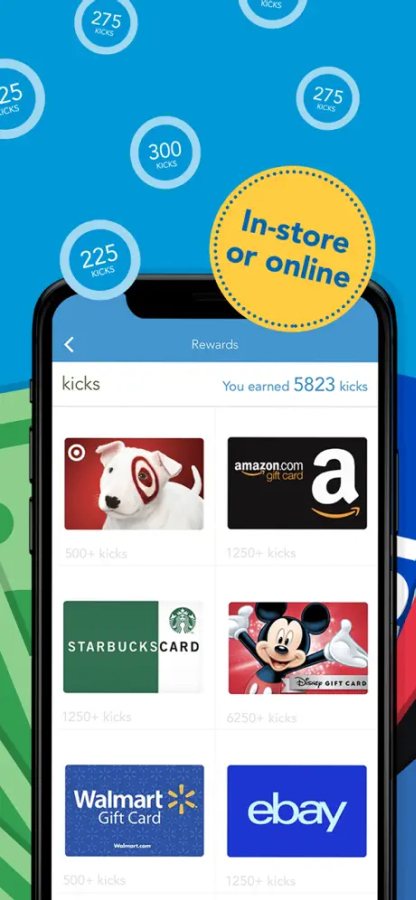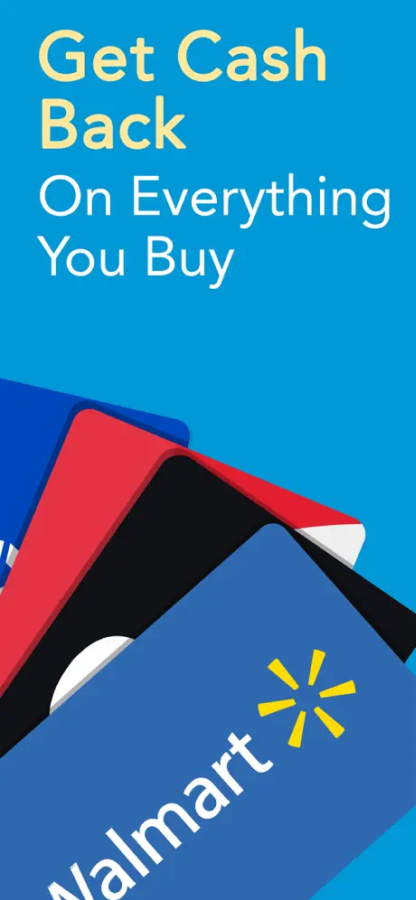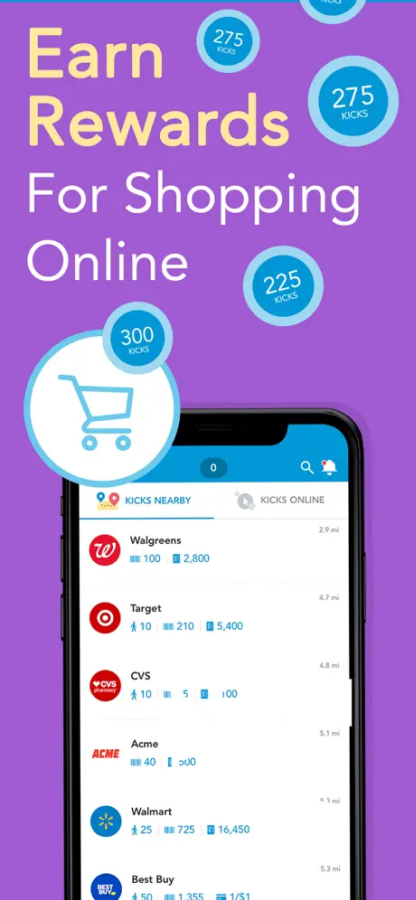 Best for: Users who want a fun and unique way to earn points on their shopping and who shop at various online and in-store retailers. They give you cash back on every purchase you make on their app.
Shopkick is a unique cash-back app that rewards users for online and in-store shopping. Users can earn points by scanning barcodes, making purchases, and even walking into stores. Points can be redeemed for gift cards at a variety of retailers.
Strengths: Shopkick offers a unique and fun way to get tips, and the app has many partner retailers. The app is also user-friendly and has regular bonuses and promotions.
Weaknesses: Some users may find that the rewards take a long time to accumulate, and the app can load slowly.
Rakuten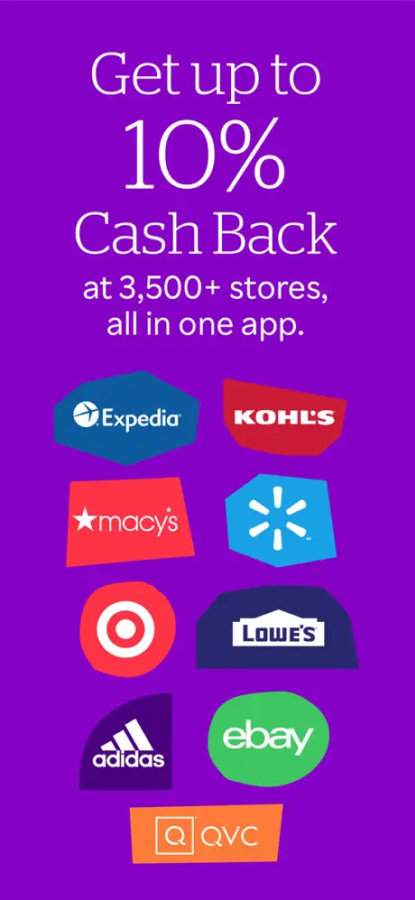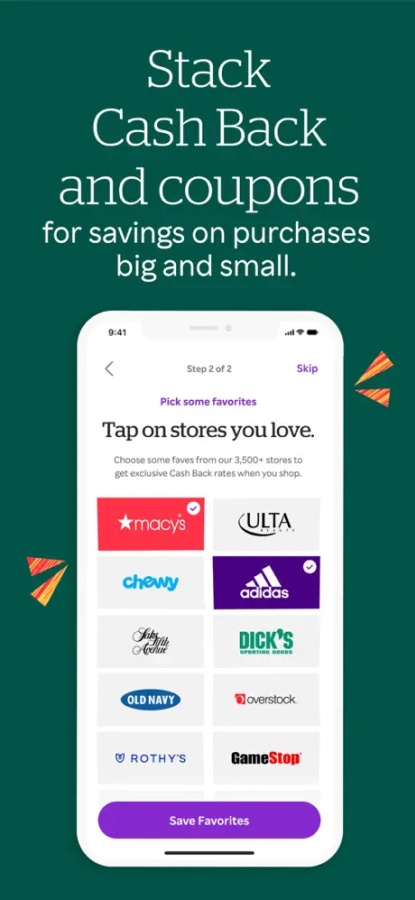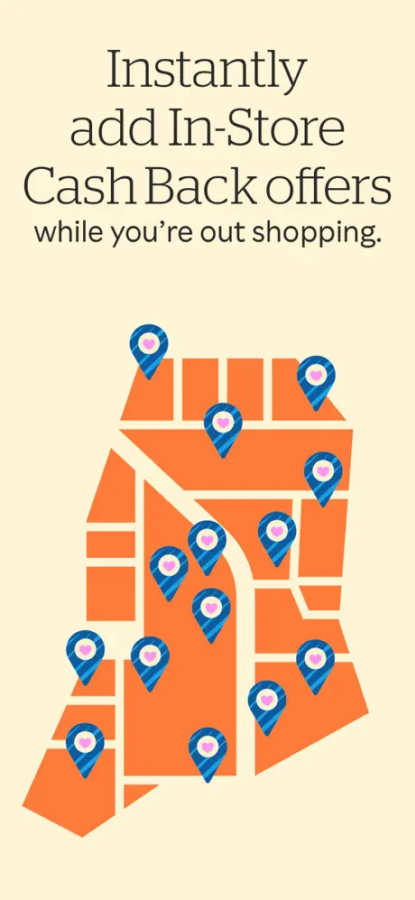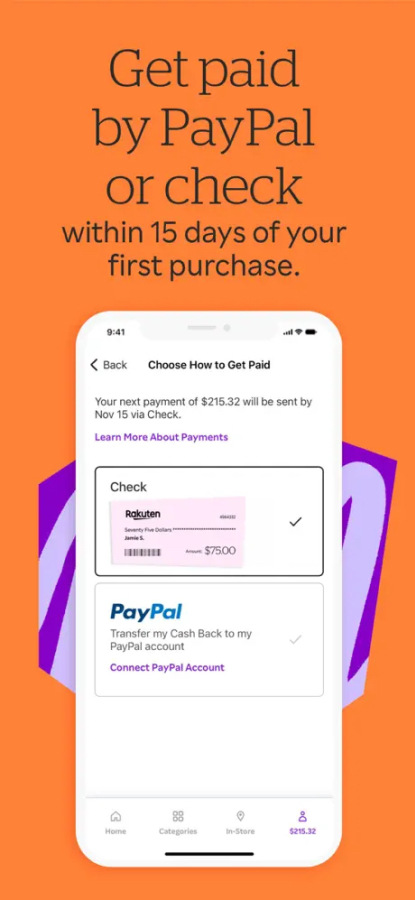 Best for: Users who do a lot of online shopping and want to earn high cash-back rates on their purchases.
Rakuten (formerly known as Ebates) is a popular cash-back site that offers rewards for shopping at various online retailers. Users can earn points by clicking through the Rakuten site to make purchases or by installing the Rakuten browser extension.
Strengths: Rakuten offers some of the highest cash-back rates and regularly provides promotions and bonuses. The site is also easy to navigate and offers many partner retailers.
Weaknesses: Users who shop in-store may need more opportunities to earn rewards through Rakuten, as the site focuses mainly on online shopping.
Bottom Line on Cards that Offer Cash Back
Cash-back rewards can be a great way to save money on purchases you were already planning to make. Following the tips and advice outlined in this blog post, you can maximize your rewards and take advantage of the many cash-back programs available.
Whether you prefer cash-back credit cards, apps, or websites, you have plenty of options. With some research and smart shopping strategies, you can earn bonuses on everything from groceries to travel expenses with the help of the best no annual fee travel credit cards.