Finding the right installment loan can be a daunting task, with so many lenders available and a wide range of rates and terms to consider.
If you make the wrong decision, you could end up paying way more than you should for your loan or dealing with hidden fees and surprise payments.
But do not fret; we are here to make that process easier for you. We've reviewed the best lenders and provided unbiased comparisons of their loans. This way, you can find the most competitive deals perfect for you. So check them out now and enjoy a stress-free installment loan experience!
Installment Loans: Best Offers
We have done our research and picked leading installment loan providers. You'll see a brief overview of the best lenders, making it easy to compare and select one.
Our take features their competitive APRs, flexible repayment periods, and overall sums you can borrow. Additionally, we have highlighted some of their T&Cs or other requirements, which you must note.
Whether you need cash to cover an existing loan, pay vacation, purchase a house, or something else – we have included platforms that provide it all. Please read everything carefully, and once again, examine their policies before accepting any offers.
Author Tip: Borrow what you can later repay!
Upgrade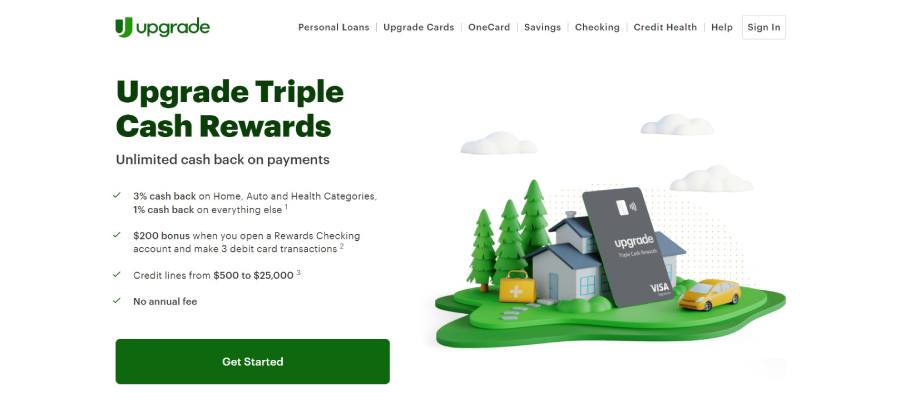 Upgrade is a non-bank financial service provider offering Americans personal loans across 49 states, including Indiana. It was established in 2016 and has provided outstanding payday loan terms to its clients.
The cash you can get depends on your score and needs, but Upgrade maximum is $50k. That means the loan suits people who plan to renovate, buy a car, or cover another credit.
An interesting thing about this company is that they do not charge prepayment but only late fees. That comes in handy given their long loan terms (up to seven years). Of course, if you manage to qualify, for which you'll need a yearly income of at least $30,000.
| | |
| --- | --- |
| Upgrade | |
| APR | About 8 – 36% |
| Loan Term Length | Two – Seven years |
| Maximum Loan Amount | $1,000 – $50,000 |
Pros:
You can apply with a co-borrower for better chances of qualifying;
Fast funds access – can take about one business day;
No prepayment fees;
Pretty long loan terms;
A considerably good amount you can borrow ($1k-$50k).
Cons:
LightStream

LightStream is a fantastic online lender that shines best with its quick funding, low overall APRs, and no-fee policies. In addition, the application process is seamless and swift.
This provider is an excellent option for those who want to consolidate a large debt into a credit with small monthly payments. That's possible because LightStream loans people up to $100,000 over up to seven years.
The qualification process is the standard one. They check your credit history, what you need the cash for, how much you want, and if you have any available equity. No income requirements exist, but you'll need a great credit score.
| | |
| --- | --- |
| LightStream | |
| APR | Range from about 7 – 24% |
| Loan Term Length | 24-84 Months |
| Maximum Loan Amount | $5,000 – $100,000 |
Pros:
No additional fees;
Fast applying and funding;
High loan amount;
An interest discount for autopay;
No income requirements.
Cons:
High minimum loan amount;
No co-singers;
High credit score.
Upstart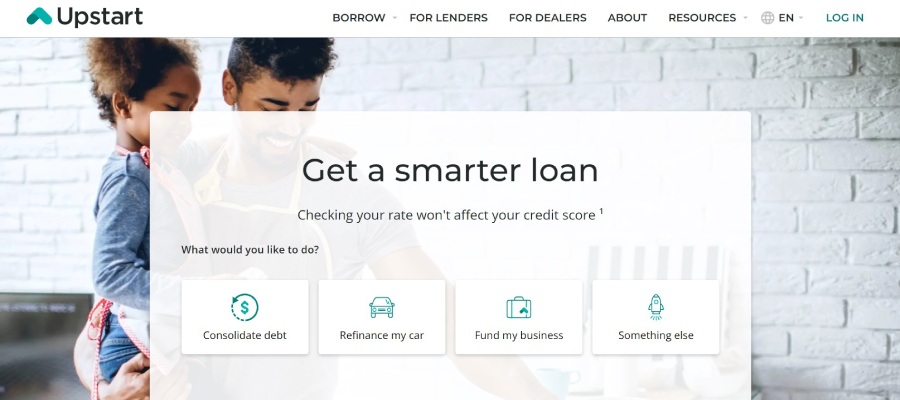 Upstart is an incredible Ai-based online lending platform. It depends on the computer intellect and various variables to approve loans. It is fast, precise, and not so adamant regarding your credit scores. This loaner is best for those who plan to get a personal loan.
Cover some imminent expenses or fund a vacation. That's because the money you can get is at a maximum of $50,000.
While we are on it, we can note that Upstart accessibility comes at a hefty price in the form of a high max APR of about 36%. That, of course, is not so bad if you consider their hardships program (temporarily suspending loan payments).
| | |
| --- | --- |
| Upstart | |
| APR | About 6.5% – 36% |
| Loan Term Length | 3-5 Years |
| Maximum Loan Amount | $1,000 – $50,000 |
Pros:
Prequalification with soft credit check;
Super fast funding;
Can select your credit date.
Cons:
Origination fees;
No mobile app.
Avant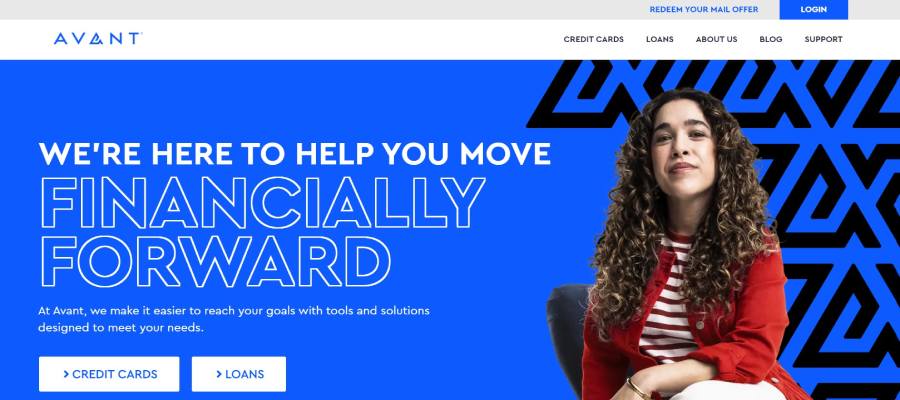 Avant is a great lending platform that operates at low rates for all borrowers with good credit scores. However, if your history is not so great or below fair, this lender will still give you a loan, but at a higher rate.
Most loans from Avant cover personal or emergency needs. For example, you can reimburse an existing debt, pay for a repair, or cover medical bills.
On average, you can get credit in your account starting from $2,000 to $35,000. This sum can be repaid for about two to five years on a quite high average maximum APR of about 36%. Additionally, Avant charges late fees ($25) and an origination tax of up to about 4,75%.
| | |
| --- | --- |
| Avant | |
| APR | 9.95% – 35.95% |
| Loan Term Length | One – Five Years |
| Maximum Loan Amount | $2,000 – $35,000 |
Pros:
Has a mobile app;
Quick funding;
Low-income requirements.
Cons:
No joint applications;
Can charge origination fees.
Rocket Loans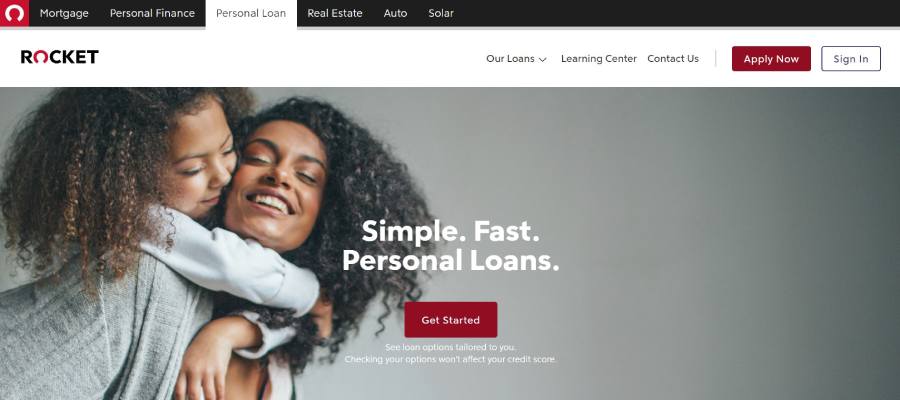 Rocket loans are an excellent platform for borrowers with fair credit scores. It is based in the USA and is accessible online. This service is available to those who want to quickly get personal loans.
All you have to do is check your score and see if you are eligible to get the sum. The criteria they look at are your age, income, credit history, if you own property and how many debts you have.
Given the amount you can receive, a maximum of $45,000, it is best suited for consolidating debts or personal needs. The time you have to repay the cash spans from three to five years. Rocket loans have what we can call a high APR (max 30%) and no prepayment fees.
| | |
| --- | --- |
| Rocket Loans | |
| APR | About 8.4% – 30% |
| Loan Term Length | Three – Five Years |
| Maximum Loan Amount | $2,000 – $45,000 |
Pros:
Seemingless online application;
Fast cash funding;
No prepayment fees.
Cons:
High rates even with excellent credit;
Origination fees.
SoFi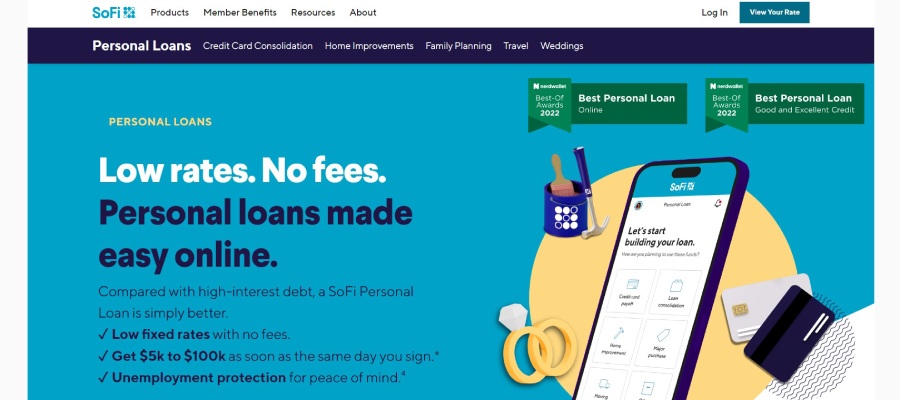 SoFi is a USA lender that provides payday loans to Americans and is one of the most commonly used ones in Indiana. It is the perfect one for all who need some cash on hand immediately, as it offers same-day funding.
One of the highlights of this platform is its 0 fees policy, which attracts many customers. In addition to that, all rates are considered reasonable compared to competitors (at max about 24%). However, it's important to note that you can't use the money for any business or real-estate purposes and even some educational expenses.
The best part is that you can take up to $100,000 against a low APR and repay it back over seven years. To qualify, you just need a good credit history, at least 3,500$ in annual income, and be of legal age.
| | |
| --- | --- |
| SoFi | |
| APR | 7.99% – 23.43% |
| Loan Term Length | 24 – 84 Months |
| Maximum Loan Amount | $5,000 – $100,000 |
Pros:
$0 additional fees;
Discount for autopay;
Mobile App;
Has a hardship program.
Cons:
Oportun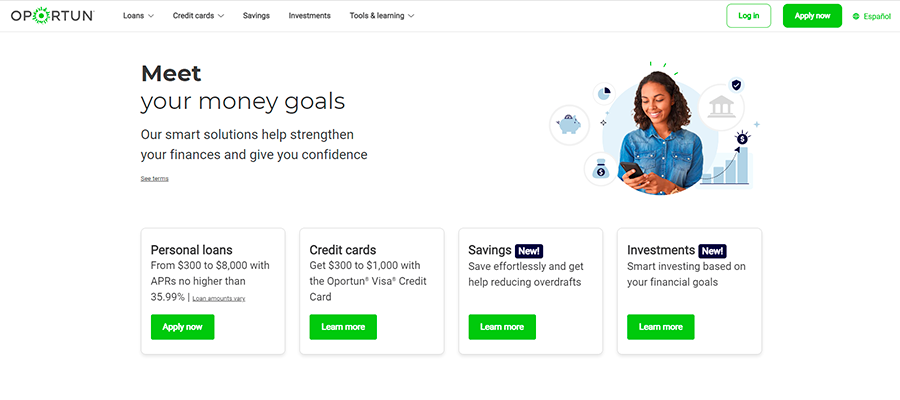 Oportun is a small lending platform available in 34 States, including Indiana. It offers loans to people who need cash fast to cover their immediate needs. You can use it for medical expenses, home improvement, and even vacations.
It is perfect for those with less-than-perfect credit scores and has a low minimum lending sum of about $300. Of course, these perks come at the price of a high APR, which can reach up to about 36%. The maximum amount you can get is set at $12,000.
When we say that Oportun is not among the cheapest, we mean it because of the origination fees (about 7%). It also has late and return check costs, which all can come at a hefty price in comparison to other platforms.
| | |
| --- | --- |
| Oportun | |
| APR | About 20% – 36% |
| Loan Term Length | One – Five Years |
| Maximum Loan Amount | $300 – $12,000 |
Pros:
Soft credit history check is required for prequalification;
Low minimal sum;
Perfect for those with bad credit;
Offers both secured and unsecured loans.
Cons:
Very high rates;
No mobile app;
LendingClub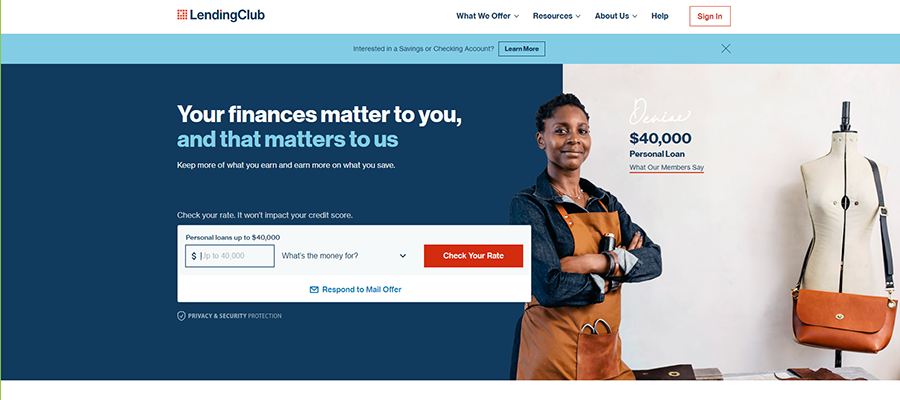 LendingClub is probably the best peer-to-peer lending platform available in Indiana. It connects borrowers to lenders via an on-platform marketplace. These users can connect and find the lowest-cost lender.
Regarding what the platform is suited for, we can say personal loans. It's probably best if you have debts to cover and want to pay them up with one large sum that's up to $40,000. You can repay these funds over five years.
This platform provides funding at a moderate speed (two to four business days to get into your account). It has reasonable APR rates based on your credit history and can reach as high as 36%. Interestingly enough, the fees are pretty high, with the late payment reaching up to 5% of the sum.
| | |
| --- | --- |
| LendingClub | |
| APR | 8,3% – 36% |
| Loan Term Length | Three – Five Years |
| Maximum Loan Amount | $1000 – $40,000 |
Pros:
$0 prepayment fees;
Joint loan option;
Straightforward loan process;
You can pre-qualify simply with a soft credit check;
Can change payment date.
Cons:
High late and origination fees;
No mobile app.
What Are Installment Loans?
Every loan you repay over a fixed period with a set number of multiple planned transactions is an installment loan. These are usually made on a monthly basis on a date set by both parties and include the principal sum plus interest.
These loans can be both secure or unsecured and are used for a wide variety of purposes:
University tuition
Mortgage
Car payments
Buying a specific item
Personal reasons like consolidating debt.
These have different rates, interests, and periods over which they get paid back and can vary based on the person's credit history.
Overall, installment loans offer everyone a predictable and stable way to borrow cash. They can be used for everything and are a flexible and convenient financial tool.
How Does Installment Loan Work?
We already know that these loans are a financial product that allows people or businesses to borrow a good amount and repay it over time. But how does that work?
First, you have to qualify for it by having strong credit history;
Try to understand every condition, run all numbers and check the costs and possible fees;
Apply, take the loan, and set your scheduled payments aside in advance;
Pay the sum which covers the credit balance and the added interest.
It is important to note that the loan payment period, the fixed interest rate, and the whole sum strictly depend on the borrower's credibility. Lenders usually check your credit history and earnings to determine whether you qualify, especially for more considerable sums.
What Can I Use My Installment Loan For?
There are many reasons why you may need and how you use an installment loan. It all depends on your necessities and financial goals. For example:
Improvement projects and home renovations, such as upgrading your bathroom or making a man cave;
Covering another debt or high-interest credits into one scheduled payment;
Financing the purchase of a car, boat, horse, or even a pet;
Funding your startup, buying equipment, or hiring specialists;
Paying for your university, schoolbooks, and housing.
Most installment loans are taken with such purposes in mind. However, some come as an unexpected need to cover a specific expense like a house repair, medical bills, or travel costs.
Author Note: It is crucial to remember that you need to plan how to use and repay the credit. Evaluate your financial situation and future goals beforehand, as these loans aim to help you, not burden you further.
Where Can I Get Installment Loans?
Installment loans are something you can get from financial institutions. That can be banks, online lenders, or even credit unions. To find the perfect loan, you can start by checking your bank. They will likely provide you with good terms based on your financial situation. If that is not a suitable choice, local or online lenders can be a better option.
You must note that they often have higher APRs, indicating a larger sum to repay. However, you can negotiate better interest on an installment loan with a good credit score. The flexibility of the terms depends mainly on your financial stability like – income, equity, and credit history.
An important thing you must remember is always to compare the offers. It does not matter whether it's a bank or a private lender. The conditions, period, and installments may differ due to many factors.
Tip: Ensure that you have read all of their T&Cs.
When Is an Installment Loan A Good Idea?
Such a loan is a good idea when you want a large amount of money to repay over time without straining your budget. For example, when you have high-interest credit, plan to buy a home, or have lots of expenses. Every scheduled loan can significantly help you in such situations if you can manage it properly.
Two things make these loans a good idea, first is their low interest, and second is their monthly payments.
Of course, these two are different for each loan and are based on the borrower's income and credit history. But, if you have good ones, installment loans can significantly help you.
On the contrary, if your credit history is terrible, your income is low, and you have too many expenses. As a result, you will likely not qualify for good installment loans or will be directed to borrowers who charge high interest.
Types Of Installment Loans
All installment loans are tailored to meet the borrower's specific purpose or goal. Some of the most common examples of such loans are:
Personal loans – these are all used for various reasons like covering your monthly expenses to booking a trip over the summer;
Vehicle ones – often people take cash on credit to buy a new car;
Home/Mortgage credits – home, installment loans are your best friend, perfect for that;
Student – covering tuition, rent, books, and equipment;
Equipment or Items – usually used to get machinery for a startup or a new TV when it's not business related.
Remember that each category from the above show types has its specifications. That can change the borrowing conditions of the credit, like its interest, its scheduled payments, and the overall period.
Tip: Always compare and search for the best offer based on your needs.
Personal Loans
Personal is all installment loans where you borrow cash to cover an expense or fund a goal. These types of credits are unsecured, which means they have no collateral. That leads to higher deposit rates and more risk when taking them.
Their most significant advantage is the freedom to fund your plans over a monthly payment. That flexibility allows most borrowers to avoid high-interest credit debts and easily make their purchases. An advantage is that the fixed installment does not change, which, together with the schedule, allows you to plan your finances.
However, this type of loan has disadvantages, like the limited amount of cash you can get. For another instance, if you do not pay on time, the lender can issue penalty fees or higher interests. These can influence your credit score, future loan chances, and even risk a default.
Mortgage
Mortgages are a type of installment loan used to buy properties. It can be personal, like buying a home, business, office, or shop venue. They are an amazing idea if you want to build equity over time while taking advantage of someone else's cash.
Usually, such loans are taken when an individual cannot afford to pay the total price of a building. Mortgage payments have affordable rates that depend on the loan time. All credit costs can be spread over a more extended period, which can be up to 5-10-20 years.
These types of loans are labeled as secured, as they use your property to guarantee that the borrower will pay his scheduled payments. However, if a situation occurs and, due to one reason or another, you can't continue to pay, you'll get into default. That means your lender will take ownership of the property.
Auto Loans
Auto loans are all related to vehicle purchases. Like mortgages, they work similarly and are secured by the car you buy. You have a lender who gives you a vehicle against periodic payments with a fixed cost and interest rate. This collateral is your new auto that gets taken back by the lender once you default on the loan.
A great advantage is that, unlike many installment loans, the auto ones have low-interest rates. That's because they have a guarantee and the price of a new car is significantly lower than that of a property.
Possible disadvantages you can find with this type of credit are related to the period over which you have to pay for the vehicle. That's because the longer it is, the higher its costs over the interest will be.
How to Compare Installment Loans
Before you take such a loan, you have to plan a few things and look for the best option by comparing multiple factors like:
Annual Percentage Rate (APR)
Rates and fees;
The term of repayment;
Required credit score.
Each of these is crucial when selecting your lender. For example, APR represents the cost of an installment loan, including its principal and its fees accumulated over a year. It's important to note all associated costs like prepayment penalties or late payments and the interest rate. This way, you'll understand the cost of your credit.
Another feature that you have to compare is the payment period. Sometimes a more extended period instigates higher fees. In contrast, shorter ones have lower costs but with higher monthly payments. Your credit score is a crucial thing you must look carefully into. All lenders have a minimum requirement that you must meet, which also dictates your interest rates.
Can I Get Installment Loans If I Have Bad Credit?
Getting an installment loan with a bad credit score is not impossible. However, not all conditions will be as favorable as when you have a great one. That limits the option you can choose and often results in higher fees.
Usually, some lenders provide installment loans for people with low or bad credit scores. They operate in a similar way as every standard one, with a slight difference in higher interest rates and payment terms. That's because people with bad scores bring risks to every lender and their interests, resulting in more significant fees.
Overall, it's possible to get one, but the terms won't be so good. But that should not worry you, as getting one and paying on time will positively affect your credit score and probably improve it!
How Installment Loan Affects Your Credit
When it comes to loans, it is crucial to understand how they can impact your overall credit score. While timely payments can help you boost this score, falling behind on the deposits or defaulting on a loan can have the opposite effect.
Because of that, you must ensure that you keep up with your scheduled installments and avoid missing any of them. This way, you can prevent possible negative impacts on your credit score.
In addition, try not to have too many loans at the same time. That can also affect your credit history negatively. To stay away and solve this issue is to keep an excellent debt-to-income ratio in mind. Additionally, make sure to take loans only when you can comfortably manage them and repay them timely.
Advice: Never miss installments, and your scores will go up.