The credit score of each consumer is very important for their financial life. This number usually varies between 300 and 850 and is based on several factors including credit usage, payment history, length of credit history, and credit checks.
Your credit is like your school grade. Creditors and even recruiters review it before they make their decision to loan you money or hire you. This number affects your ability to obtain a mortgage or buy a new car.
Thus, credit monitoring is essential when it comes to checking your credit for any errors or making sure there is no data breach. How can you do that? There are sites like Credit Karma that offer credit monitoring services to consumers for free or for a certain fee.
Credit Karma like sites offer quick and easy ways to check the person's credit score and credit report. If you want to compare several options and make sure you get the most accurate score, keep on reading to review the features of the top-rated websites like Credit Karma.
Best Sites Like Credit Karma
There are many cites like Credit Karma, such as Credit Sesame, Quizzle, WalletHub, etc. They all have similar and unique features so that every client may select the most suitable credit monitoring tool.
Credit Score: Your Healthy Financial Reputation in Print
Think of your credit score as a special indicator of your creditworthiness. In most cases, it can vary between 300 and 850. The higher the number, the more likely a person will pay his/her debts fully and on time. Anything 740-plus is considered excellent and lenders don't distinguish beyond that. Whereas, a 650 credit score and below might cause trouble. Why? For a lender, a person with bad credit is under suspicion. So, he feels the need to protect his money against the greater risk of default. As a result, the higher interest rates typically apply.
Reasons for Bad Credit
Identity theft is one of the common reasons for bad credit. Personal injury, divorce proceedings, and creditor errors can also impact your credit score. The good news? You can get a free copy of your credit report every 12 months from each of the three major credit reporting companies.
When calculating your credit score, companies like Credit Karma and Credit Sesame consider the following: the amount of debt you owe, timeliness of your payments, type of debt, credit lines you've opened, and credit history length. The latter amounts to 35 percent of your score.

Starting in 2020, everyone in the U.S. can get 6 free credit reports per year through 2026 by visiting Equifax online.
"When consumers do not have a credit report or have too little information to have a credit score, the impact on their lives can be profound. Consumers in low-income neighborhoods are more likely to be credit invisible or unscored, this may be limiting opportunities for some of the most economically vulnerable consumers." – Richard Cordray, director of the CFPB
Credit Karma
This is the best tool for getting free credit reports and scores. The information is updated each week and this service acquired data from two of the biggest credit reporting bureaus – Equifax and TransUnion.
Other websites like Credit Karma may charge fees but this app doesn't need a credit card to use it. The free report and score are provided using the information from the VantageScore model.
It is similar to the FICO score which is traditional for using among credit reporting agencies. Free sites like Credit Karma allow clients to obtain free credit monitoring as well as a free car insurance score.
You don't need to pay any fees for using free credit report sites like Credit Karma but you may be sent recommendations and email with paid financial products that may be interesting to you based on your credit profile.
Credit Sesame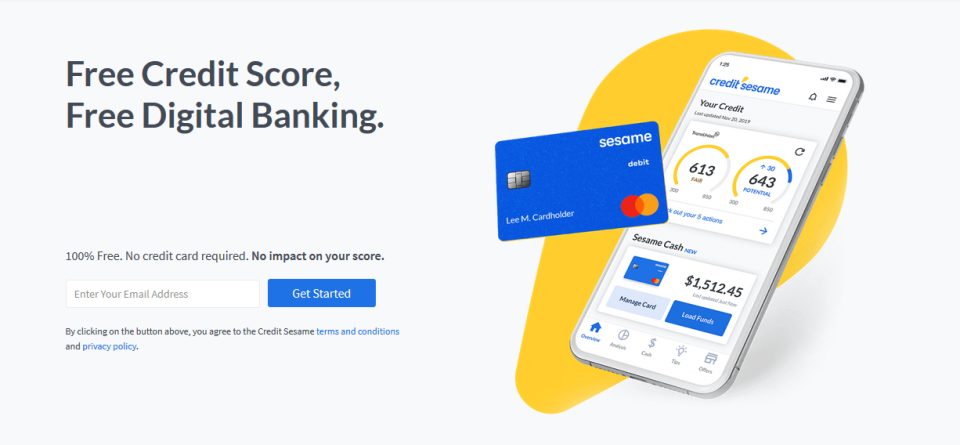 This service like Credit Karma works best for getting customized tips. It's one more helpful credit monitoring service that collects your credit data and sends recommendations to you based on this information as well as provides access to the client's VantageScore from the TransUnion bureau.
Also, this service offers free credit check like Credit Karma and gives advice on how to lower loan payments and decrease fees. Alerts and special notifications are offered by websites similar to Credit Karma and Credit Sesame. Clients may receive $50,000 as financial support in fraud protection through Credit Karma similar companies.
As an alternative to Credit Karma, Credit Sesame is one of the best credit reporting agencies out there.
Key features:
a free and paid subscription
a credit score is based on TransUnion credit file (Equifax and Experian included in paid options)
ability to update credit score on a monthly basis
a variety of additional financial services
Being a Credit Karma alternative, Credit Sesame is a completely free credit monitoring service. It doesn't require handing over a credit card number and lets you know your TransUnion-based credit score every month.
Even better, Credit Sesame offers you to take advantage of its analytic tools. Thus, it's easier to find specific credit cards or loans that match your credit profile best. Sign up for alerts to get a full credit report analysis and monthly credit monitoring.
By signing up for the site, you get $50,000 in identity theft insurance and fraud resolution assistance. Credit Sesame mobile app works similar to Credit Karma. It lets you access your data on any modern mobile device that exists today. You'll get access to an overall debt analysis which shows what you owe in loans and credit card debt.
Want some inspiration? Here's Brandi Regan's story
The day the former retail worker decided to go back to the school to invest in her future, an additional $30,000 was added to her debt pool. Sounds familiar?
Well, the sad reality to millions of Americans. Thus, with a 434 credit score, she signed up for a free Credit Sesame membership and began working even harder towards her financial goals. At the end of the day, Brandi was able to raise her score by over 200 points, to 641.
Have a story to share? Your help is welcomed.
Experian
Experian is a service through which you can track all your FICO scores anytime. If you use the company's services, you will be aware of any changes in your credit report, receive email alerts if necessary, and have constant access to your credit score.
Experian has three main products:
1.CreditWorks.
Under this service, users get unlimited access to their credit reports and FICO scores at all times. In addition, they are also notified of any changes in their credit history (such as new inquiries or late payments) and have identity theft insurance.
The price of this service depends on the package you choose. For example, you can use the free basic version, which allows you to view your monthly credit reports and FICO scores.
However, paying $24.99 monthly for the premium package will give you access to daily credit reports, scores, and several identity protection solutions.
2. IdentityWorks.
This option includes the same as the previous one but offers unlimited permanent access to daily TransUnion and Equifax reports (only in some packages). So, with IdentityWorks service, you can be calm about the security of your information, as it provides not only identity theft protection but also constant scanning of the Internet for your personal information.
This service starts at $9.99 monthly and can go as high as $19.99 after a 30-day free trial. The only difference between these packages is the level of theft insurance coverage and the number of people who will have this protection.
3. The three-bureau credit report.
The third service on our list allows you to monitor your credit reports from all three credit bureaus continuously. You will clearly understand what changes have appeared in each of them, what your credit score is, and whether there are any negative marks on your reports.
Unlike all previous options, this service costs $39.99, but you only have to pay once. So if you only need credit monitoring, this could be the best value.
Key features:
Experian allows you constant access to an automatically updated credit report and scores. As soon as the service notices any changes in them, it will send you an email or notification through the mobile app.
Experian provides a FICO score, not an in-house proprietary rating scale, like many other companies with similar services. The good thing is that most lenders use this model, so you'll know precisely what they see on your credit report and what terms and rates you can expect.
Experian provides free educational materials for anyone who wants to learn financial literacy, pay off all their debts, and learn how to manage money properly.
This company also has a free credit score simulator that allows you to understand which decisions positively or negatively impact your score.
The company's mobile app has all of the same features that are available online. In addition, you'll be able to watch in-app video tutorials and instructions on financial topics to help you in different life situations (for example, when appealing a negative mark on your credit report).
Compared to Credit Karma, Experian has one major drawback – this service is not entirely free. However, if you need daily reports from all three credit bureaus, you will be better off choosing them, as Credit Karma does not provide such services.
It is also important to note that these websites have a very similar approach – their goal is for you to find out your credit score and improve it. To this end, the companies have added various financial calculators, video tutorials, and other educational materials to their sites.
Quizzle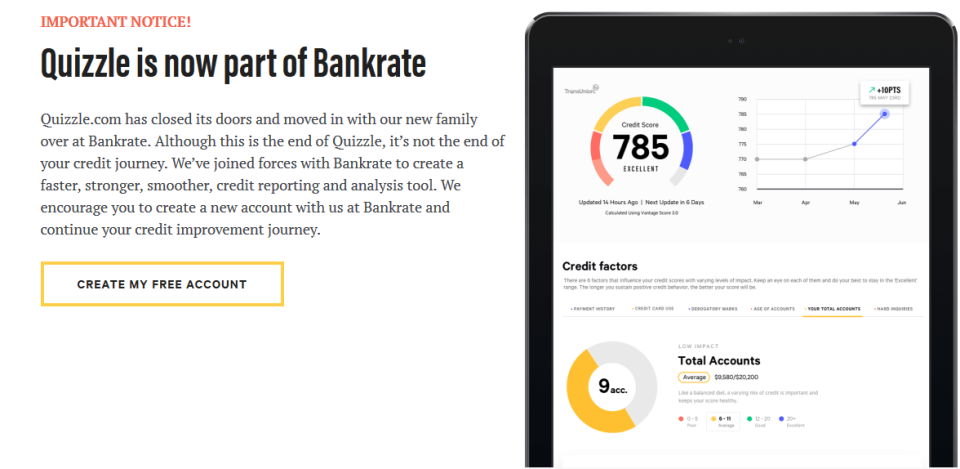 Many people are searching for free sites like Quizzle, Credit Karma, and others. Yes, this online tool has been around since 2008 and offers free access to the customer's credit rating and report. Over 2 million clients already utilize this tool. It may be easier to reach financial goals and avoid pitfalls if you use Quizzle.
Once you register, you will gain access to your report from TransUnion without providing credit card data. This is another company like Credit Karma that offers numerous relevant advice and information to help clients learn and better understand their credit ratings.
In comparison to other Credit Karma competitors, Quizzle has a mission to educate as many people as possible about how credit works. Since 2008, this free online service provides access to credit reports and credit scores for over 2 million customers.
Key features:
a free and paid subscription
a credit score is based on VantageScore and is usually on the low side
ability to pull your credit report twice yearly
a wider choice of credit tools than provided by Credit Sesame, yet, not so robust as those provided by Credit Karma
The coolest thing about Quizzle is that you can get a free VantageScore credit score and a two full free Equifax credit report. Snazzy. In fact, sites like Credit Karma and Credit Sesame offer only access to partial reports. So, one complete report you'll get once you sign up and the second – after 180 days.
When it comes to credit score, the Quizzle score is a weak point. When compared to the FICO score, a Quizzle score may have a difference in approximately 50 to 70 points. Are you on the lookout for a new credit card? Or maybe planning to apply for an auto loan? Then it's a good idea to know your FICO score first.
Like other sites similar to Credit Karma, Quizzle doesn't require users to provide a credit card. Unless you want to upgrade your Quizzle paid plan. In 2015, Quizzle joined Bankrate.com, a leading source for expert financial news, advice, real-time financial rates and information. Curious to test out Quizzle? Visit Bankrate's new monitoring website, complete the registration, and get both a credit score and a full report.
Discover Credit Scorecard

Some of the credit card issuers also offer a free review of the client's credit ratings. Discover Card is one of the cards that offers credit check for free from Experian website like Credit Karma as well as TransUnion. If you don't have a credit history yet it may take a few months of regular payments to see your current score through this service.
Apart from companies and things like Credit Karma, Discover Card offers a possibility to keep track of the credit score only to the primary cardholder. Authorized users don't have this option.
There are a number of Credit Karma like sites on the market today. The best thing about them is that they all promise to help you keep an eye on – and even improve – your credit. And Discover is no exception, too. It lets you check your FICO score on their website for free, even if you're not a Discover cardholder.
Isn't it great? You may have never even touched a Discover credit card and still take advantage of the service.
Key features:
a free credit checking website
a credit score is based on FICO score from Experian credit file
ability to update your credit report monthly
several personal finance products and alerts
Discover gives you the FICO score from Experian, which is typically a rarity for free credit checking services. While a free credit score from Credit Karma company gives you VantageScore instead. Even though your score on the Discover Credit Scorecard might differ from an actual one available for a potential creditor, it's still a beneficial option to keep an eye on your financial health.
As such, Discover Credit Scorecard service is a great tool for those who're interested in their FICO score and want to see its updated monthly. In turn, if you want to get a higher level of personal finance management services, you'd better find the other sites like Credit Karma, for example.
WalletHub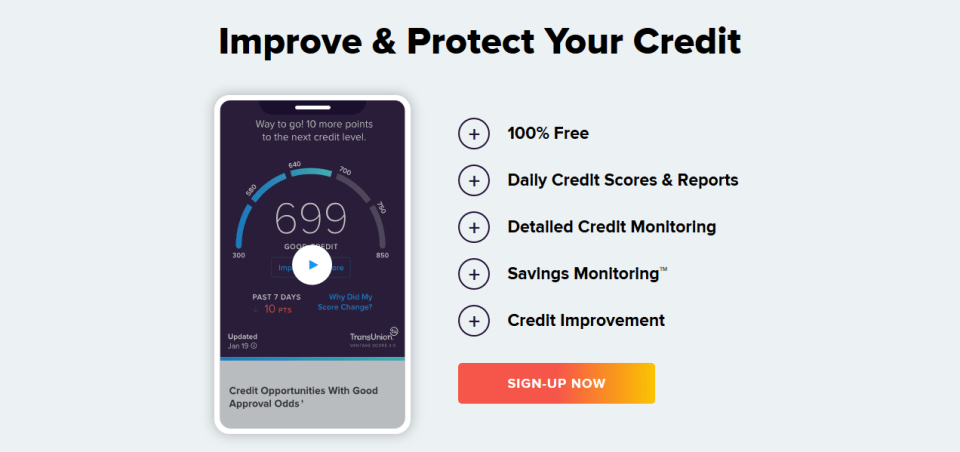 This service offers free credit check like Credit Karma and is one of the best for credit alerts. You may obtain reports from the TransUnion bureau. In order to verify your personality and register to websites similar to Credit Karma, you will need to answer a few security questions, tell the last four digits of your SSN and some other private data.
Monthly income and expenses should also be offered to this service to submit the registration form. You may check all of your balances and credit accounts in a special section of credit places like Credit Karma. Alerts and notifications help consumers to avoid mistakes and keep track of their rating.
WalletHub is the other popular player when it comes to Credit Karma competitors. Both a website and mobile app will give you access to your credit report and score for free. Even better, it's the 'first-ever site' that offers free daily updates of credit scores. Compare this to free credit score sites like Credit Karma, Credit Sesame, or Discover Credit Scorecard.
Key features:
a free credit checking website
a credit score is based on VantageScore from TransUnion credit file
ability to update credit score on a daily basis
various personal finance tools, including a question-and-answer forum
The best thing about WalletHub is that it lets you use its features completely for free. No paid plans! How does WalletHub make its Benjamins, you may ask? Well, the answer is pretty simple – by showing advertisements. Once you land on WalletHub website, click on ads and sign up for offers, WalletHub gets paid. A piece of cake, right?
Yet, the devil is in the details here. Since you need to give up personal info, it's worth deciding if getting your credit history is a valuable exchange. Thing is, WalletHub is one of the major credit checking services on the market these days. That's why the company does a decent job of protecting your data from its end.
Remember that WalletHub is neither a scam nor a front to steal your data. Thus, the company won't sell or rent your information to third parties but use your data to provide targeted offers. Instead, the credit checking website like Credit Karma goes the other way. It anonymizes your data two years after your account is closed instead of deleting it.
Credit.com

Credit.com is the other credit checking service that ranks high amongst Credit Karma similar companies. Really, it's hard not to like Credit.com for its great finance service. Even though nobody likes to work for free, Credit.com is very transparent about how that works.
Key features:
a free credit checking website (paid option for $21.95/month is also available)
a credit score is based on VantageScore from Experian credit file (FICO score paid option available)
ability to update credit score every two weeks
a variety of personal finance tools, including credit report card
Out of the above-mentioned credit checking sites similar to Credit Karma, Credit.com offers nothing unique. Yet, it does a great job. You don't need to enter a credit card to access your free score. To be more accurate, it offers you to get 2 different scores – from the Experian credit bureau and VantageScore 3.0. Both scoring models are reputable and accurate. But expect not to get identical numbers. Each specific credit scoring repository has its own algorithms, so everything seems logical.
Mobile apps like Credit Karma and Credit.com lets you access all of your data on the go from your phone. Till now, the Credit.com app is available at the Apple App Store and is completely free to use for iPhone users.
Credit.com earns money by selling additional personal finance products and services. Would you like to buy other credit scores? You're welcome. Credit monitoring and identity theft protection services are also available for an extra price. So, if you want to get feet wet with what's going on with your credit. Credit.com would be right up your alley.
Sites like Credit Karma where you can check your score for free?
You may be able to check your credit rating using companies like Mint, Credit Karma, Quizzle, WalletHub, and Credit Sesame. It's important to understand your credit score and learn about ways how to improve it to boost your chances of getting qualified for better lending options.
Let's Consider Credit Karma
Do you want access to your credit report and score for free? Then you can take advantage of Credit Karma's services.
In 2023, Credit Karma is considered one of the best credit monitoring services that allow users to understand the complex topic of credit, find out and improve their credit score for free.
What services does this company provide? They are primarily credit monitoring, simulation tools, loan marketplace, and savings account. There are also thousands of articles that will help you choose the best credit card or the most reliable lender and understand what to do to pay off your debts faster and manage your finances better.
A few of Credit Karma's key features deserve a detailed description:
You can get a credit report from two credit bureaus (Transunion and Equifax) to determine your Vantage 3.0 credit score. They will show you all information about your bank accounts, payment history, negative marks, new debts to debt collectors, etc.
With this service, you can find out for free what you need to do to improve your credit score.
Credit Score Simulation Tools.
Do you want to take out some loans, but you're not sure lenders will be willing to lend you that much money? You can try this scenario in Credit Karma's simulation tools.
For example, you can see what would happen to your credit score if you got a car loan right tomorrow. You can also check to see if your credit rating is enough to get another loan, such as a travel payment.
This way, you can consider several "what if" scenarios and choose the one that suits you best. But be careful and keep in mind that this is only a simulator.
As we said above, you can compare hundreds of offers from lenders and credit card issuers on this site to choose the best option. Of course, this service is free for you, but that's where Credit Karma makes money.
If you've wanted to buy a house for a long time but haven't done it yet because you don't understand how much you can expect to pay, this tool is just what you need. Its principal function is calculating the maximum amount you can borrow if you want a mortgage.
To get the answer to this question, you will need to enter your monthly income and the savings amount you have. The program will then calculate the maximum monthly mortgage payment you can make, and the total amount of your loan should be that you can ask lenders for.
There are only three easy steps to register on this site:
First, enter your email and create a password.

Enter your personal information.

Answer a few questions from the company (for verification purposes).
As we said above, the main advantage of Credit Karma is that you can use the service for free. Also, unlike many other services that provide credit reports once in six months, Credit Karma gives its users access to daily scores from two credit bureaus.
It's also important to note the company's excellent mobile app and hundreds of valuable lessons and articles that allow you to learn financial literacy for free and how to manage your money better.
The only serious downside to Credit Karma is that it makes money from working with lenders and banks, so not all the recommendations you see are honest and unbiased.
What Is a Credit Monitoring Service?
A credit score and credit report are important when it comes to financing. It affects the borrower's creditworthiness and ability to take out a mortgage, car loans, personal loans, or acquire a credit card.
However, many borrowers don't know their credit or have experienced identity theft in the past. Credit monitoring from apps like Credit Karma is a perfect way to keep track of your credit history and know if there are any mistakes.
As a result, such mistakes may damage your credit score and lower the chances of obtaining the next loan at affordable rates. Credit monitoring services are special companies like Credit Karma that can find these errors and protect your sensitive data.
They monitor and review the reports of their clients for any daily changes and send notifications about any alerts.
What Credit Monitoring Services Do?
Look at any changes in the address or name mentioned in the credit file of a client;
Track new account openings (new loans and/or credit cards);
Look at updated public records;
Track accounts sent to the collections offices;
Track hard credit pulls.
What Credit Monitoring Services Don't Do?
Don't prevent/report identity theft;
Can't stop people from opening new accounts in your name;
Can't prevent a data breach;
Can't repair mistakes in the credit report;
Can't freeze the client's credit.
How do sites like Credit Karma work?
You need to register on a website template like Credit Karma but there is no need to submit any credit card information as such services are free of charge. Some personal and financial data should also be mentioned during registration.
What Is Credit Monitoring?
If you keep on monitoring your credit you can save yourself from additional stress and frustration in the future especially when it comes to fraudulent activities or data breaches.
The Federal Trade Commission got over 1.4 million reports about identity theft in the USA in 2020 which is twice the number of reports received the year before. Of course, this service can't prevent fraudulent activity from appearing on your credit report.
However, specialists admit that credit monitoring is useful when it comes to detecting big changes so that you can take quick action. Sites similar to Credit Karma and other apps may be either free of charge or cost a certain fee.
Each of such apps has benefits and drawbacks and other helpful features so each consumer may select the app tailored to their financial needs. You may also check your credit report for free every 12 months and get it from one of the three major credit reporting agencies – TransUnion, Equifax, or Experian.
What are other sites like Credit Karma?
Other websites and online credit monitoring tools include WalletHub, Credit Sesame, Quizzle, and others. Each client may review these tools and choose the service according to their financial needs.
Credit Report vs. Credit Monitoring Service
It's important to note that checking your rating isn't the same as checking your credit report. While the credit score is the div utilized by creditors and employers to evaluate your creditworthiness, your credit report offers a more detailed history of your financial solutions.
It comprises all the accounts you've had, bankruptcy reports, whether you've paid your accounts on time, any credit pulls, messages, and flags. This report also includes the changes that were made to your credit history.
Free and paid credit monitoring services as well as other sites like Credit Karma are designed to offer regular reviews to their consumers about their credit reports and any changes that might happen in them. Although paid services have more additional options than free services like Credit Karma, you can still get frequent updates and get notified about any fraudulent activity or identity theft.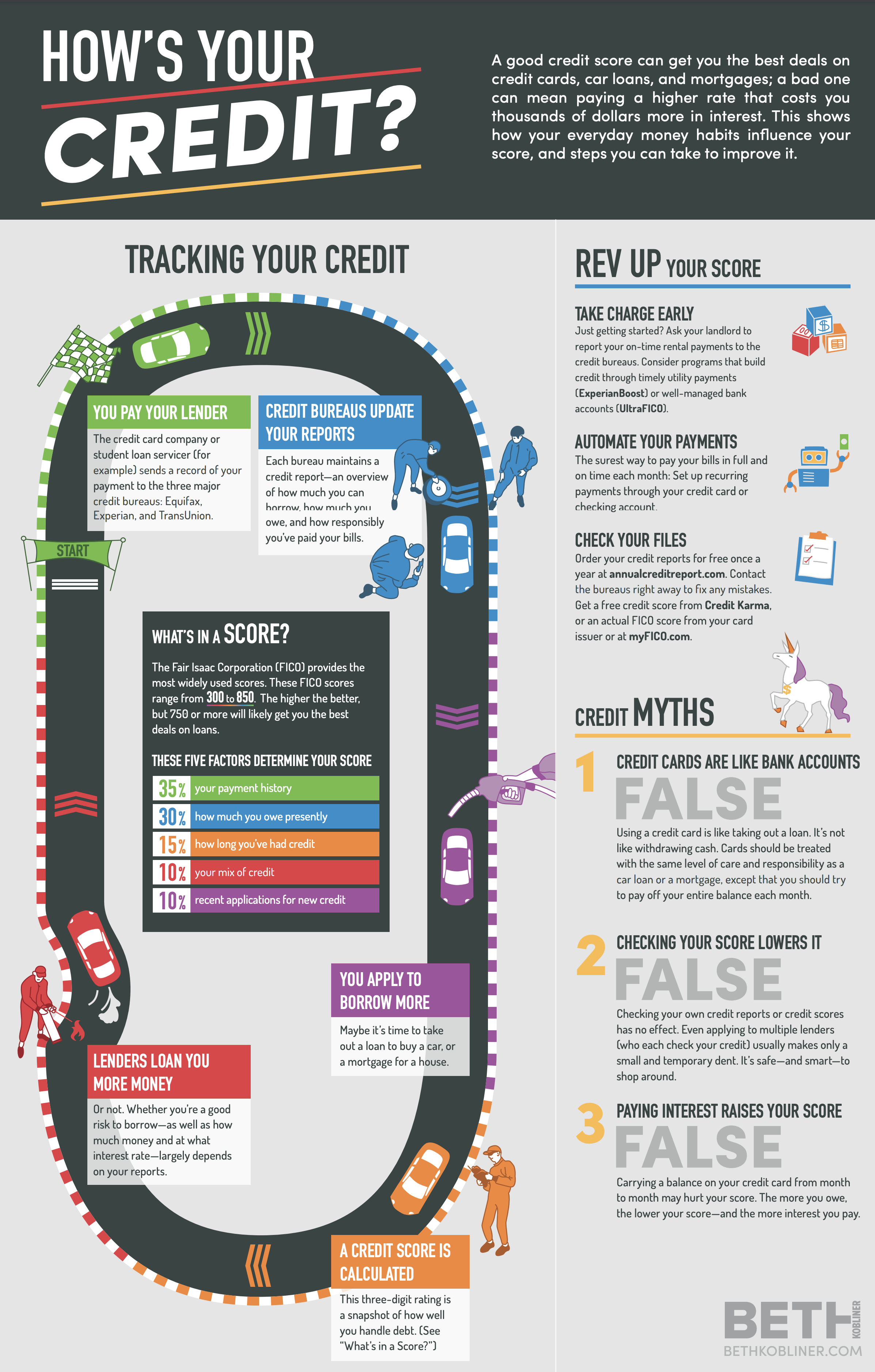 Many USA credit monitoring companies as well as sites like Credit Karma and Credit Sesame are aimed at protecting sensitive data of their clients as well as offering supplemental services. Knowing your current credit score and having relevant information and updates about your credit history is helpful and significant.
The best credit monitoring service with FICO scores might not be free but it may offer better fraud protection and general assistance. There are two types of credit monitoring services and credit sites like Credit Karma: the company that provides identity monitoring and the one that specializes in credit monitoring itself.
The first type of credit monitoring tools and Credit Karma similar apps is designed to send notifications about any fraudulent activity or suspicious things to the consumer's bank account. Such services help to avoid identity theft and protect your sensitive personal data.
How sites like Credit Karma work?
These websites offer free credit reports and credit rating information to the clients based on the information from three major credit reporting agencies – TransUnion, Experian, and Equifax. They don't cost anything and are easy to use.
Are Websites Like Credit Karma a Good Alternative?
There are many options to monitor your credit file and free credit report like Credit Karma these days. You can always check the credit monitoring service reviews online before you select a site like Credit Karma.
If you have ever experienced identity theft or any of your relatives has had one, you can be at risk. As a result, it's important to know what you can do in order to protect your private data and sensitive information.
Are you looking for the best credit monitoring website like Credit Karma? Consumer reports need to be protected from fraud regularly. Typically, identity thieves are looking for such personal data as user passwords, names, phone numbers, social security numbers, bank account, passport or driver's license details as well as insurance identification numbers.
That's a lot of data that needs to stay safe and secure. You have the right to compare free credit score sites like Credit Karma and select the most suitable option.
Should you opt for free solutions or is it worth paying instead? The answer depends on your personal situation. If you've never experienced identity theft or data breach before, it may be reasonable to try free credit sites like Credit Karma at first.
This will help you grasp the idea of such tools and understand how they work. You will also get notifications and helpful advice without having to pay for them.
On the other hand, if you are searching for identity theft protection and want to have better coverage, you should opt for paid services. This way you will have a guarantee that your private data remains secure.
Not only free credit score like Credit Karma but also identity theft alerts, credit report freeze, daily credit monitoring – all of this will be offered to you if you become a premium subscriber. The company will be accountable to notify you about any suspicious activity or changes in your credit reports and credit file.