Quality medical services are pretty expensive. Therefore, it is not surprising that people often have problems paying medical bills.
Fortunately, it is possible to apply to health care providers online and get the amount you need when faced with a lack of money for medical care. You just need to meet the requirements of the selected lender, submit an application online, and wait for a response.
As a rule, a medical loan can be issued for any purpose (medical consultations, surgical procedures, biomaterial tests, ultrasound diagnostics, sanatorium treatment, etc.). This does not require a doctor's note, a medical certificate, or a drug prescription.
Read about the best medical loan offers in 2023 and learn their main advantages and disadvantages in this article.
Best Medical Loans of 2023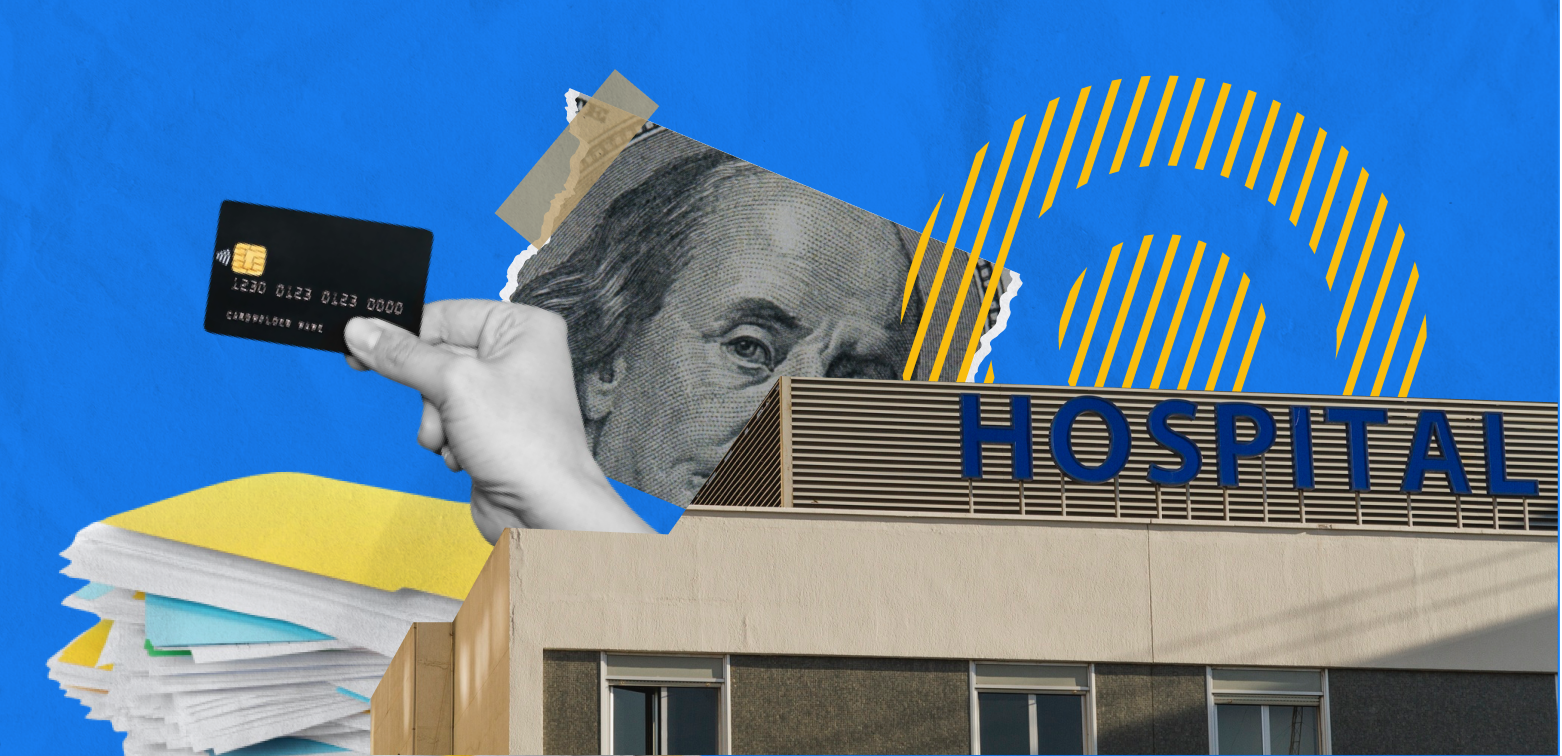 Multiple lenders offer $2500 loan in the modern lending market. But not all of them are trustworthy. Therefore, it is crucial to approach the choice of a creditor carefully and as responsibly as possible. You will easily find an online lender that meets your requirements by competently evaluating your initial knowledge and knowing which criteria are most important to you (interest rate, available loan amount and term, the possibility of extension, etc.).
We have selected the best medical loans with a promotional period and clear payment plans. Consider brief information about each and make the right choice already today.
Upgrade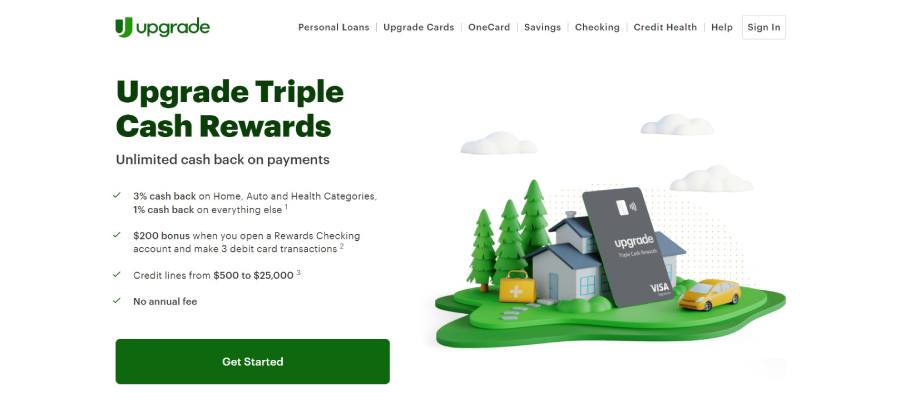 If you need to pay medical bills in a short time, feel free to contact Upgrade. Although it is not a direct lender, it has many reliable partner banks. If you meet all the established requirements, you will be able to borrow money on favorable loan terms.
Upgrade offers unsecured medical loans up to $50,000 for 24 to 84 months. Annual interest rates are 8.49%-35.99%. An origination fee of 1.85%-9.99% is usually charged. The minimum credit score is 580.
The Upgrade medical lender's main advantage is the large available personal loan amount. In addition, there is no prepayment penalty fee. Most medical loans applications are processed very quickly, and loan funds can be received the next day after approval. There is a mobile application that makes the debt management process easier and more convenient.
As for the Upgrade cons, we should mention the high annual interest rates compared to other health care providers. There is also an origination fee. The company cooperates only with those whose credit score is 580 and above.
So, Upgrade is a relatively reliable medical lender with favorable lending conditions. However, it may not be the best choice for people who need a medical loan of more than $50,000.
Upstart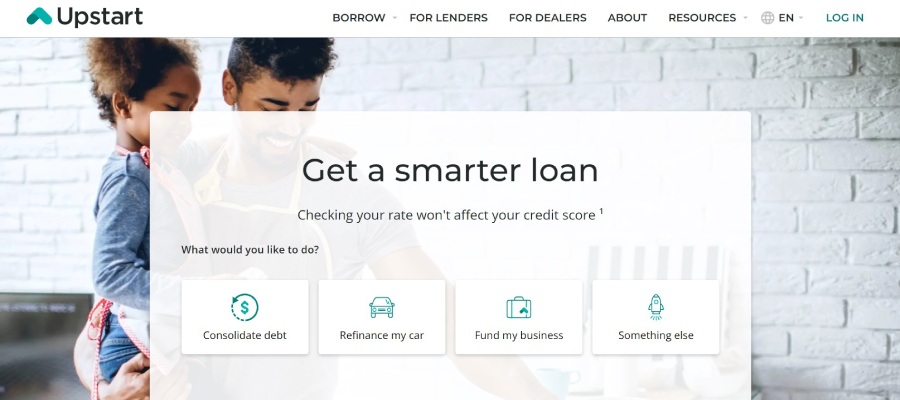 Another effective way to cover your finance medical expenses is to seek financial support from Upstart. According to its financial assistance programs, users with a credit score of 600 or more can receive from $1,000 to $50,000. APR varies between 6.7% and 35.99%. The rates are 1%-8% of the total personal loan amount. The loan terms are 3-5 years.
Upstart's main advantage is that it provides fast funding to the borrower's bank account. The user usually receives the necessary amount on the day of application. The company cooperates with those with an extensive credit history and those who apply for credit services online for the first time. The return of the medical debt is carried out by fixed monthly payments.
The disadvantages of Upstart are:
Availability of origination fee;
Lack of a mobile application for managing a medical loan;
No joint, co-signed, or secured personal medical loans.
Despite some shortcomings, Upstart is rightfully considered one of the best medical loans today and deserves your trust.
Best Egg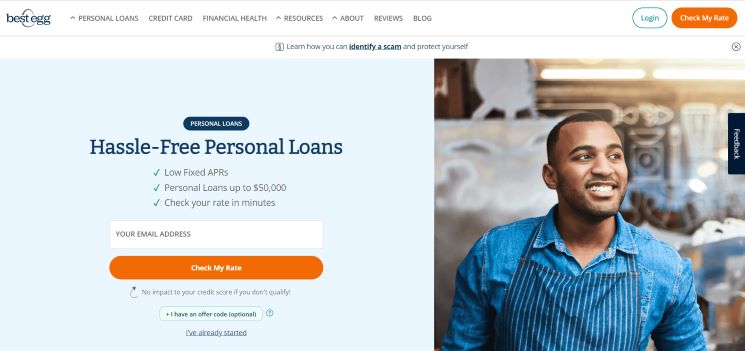 Best Egg is a popular online lending platform that offers secured and unsecured personal loans through Blue Ridge Bank and Cross River Bank. Available personal loan amounts directly depend on the minimum household income of the borrower and can range from $2,000 to $50,000. The medical purposes for which the user plans to spend the loan proceeds can differ, including a doctor's consultation, cosmetic surgery, medical treatment, etc.
As for the interest rate, it is 8.99%-35.99%. Repayment term: 36-60 months. Origination fee (0.99%-8.99%) and returned check fee ($15) are charged. The minimum credit score requirements: 600.
Here are the main advantages of Best Egg compared to other online medical lenders:
It is possible to get money to cover any medical expenses;
Prequalification available;
Long repayment terms;
Unsecured loans for debt consolidation.
The disadvantages are:
The available personal loans amount does not exceed $50,000;
Origination and returned check fees;
The required score of the borrower should not be lower than 600.
Best Egg is a reliable service that provides medical financial assistance without any prepayment fees. It can also be a great choice if you need to consolidate credit card debt.
Discover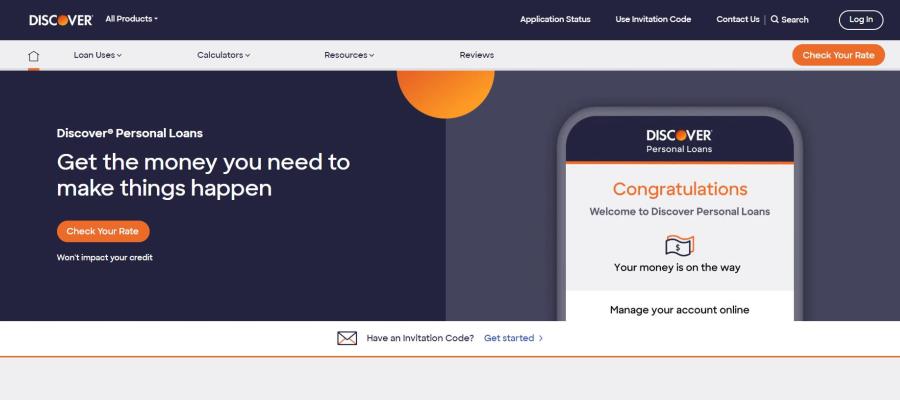 If you're looking for a direct lender, check out Discover. It manages the entire lending process: from processing customer applications to direct bank account deposits. The available loan amount is $2,500-$40,000. The annual percentage rate is low: 6.99%-24.99%. The repayment term is from 3 to 7 years. The minimum required credit score is 660. But this is not the only important requirement for borrowers. The minimum individual or household income must be $25,000.
The main advantage of Discover is that there are no origination fees, prepayment penalties, or closing medical costs. In addition, there is an option to pre-qualify with a soft credit check. The lender provides fast financing. The medical debt is usually repaid by making a regular monthly payment.
The disadvantage of this medical lender is that there is no joint or co-sign personal loans option. There is also no rate discount. The minimum required score is relatively high. Only those who have fair credit can receive money.
LendingPoint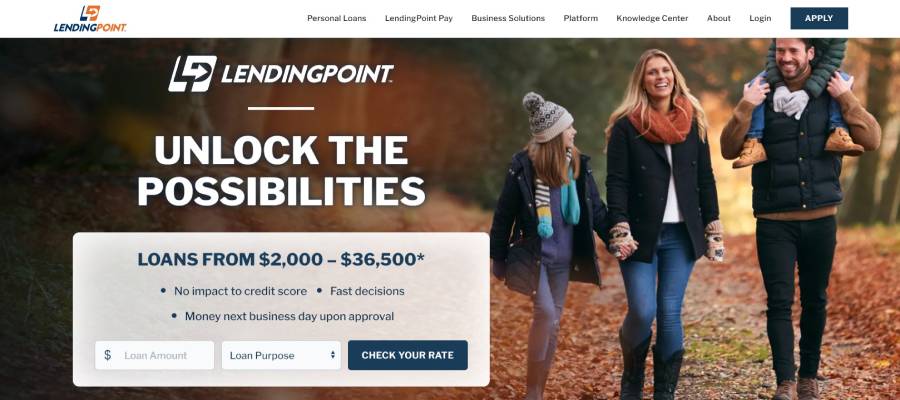 LendingPoint is a direct lender based in Atlanta. By contacting it, you can get a medical loan without any difficulty. However, the maximum available loan amount ($2,000-$36,500) depends on several factors, including credit history, credit score, debt-to-income ratio, etc. Money is issued only to persons over 18 with a credit score of 600 and enough funds to make monthly payments.
Annual interest rates range from 7.99% to 35.99%. The personal loans term is 24-72 months. Origination fees between 0% and 7% are usually charged.
The main advantages of LendingPoint:
Soft credit check to pre-qualify;
Clear payment plans;
Promotional period;
Fast approval of secured loan applicants with excellent credit;
Funding on the day of application approval;
Long repayment terms.
The disadvantages of LendingPoint:
Relatively high annual interest rates;
Origination fee;
Low maximum loan amount.
All of the above proves that LendingPoint is an excellent lender for people with fair credits requiring urgent medical expenses coverage.
LendingClub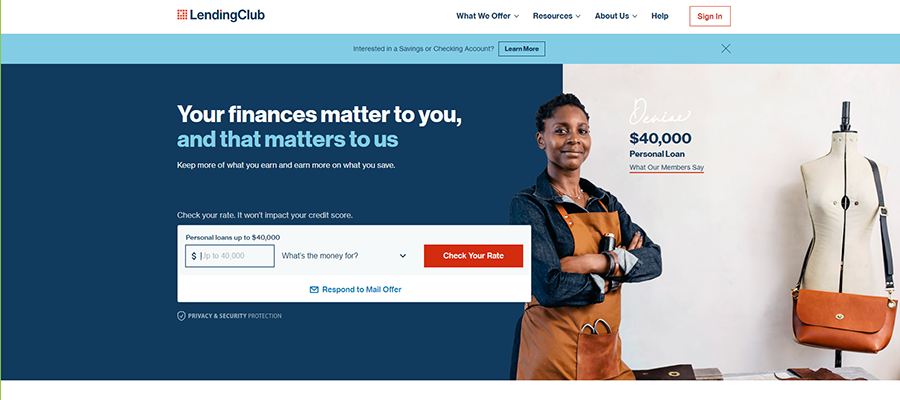 LendingClub is a trusted legal lender offering affordable healthcare financing online. Its medical loan amounts are up to $40,000. The interest rate reaches 36%. When obtaining personal loans, a one-time fee of 3-6% of the amount is charged. It directly depends on the credit rating of the borrower.
Only those with a credit score of 600 or above can receive financial support from LendingClub. Another important requirement of the lender is the age of the credit history from 3 years. The debt-to-income ratio must be less than 40% for individual applications. For joint applicants, it must be less than 35%. Medical debt must be paid in equal monthly payments from 24 to 60 months.
Compared to many other health care providers that offer medical loans online, the advantage of the company is that it has a joint personal loans option. Another significant benefit is that LendingClub provides fast direct payments to borrowers. Annual interest rates and fees are affordable. The cons of LendingClub include strict borrowing requirements, fairly detailed credit report verification, and an origination fee.
LightStream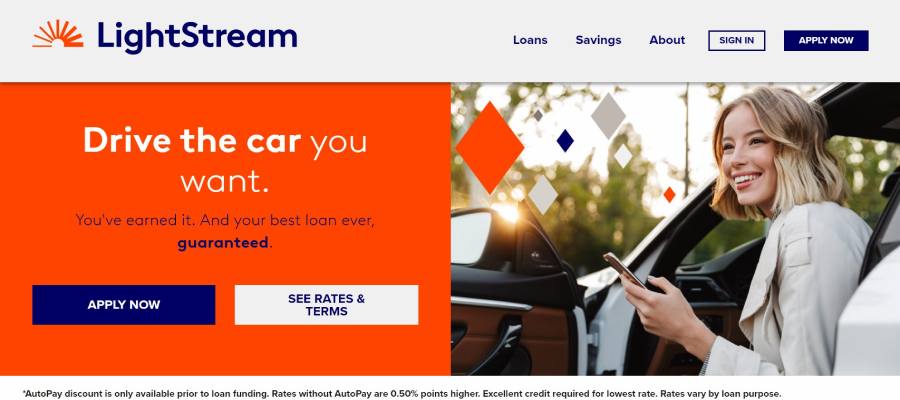 LightStream is a direct lender founded in 2012 and headquartered in San Diego, California. It offers various types of loans to its clients, including personal loans for home renovation, car purchases, utility bills, training, business development, etc. It is also possible to get a medical loan there.
Unlike the other medical providers described above, the medical loans amount offered by LightStream is much larger, ranging from $5,000-$100,000. The interest rate is low, around 24.99%. There are no origination, prepayment, or late fees. The repayment term varies from 24 months to 144 months. These are the main advantages of LightStream.
By lending large amounts of money at low interest rates, LightStream must be sure of the borrower's creditworthiness. Therefore, it conducts a strict credit check. This is its main drawback. The minimum credit score requirements: 660. That is, only people with good credit can become service customers. This is another shortcoming. The third disadvantage is that several years of credit history are required.
In general, LightStream can be a great choice for getting the best medical loans. It has large loan amounts and favorable interest rates. But only borrowers with an impeccable credit report can use the services.
SoFi Bank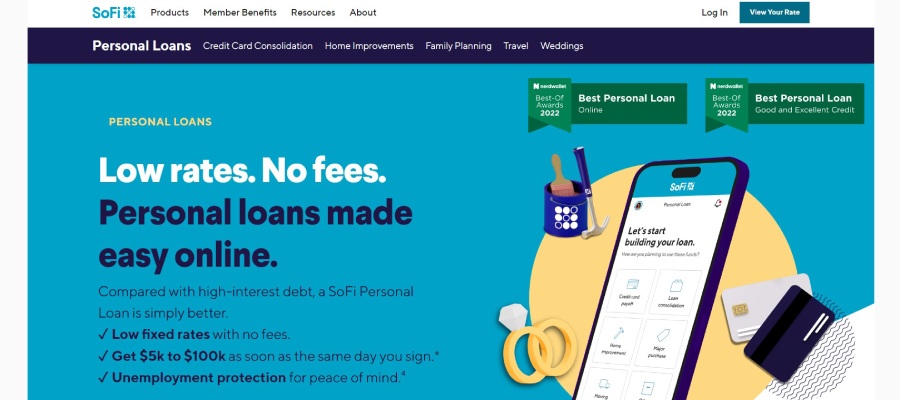 SoFi Bank is an online bank that, like LightStream, offers amounts from $5,000 to $100,000. It is a direct lender with fairly low interest rates (8.99%–23.43%) and flexible personal loans terms (24-84 months). It does not charge any fees from its customers and has no hidden commissions. These are its main pros.
Among the cons of SoFi Bank are strict requirements for borrowers. The minimum required credit score is 650. But applicants with such a rating do not always receive approval. The company pays attention to the credit history, carefully examines the credit report, considers the debt-to-income ratio, and only then makes a decision to approve or reject the request for a personal loan. Those with a credit score of 670-739 are more likely to be approved by SoFi Bank.
Thus, SoFi Bank can be a good choice if you need money to pay for medical expenses. It does not charge any fees and the interest rates are reasonable. However, SoFi Bank prefers to cooperate only with those with excellent credit. If you have bad credit, it is better to consolidate medical bills, make emergency room visits, get health insurance, join credit unions, apply for medical credit cards, or choose among other medical providers.
Get Online Help Paying Medical Bills
While you may experience a sudden health problem that needs to be treated straight away, getting a terrifying hospital bill may be even more overwhelming.
"Medical debt is connected with health insurance," states Kenneth Thorpe, the leader of the Department of Health Policy at Emory University, USA. "About 30 percent of patients between the ages of 27 and 45 are uninsured, so this is when medical debt starts to appear."
And those who are insured may have deductibles that don't cover all the payments and treatments. So they need financial help with medical bills.
Is there a perfect solution? Many people want to find out how to get help with medical bills while some of them decide to set the debt aside pretending it doesn't exist.
This is a common mistake and you definitely need to tackle every bill you receive so that it doesn't turn into a mountain of debt or gets assigned to the collection agency. If you need help paying medical bills applying for financial assistance may help. Keep on reading to find out several relevant strategies.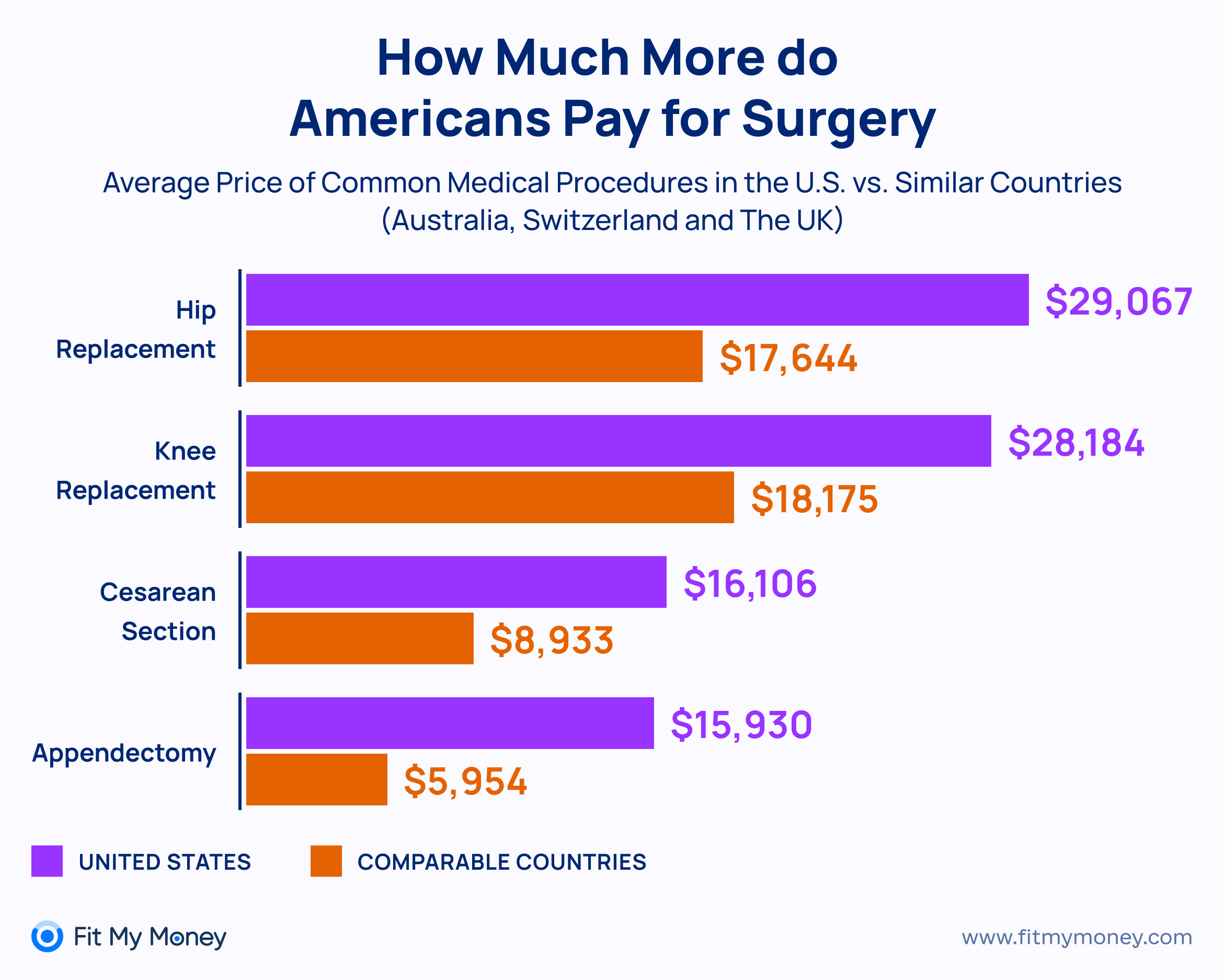 The recent Gallup poll and the West Health nonprofit organization claim that 45% of respondents are concerned that a major health event may lead them to bankruptcy as they aren't sure their personal funds will be enough to cover a medical emergency.
Moreover, $88 billion was borrowed by Americans to cover urgent medical costs last year.
Understand What Happens When Bills Go Unpaid
The first thing to do when you have medical bills is to realize what may happen if you don't pay them off. Setting the bills aside means you aren't prepared to cover them right away but you will face bigger sums in the future.
The worst scenario is when a hospital waits for your payment for some time and sells unpaid bills to collections agencies. You can't predict for sure how much time it will take until your bill goes to a collections agency as it depends on the location, hospital as well as health care provider.
Understanding your problem is the first step towards solving it. Negotiating the bill may also help paying it down as soon as possible and avoid bill collection. If you can't afford to pay for treatments at once, your debt gets to the collections bureau, and your life will change for the worse.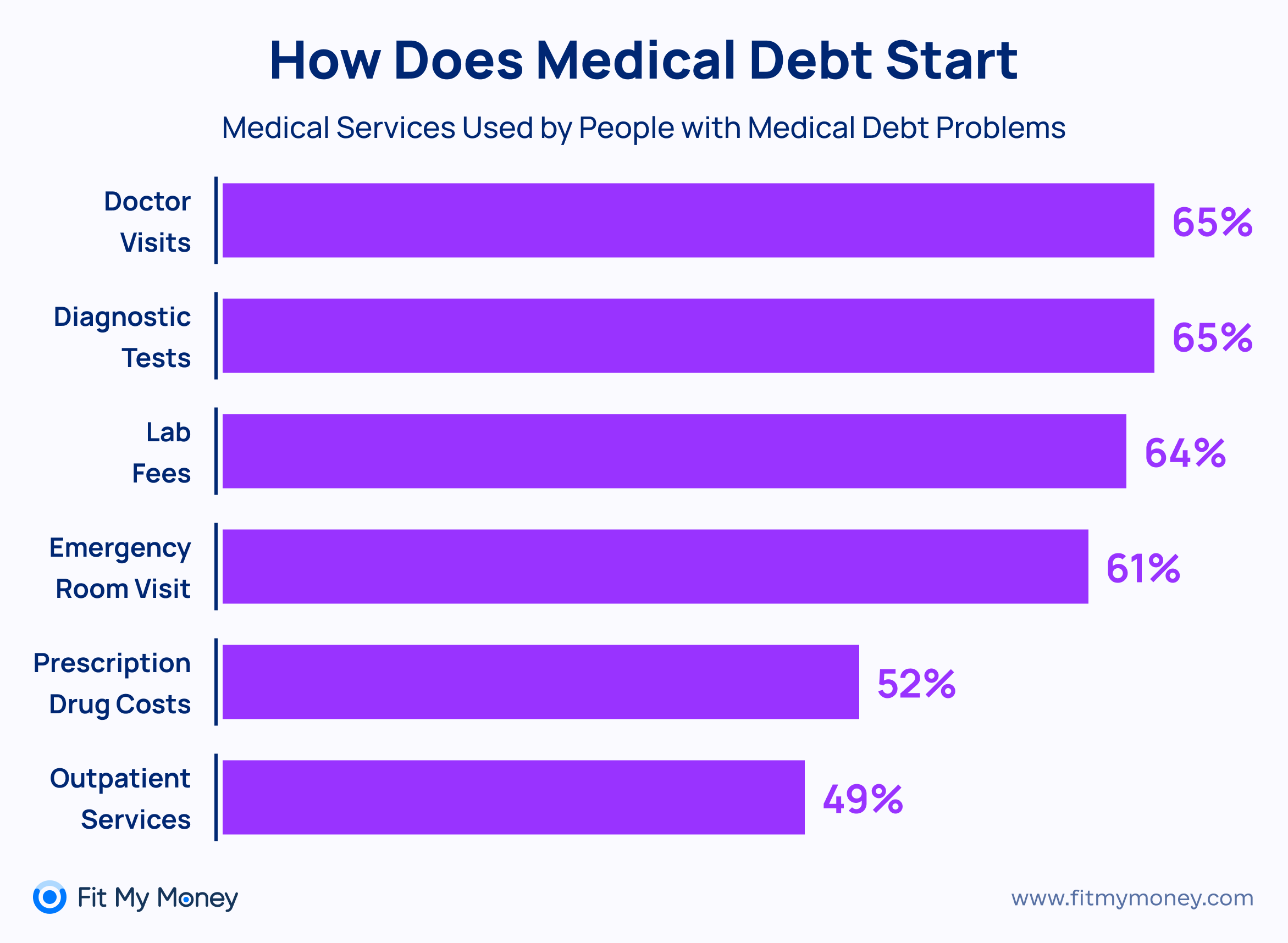 You may receive frequent calls, text messages, and emails with requests to pay down your debt. More than that, this action will seriously affect your credit rating and the future ability to take out lending options. So, it's better not to ignore the bills you already have.
Of course, you should know your rights even if you face collection. The collectors can't lie to consumers, harass them, arrest or threaten them. Also, it's forbidden to call the patients at night. You should check if the debt is really yours and there are no medical billing problems.
We will talk more about how to get help paying this debt. If you need financial assistance for paying down such debt try to negotiate it even with a collections service.
How To Choose Best Medical Loans
After reading the loan terms and conditions of today's best online lenders, you may find it difficult to make a final decision. How to choose the best medical loans and not make a mistake? Which company is the most trustworthy?
If you have excellent credit, then you can choose from a variety of medical providers. If you have poor or fair credit, then you should not worry either. You can still find a good company for mutually beneficial cooperation. The main thing is to pay attention to several important criteria:
Annual Percentage Rate (APR). Annual interest is the amount that will have to be paid for such a period of using personal loans money. A medical loan with an APR of 7.99%-29.99% is considered reasonable today;
Fees. Some creditors charge an origination fee, prepayment fee, returned check fee, late fee, etc., while others require only an origination fee or no fee at all. This must be taken into account so that, in the end, you do not overpay significantly for covering your medical costs;
Loan amounts. Available personal loan amounts also vary. You can get $20,000, $50,000, or $100,000. Choose a company ready to give you the amount you need;
Best personal loan term. The loan terms may be different. You need to assess your ability to make monthly payments and determine the best period for you. It can be 1 year, 3 years, 7 years, etc.
Comparing medical loans will help you make the right choice!
What Is A Medical Loan?
Medical expenses are quite expensive today. This is especially true for diagnostics, medical treatment, complex surgeries, or lengthy rehabilitation. Not everyone can pay medical bills. A medical loan helps to solve this problem and covers all necessary medical expenses.
How Medical Loans Work
Medical loans work very simply. Everything is about the same as with any other type of personal loans. You find a legitimate, trustworthy lender and study the lending conditions. If you are satisfied with the available loan amount, interest rates, fees, and personal loan terms, apply for a medical loan.
The personal loans lender examines your credit report, credit score, and the possibility of making monthly payments. Also important are age (at least 18 years old), a bank account, and a permanent source of income. Based on this, the medical provider makes a decision. If approved, the required amount is transferred to your credit card.
Medical Loans For Bad Credit
Most lenders prefer to partner with those who have excellent credit score. In such cases, they are confident in the creditworthiness of borrowers and are ready to provide them with favorable APRs. But not everyone has excellent scores. What about those with bad credit? Can they get personal finance support from a medical provider? Yes, it is possible to get medical loans for bad credit.
There are online lenders willing to lend to those with poor credit. But the available loan amounts, in this case, are low ($500 – $5,000). Interest rates may be too high. But if you need money urgently, you can still take advantage of this opportunity and cover your medical expense. Sticking to your payment plan and paying off your medical debt on time will allow you to improve your credit score.
When Do I Need Medical Financing?
You can contact lenders online when your personal finance isn't enough to pay for your medical procedure. They do not specify for what purposes you will spend the borrowed funds. These are usually the following medical expenses:
Consultation of a medical specialist;
Ultrasonic examination;
MRI, CT, x-ray examination;
Biomaterial testing;
Dental treatment;
Cosmetic surgery;
Surgical treatment;
Rehabilitation, etc.
Therefore, medical financing can be a good solution in many situations and allow you to cover all the medical expenses quickly and hassle-free.
How To Get A Medical Loan
To receive a medical loan online, you need to go through 5 simple steps:
Determine the purpose for which the loan is needed;
Using the form provided by the lender, fill out an application for a medical loan and submit it for consideration. As a rule, it takes no more than 5-10 minutes;
Wait for the application to be considered. This process takes from several minutes to 1 day;
Get a result. As soon as the medical provider decides to approve or reject a medical loan, it will immediately inform you about this;
Receive your money. After the application is approved and the loan agreement is signed, the money will be credited to your credit card.
As you can see, getting online financial support to pay for medical services is not difficult. You just need to take a few steps to receive money for medical treatment.
Pros And Cons Of Medical Loans
Medical loans have some pros and cons. To find out more, check the table below.
| | |
| --- | --- |
| Pros Of Medical Loans | Cons Of Medical Loans |
| Availability. This is one of the most important medical loans pros. You can borrow money to cover your medical bills without leaving home. It is just necessary to fill out an application online. | APR. Interest rates on medical loans are quite high. |
| Loan amounts. There is an opportunity to receive large loan amounts with minimum documents. | Fees. Many health care providers charge different kinds of fees (origination fees, prepayment fees, returned check fees, late fees, etc.) and deferred interest. |
| Fast funding. The decision on a loan is made quickly, and money is often issued on the day of approval. | Monthly payments. Having received a medical loan, you need to follow your payment plan and make fixed monthly payments until the debt is fully repaid. Otherwise, there is a risk of fines. |
| Bad credit. Even people with bad credit scores can get the best medical loans online. | |
Alternatives To Medical Loans
There are several alternatives to medical loans that you should consider.
Financial Assistance Programs
If the best medical loans are not suitable for you for any reason, consider using financial assistance programs. These are federal and state loans, grants, loan guarantees, and equity investments that can bring you benefits.
Credit Cards
A credit card is a payment instrument that allows you to pay for purchases in online and offline stores, utilities, communications, or vacations. It is also a good alternative to medical loans. Medical credit card can help you pay your medical bills.
Crowdfunding
Crowdfunding is the collection of money for various projects using special investment platforms on the Internet. These online marketplaces connect investors and those who need funding. Individual entrepreneurs or companies can raise funds through investment platforms. Ordinary people can also make investments.