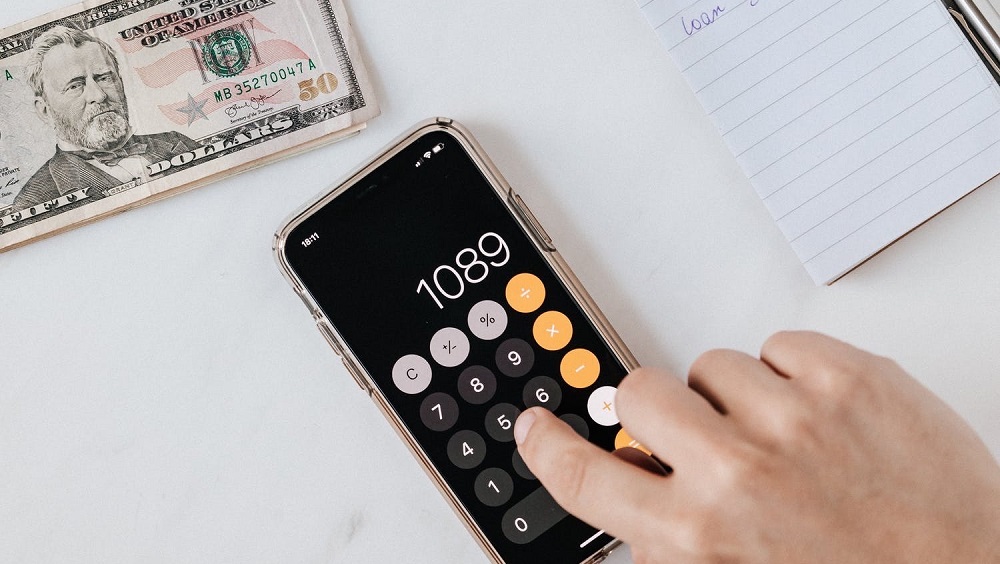 Are there apps that loan you money instantly? Do you want to fulfill the immediate cash need to cover expenses straight away? Even savvy consumers who tend to have some savings in their accounts can face urgent disruptions from time to time.
The best cash advance apps serve as useful alternatives to online creditors for the times when you want to get money fast.
No matter which cash advance provider you opt for, you should first do some research and think twice before you make your choice.
Apps like Dave are suitable for borrowers who need money instantly and are looking for the best ways to improve their money potential.
Cash Advance Apps
If you can't make ends meet and need some helping hand until the next payday, you need to think about the most suitable and affordable lending options.
Mobile applications are known as "cash advance applications" that let users borrow modest sums of money quickly and easily, usually without the need for a conventional credit check or a drawn-out application procedure. These applications are intended to provide users easy access to money when they need it most, such as to cover unforeseen costs or bridge the time between paychecks.
In order to assist users in better managing their money, several cash advance applications also include supplemental features like savings accounts, budgeting tools, and other financial management services. These applications may be useful financial tools for those who want quick cash, but it's crucial to use them wisely to prevent being trapped in a paycheck to paycheck cycle.
What Are Cash Advance Apps
Cash Advance applications, sometimes referred to as Payday (or Paycheck) Advance Apps, allow users to get funds they have earned but haven't received yet via direct deposits. For instance, a few days before your paycheck, you may utilize the cash advance app to borrow $100. The money will then be taken immediately out of your paycheck when it is received a few days later by the app.
Cash advance applications might be an excellent substitute for payday loans. You may acquire a tiny payday advance using these lending applications for expenses like bills, auto payments, or other things that can't wait until your next paycheck.
However, most cash advance apps don't charge interest rates, unlike payday lenders. As an alternative, they ask that you leave a "tip," and some of them even impose modest monthly membership fees.
Payday advances are not traditional personal loans. Because your company hasn't yet transferred the profits to your bank account, you are still using your own earned money.
The majority of cash advance apps don't charge interest since you are paying for them with your own money. However, some of them normally charge monthly membership fees ranging from $1 to $10.
Best Cash Advance Apps in 2023
In this article, we have selected the best cash advance apps for you. Here you will definitely find a provider of personal loans that is right for you. In addition to the cash advance, most loan apps offer many more features and ridiculously low fees for using the applications. So, let's jump right into the best cash advance apps.
#1
#1 PaydaySay App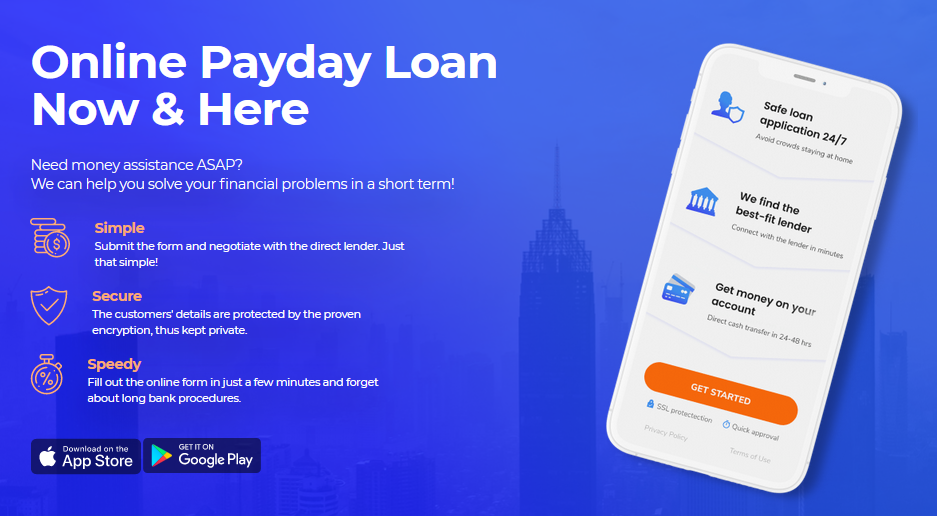 With the help of the cash advance app PayDaySay, borrowers who want immediate access to money may get short-term loans. The key selling feature of the app is its capacity to provide quick cash loans to users with poor credit or no credit history. Borrowers may apply for funding on the site, and they can get their money 24 hours after doing so.
Customers must be at least 18 years old, have a working checking account, and have a reliable source of income in order to utilize PayDaySay. The app has no minimum credit score requirement, so individuals with bankruptcy or missing payment histories may still be accepted.
Each affordable loan from PayDaySay has a set cost, which fluctuates according to the loan amount and the borrower's creditworthiness. The app's APR runs from 399% to 699%, and customers may borrow up to $500 based on their present financial objectives. While consumers may ask for an extension if they need extra time to repay the loan, the standard payback timeframe is two weeks.
PayDaySay has a special characteristic in that it doesn't demand a hard credit check, which means that it won't impact the borrower's credit score. The app also has a referral program wherein users may get up to $50 for each new client they suggest.
PayDaySay is a practical paycheck advance app for borrowers who want immediate access to money, to sum up. The app is a desirable choice for those with bad credit or no credit history due to its simplicity of use and adaptable criteria.
PaydaySay is a cash advance app that can help you get a small loan until payday fees. The tool provides you with a simple and safe application form that lets you access a wide database of payday lenders thus improving your chances of qualifying for a cash advance even with a poor credit score.
Borrowing money with Payday Say app is quick and easy. It can be your fast guide to solving your short term financial difficulties and borrowing extra money.
Anyway, you should always remember that even a small cash loan is a debt that must be repaid on time to stay financially healthy.
Also, it is important to understand that PaydaySay is not a bank account and not a direct lender. It works as an assistant between the customers and the direct payday lenders that review loan requests, set eligibility requirements, and approve applications. Thus, you submit the online loan request form in the advance app and get connected with one of the lenders from the network.
#1
Payday Say App Advantages:
Simple application form.

Th

is cash advance app

offers a quick and easy web request form with the only requirement to fill in the borrower's personal, employment, and financial data.

A

credit score is not very important.

Quick money.

Every borrower has a chance to obtain between $100 and $1000 within

1-2

business day

s

. There are no long procedures or tedious queues.

It doesn't conduct a credit check and sends cash instantly.

Secure solution.

T

he p

ersonal and banking details of the clients are protected by proven encryption and are never disclosed to third parties.
Payday Say App Disadvantages:
It's not a direct lender.

You can't be issued any

direct deposits

from this

cash advance

app or the company website.

This is a loan-connecting platform where every creditor offers various terms and interest rates.
The key concept of this cash advance app is to offer extra little extra cash to consumers who can't make ends meet and require immediate financial assistance until the next paycheck.
There is an option to take out payday loans through this loan app, but they can't be obtained for a longer pay period. Thus, only near-term monetary disruptions may be easily solved with the help of this app. It's suitable for getting more cash for a pay period of two or three weeks.
Keep in mind that Payday Say payday advance app doesn't set a single interest rate or APR. The app cooperates with a huge database of direct payday lenders who have the right to set their own rates and loan conditions.
It's required to review the payday loan agreement in detail before you decide to sign it. The cash app doesn't make any lending decisions and can't affect the creditor's rates or terms. Remember that unfair payday lenders may charge hidden fees from your bank account.
#2 Dave App

Dave is a cash advance application aimed at helping users in managing their money in between paychecks, borrow money, and avoid overdraft fees. Due to its no-interest advance cash function and affordable costs, the app—which can be downloaded on both iOS and Android devices—has grown in popularity.
Users must have a functioning bank account, and present evidence of income in order to use the program. Users of the program have access to financial advances of up to $500, which they may repay on their next paycheck. The user's associated bank account will be immediately debited for the repayment.
No-interest cash advances, overdraft warnings, and budgeting tools to get out from the paycheck to paycheck cycle are some of the main features of the app. Dave also provides a service called Side Hustle that links customers with temporary employment possibilities so they may supplement their income. You can also create a Dave spending account.
A $1 monthly subscription fee that gives access to cash advances and other amenities is one of the costs connected with Dave. There are optional costs of $15 for bank transfers and $4.99 for quick processing of cash advances. Also, users have the option to voluntarily tip the service.
As the loans are paid back on the borrower's next payday, Dave's extra money advance service's Annual Percentage Rate (APR) is not relevant. Users should be informed that if they do not have enough money to pay back the advance, they may incur overdraft fees from their bank.
Dave is an easy-to-use borrow money app that provides minimal costs and practical tools to aid customers in managing their money in between paychecks. In addition, the app provides a "Dave spending account," which is a checking account with no overdraft fees or low-balance fees.
This is a modern cash advance app that is connected to the user's bank account. To use this platform, you need a stable income and a valid bank account. These are the basic eligibility requirements for people who need instant cash advances.
Also, there is no credit check, as Dave doesn't require the payment or credit history of the consumer. It may be a lifesaver for those whose credit rating is less-than-stellar. Although, you won't have a chance to boost or repair the credit if you wish to.
Budgeting in-built tools are among the greatest benefits of cash advance apps with no credit check. Thus, people can save more by analyzing their money transactions and managing every category of their expenses. The company site claims that they help each client to save money (up to $500 per year).
Dave App Advantages:
No credit check.

While many similar cash advance

apps

and financial providers only claim to offer such services, this

platform

really doesn't perform any credit pulls. Hence, it's suitable for every borrower

who needs instant cash

.

Accept any credit score.

If you have some issues with your credit rating, applying to the Dave cash advance app may help you avoid problems and get access to cash even with a less-than-stellar credit score.

No interest rates.

Yes, you've got it right. You can get an interest-free advance. However, if you want to support this cash app, you can send tips.
Dave App Disadvantages:
You can't get credit builder loans.

Although there are no credit inquiries and nobody asks about your credit

score

, you won't have a chance to improve it even if you want to. It works so because this

cash advance app doesn't report to major credit bureaus

.

Borrowers will need to wait a few days to get cash.

It may be rather frustrating, especially when you have a temporary emergency and can't wait to cover your needs.

Extra fee.

Those who want to obtain the

paycheck advances

within the same business day must pay $4.99.

A small amount of cash.

Keep in mind that you will only be allowed to withdraw up to $100 for your need

s. S

o if you require a larger sum, you may need to opt for

a payday loan alternative

.
How does it work? There are two speeds to get the needed money.
The standard speed means the cash can be acquired within a few days, while there is an option to get your money within a few hours, provided that you pay a fee of $4.99.
There are already thousands of positive reviews as this cash advance app isn't fee-free. You don't pay the interest rates or any hidden fees, but you might pay an optional tip if you want to support the platform and increase your available minimum monthly direct deposits. The membership for the whole month costs just $1. On the downside, Dave allows taking up to $100, which might not be enough for certain expenditures.
There is a $1 month subscription fee for every consumer who wants to utilize the Dave payday advance app. It's necessary to connect your credit or debit card via Payment Method in order to start using it. Each month $1 will be charged from your card, allowing you to use the app and its services.
If you don't have enough cash on your bank account, you will be notified about it via SMS message or through the Mobile App. If you decide to open a Dave Bank Account, you will be able to increase your ability to withdraw money so that you can borrow up to $200.
#3 Earnin App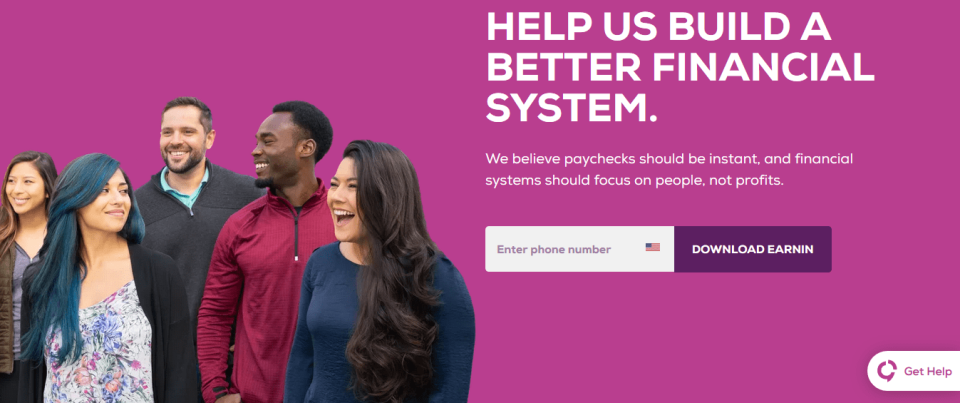 With the help of the cash advance app Earnin, customers may access their earned money before their next paycheck. The app is renowned for its minimal costs and earning-based borrowing strategy and is accessible on both iOS and Android smartphones.
Users using the app must have a bank account and a consistent source of income. The software records the user's working hours and connects to their bank account to calculate their earnings. Customers may then obtain cash advances of up to $500 every pay period, which are immediately reimbursed when the user's salary is remitted.
Low costs, interest-free cash advances, and earning-based borrowing are some of Earnin's standout features. Also, the app provides financial features including tip calculators, budgeting tools, and balance notifications.
Users have the option to tip as part of the Earnin express fee in order to cover service costs. The cash loans themselves are free of interest and fees, but customers may pay a "Lightning Speed" fee to get their money more quickly.
As the loans are paid back on the user's next payday, the Annual Percentage Rate (APR) for Earnin's advance cash service is not relevant. Users should be informed that if they do not have enough money to pay back the advance, they may incur an overdraft fee from their bank.
In speaking, Earnin is an easy-to-use borrow money app that provides cheap fees and earning-based loans to assist customers to manage their money in between paychecks.
Do you want one more alternative when it comes to getting extra cash? Let's compare other cash advance apps with no credit check. Earnin is designed to solve your urgent money needs. Although, this cash advance app works best for full-time workers. It allows employees who meet eligibility requirements to receive the cash they have already earned. That being said, Earnin lets people get the funds until the next paycheck.
All payday loan apps have similar as well as distinctive features. Unlike Dave, Earnin offers a chance to receive a paycheck in advance in case you need to cover urgent costs or make big-ticket purchases and can't wait until the next payday. In other words, you get the money you've earned so far but haven't been given by your employer.
Earnin App Advantages:
No interest rates.

It's an

interest-fee-free

option for consumers who want to pay nothing more than the amount of cash they've borrowed. This advance app doesn't have any hidden charges

or overdraft fees

as well.

Money advance.

The main app's cash advance function is to issue the cash a person has earned so far but hasn't been given by a recruiter yet. This is suitable only for full-time employees.

Automatic withdrawal.

The

cash

will be issued and taken directly from your bank account on the next

paycheck,

provided that you have a steady source of income.
Earnin App Disadvantages:
Not suitable for the unemployed.

If you don't have stable employment or a full-time position, you won't be able to qualify

for Earnin payday loan

.

A small amount of cash.

Getting $50 or $100 may not be enough in many cases, especially when you have an emergency. In such a situation, it is better to look for alternative personal loan options.
Earnin doesn't charge any interest rates and monthly fees. It means that there are no membership charges which makes this cash advance app very attractive among users. Consumers are just asked to leave a "tip" which is optional.
What are your options? You may use this tool for free and take out the minimum amount of cash at a time.
Otherwise, you can increase your cash advance limits up to $500 if you use this platform for several months, often leave tips, and have a positive bank balance.
Such loan apps have some drawbacks, though. Since it is not a bank, this cash advance app doesn't have customer support so you won't be able to get a consultation or discuss your options.
Also, the amount of funds directly deposited to your external account in the form of cash advance is small. At the same time, it is an interest-free advance without hidden rules and overdraft fees.
The application is quick and easy at the Earnin payday advance app. Once you fill in the amount of money you need, you will be issued the cash advance funds on your checking account within 1-2 business days.
There is an option to obtain a cash advance and return the cash automatically on your next paycheck. Once you begin using this payday advance app, you may qualify for $50 or $100 maximum. Your cash advance limits will increase up to $500 a day after several months.
#4 Brigit App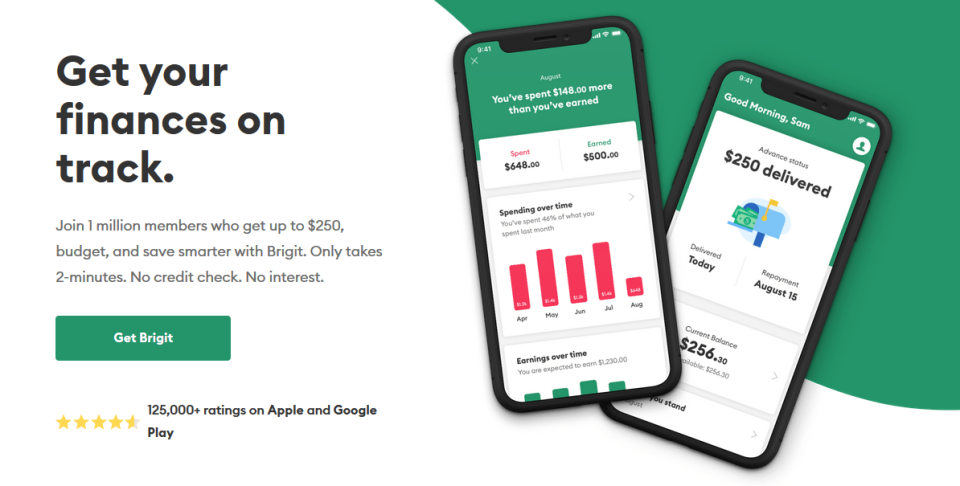 With the goal of assisting users in managing their money, the payday loan app Brigit provides same-day small dollar loans as well as budgeting instruments. The app, which is renowned for its quick loan approval procedure and affordable rates, is accessible on both iOS and Android devices.
Users need to have a bank account with a stable income and a positive balance in order to utilize the program. To provide individualized budgeting advice like a real financial advisor, the app connects to the user's bank account and tracks their good or bad spending habits and income. Moreover, users have access to cash advances of up to $250 every pay period, which are immediately reimbursed when the user's salary is processed.
Same-day small dollar loans, cheap costs, overdraft fee protection, and money management tools are some of Brigit's standout features. The software also provides money management options including automated savings to your cash cushion, bill tracking, and balance alerts.
The costs associated with Brigit include a $9.99 monthly membership fee, which provides access to options like same-day loans. Also, users have the option to voluntarily tip the service. The cash advances themselves are not subject to interest or fees.
Since the loans are paid back on the borrower's next payday, the Annual Percentage Rate (APR) for Brigit's cash advance service is not applicable. Users should be informed that if they do not have enough money to pay back the advance, they may incur overdraft fees from their bank.
Brigit is an easy-to-use money app that provides same-day loans and budgeting instruments to assist customers in managing their money in between paychecks.
Of course, you have more than one choice if you need to borrow money. If the cash advance apps above aren't suitable for you for some reason, go ahead and review the Brigit cash app.
Brigit is a popular online tool that lets people get extra cash to stay financially afloat until the next paycheck.
Brigit connects to the checking account of the consumer and tracks spending. When a person is going to experience overdraft fees, the cash advance app will send special notifications.
While other cash advance apps similar to Dave and Earnin don't have any customer support whatsoever, Brigit offers email support. Consumers can discuss their issues with managers via email. Bear in mind that you might receive an answer within two business days, which may be too long if you need access to cash instantly.
Brigit App Advantages:
Special notifications.

One of the biggest benefits of this

cash advance

app is the ability to receive notifications each time you are going to experience an overdraft

fee

(you have real overdraft protection). This way the app helps to keep track of your spending.

Customer support.

Only this app has email customer support. On the other hand, the managers usually answer within two business days which might be too long.

Due date extension.

This is another advantage of the Brigit

cash advance ap

p. Borrowers have a chance to extend the

pay period

two or three times if necessary.
Brigit App Disadvantages:
Slow money deposit.

You

will have to wait for about three business days to obtain the

cash you need

. It may be too slo

w for emergencies that require money instantly

.

Monthly fee.

You need to pay $9.99 each month for the membership if you want to utilize this

cash advance

app. It works even if you don't withdraw the funds each month.
Payday cash advance apps don't extend the pay period, while the Brigit app allows you to do it up to three times in case the borrowers have any problems with covering debts from the next paycheck.
Another advantage of the Brigit cash advance platform is that it reviews your bank account balance and notifies you when it is almost zero so that you don't pay overdraft fees. In such a way, to avoid an overdraft fee, you need to have a positive bank balance.
The downside here is that consumers have to pay a monthly charge of $9.99 for membership even if they don't take cash advance direct deposits monthly.
Also, the turnaround time is up to three days, so it may take some time until you can use cash. If your cash need is immediate, this might not be the best cash app with direct deposits.
Generally, clients may request cash advances up to $250 for various purposes through this cash advance app. The money may be utilized to cover any immediate costs. Moreover, there are special bill alerts offered by this cash advance app. This way, consumers receive balance and bill alerts to get reminded about the upcoming pay period so that they can act quickly and avoid late and overdraft fees. The application process is quick and transparent, as there are no hidden charges from your bank account.
#5 MoneyLion App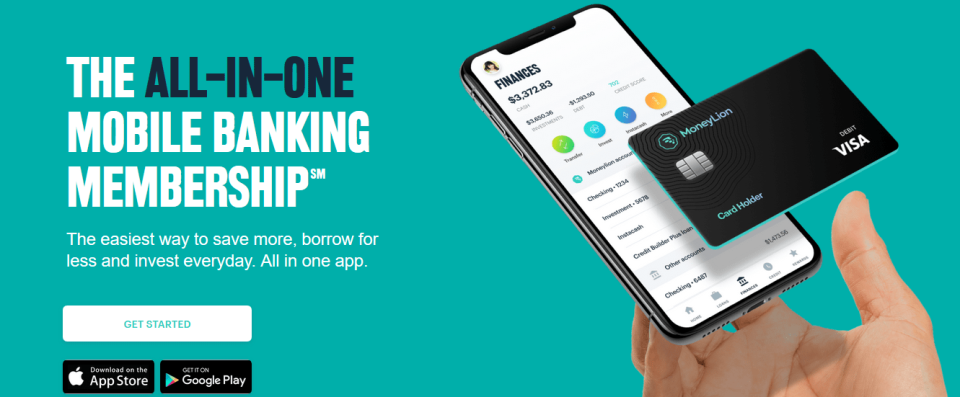 MoneyLion is a comprehensive mobile banking app that provides an innovative and cost-effective way to manage your finances. MoneyLion makes it simple to stay on top of your finances and get ahead financially with a variety of features such as access to interest-free cash advances up to $250, a rewards program, and a virtual Mastercard debit card.
You must have a valid Social Security number, be at least 18 years old, and have a checking account with a positive balance to be eligible for MoneyLion. After passing MoneyLion's identity verification process, you can access the app's financial services and begin using its many features.
One of MoneyLion's most popular features is its cash advance service. Users can borrow up to $250 interest-free, with no fees or charge interest rates applied. In addition, the app provides money management tools, credit monitoring, and personalized financial advice like a financial advisor to assist you in better managing your finances.
MoneyLion's cash advance and other features are available for a $1 monthly subscription fee. While there is no APR for the money advance service because it is repaid on your next payday, it is important to consider potential overdraft fees from your bank if you are unable to repay the advance.
Overall, MoneyLion is an excellent choice for people looking for a low-cost and simple way to manage their finances. MoneyLion can help you get ahead financially and achieve your financial goals with its unique features such as interest-free cash advances and a rewards program.
MoneyLion is also among the best cash advance apps. Just like Brigit, it has two kinds of membership – core and plus.
Core membership doesn't cost anything. It offers many services, including a free Moneylion checking account, various rewards, as well as extra options for consumers.
Plus membership costs $28 per month. It includes all the above-mentioned benefits and also offers special loans with a 5.99% APR designed. It allows borrowers to build a credit history.
MoneyLion App Advantages:
No credit check.

You don't need to have an excellent credit score to

get access to cash you need

. MoneyLion will support you anyway.

Accept any credit score.

Even if you get several r

ejections

, you can try to apply here. This

cash advance

app accepts any credit rating.

No interest rates.

You can

get fee-free access to cash advance funds

.
MoneyLion App Disadvantages:
Plus membership costs $28 a month.

It has extra features, but not many consumers will be eager to pay such money for having a Moneylion checking account on a monthly basis, even when they don't need to borrow money.

You can't improve your credit.

If you have

a

core membership, you may only obtain a small cash advance without the ability to

take credit builder loans

.

This cash advance a

pp can't be used in Nevada, Iowa, Nebraska, Montana, Indiana, and Vermont.

You can withdraw up to 10%

of the amount on your direct deposit.
MoneyLion provides instant cash deposits that will be delivered to your checking account the same business day. There are no hidden charges, late or overdraft fees.
Moreover, the platform doesn't require a credit check, so consumers with poor credit ratings can also apply for cash advances.
The downside is that you are allowed to take out up to 10% of the amount on your direct deposit. Also, this platform doesn't work in Iowa, Nebraska, Indiana, Montana, Vermont, or Nevada.
Payday advance apps allow obtaining advances up to 250 for various purposes.
Consumers may request advances up to $250 for various purposes through this cash advance app. It offers two types of memberships that may be suitable for various clients. If you want to have additional features and special loans with an APR of 5.99%, you should have plus membership. The monthly fee is $28.
We've reviewed five of the most popular small loan apps to borrow money until the pay period. They are considered to be the best cash advance apps, and each comes with its benefits and drawbacks. Instant loan apps similar to Earnin can be a good solution for people who want to take traditional payday loans, avoid lending institutions, and just need to get money fast until the next payday.
Remember that you take full responsibility for borrowing money whether you use loan apps like MoneyLion, Dave, Earnin, or Brigit.
Chime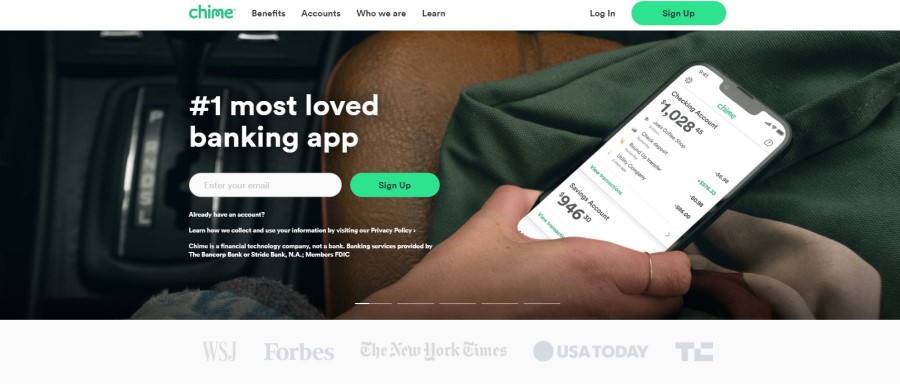 A variety of financial services, such as overdraft protection and automatic savings to your cash cushion, are available through the mobile banking app Chime to assist users in managing their money. The app is well known for its low cost and user-friendly features and is compatible with both iOS and Android devices.
Users must be at least 18 years old and in possession of a valid Social Security number in order to be eligible for Chime. To use the app's financial services, users must also successfully complete Chime's identity verification process and have a Chime Spending Account with a positive balance.
Overdraft protection, automatic savings, and a debit card with no fees are some of Chime's standout features which will help you not only stop taking loans, but also create an emergency fund.. Chime offers overdraft protection, which makes it a great choice for people who frequently experience overdrafts because it will pay any overdrafts up to $100 without any additional fees. Users can also automatically save a portion of their paychecks or round up purchases with Chime's automatic cash cushion savings feature.
For its debit card, Chime doesn't impose any monthly maintenance fees, minimum balance requirements, or foreign transaction fees. Over 38,000 ATMs across the country allow users to withdraw funds for free.
Although Chime does not provide cash advances, its direct deposit function allows users to get their paychecks up to two days early. Chime's savings account offers a competitive annual percentage yield (APY) of 0.50%, making it a good choice for people who want to save money.
For those looking for overdraft protection, automatic cash cushion savings, and fee-free banking services, Chime is a great choice overall. The app is a top choice for people who want to manage their money well because of its user-friendly features and low cost.
Customers who are fed up with bank fees and want an easy method to borrow money on their smartphones may open a surcharge-free checking account and high-yield savings accounts using the Chime cash advance app, a disruptor in the banking services sector.
However, it has several drawbacks, such as the lack of joint accounts and the fact that mobile check deposit is only accessible if you have direct deposits set up.
Checking and savings accounts are available via Chime without international transaction and monthly fees. Additionally, there is a free credit score-building tool you may use to start from scratch creating credit. It works so because Chime reports about the borrowers` credit activities to major credit bureaus.
The downside of using Chime for banking is that everything is done online. Chime won't be the greatest choice if you sometimes want to visit a bank. Additionally, choosing a larger bank may be the wiser course of action if you're seeking a financial institution that offers a wide range of goods, such as rewards credit cards for debit card purchases or loans.
Chime App Advantages
No monthly charges.

Fees are not Chime's thing, as you have shown. The platform does not impose any minimum balance fees, special service fees, or maintenance

monthly fees

. These kinds of

charges

are also not applied to international transactions.

No Fee ATMs.

More than 60,000 surcharge-free ATMs are available to cardholders globally. If you use an ATM that is not part of the network, you can be assessed a third-party fee.

Automated Savings.

Give Chime permission to "round up" money for you and

transfer

it into your savings account

via a direct deposit

. Additionally, you may set up automatic direct deposits into your savings account of 10% of each paycheck.

No credit check.

If a bad credit score prevents you from being approved for another bank account, the Chime Checking Account application doesn't entail a credit check.
Chime App Disadvantages
No possibilities for multiple currency accounts are offered.

Your card may incur extra fees when used outside of the US.

There are no physical bank branches.

We think that most individuals don't need access to physical banks. Naturally, you'll have to make this decision for yourself depending on your own needs and tastes.
What are Cash Advance Apps?
Cash advance apps are mobile loan apps that allow users to obtain short-term loans ranging from $100 to $500. These apps aim to provide people with a quick and easy way to get cash when they need it most, without having to go through a lengthy loan application process or deal with traditional lenders like banks or credit unions.
Individuals typically download a borrow money app, create an account, and link their bank account to the app in order to use it. They can then use the app to apply for a loan, which is typically approved or denied within minutes. If the loan is approved, the money usually comes in direct deposits into the user's bank account or made available via a virtual credit card.
Cash advance applications may charge fees or interest rates for their services, which can vary between providers. Transaction fees, membership fees, and charge interest rates ranging from 15% to 30% are examples of common fees. These money apps can be helpful tools for people who have unexpected expenses or cash flow problems.
Are cash advance apps same as payday lenders?
Cash advance apps and payday lenders both offer short-term loans to people who need money fast. There are, however, some significant differences between the two. These apps typically provide lower loan amounts unlike payday lenders, and the application and approval process is usually faster and more convenient.
Cash advance applications may also have lower fees and interest rates, unlike payday lenders. Payday lenders, on the other hand, may offer larger loan amounts and be more accessible to bad credit borrowers. While the two have some similarities, best cash advance apps work as a more modern and convenient alternative to traditional payday lending.
How to Use Cash Advance Apps
A cash advance app's use is a rather easy procedure. A step-by-step tutorial for using cash advance applications is provided below:
Install the app:

The first step is to install the cash advance app from the Google Play Store or app store.

Establish an account:

After downloading the app, you'll need to register by giving personal details such your name, email address, phone number, and social security number.

Connect your bank account: You must connect your bank account to the app in order to receive money. Giving your bank account number and routing number is often required.
Apply for a loan:

After setting up your account, you may use the app to submit an application for a loan. Information about your job situation, your income, and the amount you intend to borrow must be provided.

Wait for approval:

You'll need to wait for approval after completing your affordable loan application. To find out whether you qualify for a loan, the app will normally verify your credit with soft credit checks and examine your application.

Receive the funds:

If your loan application is granted, the cash will be paid straight into your bank account. Depending on the app, it might take anywhere between 24 and 48 hours to get the money.

Repay the loan:

On the due repayment date, the majority of cash advance applications will automatically deduct the loan balance and any associated costs from your bank account. In order to meet the payback, make sure you have enough money in your account.
Eligibility Requirements for Cash Advance App
The qualifying conditions for best cash advance apps, commonly referred to as payday loan apps are frequently the same as those for other personal loan kinds. The following are examples of the standard requirements for an app-based cash advance:
Being at least 18 years old;

Having a valid bank account;

Showing evidence of revenue.
The majority of loans have a basic qualifying condition of being 18 years of age or older. This is because in order to sign a loan arrangement, borrowers must be deemed adults by law.
In order for the loan to be instantly put into the borrower's account, and for repayments to be automatically withheld, to determine the repayment date, a legitimate bank account is normally necessary.
To guarantee that the borrower has the capacity to repay the loan, proof of income is necessary. This may consist of pay stubs, bank statements, or other evidence of income.
Certain paycheck advance apps may have additional qualifying conditions that bad credit borrowers must complete in addition to the usual requirements. For example, certain lenders may demand that applicants have a specific minimum income level or credit score. Others can demand that borrowers have a specific quantity of credit history or a certain length of employment history.
The general eligibility requirements typically apply throughout the United States. Nevertheless, depending on the lender and the state where the borrower lives, there can be some differences in the precise qualifying requirements.
For instance, several states limit payday loan interest rates or require lenders to follow specified lending rules. Also, because of state laws or licensing restrictions, certain lenders may not provide loans in particular states. The Consumer Financial Protection Bureau oversees cash app companies to ensure they comply with laws and are transparent.
How Do Cash Advance Apps Make Money
Payday loan applications may generate income by collecting interest rates, fees, and commissions, among other things. These costs may soon build up, making using most cash advance apps to borrow money a costly choice. The following are a few of the typical ways that cash advance applications generate revenue:
Interest Rates: The majority of cash advance applications levies interest on the borrowed sum. Generally speaking, these interest rates are greater than those imposed by conventional lenders like banks and credit unions.
Fees: Several costs, including origination fees, late fees, and prepayment fees, may be assessed by money advance applications. These costs may mount up rapidly and raise the total cost of borrowing.
Commissions: Lenders pay certain commissions for introducing clients to their services. These commissions could depend on how much money is borrowed or how many borrowers are recommended.
Premium Services: Some cash advance applications charge a fee for premium features like quicker loan processing or access to larger loan amounts.
Data Monetization: User data may be gathered and sold by advance applications to outside businesses for marketing reasons. These details may include financial information, spending patterns, and personal data.
It's important to remember that not all cash advance applications operate under the same model of business. Some people may favor one source of income over another or combine many different ways to get money in direct deposits.
Whatever the cash advance app's business strategy, it's essential to thoroughly check the terms and conditions before borrowing money to prevent any unforeseen charges or penalties like late fees.
Types of Cash Advance Apps
Mobile applications called cash or money advance apps to provide consumers access to rapid loans to cover their urgent financial demands. Cash advance applications come in a variety of forms, including:
Payday Loan Apps
Users of these applications may borrow modest sums of money for a short time, often until their next paycheck. These are often expensive options for borrowing money because of their high-interest rates and fees.
Installment Loan Apps
Users of installment loan applications may take out bigger loans and return them over a certain length of time in smaller, more manageable installments. These applications often have cheaper interest rates and fees.
Personal Loan Apps
These applications provide users access to unsecured personal loans that may be used for a range of things, such as debt relief, home renovations, or unexpected costs. They often feature cheaper interest rates and costs.
Earned Wage Access Apps
Users using earned salary access applications may access their earnings prior to payday. They have a little price for this service, which makes them a viable choice for those who must pay off urgent bills before their next payment.
Cash Advance Apps that Work with Chime
If you're a Chime Bank customer, you may wonder which extra cash apps work with your chime bank account. Fortunately, there are several options available to you.
Cash advances are short-term loans that can help cover unexpected expenses or bridge the gap between paychecks. They typically come with high interest rates and fees, so it's important to understand the terms of any loan before signing up.
The good news is that there are several money apps that work with Chime Bank account. Here are some of the best ones:
Albert: Albert offers cash advances of up to $250 instantly deposited into your Chime account. All you have to do is link your Chime bank account in the Albert app and you'll be able to get an advance in minutes.
Earnin: Earnin allows users to access their earned wages before payday without having to pay any fees or interest. You can link your Chime account in the Earnin app and get up to $100 in direct deposit per day into your bank account.
Dave: Dave offers cash advances of up to $75 with no upfront fees or interest charged. You can link your Chime account in the Dave app and get an advance within minutes.
MoneyLion: MoneyLion offers cash advances of up to $250 with no fees or interest charged. You can link your Chime account in the MoneyLion app and get an advance within minutes.
Brigit: Brigit offers cash advances of up to $250 with no fees or interest charged. You can link your Chime account in the Brigit app and get an advance within minutes.
These are just a few of the many extra cash apps that work with Chime Bank accounts, so make sure you shop around for the best deal before signing up for one of them!
Cash Advance Apps For Prepaid Debit Cards
Prepaid debit card users may get short-term loans through instant advances apps for prepaid debit cards, a particular kind of cash advance app. These applications enable users to obtain money by connecting their prepaid debit card to the app, in contrast to conventional extra cash apps that need a bank account.
By linking the card, customers may request a loan, which is usually put into the prepaid card within minutes and then they can make debit card purchases again.
This kind of cash advance app varies from others in that it offers a choice for those without bank accounts. These instant advances applications are a practical choice since some users prefer to handle their money using prepaid debit cards. However, these applications usually charge more costs than money advance apps.
Cash Advance Apps For Doordash Drivers
Cash advance apps are specialized financial instruments created to provide short-term cash loans to drivers who work for the food delivery service DoorDash. Before being paid by DoorDash, these applications enable drivers to access their profits, giving them an instant cash source when required.
These applications are distinct from conventional money advance apps since they are created especially for the requirements of gig economy employees like DoorDash drivers. Companies often provide quicker turnaround times, reduced rates, and more accommodating payment conditions. Moreover, they often link with the DoorDash app to facilitate cash flow management for drivers.
Cash Advance Apps For Social Security Recipients
Financial instruments called cash advance apps for Social Security users provide beneficiaries of the program access to short-term borrowing. With the help of these applications, people may obtain a part of their upcoming Social Security benefits before they are due, giving them access to quick cash when they need it.
These applications differ from other cash advance apps in that they are made exclusively for Social Security beneficiaries, who often have low income and would not be qualified for conventional loans.
Usually, they provide reduced prices, more accommodating payment plans, and quicker processing timeframes. When choosing a borrower's eligibility for a loan and the conditions of repayment, these applications could also take their Social Security income into account.
Cash Advance Apps for Self-Employed
Cash advance apps for self-employed persons are specialized financial instruments that assist those who work for themselves with short-term loans. Self-employed people may use these applications to access a percentage of their anticipated earnings before receiving payment.
These applications stand out from other cash advance apps because they are tailored exclusively to the requirements of self-employed people, who may not have a reliable source of income or access to conventional job verification procedures.
They often provide quicker processing times, lesser prices, and more accommodating payback arrangements. When evaluating loan eligibility and payback conditions, these applications may also take the person's company's monthly expenses and earnings into account. Overall, they provide a helpful financial option for those with erratic revenue sources who urgently need money.
Cash Advance Apps vs Payday Loans
| | | |
| --- | --- | --- |
| Criteria | Cash Advance Apps | Payday Loans |
| Credit Check | Optional or not required | Typically required |
| Collateral | Not required | Not required, but may need a post-dated check |
| Funding Limits | Varies by lender, but generally up to $2,000 or more | Typically up to $1,000 |
| Repayment Terms | Usually more flexible, ranging from a few days to several months | Usually due on the borrower's next payday |
| Application Process | Can be completed online or through a mobile app | Can be completed online or in-person |
| Funding Speed | Usually within 24 and 48 hours, but sometimes you can get money loan instantly | Usually within 24 and 48 hours, but sometimes you can get payday loan instantly |
| Eligibility | Often available to those with poor credit or no credit | Usually requires a credit check and proof of income |
| Interest Rates | Varies by lender, but typically lower than payday loans | Very high, averaging around 400% |
| Fees | Varies by lender, but typically lower than payday loans | Typically high, averaging $15-30 per $100 borrowed |
How do Cash Advance Apps Work?
You may deposit money into your bank account before the next pay period using payday advance apps. You may effectively advance your earnings thanks to it.
However, the sum that was advanced to you will be taken out of your pay at the end of the month. While some instant loan providers engage with companies, other cash advance apps deal only with customers.
Paycheck advances or timely access to money that borrowers have earned but haven't yet received are provided through loan apps to borrowers. It is beneficial for customers who would otherwise forget to pay a bill or incur late or overdraft fees. The typical paycheck advance app has a $100 to $500 maximum loan amount.
Many consumers believe cash advance apps are a better choice than other short-term financing alternatives like payday loans. The reason is that they rarely charge interest rates or other additional costs.
These loan apps often have no cost or a little fee, but they don't add interest on the loans. These are more affordable options than credit cards or even payday loans, even with the upfront costs. Cash advance apps might provide a tool to help those who are having financial difficulties escape the pattern of living paycheck to paycheck.
How to Choose the Best Cash Advance App
A paycheck advance might be a lifeline when you need to borrow money quickly. However, with so many alternatives available, determining which cash advance app best matches your requirements may be difficult.
It is also important to choose the application that will give you the best experience, avoid additional costs like overdraft fees, and will not mislead you. Here are some things to check for when picking which cash advance app to use:
Apps Fees.

Cash advance app

s

are often free to use. They also do not often charge interest

rates

. Some applications include an extra tip function (typically a few bucks) to help keep them operating. Other applications, particularly those with premium features, may charge

a monthly fee

between $1 and $10.

Cash Advance Limits.

The amount you may borrow varies greatly amongst cash advance apps, with limitations ranging from $20 to $500 and above. Set up a direct deposit and develop a history of frequent payments to qualify for larger cash advanc

e

amounts.

Repayment Requirements.

Most

cash advance apps

take what you owe from your next

pay period

, but others let yo

u a

djust or extend your payback due date if you need more time. If you're concerned about overdraft

fees

, this may be useful.

Employer Requirements.

The majority of applications do not need you to work for a particular business, but some do.

Cash advance apps rarely conduct a credit check and don't look at the borrowers' credit history.

Accessibility and User Interface.

The application must be easily accessible. It will be an advantage if you can download it from the Play Market or the App Store. It should also be easy to understand

to help you borrow

money

in no longer than 2 business days.

But no matter how simple the application is, you always need to read the rules and conditions for receiving money.

Reviews.

As with most things in life, if it seems to be too good to be true, it generally is. Always look into the reputation of

cash advance

app

s

. Look for the original company's revenue stream on the internet. Look for complaints with the Better Business Bureau as well as in your app store. App store reviews are very useful for determining if an app is as simple to use as it seems.

Customer Service.

It is very important that the

cash advance app

has a quick chat where you can contact a real person from support, a chatbot

, q

uestions and answers section, and a hotline where you can always turn for help. It is clear that not all applications have such add-ons, but this will be an advantage and will facilitate your use of the application and financial transactions.
Cash Advance Apps Alternatives
Credit card cash advance might be useful for those who often run out of money before the pay period. They may take quick cash using a cash advance app and don't pay high interest rates for the money. This strategy can help you save money and time.
But signing up for a paycheck advance app has its drawbacks, so it's crucial to consider alternative solutions to get more cash.
It is important to be aware of alternative solutions that may be right for you in your unique situation. Loans issued by payday lenders, personal loans, and secured credit card options can be such solutions.
Credit Cards: Credit cards can be a great way to get access to funds quickly and easily. You can use them for purchases, balance transfers, and even cash advances. Just make sure you pay off your balance in full each month so you don't incur any interest charges.

Peer-to-Peer Lending: Peer-to-peer lending platforms are becoming increasingly popular as an alternative to traditional

personal loans

from banks or other financial institutions. These platforms allow borrowers to connect with lenders who can provide them with funds at competitive rates.

Online Loans: Online loans are another option for those looking for quick access to funds without having to go through a bank or other traditional lender. These loans typically have lower interest rates than credit cards and can be approved quickly, making them a great option if you need money fast.

Personal Lines of Credit: A personal line of credit is similar to a credit card in that it allows you to borrow up to a certain amount of money and then pay it back over time with interest. This type of loan is often used by people who need access to money quickly but don't want the hassle of applying for a loan from a bank or other financial institution.

Payday Loans: Payday loans are short-term loans that are designed specifically for people who need access to cash quickly but don't have the means or credit score necessary for more traditional forms of borrowing such as bank loans or credit cards. While payday loans do come with high interest rates, they can cover expenses in emergency situations when no other options exist like an unexpected medical bill or car repair.
Payday Loan
If you've ever been short on cash and a long way from your next paycheck, you've probably contemplated a payday loan. These short-term cash loans are based on your expected income from your next paycheck. In other words, you're borrowing against your own future earnings rather than from a third party.
Payday loans are high-risk investments for debtors. For starters, they offer very high-interest rates—up to 400 percent per year. If you are currently living paycheck to paycheck, it may be exceedingly difficult to repay the loan while still meeting your monthly needs, particularly if your income has been cut by the amount borrowed.
Payday loans are provided by either specialist payday lenders or generic lenders that also provide other financial services. You can readily find them in physical places or online. Payday loans usually work on the same system as cash advances apps. They may be considered if you trust physical credit installs more than most cash advance apps. Payday advances are usually issued without conducting a credit check and reporting to major credit bureaus.
Personal Loan
Personal loans feature lower interest rates than credit cards, longer loan durations, and greater loan amounts than cash advances or conventional payday loans. When looking for a loan, your credit union is a smart place to start. Credit unions are nonprofit organizations founded by individuals, trade unions, or their associations. The members of credit unions save money in bank deposits, and if any of the members need funds, they receive them. And when it comes to the repayment of credit union loans, the borrower does it with interest. Such Personal loans are available for people with negative credit.
If taking out a personal loan seems frightening, consider a modest loan like a cash advance or a payday loan until the next paycheck. Depending on your credit score, several lenders provide personal loans of as little as $1,000 with low APR rates. Bad credit loans without a credit check are also available to assist borrowers build credit history and credit score.
You may be able to get a modest personal loan from an internet lender. These loans start at $1,000 and have APRs that are less than 36%, which many financial experts believe is the maximum rate an affordable loan can have.
Secured Credit Card
A credit card cash advance is essentially a loan provided by your credit card company. If you have a credit card that offers cash advances, you may get cash in a variety of methods, including ATM, convenience check, and in-person.
Yes, you may be able to use your card to get cash advances at a branch. However, if this is something you can do, remember to bring identification with you.
Cash advances are normally limited to a percentage of the credit limit on your card. For example, if your credit limit is $15,000 and the cash advance limit on your card is 30%, your maximum cash advance till your next payday will be $4,500.
The advantage of this type of loan is that you can get cash faster and through more ways. Also, credit cards allow you to take out a loan for a much larger amount than in the case of most cash advance apps.
Should I use a Cash Advance App?
While receiving a paycheck advance on occasion may not be an issue (and may even help you avoid overdraft fees, giving you overdraft protection), research suggests that customers prefer to utilize these services frequently. Over a year, more than 70% of users took successive cash advances in all four firms surveyed by FHN, the industry and policy organization.
Users get access to their cash more than once a month and utilize the app's information dashboard on a daily basis to manage their hours, organize their finances, and see how much of their income is available for an advance.
The best cash advance apps have safeguards in place to prevent users from obtaining too much of their salary or from using the service too often between pay periods. Some services, however, may be less limited.
Consumers must use extreme caution while using these services. Cash advances can be a solution in some situations, but it's better not to use them too much and manage your finances. When choosing such cash advance apps, always be vigilant and choose only proven applications. Look for lenders who don't charge overdraft fees and offer loans even if you have a low credit score.
Tips on Using Cash Advance Apps
Several cash advance apps are willing to give additional monetary assistance, pitching themselves as a simple, no-interest method to get a modest loan. However, not all cash advance apps are the same. Before you join up for one, do your homework and keep an eye out for hidden costs, high overdraft fees, and other dangers.
If you decide to receive a cash advance using an app, first search for the finance provider on BBB.org. Check to see whether the firm has a reputation for ethical business practices. Furthermore, we suggest determining if the online lender is licensed by your state since this will provide you with further safety.
Be wary of cash advance apps that promise to be completely fee-free. That typically indicates there are additional monthly fees and charges. Fees are often referred to as "tips," "donations," " low membership fees," or "premium bank account access." Find out how much you'll have to spend and keep in mind that even low fees may build up over time.
Don't agree if a lender wants you to pay monthly fees before providing you with money. Charging customers unknown upfront fees is prohibited and indicative of fraud. Take your time and thoroughly study the loan conditions. Make sure you understand when you must repay the loan and how much you will owe if you do not pay on time.
Summing Up
Cash advance applications are a popular choice for people who need to bridge a pay gap or cover unexpected expenses like a car repair or medical bills. People can use instant advances apps such as Albert, Earnin, Dave, MoneyLion, and Brigit. These apps provide varying credit limits, repayment terms, and interest rates, so it's critical to shop around and compare before deciding on one.
These apps have their advantages and disadvantages, but they are popular among many Americans because they are not only apps for getting a short-term loan, but also excellent money management tools and a source of financial advice . In some cases, you can also use these apps as a savings accounts.
Cash advance applications, when compared to payday loans, frequently have lower interest rates and fees, more flexible repayment terms, and may not require a credit check. Overall, if used wisely, cash advance applications can be excellent financial tools.