How many people have savings specially allocated to urgently pay for car repairs? Probably not a lot.
The research shows that a $500 bill for auto repair is too heavy for 63% of American citizens so that they have to opt to pay for car repairs with additional financing or money help from family.
For most of us, such an emergency turns into an unforeseen situation with no savings set aside for it. Such urgent repair can cost quite a lot and result in huge money disruptions with your budget. Hence, many people turn to their friends or family for help or take out car repair loans or car refinance help.
If the first option doesn't sound like a reasonable and serious solution for you, here is how to pay for car repairs with no money. There are several options for you to consider.
How Do I Know If My Car Is Worth Repairing?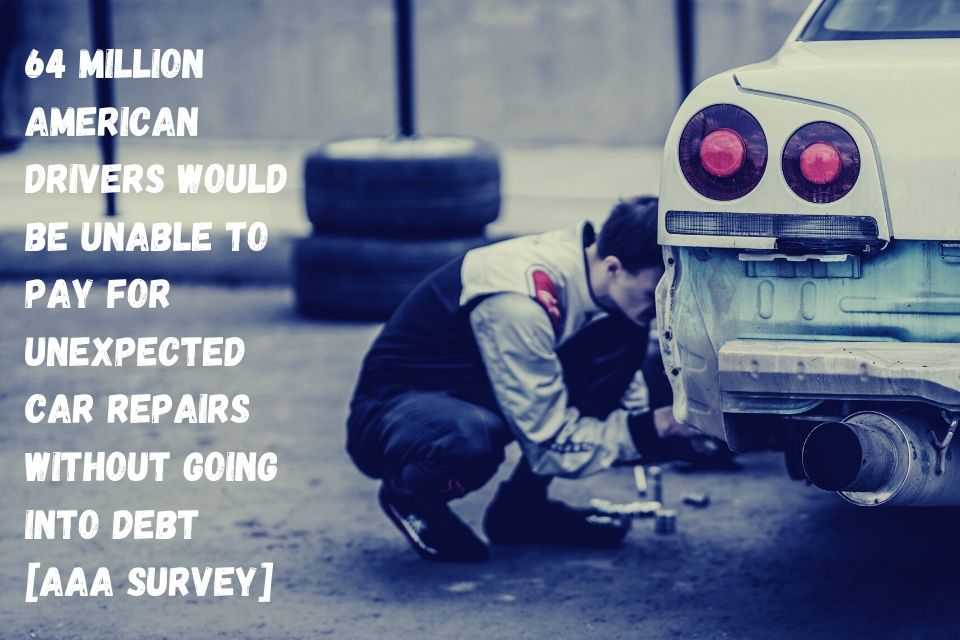 There are approximately 280 million autos in the USA these days, while the average age of cars is over 12 years old. There are cases when pay for car repairs with additional financial assistance just isn't worth it. Instead, it's better to invest in a new car. Generally, if the cost of fixing isn't too high, you need the car quickly, or you are still repaying it, you should consider applying for car repairs financing. On the other hand, if the cost of fixing is too high, the auto is too damaged and old, it pays to make a new purchase instead.
Some Services Are Covered By Insurance
"You might suggest that you can save cash by skipping pay for car repairs, but you will save much more in the long run if you take good care of your car," – mentions John Nielsen, AAA's director of Automotive Engineering and Repair.
The first thing you know is whether your car is insured. If you decide to purchase comprehensive insurance, it finances various types of damage. When you opt to pay for car repairs with loans, creditors will most likely ask for comprehensive insurance for the repayment period. Once the debt is fully repaid, you will be able to remove it or continue making payments and feel more secure.
In fact, the recent survey by AAA states that the average cost of car repair financing is about $600 and every third auto owner can't afford to cover it without getting into debt.
Using Grants for Financing Car Repairs
So, if you know that your car is still in decent condition and the repair expenses at auto repair shop won't exceed the overall price of the car, here are the strategies for searching the right type of financing to pay for car repairs.
Job Access and Reverse Commute is a special program created by the government to help with such funding. Although not every person is eligible, there is an opportunity to fix the transmissions or tires with the help of non-profit or government organizations. This is not a typical car repair loan but rather the limited funds given to the owner in case of an emergency. Usually, they offer such help to low-income households or those who receive welfare. If you are unemployed, a single mom, a welfare recipient, or a veteran, you should search for JARC assistance.
Keep in mind that such emergency car repair loans or grants are given only in certain states and cities. Consider this information when doing your research. Also, you will be able to obtain grants in case you need to get the auto fixed quickly for getting to work as well as for job training and educational reasons.
Using Personal Loans for Car Repairs
Another alternative is to acquire a small personal loan to assist you in funding the fixing repair costs. This lending option serves well for the situation when you want to fulfill the urgent money need but have no savings. Getting a car repair loan from a traditional bank or an online creditor will give you a chance to pay down the debt in regular parts on a monthly basis.
Depending on the creditor and the credit rating of the car owner, they issue cash with different terms and rates. Payday loans for bad credit are more expensive. In this case, you may want to ask a co-signer to prove your creditworthiness to get a more affordable deal. Take some time to shop around and compare small personal loans providers to make the right choice and avoid having huge debts.
What Can I Use a Loan for Auto Repair For?
Almost any type of fixing can be financed by the loan. The most widespread repairs include camshaft, blown transmission, head gasket, or fuel injector. For instance, a new transmission cost over $4,000. The problem with lost keys costs several hundred bucks. It can be resolved with such emergency loans in case you haven't got enough savings.
Using Car Repair Credit Cards
One more solid option to fund your automobile repairs is to opt for credit cards. A credit card can be a great option if you need to make a large repair and don't have the cash on hand. But you should be careful and know about possible pitfalls.
First, if you don't pay off your credit card balance in full each month, you'll accrue interest charges that can add up quickly. Second, if you're not careful, it's easy to overspend on your credit card and end up in debt. If used wisely, however, a credit card can be a helpful tool for financing car repairs.
I can't afford to pay for car repairs but I already have existing credit cards. Should I use it?
This sounds like a reasonable decision but, in fact, it won't be cheaper than the loan for car repairs.
Another way to avoid high car repair costs is to open a new card with an intro 0% purchase APR. It means the auto owner can use the funds from the card within 12 or 21 months without paying the interest. Such low introductory APR cards are very convenient provided that you pay off the full balance prior to the end of the intro period.
Additionally, many credit cards offer rewards programs, so you can earn points or cash back on your purchases. When choosing an auto repair credit card, it's important to compare offers and make sure you understand credit card terms and conditions. Some credit card may have annual fees or restrictions on where you can use them, so it's important to read the fine print before applying.
Avoid Predatory Loans for Car Repairs
Although there are several methods to get the necessary financing and fix the auto to get back on the road quickly, consumers should stay away from so-called "predatory lenders". What are they? Such creditors or lending companies offer the same services as many other lenders but place sky high service car repair costs, especially for poor credit history borrowers searching for bad credit auto repair loans.
A title loan can be a helping hand for fast fixing but the predatory conditions make it rather an unfavorable solution. In general, the APRs for such unregulated loans for auto repairs are between 300 and 500 percent. However, every state establishes its rates, so you should do research and compare options. Sometimes, the APR may be as high as over 1,000 percent, which is totally not what you need, right?
How to Find a Good Deal
If you want to find the best deal or choose the most affordable vehicle repair loans, experts recommend getting at least three estimates and compare conditions at several repair shops. The same is true for lending institutions. Don't hurry with your decision. Taking a little more time to shop around may bring you potential discounts or reduced rates.
National and Local Organizations Offer Help
When you need a quick helping hand with your car getting fixed, time is very important. Here are some of the national and local organizations and charities useful for the times when you don't have enough savings to cover the expenses but aren't willing to opt for car repair loans.
National organizations and non-profits
There is a chance that you find a local chapter of Lutheran Services in America, St. Vincent de Paul, or an office of the Catholic Church. Such non-profits offer emergency funds for various types of car fixing. Also, try to turn to Goodwill organization or the Salvation Army to get more details about the possible options.
In many states, there are special services that help to avoid getting a loan for car repair. For instance, there is a Caring Cars non-profit organization in Alabama that specializes in helping households with kids and those who need a car to commute to work or school. Similar companies are available in Arkansas, Georgia, Florida, Mississippi, North Carolina, South Carolina, Texas, Tennessee as well as Virginia.
Car fixing assistance for single moms
If you aren't living in a state that offers the above-mentioned type of funding, there is another option to apply for the following solutions. Single moms who urgently need their auto fixed may turn to the Next Level Church in North Carolina provided that the repair cost is minor. Temporary Assistance for Needy Families (TANF) is one more useful solution for pregnant women or single moms.
Car repair help for low-income families
Working Cars for Working Families is a non-profit project that offers monetary assistance for low-income households who need to get their auto fixed in the short term. Maryland and Virginia regions have Vehicles for Change company, where people also can purchase second-hand cars for up to $900. Good News Garage is a not-for-profit project that provides quick help for people who need to commute to work.
I am a veteran and seek car repair loans. Do they exist and how much should I pay for them?
We have good news for you. Some services provide free assistance for veterans. Among them are Keys to Progress and Semper Fi Fund. Free free to check their options in your area. They offer used cars to veteran families or disabled people.
If you own a car, you may be able to get a title loan to help pay for car repairs. A title loan is a type of loan where you use your car as collateral to borrow money. The amount you can borrow depends on the value of your car, and you typically have to pay the loan back within 30 days. Title loans are a risky way to borrow money, and you should only consider them if you have no other options. If you can't repay the loan, you could lose your car.
Top Ways to Save Cash on Auto Repairs
If applying for a loan to fix car doesn't seem the cheapest and most affordable option, here are the best ways to save your funds:
Use auto insurance. Review the conditions of your car insurance as it may cover certain expenses and pay for the broken parts.
Seek discounts. If you need a major repair and look for the best loans to fix the car, you may ask if the provider has any discounts. Also, some mechanics may provide refurbished and used parts that usually cost much cheaper.
Ask for a payment plan. When you want to fulfill an immediate need for cash, you may opt for a payment plan and sign an agreement with the service provider to repay the money gradually over a stated period of time.
Tap family and friends. When you need money for car repair and aren't eligible for other methods of getting cash, you may turn to your relatives or friends for help, thus avoiding interest rates and extra charges. Although, it is better to still sign a legal agreement so that your family members are certain you will pay the debt off.
Barter Agreement vs. Payment
Negotiating the deal is always useful. Ask for lower rates or sign an agreement to finance the expenses within a few months instead of one lump sum. This way you will be able to avoid debt and save money in the long run. Another option is barter. If you can offer some valuable services to the repair shop, the owner may even agree to fix your auto free of charge in exchange for your services such as building, babysitting, etc.