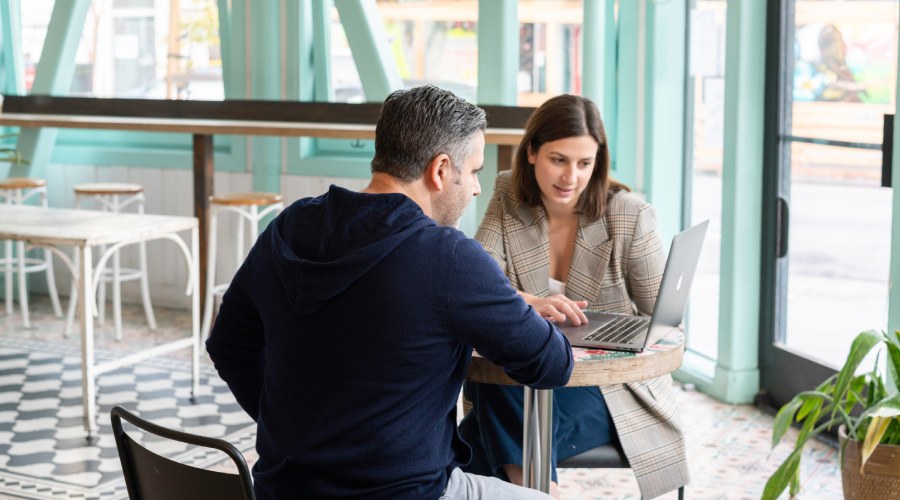 Who can benefit from a personal loan with cosigner? Requesting money from a bank or other financial institution can challenge borrowers with bad credit rates. If you have poor credit history and can't perform well with personal loan lenders, using a cosigner can be a lifeboat.
It's one of the easiest ways to get approval to receive a loan. Who is a cosigner? A person, a friend, or a family member can take responsibility for the debt if you default on paying it back. How to find the best rates and get approval for the personal loan with cosigner? Read on to learn more!
Personal Loans With Co-Signer: Best Offers 2022
It can be a double-sword issue to agree on the cosigner loan. This type of credit has its ins and outs, not every person can deal with. However, in-depth research should be presented if you want this type of personal loan to be your main choice.
In the following paragraphs, we've collected the most used and reviewed loan lenders that can be of your interest. If you seek an institution to approve your personal loan rates, the following options can bring a good outcome.
Cosigning is easy today, with lots of online opportunities available to applicants. Let's consider which of the following options can be a good fit for your goals.
Upgrade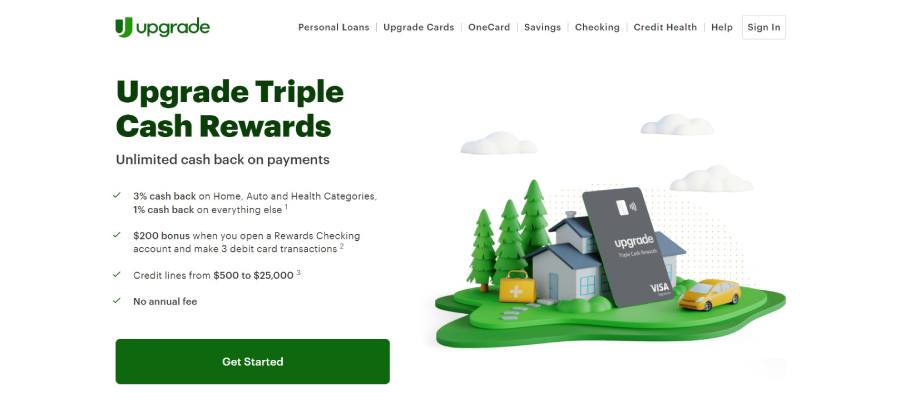 Let's start this list with a well-known personal loan many users adore. The Upgrade is a top-quality personal loan that includes a couple of useful discounts and can offer direct payments. With a relatively low minimum score, Upgrade puts itself on top of the list.
For the list of benefits Upgrade offers, it has a comparatively low minimum score. If you can reach 560 points, you can easily benefit from loan rates.

The minimum loan amount is rather high or could be pretty high for some applicants. It starts at $1,000; however, you can ask for up to $50,000.

With an estimated APR of 7.96% to 35.97%, Upgrade puts itself at the very top of the list.
If you decide to apply, you should expect different interest rate discounts and the ability to use a cosigning option.
The lender provides a mobile app so that you can manage your loan terms without leaving the house. You will benefit from a longer repayment time if you request a home improvement loan.
With all the benefits described, the loan still has its cons. For example, you need to stick to the terms and cover an origination fee. Also, you can't choose the desired initial date of payments.
LightStream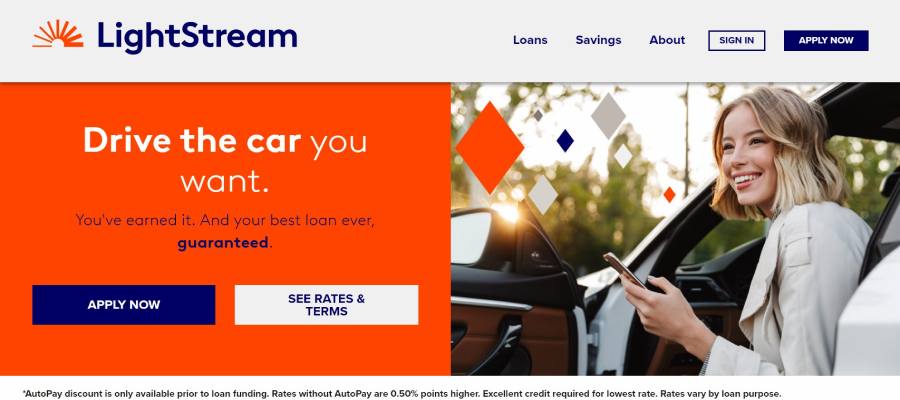 If you have a good or excellent score, then the LightStream loan must be on your list of considerations. This loan doesn't include any fees and presents quite a low interest rate for the clients. Do you want to learn more about it? Let's dive in and see what doors it can open to the users:
The estimated APR will start from 6.99% and end at 23.99% points.

The maximum personal loan amount is $100,000, making it a perfect fit for large purchases.

Nevertheless, the loan terms require a good score (660 points), so it's still a nice choice for many purposes.
The best advantage of this loan is the absence of fees. You don't need to spend extra money on the origination or annual fee. As a client, you can also receive an interest rate discount if you autopay. However, you won't be able to prequalify on the site. And one big requirement is an extensive history to qualify for the loan rates.
Wells Fargo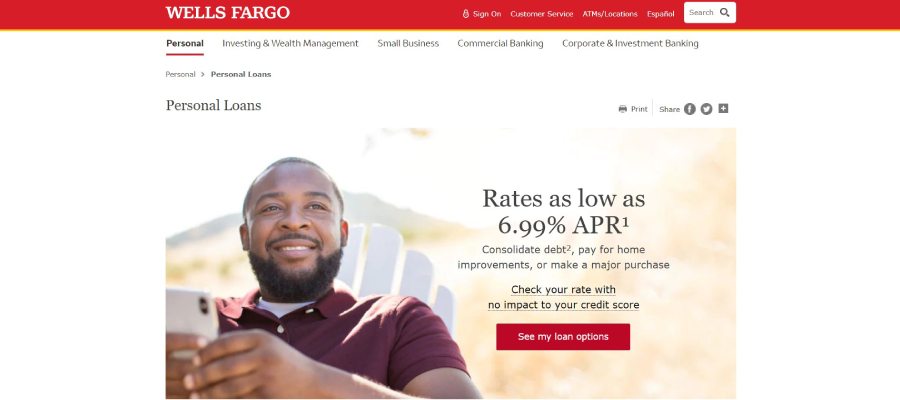 The loan provides a wide variety of options for those ready to renovate a house, improve the building or introduce any other changes to the property. Is it your case? If so, let's dive deeply into the loan details.
Wells Fargo gives its clients 5.74% to 20.99% APR, making the deal rather beneficial in the long run. And this is what exactly the loan for home improvements needs.

With a rather high minimum loan amount ($3,000), Wells Fargo offers a great maximum point, which is $100,000. You shouldn't be worried about your repair work at all.

The good thing is no minimum score was requested by the lenders.
You won't need to provide an origination fee, and there's also an option to use a soft check to prequalify before the final application. However, the fact that you have to be an existing customer makes this loan challenging for some applicants.
SoFi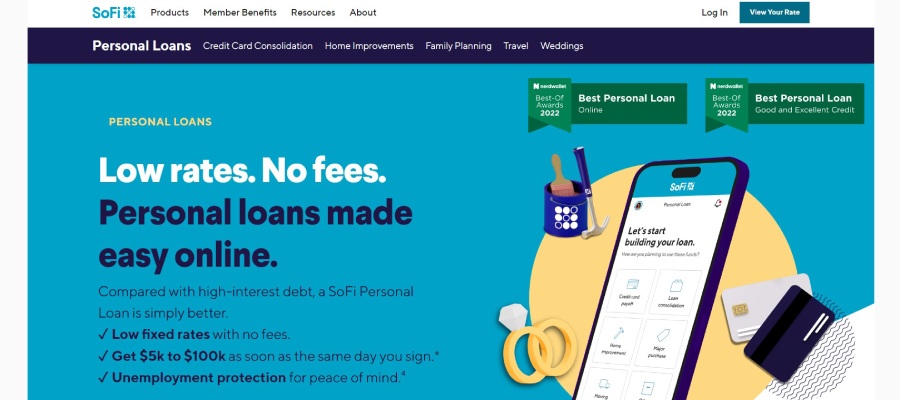 There is not many other lenders better than SoFi. If you are a qualified borrower, you should try and apply for the SoFi loan rates. There are plenty of perks the clients can benefit from. Starting from financial advising and finishing with zero fees, SoFi can be a great fit. Let's see what other advantages it can provide:
The lender can brag about their APR, which is comparatively low. The lowest point is 7.99%, while the maximum is 23.43%.

This type of personal loan also offers a wide loan amount range. The minimum point is $5,000, which can be pretty high for many. However, you can ask for up to $100,000 to cover your big purchases.

Borrowers with a bad credit score should also consider this option since there's no minimum score required.
With a mobile app to manage the transactions, a hardship program, no-fee policy, SoFi can still feature certain drawbacks.
For example, you can't choose the initial date of payments. And the minimum loan amount is pretty high.
First Tech Credit Union Personal Loan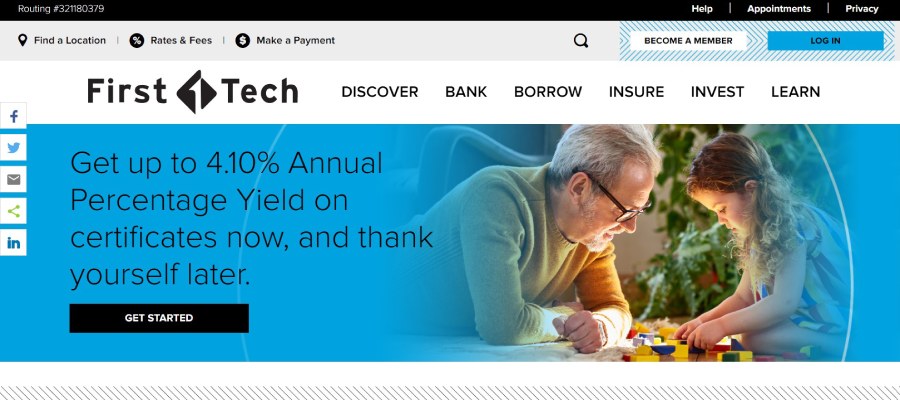 If you are ready to become a union member, you will benefit from a customizable loan plan and win a fast funding opportunity. Moreover, it's an excellent chance for those who can't apply for regular loan rates and need a guarantor for help.
This lender offers cosigning and joint options for everyone.
With the 6.70% to 18% APR, the First Tech Credit Union makes the personal loan with cosigner a nice catch for the application.

The lender also offers a low minimum interest rate of $500. But if you need more, you can ask for up to $50,000 for your financial needs.

However, you should possess a relatively high credit score of 660 points.
The benefits of the First Tech Credit Union are clear. You can cosign the documents, send direct payments to beneficiaries, receive fast funding, and play with the date of payments. But the offer is exclusively available to the union members only. Furthermore, the reports will only be sent to one of the bureaus.
LendingClub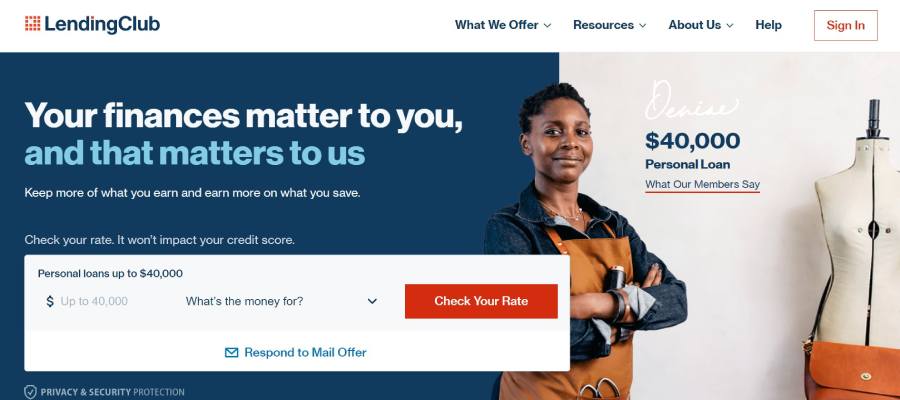 You might need to increase your poor credit if you want to use the LendingClub personal loan. This lender offers its services to those with fair or good scores, cutting off the opportunities for poor-score holders.
By applying for the LendingClub loan rates, you can request a cosigning loan option.

There's a chance to send direct installments for the consolidation debts.

You can easily play with the date of payments, change it, or variate to cover the installments without delays.

No hard checks are required. You can prequalify with a soft check and secure your score with the LendingClub loans.
The drawback for many can be the score that equates to 600 points. If you can reach this score, you'll be given an opportunity to request up to $40,000 for your personal needs. However, be ready to pay origination fees.
OneMain Financial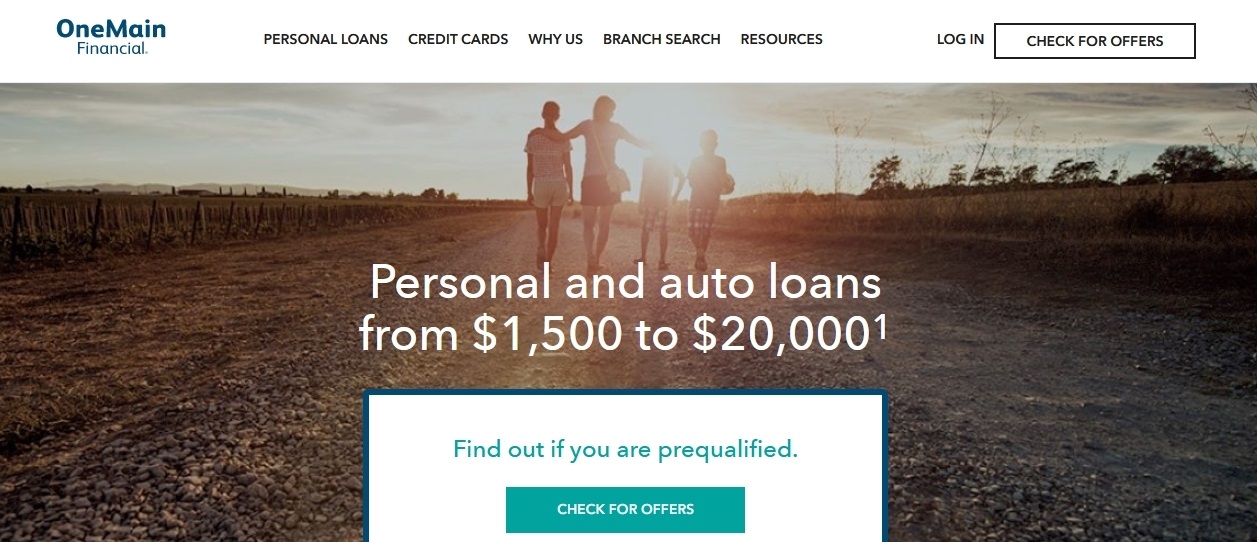 Scoring a good history can be hard, especially for young people. But even if you have a stable income and keep your installments covered regularly, you can still perform inefficient results for the bureaus.
In this regard, OneMain Financial can help a lot to overcome the bad credit stamp.
You don't have to obtain a good score. Moreover, no particular score is required for the OneMain Financial applicants.

The average APR ranges from 18% to 35.99%.

The positive side of the loan is its amount. Application parties can benefit from a minimum of $1,000 and increase this amount up to $20,000.
Are there any drawbacks? With the ability to vary the date of payments, use fast funding, and send direct payments to beneficiaries, OneMain still has its cons.
A comparatively high interest rate, origination fees, and no rate discounts make OneMain a questionable option for many.
Who Is a Co-Signer?
A cosigner is someone, usually a person from your close circle of friends or family, who takes responsibility for you as a borrower. If you fail to cover the debt or pay overdue installments, this person will take charge of the consequences. Why do people choose to cosign loans? There could be various reasons.
First of all, you may not qualify for the loan terms due to the low score rates. And if increasing the score isn't an option since it may take years, you can find a guarantor with a better history.
The second reason is a very young age. Personal loans with a cosigner are a common type of credit for students who aren't always able to build decent score rates fast.
How Does a Co-Signer Loan Work?
Being a common way to take loans for those with bad or insufficient credit rates due to their young age, a personal loan with cosigners isn't the most common type of loans.
Usually, cosigners are parents who want to help their children to build a fair or good score. However, other family members or close friends can also join.
Why May You Need a Co-Signer For a Personal Loan?
A personal loan with a signatory is a common way to get the money, even if your previous credit history is yet to be perfect. Building a score is a complex challenge since too many factors affect the final rates of your report. Credit history, bills, installment time, and credit limits are only a few factors.
Hence, sometimes it's easier to ask a guarantor for help. Who usually chooses to use a personal loan with cosigners? No matter what type of personal loan you, as a borrower, want to apply for, looking for a signatory usually includes the following reasons.
First, you can have an insufficient credit score which mostly happens to students. Or you can have a high debt-to-income ratio to ensure the lenders that you can cover the loan amount on time. In some cases, the credit history isn't perfect due to some mistakes in the past, so a cosigner is needed.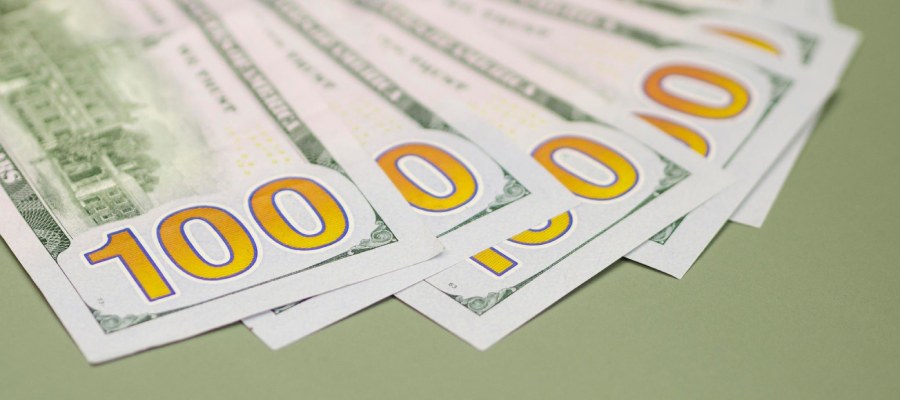 How to Choose Co-Signer For a Personal Loan
In most cases, a cosigner is someone from your family or close friends. What do you need to consider when choosing a cosigner?
Firstly, make sure you can choose this person as a cosigner. Being bound by financial debt can negatively impact interpersonal communication.

Check if the potential guarantor has an immaculate history. It will ensure the loans will be approved with ease.

Credit scores and its rate matter a lot, too. So, if you want to have fewer troubles getting cosigning loans, make sure to review the credit score of your future signatory.
However, finding someone close enough to meet all the criteria is not always possible. So, a soft check prequalification and reports from bureaus can help predict whether the loans will be approved.
Co-Signer vs Co-Borrower
Some borrowers mix up these two phenomena. Let's break it down into details and compare a cosigner and a co-borrower.
The cosigners is fully responsible for the personal loan with cosigner in legal terms and should pay off the amount on his own if the borrower fails to do so. However, a co-borrower takes part on the same terms as a borrower, sharing the same responsibilities and risks.

With a signatory, it's easier to qualify for the credit and potentially boost your credit score. A co-borrower will also ensure an easier qualification and a possible higher personal loan limit.

However, by using a guarantor, you need to be very picky and find someone with excellent credit who can take the rate. When working with a co-borrower, you share the liability, so when one person fails, it's instantly reflected on the score of another application party.
A cosigner is usually a family member or a close friend, while a co-borrower doesn't necessarily have to be someone close to you. It can be your teammate, friend, or colleague whom you trust.
Can I Get Online Personal Loan With a Co-Signer?
Yes, you can get a personal loan with cosigner. If your credit score fails to meet the requirements of the lenders, you might need to find someone else. It's a great way for a borrower to wipe off the mistakes of the past and finally cross the bad credit line.
But it's not that beneficial for cosigners. Only people who are sure of the borrower's solvency should agree to sign this type of loan. Otherwise, both a cosigner and a borrower can get into trouble.
What to Consider Before Getting a Personal Loan Via Co-Signer
Before signing the paper and agreeing to become a guarantor, you should consider the following details:
Don't sign the agreement unless you can afford to repay the loan yourself. If your borrower defaults and you can't pay, it will negatively affect your credit score.

Cosigning may have its pitfalls, so be sure to acquaint yourself with all the documents.

Check how cosigning a loan can reflect on your credit score.
By cosigning a loan, you can provide immense help to your friends or family. But you shouldn't take risks unless you are ready to take the challenge. So, it's better to check these details before you put your signature on the paper.
Pros and Cons Of Taking Personal Loan With a Co-Signer
You've learned a lot about a cosigning loan, but what if we had to compare the pros and cons? It is quite popular among young people, students, or those with damaged credit history. And it can be somewhat helpful to find a guarantor. But are there any cons? Let's take a look at the table and see the pros-to-cons ratio.
| | |
| --- | --- |
| Pros | Cons |
| Easy application | Possible credit damage for a cosigner |
| Potential credit increase for borrowers | No ownership to a cosigner |
| Obtained ownership for the borrower | Risk of hurting the interpersonal relationship |