How to get a loan from the bank process can be daunting. You need to make sure your score, payment history, employment, and income are high enough to be eligible for personal loans. In many cases, hitting all the necessary points on your own is impossible. In this case, help from the cosigner may be pretty relevant.
This article will focus on the list of the best personal loans you can take with a co-signer. You will learn the basics and better understand how to apply for personal loans to get approved. So let's get started with the research!
Best Personal Loans With Co-Signer
What are the best personal loans with co signers? You no longer need to worry about your assets, as applying for personal loans has never been easier. If you have a person to help you with personal loans, you can easily get your money. Fast funding, relatively cheap terms, and flexible conditions for personal loans are waiting for you. How to apply for the best personal loans? Read on to learn the most valuable details.
Upgrade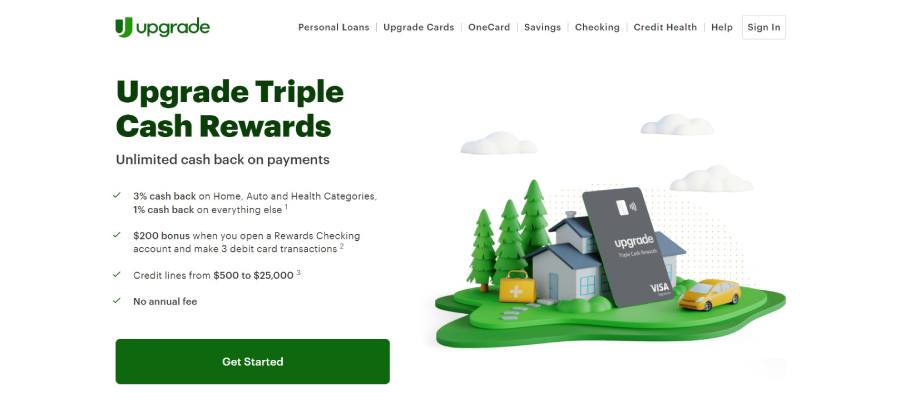 Why do you need to choose Upgrade loans with a co signer? Looking for good personal loan providers can be daunting, especially when you have certain preferences. If you need to cosign personal loans, this lender can be one of the best personal loans. Why is it so? Let's take a look at the benefits and answer your questions.
Best for credit card refinancing and home improvement projects.
APR: 6.94% to 35.97% APR
Fees: no prepayment penalties, late fees, or returned check fees.
Repayment terms: 36 or 60 months.
Credit score required: 600 or higher.
A co borrower needs a score of at least 600, a good stable income, and a checking account.
What pros do you get from working with Upgrade loans with a co-signer? First of all, you will benefit from the flexible repayment terms. The quick online application process for the loans with a co signer that will allow you to get the decision fast.
The third real benefit is the absence of a prepayment penalty. One potential drawback of waiting for the borrowers of loans with a co signer is the fees higher than with other similar lending services.
LightStream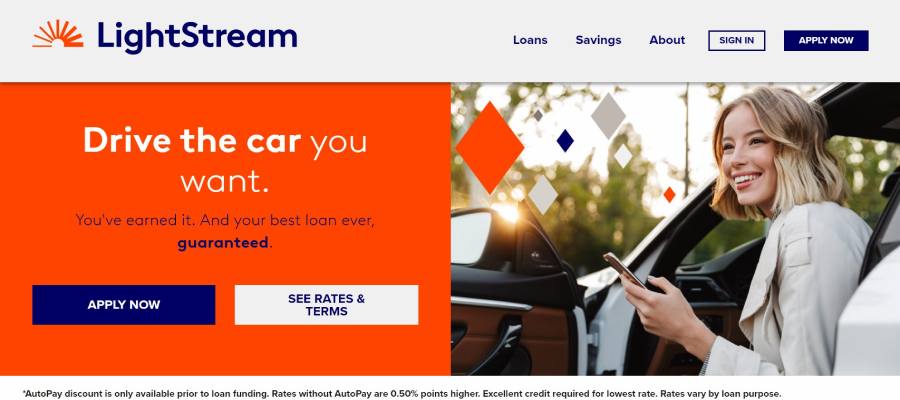 What is so special about LightStream loans with a co signer that many borrowers choose this company as a primary option in their search? There are multiple reasons why LightStream will make you enjoy your repayment terms and conditions. Here are some of the most obvious reasons why choosing this lender can help you win personal loans.
Best for good credit borrowers with large expenses.
APR: ss low as 2.49% APR.
Fees: no origination fees, late fees, or prepayment penalties.
Repayment terms: 24 to 144 months.
Credit score required: 660 or higher.
A co borrower needs a good credit, stable income to afford personal loans, and a good employment history.
LightStream loans with a co signer will offer same-day funding, so you can get your money quickly. Furthermore, you can choose the payment date. And there's an option to make extra payments without covering additional penalties. With all the benefits of the loans with a co signer described, you will need a pretty high score to be an eligible applicant.
Navy Federal Credit Union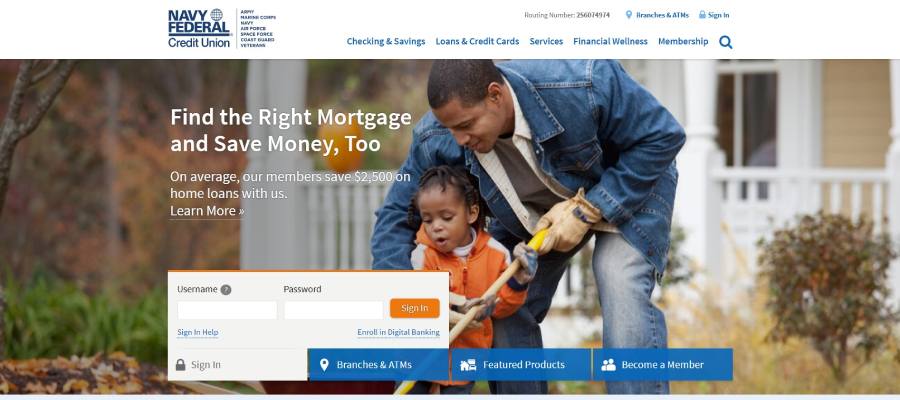 If you decide to apply for personal loans that can somehow be related to the military, this lender is your best choice. Not only are these personal loans great for their APR, but it also doesn't require any minimum credit scores. It's the best option for cheap and fairly simple application personal loans.
Best for members of the military, veterans, and their families.
APR: 7.49% to 18% APR.
Fees: no origination fee or prepayment penalty, but may have late payment fees.
Repayment terms: 12 to 180 months.
Credit score required: no minimum requirement, but good credit is preferred.
Borrowers need a Navy Federal Credit Union membership, proof of income, and good credit.
Working with this lender, you will save money on competitive interest rates. With a wide range of personal loans, you can not only try applying for co signer personal loans but also try other personal loans. It's a great lender, however, there are certain limitations.
First off, you need to be eligible to become a union member. The only way to get into the list of loans with a co signer is to be a part of the military or be somehow related to it. The second limitation is branch access.
Compared to other lenders, Navy Federal Credit Union loans with a co signer don't have a wide selection of branches. So, it can be a complication for borrowers who prefer impersonal communication.
LendingClub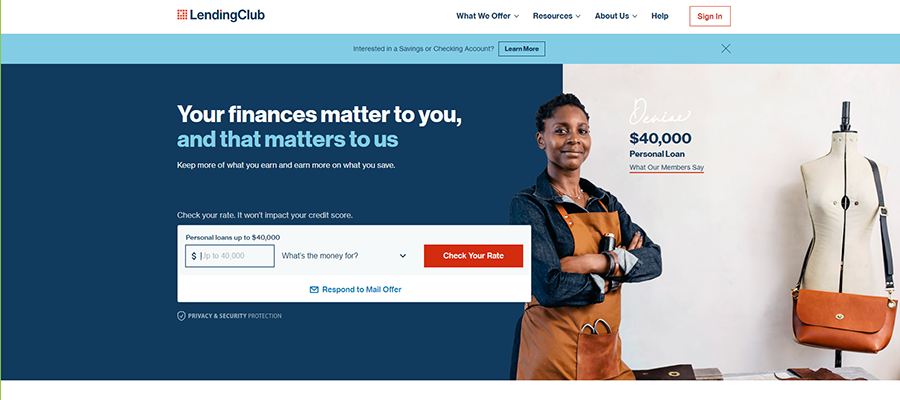 Why are LendingClub loans with a co signer popular among borrowers? There are many reasons to consider LendingClub a truly beneficial option for borrowers. Why is it so? You can enjoy flexible repayment terms. Furthermore, the minimum score is also rather manageable.
Best for debt consolidation and credit card refinancing.
APR: 6.95% to 35.89% APR.
Fees: origination fee of 1% to 6% and late payment fees of $15 or 5% of the loan amounts, whichever is greater.
Repayment terms: 36 to 60 months.
Credit score required: minimum credit score of 600.
A co borrower needs proof of income, a valid bank account, and a credit score of at least 600.
You won't be bothered with the prepayment penalties of the loans with a co signer, because you can pay off your debt early. Online application is possible with LendingClub personal loans. You can also take advantage of account management. However, funding can take a while, and credit score requirements are pretty high for an average co borrower of loan amounts.
OneMain Financial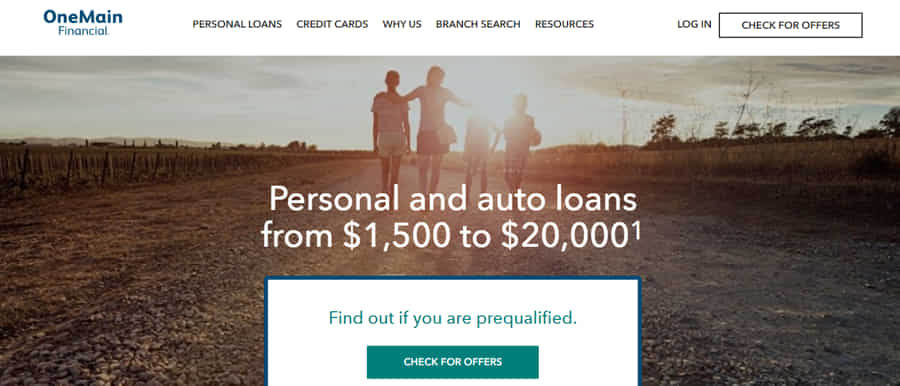 A lot can be said about OneMain Financial, but let's stick to the facts. You can have bad credit and still be able to apply for personal loans. Excellent repayment terms, simple fees, and no minimum score requirements. What else is waiting for you when working with OneMain Financial? Let's figure it out.
Best for borrowers with bad credit or limited credit history.
APR: 18.00% to 35.99% APR.
Fees: origination fees vary by state, and late fees may apply.
Repayment terms: 24 to 60 months.
Credit score required: no minimum bad credit score requirement.
A co borrower needs a steady income and a checking account. Collateral is optional.
With OneMain Financial, you, as a co signer, can adjust the repayment terms to your needs. Flexible conditionals are among the most known benefits of working with these personal loans. Quick funding is also another benefit to try.
Even if you have bad credit or a low credit score, as a co signer can still be eligible for the loan amount from OneMain Financial. Are there any drawbacks? The lender may charge an additional origination fee, so it's better to include these extra fees in your loan amounts. One more point to remember is the potentially limited availability. Only some states offer the services to the borrowers.
SoFi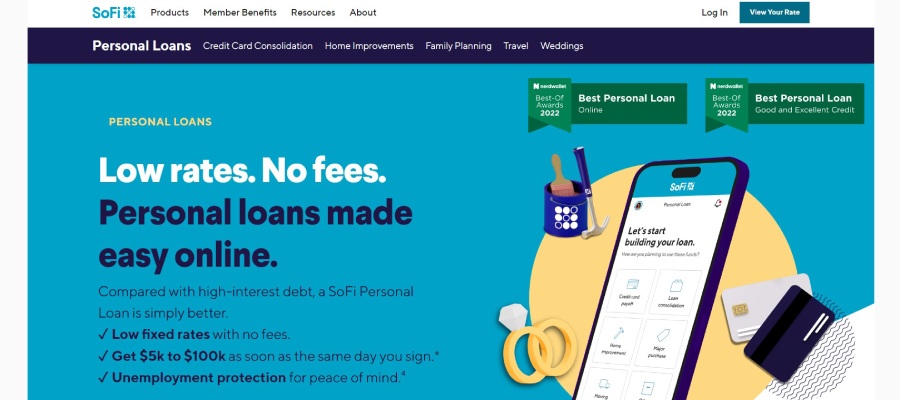 The last candidate is SoFi, known for its moderate APR, outstanding fees, and potentially winning repayment terms. What do you need to know about SoFi's loan amount? In the following list, there are the main reasons why you may want to opt for this lender.
Best for borrowers with nice credit and high income.
APR: 5.99% to 19.63% APR.
Fees: no origination fees, prepayment penalties, or late fees.
Repayment terms: 24 to 84 months.
Credit score required: 680 or higher.
A co borrower needs a good to excellent credit scores, and a steady income to support the personal loan payments.
With the best personal loans from SoFi, as a co signer will win from the competitive interest rates, flexible loan conditions, and additional benefits, such as unemployment protection, and career counseling.
All these benefits help borrowers manage their loan amount resources carefully without bothering about issues. What can potentially stop a co signer from working with this loan provider? The company has a rather high minimum credit score requirement. It can be unmanageable for many.
Who Is Co-Signer?
A co signer is a person who jointly agrees to become a part of the loan application process. This person doesn't own the assets and can't be the ownership of the personal loan proceeds. However, the co signer is responsible for the repayment procedure, if the main co borrower fails.
This is how the co signer differs from the co borrowers. Who can become a co-sginer? In most cases, these are relatives, family members, friends, or colleagues who take this position. There are rare cases when a complete stranger agrees to become a loan amount co-signer.
When Should I Get Loan With Co-Signer?
What are the most common cases to request a loan with a cosigner? First of all, students take advantage of this type of loan a lot. It's also a common case for people with poor credit to build their score this way.
There's one more common example of how the loan amount can be used. If you as a co borrower have experienced bankruptcy, you can find this type of credit the best to start off anew. Borrowers with excellent credit may be eligible for lower interest rates for more manageable monthly payments and higher loan proceeds.
Co Signer vs Co Borrower
What's the difference between a co signer and a co borrower? Many people misuse these terms. However, the difference is brutally clear. If you, as a co borrower understand it once, you will never misuse these terms again.
Why do people get confused when they hear about these loan amount parties? Both a co signer and a co borrower are true parts of the deal, though keep in mind the difference. A co signer will be responsible for the loan amount repayment procedure if the primary loan amount applicant fails to manage the monthly payments.
The joint personal loan providers take into account the co-signers credit scores and credit history. However, this person will have no ownership rights or access to the loan assets.
Who are the co borrowers? This person has the same rights as a borrower, meaning both parties will be jointly responsible for the personal loan credit score. If you, as a co borrower choose which way to go, the difference is crucial to understand.
| | | |
| --- | --- | --- |
| | Co-Signer | Co-Borrower |
| Do they have ownership rights on the assets? | No | Yes |
| Are they responsible for the second party? | Yes | No |
| Is this party influenced by another? | Yes | Yes |
Pros And Cons of Loans With Co Signer
What are the pros of co-signing a loan with someone else? There are many ways how this type of application can help a primary borrower. Let's take a look at some of them to see how you can benefit from this type of credit.
First of all, a loan with a co signer helps someone else to get approved. If you, as the main co borrower don't have a sufficient income or credit history or employment history, you can find someone else to assist you. If you have a friend or relative with a better financial situation, it's a perfect way to increase your chances of getting approved.
You can get a better loan with a co signer terms. Lower interest rates and more favorable personal loan terms are waiting for you. Most lenders offer personal loan offers as well as secured loans such as home equity loans. It can help cover expenses like medical bills.
This type of loan helps build credit. If you're young and can't afford a loan on your own, a co signer will be of great support. It's a great chance for students or people experiencing bankruptcy to build their credit.
However, there are still certain limitations and drawbacks to using this approach. In most cases, the risks come after the co-signer, not the main loan amount borrower. If the main applicant fails to cover the expenses, it's the co signer who is liable and responsible for the payments. In case the co borrower with lower credit scores or worse payment background fails, it will immediately affect the co borrowers.
When Do I Need a Co Signer For a Personal Loan?
Having co signers or co borrowers with high credit can help get a lower interest rate and higher loan proceeds. Having excellent credit can make it easier to get a personal loan for "consolidating my debt".
But as the primary borrower, you need to ensure that you meet credit standards. Some financial services companies let borrowers cover unsecured loans without a penalty. By covering your loan early, you may still need a co signer's credit and a minimum credit score requirement for approval.
How to Apply for Personal Loans With a Co Signer
There are almost the same requirements, as with other types of best personal loans. If you decide to apply for a personal loan with a co applicant, you should be ready to prepare the papers and check the requirements of the loan providers.
When applying for a secured loan, review the payment background, co signer's credit report, and calculate your debt to income ratio. It will help avoid a prepayment penalty. There's not much difference between this process and all other loan application procedures.
However, you have to understand that the final outcome will depend on two parties, not only you. So, you should beware of the credit check, interest rate, and lender choice as a tandem from the very beginning.
Check Credit
With a loan offer from personal loan providers. You need to read the loan agreement to make sure you can afford the loan balance. This way, you will avoid missed payments that can hurt poor credit.
Online lenders like Wells Fargo Personal Loans may require a good credit score and access to credit reports during the application process. Credit bureaus may be consulted by other lenders. These may perform a soft credit inquiry and consider the existence of co signed loans from credit unions.
Choose the Best Lender
Lenders offer joint personal loan options for debt consolidation with good credit. But it's important to review the loan terms carefully. Few lenders like Fargo Personal Loans offer secured personal loans that charge origination fees but can provide loan funds.
Check Requirements
To get a personal loan one needs to consider the loan terms. Make sure you can make the loan payments as the primary borrower, as different lenders offer varying options. Some personal loan lenders have minimum credit score requirements and a bank account. Others offer secured personal loan options. Why do they offer a personal loan with cosigner? It can help borrowers with limited credit histories.
Prepare Documents
Preparing a list of necessary documents can be a daunting task. Sometimes, it gets overwhelming to gather all the necessary information for loans with a cosigner and provide the papers on time. However, with a ready-to-go list, you don't need to worry about lost or forgotten papers. Here's a general list of papers to have on hand for a seamless loan application process.
Borrower's personal information
Proof of your income
Your credit history
Co-signer's personal information
Proof of co-signer's income
Co applicant credit history
As you can see, the list of documents touches upon both parties of the deal. Hence, you tend to be prepared on your own and make sure your partner also has all the papers ready.
What will happen if you don't provide the necessary items on time? There are different possible outcomes. The least traumatizing is that your application for loans with a cosigner will be postponed. In more serious cases, you may need to start the whole procedure from the very beginning. To make the process flawless, it's best to have all the documents ready.
Apply
The application process is fairly simple. If you've gone through all the previous steps of the process, you will find the application part easy. What you need is to provide all the gathered papers to the lender. There are two ways of doing this. You can apply online. Not every loan with a co signer provider has this option, but many companies now offer the remote application process.
If the application process isn't the case, you should go to the physical branch and manage the procedure in the local place. Once you're done with the formal part, what's left is the waiting time for approval. Overall, it takes around 3-5 days to get approved. However, in certain cases, you may need to wait longer.