Loan calculator is a necessary tool nowadays. You can hardly find a person who has never taken a loan. The reasons and aims may be absolutely different.
Someone wants to buy a new house or car. Others need extra money to study at college. Before you take a loan, there are several tasks you have to solve. They are the following:
Find a reliable and trustworthy bank that gives you the needed sum of money.
Lots of institutions offer customers to take loans for various purposes. Education, debt consolidating, and housing needs are only a few of the available variants why people borrow money from a bank.
Calculate whether this or that loan is affordable for you.
There are two possible ways out you may experience. The first one is to ask professionals for help. They are to provide you with detailed information on each case. The second way out is to use loan calculator and evaluate numbers by yourself.
Before you start learning how APR loans calculator works, it's a good idea to clarify what a loan is and what you have to pay for. There are three crucial aspects to take into account:
Principle amount. It's the initial sum of any loan.
Interest. It's important to take into account that APR on loans may be of different sizes. The higher the APR is, the larger interest is paid by the borrower.
Fees. The greater part of loans implies the charging of extra fees and taxes for the use of money. Thus, APR loans consist of principal amounts, interest rates, and APR fees.
Major Types of Loan Calculators
There are several varieties of loan calculators you may experience. The most crucial of them are the following:
Mortgage calculator
Vehicle loan calculator
Student loan calculator
FHA loan calculator
VA mortgage calculator
Investment calculator
Personal loan calculator
Business loan calculator
SBA loan payment calculator is an ideal solution for business owners. With its help, it's possible to calculate your potential SBA payments.
Moreover, there are several types of calculators depending on the duration of the pay-off period. It's possible to find both a 30-year loan calculator and a 15-year loan calculator. It's possible to compute sums for a year or even for a week.
Main Loans the Calculator Works with
In America, there are copious types of loans people may take. You can hardly find an option the loan payoff calculator is not able to deal with. The most sought-after options include the following:
Personal loans (including RV loans);
SBA loan;
SBA 7a loan;
DCU loan;
PPP loan;
FHA loan;
PPP loan forgiveness;
BMO loans;
BPI loans;
List ItemPPP loan for self-employed;
DCU loan;
Loan APR;
PPP loan amount.
How to Use Loans Calculator for Payments
No matter whether you need to use an SBA loan or a PPP loan calculator, you are to follow rules carefully. It's necessary to enter all the information carefully in order to avoid mistakes.
The process of using of loan payment calculator is not compound. The online calculator looks like this: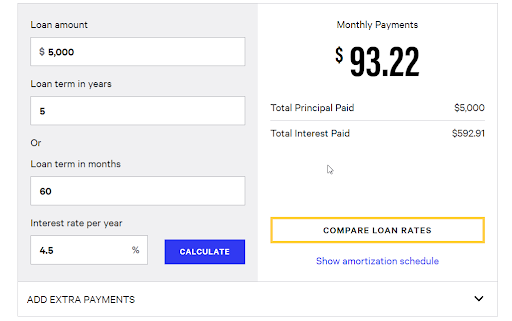 You have to enter the loan amount. It may be different depending on the type of loan. It's clear that the sum for BPI loans differs from that for SBA loans or DCU variations.
The next step is to enter the term of the loan. Unlike payday loans, the terms may last for up to 30 years. Then, it's necessary to pick up an appropriate interest rate.
In no time, the calculator shows you the optimal monthly payments, total principal paid, and total interest paid.
The loans APR calculator uses a definite algorithm. It encompasses the following steps:
Calculating the interest rate
This sum depends on the type of your debt.
APR calculator loans show the actual amount of money you have to repay. After you obtain the result, it's a good idea to compare the interest rate with the total repayments. It helps you to define whether the loan is really profitable or not.
When it comes to the use of the SBA loans calculator, you have to enter the following data:
Your loan amounts;
The percentage of interest rate;
Possible fees;
Total duration in months;
Monthly payments, if they are present.
It should be noticed that the SBA loan variety has several subgroups. Yet, the most popular service is the SBA 7a loan calculator. It has rates between 8% and 11%.
It's also possible to compare FHA and conventional loans online, complete the FHA calculation for deferred student loans, etc.
Explore the Best Loan Calculators on Our Website
Alongside the traditional loan APR calculator, on our website, you are to find various types of software that are able to meet various needs.
Personal Loan Calculator: Crucial Traits
Personal loans APR calculator is an effective tool. With its help, you are to compute how much you can borrow for your personal needs and how much you should repay monthly.
There are two possible rates for the personal loans APR – fixed and secured. It's necessary to pay attention also to the interest and comparison rates.
APR calculator loans allow you to avoid unexpected expenditures and additional debts.
Boat Loan Calculator: Main Features
It's a big mistake to think that boating is affordable only to rich people. If you have a dream of boating, it's high time to bring it to life. There are two possible ways to define the type of loan you need.
The first one offers you to start with defining the boat price while the second deals with your monthly budget.
With the help of a monthly loan payment calculator, you may compute the fastest way to finish the repaying process.
Loan Repayment Calculator
When it comes to refinancing your old loans or dealing with FHA loans or SBA 7a loans repayment, you should know the monthly sum you have to pay and the total period.
The online calculator for APR loans and other types of the process of refinance auto loan provides you with detailed information on regular payments.
Is It a Bad Idea to Get a Loan?
The dispute of whether it's a good idea to take a loan or not is eternal. There are both advantages and disadvantages of loans. You should keep in mind that you are to be charged by bank institutions you are going to borrow money from.
It's a good idea to use a monthly loan payment calculator to div out whether credits are affordable for you or not.
FHA Loan Not a Good Idea: Why FHA Loans Are Bad?
Federal housing administration or FHA loans are created for people with low and moderate incomes. There are several programs that differ in target groups, monthly payments, and the purpose of costs you borrow.
The reason why FHA loans are not the best choice for people is simple. They often come with higher interest rates.
Yet, if you still decide to apply for this type of mortgage, it's of prime importance to use the FHA loans calculator in order to div out how much you should pay.
Moreover, the FHA loans calculator with PMI and taxes allows discovering the desirable savings and minimum income you should have in order to repay the loan.
Also, with the help of the FHA loans closing costs calculator, you can compute when you can finish repayments. You are to enter the following data:
Loan amount (the sum you pay for the house);
Fees and taxes that are applicable;
Credits;
Loan cost;
Title charges;
Estimated closing date.
Why Are Payday Loans Bad?
A payday loan is applied in case of emergency. It allows borrowers to get money as soon as possible. People are supposed to return the money on a weekly basis. Yet, the maximum term of this type of loan is up to 5 months.
This option is rather favorable among borrowers with a poor credit history or minimum savings. Payday legit personal loans onlinehave significant disadvantages. The most common of them include an extremely high total cost, risks to fail repaying process, and high interest rates.
To sum it up, it should be highlighted that personal loans APR calculator, as well as any other type of online calculator, is a must for people who are going to take a loan. The software allows you to calculate the size of payments fast and easily.