Obtaining a fair or good credit score might be challenging. Hence many people are stuck with their bad credit scores. It leads to the inability to take a loan, ask for credit, or use a credit card without collateral. The struggle is real for many users, and not everyone sees the perspectives for the future with a bad score.
But what if we say you can find a card for bad credit and go along the line with the top 5 issuers? It can be a curvy, steep path, and some research would be of great help. If you've challenged yourself with the search and failed to find a plastic for a bad score, this guide will get you down the line.
Best Credit Cards With $500 Limit
How to find the best plastic with a bad score? You can't erase your account history, but you can make up a solution and deal with the problem. There are plenty of issuers offering their help to those with bad balance. How do you know which one to choose? The following list of options will help you be on the line and find the most beneficial choice.
You don't even need to research the information. We've done the preliminary research for you to make up a list of the best secured and unsecured credit cards for a bad score. All you need is to select the one that fits your requirements the most. Want to forget about cash? Let's get into the list and dig into the top 5 options.
Petal® 1 "No Annual Fee" Visa® Credit Card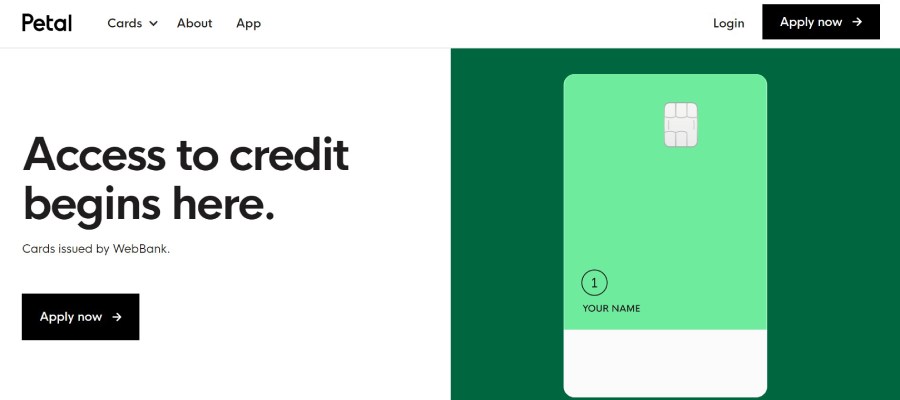 If you've muddied your score with previous mistakes in the past, it's high time for you to get free access. And the Petal® 1 "No Annual Fee" Visa® Credit Card seems to meet all the requirements.
So what's great about it? There are no deposits or fees.
Let's learn more about what the payments mean:
Credit limit ranges from $300 to $5,000, letting you request money for quite expensive large purchases.
It will be a good fit for those with a bad or fair score.
APR can vary from 23.74% to 33.24% (Variable).
What do you need to get free access and apply? The creditworthiness will be assessed by your cash score, so no deposits or even a score is necessary. The benefit lies in no annual fees, no credit security deposit, and rewards programs. However, users won't be able to use the balance transfer option.
Navy Federal Credit Union nRewards® Secured Credit Card
It is everything you can look for with bad credit scores. The perks include zero annual fees, a report to 3 major reports, and availability with no credit limit. A secured plastic will let you build a line to a decent history if you swing the requirements. So what's behind the fancy name? Let's review the details and compare the secured plastic benefits:
You can use the 18% APR.
No fees are required from the users of this secured plastic.
You will get reports from three major bureaus.
What do you need to become the applicant? Nevertheless, it has plenty of benefits, such as zero balance transfer or foreign translation fees, and reports to 3 major bureaus.
However, there's one detail to take into account. You'll need to provide a minimum $200 cash deposit and get a member or customer account.
OpenSky® Secured Visa® Credit Card
Do you need a bank account with a mobile app to qualify for a secured plastic? You can get in line having poor credit scores and no credit check. It's all possible with the OpenSky® Secured Visa® Credit Card. This option has pros and cons, but it'll be a great fit if you struggle with cash or applying for a secured plastic.
The interest rate is 21.14%.
You will have your reports sent to three major bureaus.
The recommended limit is relatively low, so customers with no credit histories are the perfect applicants.
What do you need to get the secured card? The fee is one of the main requirements, as well as drawbacks, which the customer should abide by.
You will need to cover a $35 annual fee and provide a minimum credit deposit.
Who will find it useful? If you can't deal with cash or apply but are ready to cover the fees and deposits, this is your choice.
Tomo Credit Card
Tomo can help you build a good score and avoid debts. It doesn't require annual fees, deposits, or credit checks. It even has a mobile app. Doesn't it sound like a perfect choice for those struggling with a poor history? So what do you need to apply for the unsecured plastic? Not many requirements are needed. However, you should consider all sides.
You can apply with a bad or fair score that's below 600.
It will let you reach up to a $10,000 loan limit.
Cash-back rewards and some additional perks are a part of the benefits system.
There's no monthly check, fee, security installment, or APR, and you can use a mobile app.
How can it be so easy to deal with? The major line is that you'll need a bank account linked to your name. And even though you don't have to cover the interest rate fees, you will have to deal with the interchange fees that could be very inconvenient for many.
Surge® Platinum Mastercard®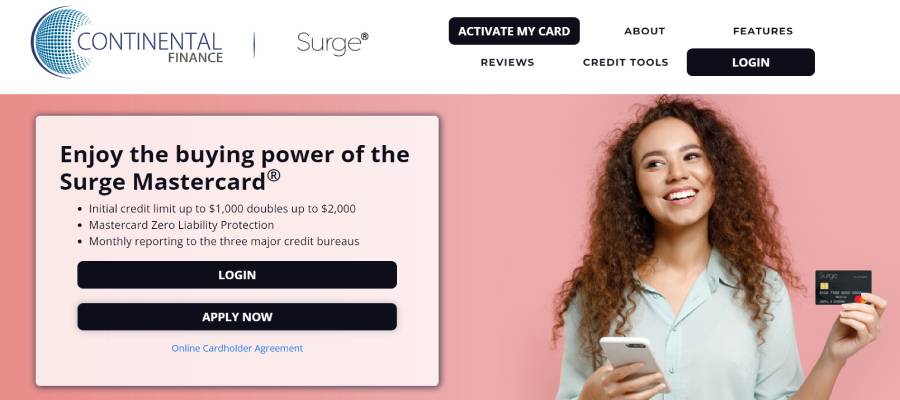 A limit increase can happen within 6 months if you try your best and stay disciplined. It's possible with the Surge Platinum Mastercard.
It's an excellent choice for credit builders with poor history and a goal to increase the limit fast.
Are there any drawbacks? Let's check out the details and compare the good and bad sides.
The regular APR is from 24.99% to 29.99%.
Your reports will be sent to the major bureaus on time.
No need to provide a security installment when requesting up to a $1,000 limit for your needs.
Responsible cash usage will help you easily increase your limit, while no security deposit for less than $1,000 requests will be needed. How do you apply? Bad history isn't a problem, but the unsecured issuer will ask for quite a high fee (from $75 to $99), a relatively high APR, and offer no ancillary benefits.
What Difficulties Can I Face With Bad Credit?
With a bad score, you can face limit issues in various areas of your life. It all starts with the challenge of finding credit cards and proceeds to the ineffective job search or apartment hunting.
Neither employers, landlords, nor banks want to cooperate with a person who doesn't take charge of their money responsibly (or doesn't have much history due to their young age).
First of all, you will struggle with finding plastic and covering a higher interest rate.
You'll have to overpay for the car loans due to your deficient account history.
When looking for an apartment to buy, be prepared to get a worse mortgage limit. You'll most likely face higher rates and a steep hunting process.
Unfortunately, there are more examples of how a low account score can affect important aspects of your life.
For example, it refers to the job hunt, insurance processes, or entrepreneurial activity. But the good news is that you can find ways to improve your account history and find a plastic for a bad score.
What Should I Look For in $500 Credit Cards for Bad Credit?
There's no need to explain how frustrating it can be to have a poor history. Fortunately, there are ways to steer clear of the consequences of your unsuccessful cash decisions in the past.
For example, you can get a $500 credit card for bad credit. It can save you from getting into even more debt. And in many cases, it helps build a better image of your cash history.
These plastics, however, have their drawbacks you should beware of. First, be ready to pay the security deposit or minimum credit installment. Sometimes, these requirements are hidden away from the bank's clients, so you should check this criterion before applying.
When there comes the ability to apply with a very bad score, there comes a higher interest rate or fees to be covered. Credit cards for a poor history give a lot more benefits and opportunities to take control of your account score in the future. But there's still a price to pay.
How To Apply For a $500 Limit Credit Card with Bad Credit
We've shared examples you can apply for with poor account history. You can check out the description and choose the one to fit your goals. But it's not the end of the game. You should go through the important application process to get approved and use unsecured plastic or cash.
Beginners find this application procedure a trap. However, it's an easy task when you're guided correctly. We know how critical it is to go blindly through the application procedures, so in the following paragraphs, you'll find a way to get over this task with ease.
Check Credit Score
Before you apply, you need to check your score minimum limit and see if you relate to the requirements. So, how to check an account score? Here's a simple instruction you should try:
There are three major bureaus where you can request a score. These are Equifax, Experian, and TransUnion. Make sure to contact them and request monthly reporting on your balance. This is the most proven and accurate way to learn your score. However, it will cost you some cash.
The second way is to go to the free-scoring site. You can find free ones or become a member and cover a monthly fee to get your balance.
The third option is to check your financial institution or loan statement. These should include information about the score of their clients.
Make sure you know your credit score and move to the next point on the list.
Choose a Card For Your Credit Score
When you know your exact balance, it's time to hunt for the plastic. In our list, we've covered the top 5 options for those struggling with a poor account payments history. And you must be in the same boat if you're reading this article. Hence, it's essential to learn your cash score and then focus on the specific plates available in the market.
When choosing a plastic, check what its minimum requested credit score is.
Although you can find precise information on the company's website, you should contact them to ask for the details. One way or another, it's critical to learn this information first and then compare what other benefits the issues provide to make the final choice.
Apply for the Credit Card
When you check your account score and compare the offers, it's time to apply. This process should not be tricky if you're familiar with the basic steps. Your first step is to go to the company's website and fill out the application form online.
Many people are slightly afraid of this process, but there's nothing to be worried about. You'll need to answer the questions regarding your life or financial situation. The questions may differ, but generally, they include your address, annual income, expenses, Social Security number, cash balance, limit, etc.
Provide Security Deposit
By applying for secured credit cards, you'll need to provide a deposit to the issuer. This is what's meant by a security deposit. The process is the same as with the deposit money you pay the landlord. This installment will help you open an account and gain the issuer's trust.
How much is the security deposit? It depends on your score or type. It can be a small amount of money you can easily cover. Or you can face a higher-than-average security deposit. So, it's better to figure out this detail for the secured plastic from the very beginning.
Get The Credit Card
Now it's finally high time to get your plate straight to your wallet. If your application is approved and the money sent, you should have no difficulties getting your plastic. The general practice is to get your charge plate within the next 2-5 working days. However, the waiting time can be extended in case any issues occur.
What to do if you don't get the plastic on time? You should contact the issuer and check the reason for the delay.
In many cases, the issuer needs to double-check your information. Or there can be other account problems to address, so it's always better to call or write an email if you see your delivery is postponed.
How To Get Approved for $500 Credit Cards with Bad Credit
Are there any proven ways to get approved for credit cards with a poor history of payments? Unfortunately, it's the decision of the issuer whether to give you a chance or ban you from this opportunity.
The main tip is to research well and find the company with the minimum requirements for the applicants. It must ensure your application process will be easier. The second tip is to take care of your history of payments beforehand unless your request to get plastic is urgent.
There's one more important tip to consider. When you decide to apply with a bad account, try to prequalify. This process is common for people with different limit points.
However, there are two major types of prequalification methods — a soft and hard account check. With the hard check, you can have your credit score heavily affected, while the soft check will not touch your balance that much.
How To Improve My Bad Credit?
When you've got bad credit, you might wonder how to get back on track and improve your credit score fast. It's not easy to eradicate the mistakes you made in the past due to irresponsible relationships with money. However, there are still ways to increase your account score. Here are some of them:
Try always to pay your bills on time. It sounds simple, but if not done properly, it can heavily influence your credit score and history of payments.
If you have a family of friends who can take part in this initiative, ask them to add you as an authorized user.
It's a strategic step to request a higher credit limit. This strategy can improve your overall balance.
Have you noticed a mistake in your monthly reporting activity? Unfortunately, such things still happen, so no wonder you can experience them, too. If you notice an error, always try to dispute it, or it will affect your credit score in the future.
You can find plenty of ways to work on your score and improve it. The main principle is to be stable and well-times with your payments.
How To Use a $500 Credit Card to Build Credit
If you succeeded enough in getting credit cards with a poor history of payments, it's time to get back on track and proceed with your responsible approach to money.
The main factor that affects the score is your overdue payments on bills. It takes up to 35% of the score, according to FICO. You should also limit your credit applications because it covers around 15% of your score.
What other easy ways to use your plastic and build a good credit score? Make sure to increase your credit limit and use the charge plate regularly. It's an important step that you can stick to.