In today's world, stress levels are very high. A good vacation can help you relax and recharge your batteries. But it is not always possible to afford a satisfactory trip with quality service.
The average American spends $500-600 on a weekend trip and about $2,000 on a weekly trip, according to savings and investment firm Twine. And unfortunately, one in four do not have enough money to spend on an emergency vacation.
Therefore, in order to cover the financing gap, it makes sense to apply for a vacation credit. This is an unsecured personal loan that you can use for almost any purpose, including having a great time.
In this guide, we will tell you what you need to know about a personal loan to finance your vacation. We have also compared the best vacation loans in the article.
Personal Loan For Vacation: Best Offers
Personal loans are the best option for those who want to pay for their holidays when the required amount is not in their pocket or account. Such loans are usually not secured, so the borrower has a lot of choices on how to use the money received.
You can borrow money through local banks and credit unions, as well as online lenders. They also have no fees, soft credit checks, and direct payments to creditors if you're consolidating debt. We have ranked the best organizations that provide their customers with convenient best vacation loans so that you can find the option that is right for you.
Upstart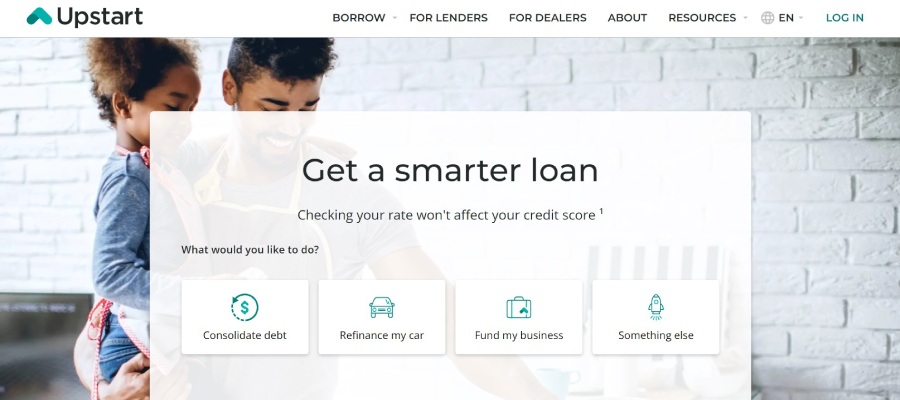 Upstart is great for those who don't have a high credit score and a short credit history but wants to have the best vacation loans. The company uses the power of machine learning and artificial intelligence.
This helps Upstart streamline the loan pricing and funding process. To take out a borrow, you must have a minimum annual income of $12,000.
You must be in full-time employment or be retired or start full-time employment in six months. Loans are issued for a period of 3 to 5 years.
The minimum amount varies from state to state. For Georgia, it is $3100; for Massachusetts, it is $7000; for New Mexico, it is $5100; for Hawaii, it is $2100; for Ohio, it is $6000. The average five-year loan offered by lenders using the platform will have an annual interest rate of 25.05%.
| | |
| --- | --- |
| Pros | Cons |
| Offers fast financing services | May charge shipping fees |
| It is possible to change the payment date | No mobile application for credit management |
| Possibility of prequalification with soft credit check | Only two repayment options available |
| Free financial education tools | |
Upgrade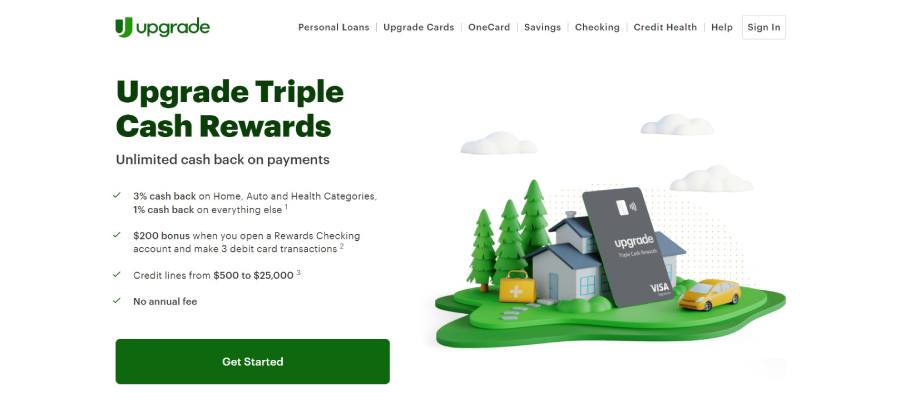 If you have a bad credit score and need money for your dream vacation, then Upgrade is for you. The company offers not only the best vacation loans but also various instruments of credit formation.
You must have a credit score of at least 650. The minimum loan term is 2 years. APR varies from 7.96% to 35.97%. All personal loan transactions have an issuance fee of 1.85% to 8.99%, which is deducted from the proceeds of the loan. The maximum term for which you can take out a loan is 7 years.
| | |
| --- | --- |
| Pros | Cons |
| Discounts on several credit plans | Origin fee charged |
| Mobile app for managing loan payments | It is not possible to select a payment date |
| Debt consolidation loans with direct payments to customers | |
| Long-term credit repayment for home improvement | |
LightStream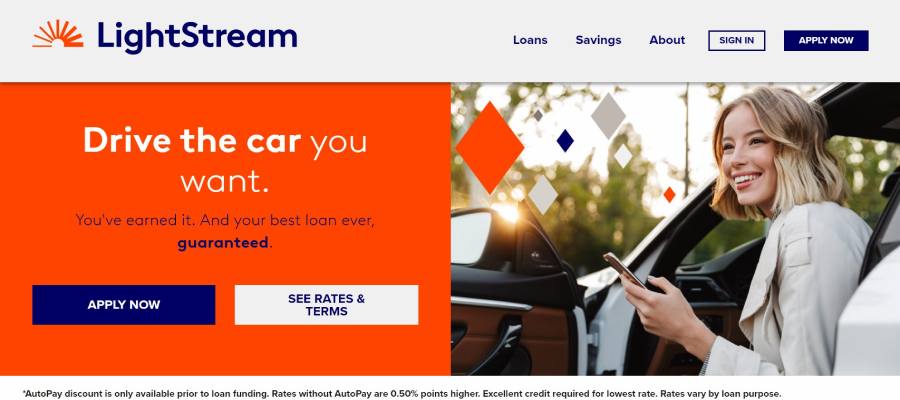 LightStream is considered to be one of the best lenders for people looking to splurge on a vacation. The company offers low rates, no commissions, and the Rate Beat program.
You must have a good credit score (minimum 660 points) to be able to access LightStream services. As well as a good credit history, which has several types of accounts, such as credit cards, car loans or other installment loans and mortgages.
Loans are available for a period of 2 to 7 years. The company may be required to verify income, identity, and other information provided on the application. There is a discount system: the interest rate is reduced by 0.50% when registering in the auto payment system.
| | |
| --- | --- |
| Pros | Cons |
| No late payment and loan opening fees | Clients are required to have several years of good credit history |
| Auto payment discount | There is no way to pre-qualify on their website |
| Long-term repayment of a loan to improve housing conditions | No debt consolidation loans with direct payments to customers |
Marcus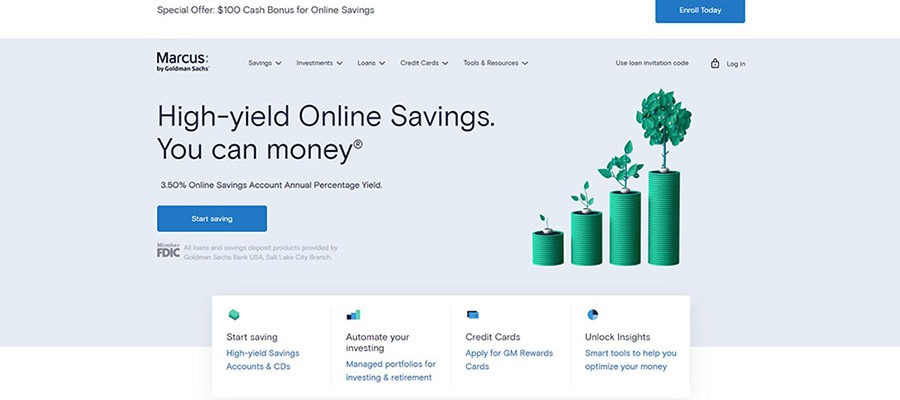 Marcus by Goldman Sachs® stands out for its consumer-friendly features, such as direct payout to creditors, autopay discount, and deferred payment options.
The Company does not charge fees for personal loans, including early repayment, issuance, or late payment fees. Borrowers can customize their payment terms and amounts. But in order to qualify for approval of the application, you need to have a very high credit rating – 740 points.
The annual interest rate varies from 6.99% to 24.99%, which is a very mild condition. Best vacation Loans are issued in the amount of $3,500 to $40,000 and for a period of 3 to 6 years.
You can defer payment after making 12 consecutive monthly payments, provided that you have made all your previous payments in full and on time. Deferred payment extends the loan term by one month.
| | |
| --- | --- |
| Pros | Cons |
| No fees | There are no co-signed, joint, or secured loan options |
| Auto payment discount | Limited customer service channels |
| Possibility of prequalification with soft credit check | |
| Debt consolidation loans with direct payments to customers | |
Discover® Personal Loans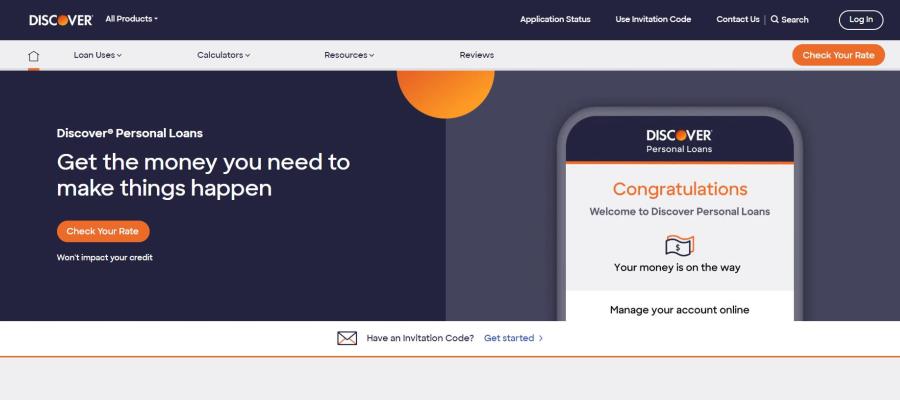 This company is a good choice for those who want to discover high-quality ways to consolidate or refinance debt if their credit history is high.
The minimum rating that will be required of you is 660, and a minimum household income of $25,000 per year. You can take a loan soon, from 3 to 7 years. Your APR will be between 6.99%-24.99% depending on your ability to pay and your credit history.
| | |
| --- | --- |
| Pros | Cons |
| No opening fees | May charge a $39 late payment fee |
| Possibility of prequalification with soft credit check | There is no possibility of joint signing or joint credit |
| Fast loan financing | No fare discount |
| Mobile app for credit management | |
SoFi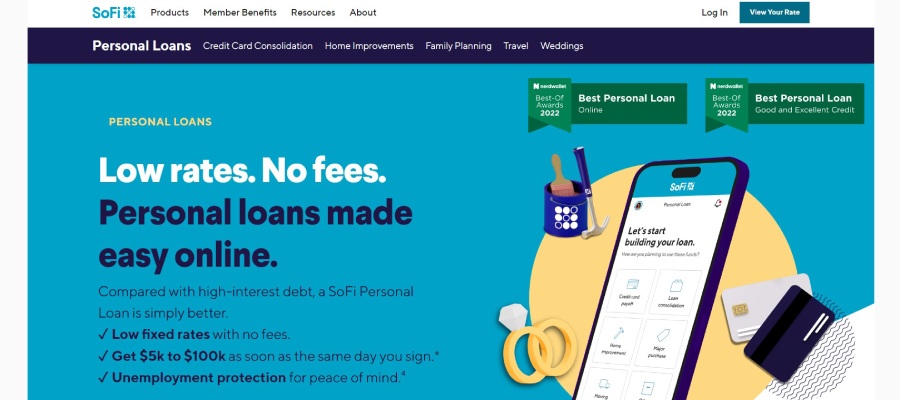 SoFi is last on our list, but not the last in quality. This is a great option for consumers with good credit who crave low rates, no fees, and flexible payments. You will have access to credits for a period of 2 to 7 years.
You must be able to prove your ability to work and permanent employment. SoFi has fixed annual rates from 7.99% to 23.43% per annum and a 0.25% discount on automatic payment and direct deposit. Some rates and amounts may not be available to residents of some states.
| | |
| --- | --- |
| Pros | Cons |
| No fees | It is not possible to choose the date of the initial payment |
| Shared loan option | High minimum credit amount |
| Discount if you make an auto payment | |
| Assistance program for needy borrowers | |
| Mobile application for credit management | |
What Is a Vacation Loan?
When you want to relax in another place, go on a trip to the sea or on a hike, or take your children to a ski resort, but there is not enough money, then it makes sense to take a vacation borrow. This type is an unsecured personal loan.
Unsecured loans do not require collateral to borrow money for vacation arrangements. The lender provides the funds, which are then repaid in equal monthly installments over the life of the loan. You can use the money to afford transport, hotels, car rentals, and other expenses associated with the trip.
How Do Vacation Loans Work?
Once you have applied for a loan and it is approved, you will usually receive the funds within a few days. The money will be paid out as a lump sum payment by direct deposit or check. Then you can manage the money for the expenses associated with the trip as you see fit.
The repayment of the credit usually begins one month after the receipt of the money. You may need to start repaying your loan before, during, or after your trip.
The date will depend on how you draw up the contract. It's always a good idea to sign up for autopay as soon as you receive a credit so you don't miss a payment if possible. Especially when the lender provides various discounts for auto payment. You can take out such a borrow for a period of one to seven years, and with interest from 4% to 26%.
Vacation Loan Rates And Fees
Any personal vacation loan usually has annual interest rates ranging from 6% to 36%. The amount and rate can be calculated based on the reason for borrowing and the client's ability to pay. It also takes into account credit history, rating, and other factors.
The biggest role is played by determining the part of your income that will go to pay off the debt. When you have a good credit score and a low debt-to-income ratio, your chances of getting a lower loan rate increase. Some lenders charge late and origination fees.
How to Get a Vacation Loan
The procedure for obtaining a vacation loan is simple. Here is what you need to know to apply for a vacation credit and find the best option for you:
Check your credit history. Be sure to check your credit score first to make sure there are no black spots on it. If you clearly understand your credit score, then you will have an understanding of which lenders to contact exactly in order to get an affirmative answer to your application.
Collect documents. Prepare a package of documents. You may often be asked to provide additional information, such as your most recent tax return, current pay stubs, and bank statements, to get an idea of your financial situation.
Get tested. Check your rate with as many prequalified lenders as possible. They usually do a soft credit check, which will not affect your credit score.
Choose the best option. When you have decided on the option, then proceed to fill out the application. During this time, they usually perform a tough credit check, which can temporarily lower your score.
Stay in touch. You may be contacted for more information while the lender makes a decision on the application. Make sure you follow up on any phone calls or emails, so you can respond quickly and expedite your loan application.
Pros And Cons Of Vacation Loans
Still wondering if you need to take out a borrow for your vacation? Worried about making the wrong choice or going into debt?
Already have another outstanding loan or low credit score? We invite you to read about the pros and cons of a vacation credit to weigh the pros and cons and then determine if it is suitable for financing your trip.
Pros Of Vacation Loans
Instant receipt of money to the account
Lower initial annual interest rates than credit cards
Some loans offer low rates for borrowers with good scores
Flexible vacation loan amounts
Borrower does not need to pay collateral
Monthly payments are fixed
Fast approval process
Cons Of Vacation Loans
A risky type of borrow that can lower your credit score, and you will incur late fees
Customers may be offered high interest rates
Some lenders charge fees
Vacation Loan Alternatives
A vacation loan isn't the only option when you don't have enough money to secure a luxury vacation. We advise you to use this method only in extreme cases. There are other options to help you organize your dream vacation. Next, we will talk about them in more detail.
Reducing travel plans. If you want to relax and renew your strength, then there are many cheap options. You can put a limit on the amount of debt you take on. Or you can even pay off all of your existing savings.
Credit card for travelers. Many Travel Rewards credit cards offer check-in bonuses that will help you pay for your flight within a few months of receiving the card. You can also earn points for your daily expenses, which you can use to cover your travel expenses.
Saving. You can set aside a certain amount each month for your vacation. Make your budget to see how much you can afford to save. You can invest directly into a high-yielding savings account every month by setting up automatic transfers in the app.
Credit card 0% per annum. Many credit cards have a special offer of 0% per annum for a year or longer immediately after opening an account. If you open the card right before your trip and make every effort to pay it off before the zero-interest period ends, then you won't overpay.
Conclusion
If you are short of money, your salary is delayed, or you want to take a break right now, then the best vacation loans from the best lenders will help you create an unforgettable experience. You can organize the trip of your dreams.
But always consider the risks. Debt always has interest and sometimes even penalties. Calculate your budget and how much you can deposit into your account each month so you don't miss payments. And also, think about the alternatives that we mentioned in our article.
Perhaps you already have a loan, or you should not spoil your credit score and history now. Then it is better to use other methods to spend the trip the way you want.